Report: Pussy Riot member asks for solitary confinement
November 23, 2012 -- Updated 1025 GMT (1825 HKT)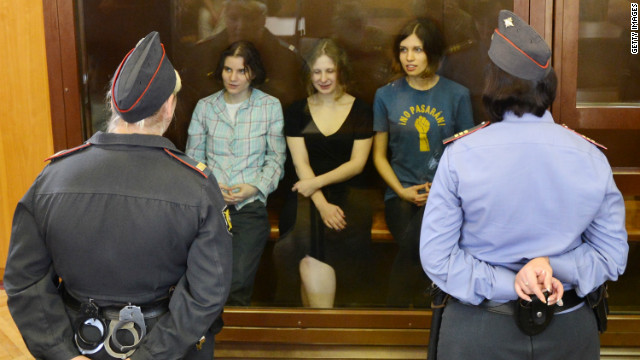 Pussy Riot band members Yekaterina Samutsevich, Maria Alyokhina and Nadezhda Tolokonnikova sit in a glass-walled cage during a court hearing in Moscow on Friday August 17.
The court case has sparked demonstrations of support across Europe and the U.S. An activist from feminist group Femen cuts down an Orthodox cross in Ukraine, erected in memory of victims of political oppression, in a show of solidarity with the punk band.
A man walks past pro-Pussy Riot graffiti in Moscow. Band members were charged after screaming "Mother Mary please drive Putin away" during a concert inside Christ Savior Cathedral, in February.
Campaigners wear the band's trademark colorful balaclavas in a demonstration outside the Church of Christ the Savior in Moscow.
Pro-Pussy Riot demonstrators gather in St. Petersburg. Putin criticized the band's action earlier this month but said they should not be judged "too harshly," according to state-run news agency RIA Novosti.
Supporters sit locked in a mock defendants cage outside a Moscow court. The band members have been charged with hooliganism aimed at "inciting religious hatred."
Demonstrators wear Pussy Riot-style masks outside a Moscow court. Singer Madonna also donned one of the masks during a recent gig in the city, telling the audience: "Everyone has the right to free speech, everywhere in the world. Maria, Katya, Nadia, I pray for you."
Women in waiting
Feminist solidarity
Writing on the wall?
Colorful support
Political protest
Cagey subject
Pussy Riot masks
STORY HIGHLIGHTS
Maria Alyokhina and another punk band member were sentenced in August
They are serving their two-year prison sentences in a penal colony far from Moscow
Alyokhina has requested solitary confinement, Russia's state news agency reports
It cites prison officials as saying she has "strained relations" with other inmates
(CNN) -- One of the members of the Russian punk band Pussy Riot serving a two-year prison sentence has asked to be transferred to solitary confinement because of "strained relations" with other inmates, state media reported Friday.
Maria Alyokhina, 24, and fellow band member Nadezhda Tolokonnikova, 23, were sentenced in August for performing a song critical of President Vladimir Putin in one of the Russian Orthodox Church's most important cathedrals in February.
They are serving their sentences at a penal colony in Perm, about 1,000 kilometers (700 miles) east of Moscow.
The state-run news agency Ria Novosti cited unidentified prison officials as saying that Alyokhina had made the transfer request. The agency noted that Alyokhina, a vegan, had previously complained about the meat-based diet at the prison colony.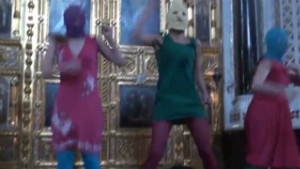 Member of Pussy Riot band released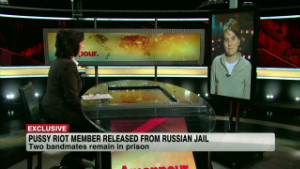 Freed Pussy Riot member speaks
Yekaterina Samutsevich, a third member of the band who was sentenced with Alyokhina and Tolokonnikova, was freed from prison last month.
Following her release on a suspended sentence, Samutsevich vowed to continue the kind of political protest act that led to their imprisonment.
Footage of the brief but provocative protest action attracted worldwide attention after it was posted online.
It showed the band members, their faces shrouded by balaclavas, screaming "Mother Mary, please drive Putin away" inside Christ Savior Cathedral in Moscow, outraging many of the Russia church's faithful
The three women, who were arrested shortly after the protest act, were convicted of hooliganism. Two other members of the all-female group have fled Russia.
Tolokonnikova and Alyokhina are expected to try to take their case to the European Court of Human Rights.

Today's five most popular stories
Part of complete coverage on
Pussy Riot trial
August 17, 2012 -- Updated 2046 GMT (0446 HKT)

A judge blasts three members of Russian punk rock band Pussy Riot for performing a song critical of Vladimir Putin in a Moscow church.
August 17, 2012 -- Updated 2007 GMT (0407 HKT)

Rachel Denbar of Human Rights Watch says the Pussy case casts a "highly disturbing' light on freedom of expression in post-Soviet Russia.
August 18, 2012 -- Updated 0747 GMT (1547 HKT)

The Twittersphere lit up with pictures and messages of support from around the world after three band members were jailed for "hooliganism."
August 11, 2012 -- Updated 1621 GMT (0021 HKT)

Tents, food trucks, art work and posters with "Free Pussy Riot" covered bus stops and real estate board during a concert in D.C. in support of the arrested Russian band.
August 8, 2012 -- Updated 2041 GMT (0441 HKT)

Security's stepped up around Madonna's Moscow concert after the singer voices her support for the members of Pussy Riot.
August 3, 2012 -- Updated 1240 GMT (2040 HKT)

Russian President Vladimir Putin asks a court to show leniency for three members of the punk rock band Pussy Riot charged with hooliganism.
August 2, 2012 -- Updated 1133 GMT (1933 HKT)

Music stars including Pete Townshend of The Who, Alex Kapranos of Franz Ferdinand and Corinne Bailey Rae called on Russia to free members of the Pussy Riot punk band.
May 25, 2012 -- Updated 1351 GMT (2151 HKT)

Here's a clue: Walk into a cathedral wearing a neon mask, stand on the pulpit and scream songs with lyrics like "Virgin Mary drive Putin away!"