STORY HIGHLIGHTS
Manchester United return to top of EPL with 3-1 win against Queens Park Rangers
Bottom team take lead in front of new manager before United come from behind
Darren Fletcher scores in his first Premier League start in more than a year
United boss Alex Ferguson also credits substitute Anderson for inspiring victory
(CNN) -- While most eyes were focused on Harry Redknapp's return to Premier League management with Queens Park Rangers on Saturday, it was two of Manchester United's unsung heroes who grabbed the spotlight.
With former Tottenham boss Redknapp watching from the stands after being confirmed as Mark Hughes' replacement, it appeared the English top flight's only winless team might pull off a major upset after taking the lead at Old Trafford.
However, second-half substitute Anderson inspired yet another comeback by Alex Ferguson's side as United returned to the top of the table with a 3-1 victory and bounced back from last weekend's shock defeat by Norwich.
"Anderson changed the game," said manager Ferguson said of the Brazilian midfielder, who has started only five matches in all competitions this season.
"We played for about 10 or 15 minutes, that was the sum total of a real performance for Manchester United.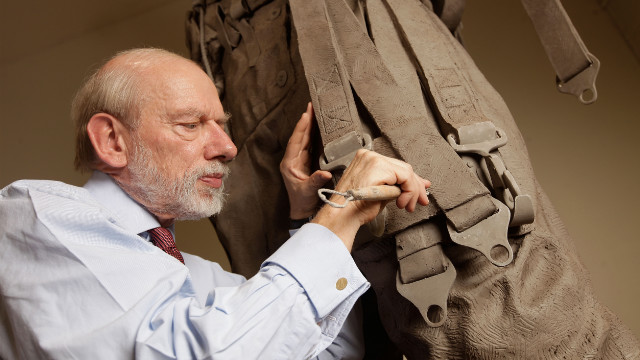 Like Alex Ferguson, sculptor Philip Jackson was born in Scotland. Here he is pictured working on The Bomber Command Memorial Sculpture, which is situated in London's Green Park, and was unveiled by the Queen in June.
Jackson was also the artist who created the statue of former England captain Bobby Moore, which is located at Wembley Stadium. The statue, standing six meters in height and weighing approximately two tons, commemorates when Moore captained England to World Cup glory in 1966.
The Alex Ferguson sculpture is the third Manchester United piece Jackson has produced. His statue of George Best, Denis Law and Bobby Charlton, which stands outside Old Trafford, depicts three of the club's greatest players.
Jackson's first Manchester United related sculpture depicted former manager Matt Busby, who was a key figure in creating the club's attacking philosophy of football which Ferguson has helped maintain.
Jackson's bronze scultpture of Ferguson is nine foot in height. It will be unveiled ahead of United's home game against Queens Park Rangers on November 23.
A number of other English clubs have commissioned artworks to remember former managers, notably Bobby Robson, who managed a number of clubs including Ipswich Town, Barcelona and Newcastle United as well as England. This statue of Robson is outside Newcastle United's St James' Park.
Manchester United's great rivals Liverpool have a statue of former Scottish manager Bill Shankly outside their Anfield ground.
It is not just managers and players who have been immortalized in sculpture form. In Baku, Azerbaijan, there is a statue of the 1966 World Cup final linesman Tofig Bahramov outside the Tofig Bahramov stadium. Here former West Germany goalkeeper Hans Tilkowski and former England striker Sir Geoff Hurst are pictured standing next to the the Bahramov statue in June 2011.
The moment French football superstar Zinedine Zidane headbutted Italy's Marco Materazzi in the 2006 World Cup final has been immortalized in a five meter bronze statue. The statue, positioned outside of Paris' Pompidou Museum, is the work of Algerian-born artist Adel Abdessemed.
More unusually in April 2011, Fulham chairman Mohamed Al Fayed unveiled a statue in tribute to singer Michael Jackson, who died in 2009, outside the English Premier League club's Craven Cottage ground.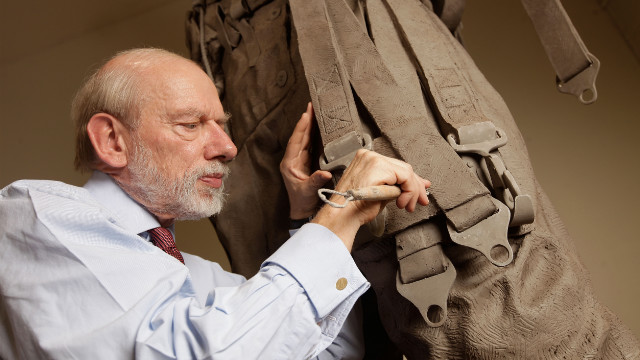 Sculpting football icons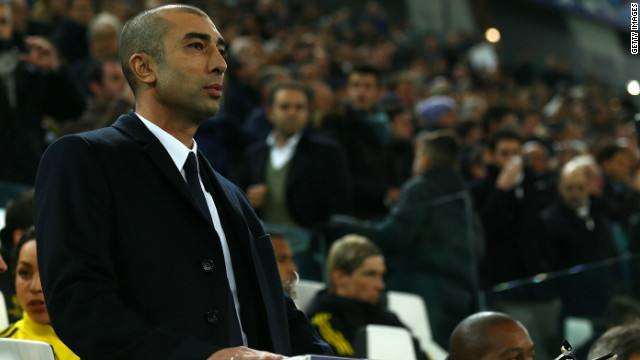 Roberto Di Matteo's tenure as Chelsea manager came to an end after Tuesday's 3-0 defeat to Juventus. Di Matteo was sacked despite leading Chelsea to European Champions League and English FA Cup glory just six months earlier.
Di Matteo enjoyed a successful playing career at Chelsea in the 1990s before returning to the club as Andre Villas-Boas' assistant manager in 2011. He took interim charge of the team following Villas-Boas' sacking in March this year.
After beating Tottenham Hotspur in the semfinals, Di Matteo led Chelsea to an FA Cup triumph by beating Liverpool 2-1 in the final.
Di Matteo's crowning glory came in May, when Chelsea defeated Bayern Munich on penalities to win the European Champions League. The historic success, Chelsea's first in the competition, was one of the reasons why club owner Roman Abramovich gave Di Matteo the manager's job on a full-time basis.
Chelsea suffered a set back early in the 2012-13 season when a Radamel Falcao-inspired Atletico Madrid beat Di Matteo's team 4-1 in the European Super Cup final.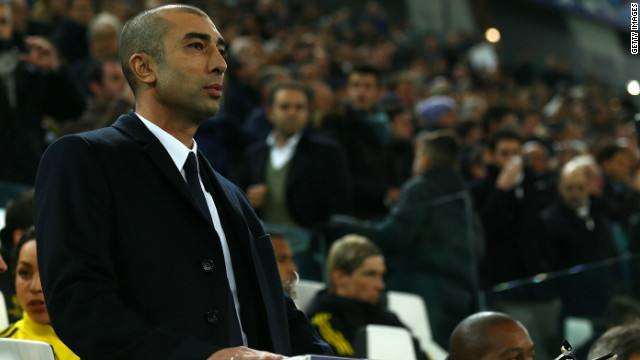 Roberto Di Matteo's time at Chelsea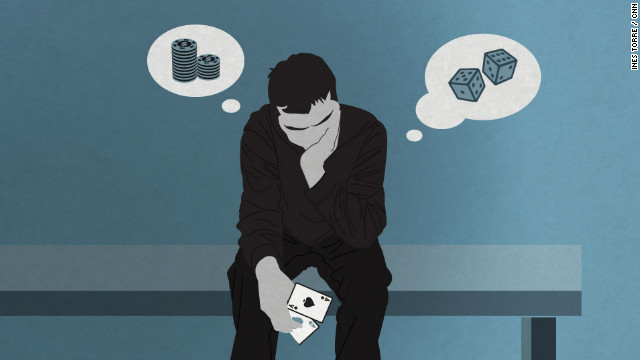 English football and some of it's most high-profile stars have long battled gambling addiction. The combination of a bloated bank account and boredom can set some players on the road to ruin.
Tony Adams struggled with alcohol and drug addiction throughout his career, serving a jail sentence for drink driving in 1992. The former Arsenal captain managed to turn his life around, leading the north London club to a league and FA Cup double in 2002. He also set up the Sporting Chance clinic, aimed at helping fellow sportsmen and women hooked on gambling, alcohol and drugs.
Paul Merson was a longtime teammate of Adams at Arsenal. The midfielder fought gambling addiction and said he once won £54,000 on a single bet as well as losing £30,000 on another.
Dietmar enjoyed an illustrious playing career, winning the European Champions League with Liverpool and collecting 59 caps for Germany. The midfielder told the BBC in February he fell into gambling when his marriage broke down and lost over £200,000 in one night, saying he gambled to forget about the absence of his children.
Matthew Etherington is another English Premier League player to have succumbed to gambling addiction. In order to overcome his problems, the Stoke City winger attends Gambling Anonymous meetings twice a week.
Michael Chopra played in the Premier League for both Newcastle United and Sunderland. Last year the striker revealed he was undergoing treatment for gambling addiction, saying he was betting up to £20,000 per day and he had lost between £1.5m and £2m.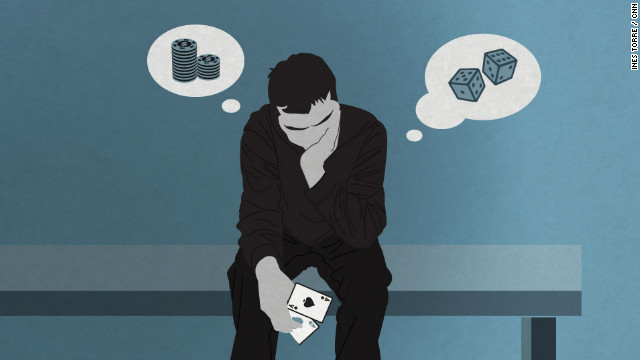 Footballers' gambling addiction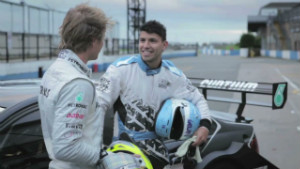 F1's Nico Rosberg scares Sergio Aguero
"Queens Park Rangers had a surge of determination and belief, they worked really hard and that's what you expect when a team loses its manager. We saw that again today."
Redknapp returns to EPL management
The match marked Darren Fletcher's first Premier League start in more than a year following a chronic bowel complaint which threatened to end his career, and the Scotland midfielder capped it by heading United in front following Jonny Evans' equalizer.
"Everyone is delighted for him. It has been a long road back," said Ferguson.
"It is the first time he has played twice in one week. He didn't let us down again. He never does. It is lovely to have him back like that."
United went behind for the 13th time in 20 games this season, and the fifth in a row, as forward Jamie Mackie scored for QPR in the 52nd minute from Kieron Dyer's low cross.
Sculptor shows softer side of formidable Ferguson
However, center-back Evans leveled with his third goal this season after Danny Welbeck headed on a corner by Wayne Rooney, who provided another set-piece for Fletcher to score his first league goal since the 6-1 hammering by rivals Manchester City 13 months ago.
Striker Javier Hernandez, another halftime replacement, wrapped up the victory with his ninth goal this season to put United two points clear of City -- who on Sunday travel to a Chelsea team under the guidance of new manager Rafael Benitez.
Chelsea dropped to fourth place following West Brom's 4-2 victory at Sunderland on Saturday, which gave Steve Clarke's team a fourth successive win in the top division for the first time since 1980.
"We have had a lot of plaudits and the players deserve it because so far, we have been a really good team," said Clarke, in his first managerial role after being assistant at Newcastle, Chelsea, Liverpool and West Ham.
"But you don't get carried away in the Premier League. We are still this side of Christmas, there are a lot of games to be played, a lot of points to be fought for. Our focus is on Wednesday night, that's as far ahead as we look."
Everton stayed fifth despite being held 1-1 by Norwich, as Sebastien Bassong 90th-minute header canceled out Steven Naismith's first-half goal for the Merseyside team.
Norwich moved up to 13th in the 20-team division, extending the team's unbeaten run to six matches.
Arsenal announced a $240 million sponsorship extension with Emirates on Friday, but the London club remained sixth after being held 0-0 away to an Aston Villa team that moved out of the bottom three.
Reading dropped into the relegation zone after losing 3-2 against Wigan, with Jordi Gomez netting all three goals for the 15th-placed home team.
Stoke moved up to 11th with a 1-0 win over ninth-placed Fulham, as former Liverpool midfielder Charlie Adam scored the only goal.