Benitez booed as Chelsea fans protest
November 25, 2012 -- Updated 2127 GMT (0527 HKT)
STORY HIGHLIGHTS
Chelsea fans unleashed their feelings at new manager Rafael Benitez
Supporters cheered and sang the name of former manager Roberto Di Matteo
Chelsea fail to find a way past Manchester City in goalless draw
Victories for Tottenham and Southampton while Liverpool held
(CNN) -- Rafael Benitez was given a red-hot reception at Stamford Bridge as Chelsea fans vented their fury at its team's new manager.
The Spaniard, who coached his side to a goalless draw with Manchester City, was subjected to chants and taunts throughout the game by home supporters.
The former Liverpool manager replaced Roberto Di Matteo after the Italian was sacked by owner Roman Abramovich last week.
Benitez takes over Chelsea hot seat
But many of the club's supporters are unhappy with the decision given last season's FA Cup and Champions League triumphs.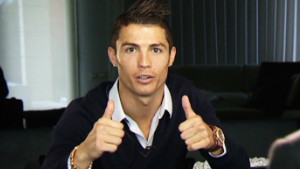 A day in the life of Cristiano Ronaldo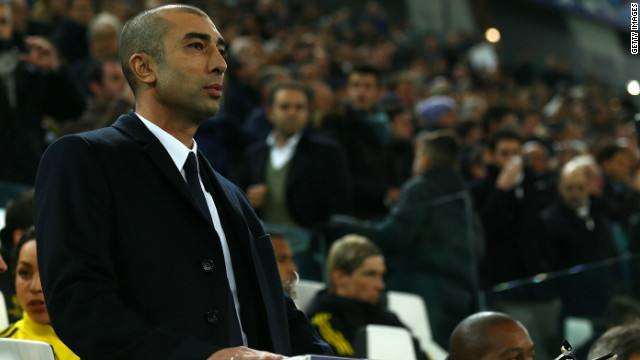 Roberto Di Matteo's tenure as Chelsea manager came to an end after Tuesday's 3-0 defeat to Juventus. Di Matteo was sacked despite leading Chelsea to European Champions League and English FA Cup glory just six months earlier.
Di Matteo enjoyed a successful playing career at Chelsea in the 1990s before returning to the club as Andre Villas-Boas' assistant manager in 2011. He took interim charge of the team following Villas-Boas' sacking in March this year.
After beating Tottenham Hotspur in the semfinals, Di Matteo led Chelsea to an FA Cup triumph by beating Liverpool 2-1 in the final.
Di Matteo's crowning glory came in May, when Chelsea defeated Bayern Munich on penalities to win the European Champions League. The historic success, Chelsea's first in the competition, was one of the reasons why club owner Roman Abramovich gave Di Matteo the manager's job on a full-time basis.
Chelsea suffered a set back early in the 2012-13 season when a Radamel Falcao-inspired Atletico Madrid beat Di Matteo's team 4-1 in the European Super Cup final.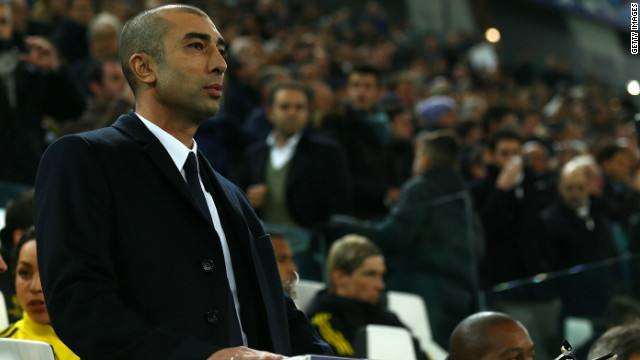 Roberto Di Matteo's time at Chelsea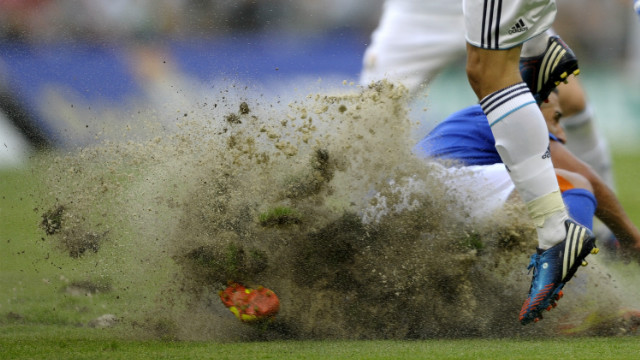 Over the weekend third-tier Spanish club Real Oviedo were saved from extinction after receiving a huge injection of cash from the world's richest man Carlos Slim.
Oviedo fans show their support for the club in the Estadio Carlos Tartiere with a banner reading "For the future of Real Oviedo". The Spanish club had needed to raise €1.9 million ($2.4 million) by November 17 or go bust.
Earlier in November Oviedo's board announced a share issue to attract investment and save the club. Remarkably the scheme took off as fans from all over the world bought the €11 ($13) shares after Oviedo's precarious position was highlighted on the social media website Twitter.
Slim was so impressed by the interest of fans in Oviedo from across the world -- he described their support as "extraordinary" -- that the Mexican tycoon pumped in a further $2.5 million to become Oviedo's majority shareholder. According to Forbes magazine, Slim has a net worth of $69 billion, having made his fortune in the telecommunications industry.
The Oviedo players huddle on the pitch before the match. Just over a decade ago Oviedo were playing in La Liga alongside Real Madrid and Barcelona, but mismanagement from the club's directors took the Asturian team to the brink of bankruptcy in recent years.
In September, Slim bought 30% stakes in two Mexican football teams, Pachuca and Leon, and he plans to use Oviedo "to create synergies and exchanges between Spanish, Mexican and Latin American football.''
Oviedo fans display a banner in the Estadio Carlos Tartiere reading: "Happen what may, Oviedistas until death." Of Slim's intervention, an Oviedo statement said: "This challenge and ambition is strictly a sports investment and one that looks to benefit the club and its fans. The investment will try to support Oviedo's players so they can reach their goals and the club can reach the division that corresponds to its history and values.''
Spanish football expert and long-time Oviedo supporter Sid Lowe has been a key figure in publicizing the club's plight. "Naturally, I have reservations, doubts & concerns," tweeted Lowe last weekend. "But with c. €2m of shares bought by 13,000+ ppl round world & Slim buying €2m Oviedo safe."
World Cup winner Juan Mata is one of the stars produced by Oviedo's youth system. He now plays for England's European champions Chelsea.
Michu was a Real Oviedo player for four years and has been campaigning on Twitter to save the club. He now plays in the English Premier League with Welsh club Swansea.
Arsenal's midfield maestro Santi Cazorla is another big-name player from Oviedo's academy who helped save his former club.
Mexican tycoon Slim is pictured at the 2012 Homeless World Cup in October. His widespread interests include providing financial backing for Mexican Formula One driver Sergio Perez.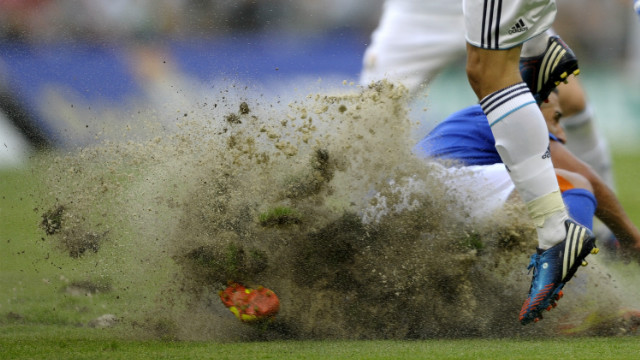 Real Oviedo - A fan's view
In the 16th minute, fans began to sing and applaud Di Matteo, who wore the number 16 shirt during his time as a player at the west London club.
But Benitez, whose side sit fourth and five points off leaders Manchester United, insists the hostile welcome did not bother him.
"I am focused on the game, I don't listen to the crowd," he told reporters.
"The main thing was the team on the pitch. I was not listening, I was just concentrating on the game.
"It was a tough game against a good team, no clear chances for them or us.
"It's not the ideal (result) but to have a clean sheet and to see the spirit and mentality and work rate was quite positive.
"You could see they were trying really hard with and without the ball and against a great team they had some chances."
City, who exited the Champions League during the week, are second in the league, a point behind neighbours United.
But manager Roberto Mancini felt his side should have done better, especially after Sergio Aguero missed a glorious opportunity early on.
"We were so poor in the last 20 metres," Mancini said. "When we have a chance, we need to score. "If you are soft, you won't score. That's why I was upset."
Meanwhile, goals from Adam Lallana and Gaston Ramirez helped Southampton climb out of the relegation zone with a 2-0 victory over Newcastle.
Tottenham defeated West Ham 3-1 at White Hart Lane to move up to seventh and go level with fierce rivals Arsenal.
Jermain Defoe scored twice and Gareth Bale was also on target with Andy Carroll breaking his 15-game drought for the visitors.
Brendan Rodgers was forced to endure a frustrating afternoon on his return to Swansea as his Liverpool side were held to a goalless draw.