STORY HIGHLIGHTS
Rory McIlroy wins the World Tour Championship in Dubai
World no.1 birdied the final five holes to defeat Justin Rose
McIlroy had already won Race to Dubai and topped European Money list
Justin Rose finishes second after threatening to shock the Northern Irishman
(CNN) -- Rory McIlroy produced a dazzling performance to clinch the World Tour Championship in Dubai.
The world no.1 birdied the last five holes to pip Justin Rose by two shots and round off a phenomenal year.
Beginning the day leading the field alongside Luke Donald, the Northern Irishman was forced to produce his brilliant best as his Ryder Cup teammate faded towards the end.
McIlroy had fallen two shots off the lead following a bogey on the 13th as Rose bloomed in the Dubai sunshine.
McIlroy to duel with Donald for Dubai glory
Rose, ranked seven in the world, set a new course record with a bogey-free round of 10-under par 62.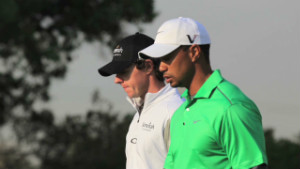 Exclusive: Tiger and Rory's 'bromance'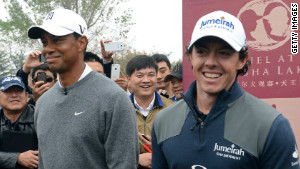 Tiger and Rory talk friendly competition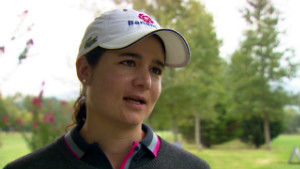 Ochoa: Motherhood has changed me
But McIlroy, watched by tennis ace girlfriend Caroline Wozniacki, produced an exquisite run of form down the final stretch to finish on six-under 66 and 23-under for the tournament.
And the 23-year-old, who came into the tournament having already won the Race to Dubai European Money List, was thrilled with his latest triumph.
McIlroy clinches money list double
"I just wanted to finish the season the way I thought it deserved to be finished," McIlroy told reporters.
"I've played so well throughout the year, and I didn't want to just let it tail off sort of timidly. I wanted to come here and finish in style. I was able to do it.
"Obviously going out today, myself and Luke (Donald) were tied for the lead, and we both didn't get off to the greatest of starts.
"And then Justin had that incredible back nine, shot 62, and I knew midway through the back nine I needed to do something special.
"Somehow I summoned up the energy from somewhere to make five birdies in the last five holes. It's just a great way to end this tournament, a great way to end the season, and I am already excited about 2013.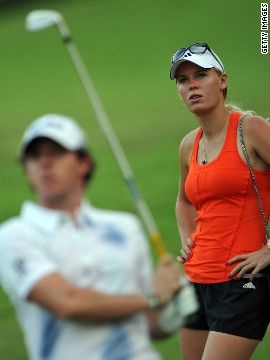 Caroline Wozniacki watches boyfriend Rory McIlroy during the continuation of the weather-delayed first round of the Singapore Open.
The Danish tennis star tweeted that she had not enjoyed having to get up at 5.15 a.m. as McIlroy got ready to resume the tournament.
McIlroy took a break last week to watch Wozniacki's final tournament of the year, and she returned the compliment as he returned to action following his "Duel at Jinsha Lake" against Tiger Woods.
Half of the tournament's players were unable to start their second rounds on Friday due to ongoing rain delays and the threat of lightning.
McIlroy is struggling with illness as he seeks to clinch a notable money list double on both the European and U.S. PGA Tours, emulating Luke Donald's feat last year.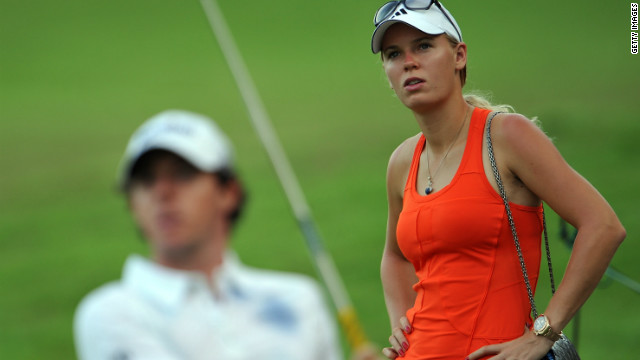 'Wozilroy' struggling in Singapore rain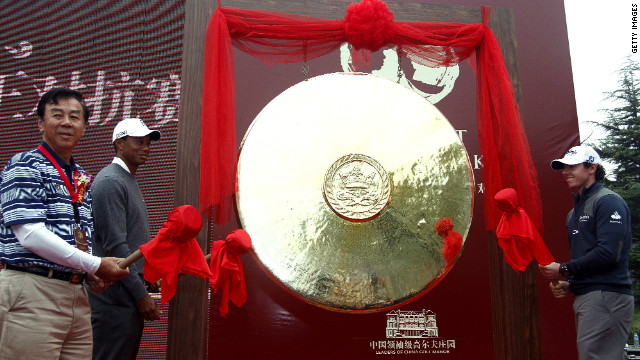 Rory McIlroy and Tiger Woods look on in amusement before banging a ceremonial gong to mark the start of their "Duel at Jinsha Lake."
Both McIlroy and Woods, pictured above, had their handprints immortalized in clay as a lavish ceremony featuring drum majorettes and fireworks preceded their clash in the Chinese city Zhengzhou.
World No. 1 McIlroy cannot keep a straight face as the players pose at the first green, ahead of a clash reported to be paying the pair a combined total of $2 million.
"The scene was barely-controlled chaos," wrote Sports Illustrated's Alan Shipnuck. "Some 3,000 fans streamed across the fairways, with soldiers locking arms in a human fence to keep the throngs off the greens."
A course marshall practices kung fu as she awaits the golfers' arrival.
"On the tee boxes there were so many camera clicks it sounded like machine gun fire," Shipnuck wrote.
Local golf fans talk with one of the models who inhabited the greens in their evening wear in scenes seldom seen on any golf course.
Woods tries to maintain focus as a luxury boat passes by, with the clubhouse car park also boasting a collection of Rolls-Royces, Ferraris, Aston Martins and Maseratis.
Young fans show their support for McIlroy and Woods in a country that is seen as the next great market for golf to conquer.
McIlroy never trailed Woods after starting with a birdie, going on to card a five-under-par 67 -- one less than the world No. 2.
McIlroy awaits his trophy on a day that coincided with the launch of the multi-million-dollar "Golf Villas" to be built around the Jinsha Lake course.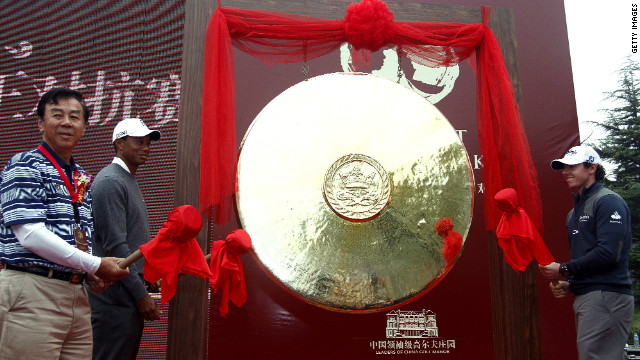 Duel at Jinsha Lake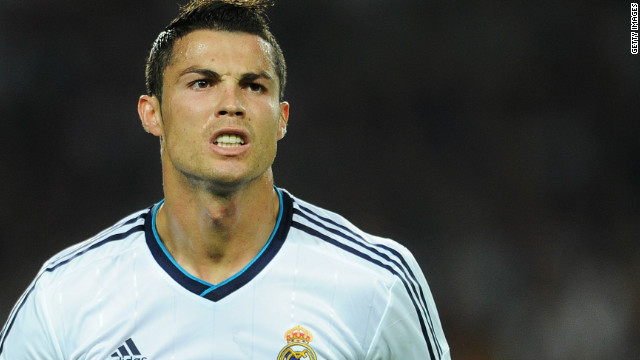 Cristiano Ronaldo, who says he admires Barack Obama's communication skills and honesty, has scored 16 goals in just 12 games for Real Madrid this season.
Ronaldo and former Manchester United teammate Wayne Rooney have both revealed their support for Barack Obama in the U.S. Presidential race, with neither previously known for their political leanings.
Golf legend Jack Nicklaus believes Mitt Romney's business acumen will provide a brighter future for his children and grandchildren in the financially-troubled United States.
NBA star LeBron James has shrugged off concerns he could damage his raft of endorsements by packing one of the candidates. The Miami Heat small forward tweeted his backing for President Obama.
Basketballer Carmelo Anthony, seen here celebrating 2012 Olympic gold, is in no doubt as to who he can trust, helping Obama during a fund-raising day in New York in August.
Golfer Rickie Fowler, 23, recently declared his support for Romney, so earning the ire of some of his 400,000 followers on Twitter.
Willie Mays, one of baseball's all-time greats, has thrown his backing behind Obama, along with Hank Aaron, a fellow legend of the sport.
Michael Eruzione, who captained the United States' ice hockey team to their stunning 'Miracle on Ice' victory over the Soviet Union in 1980, is introduced at the Republican National Convention in August, when he gave his backing to Romney.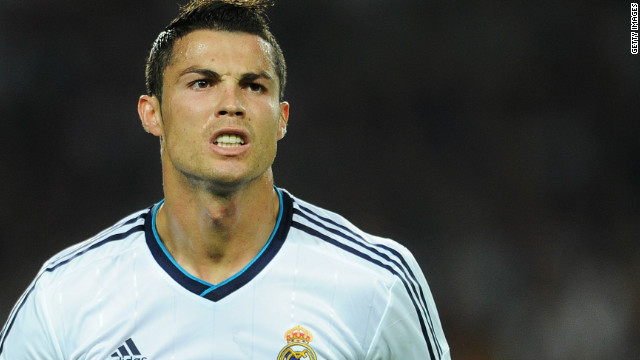 Presidential candidates' sporting endorsements
"It means a lot to me to win in this fashion, as well. I guess in a way, Justin gave me the opportunity to do what I did.
"I guess seeing a target there and shooting at something, it definitely makes you more focused."
The 23-under-par 265 recorded by McIlroy matched the lowest four-round aggregate in the four-year history of the tournament -- set by Lee Westwood in 2009.
Will McIlroy join Tiger at Nike in $20M a year deal?
He also equaled the Englishman's achievement of winning both the Race to Dubai European Money List and the World Tour Championship in the same season
Meanwhile, Rose was left to reflect on what might have been having gone close to making an eagle putt from 70 feet on the 13th only to miss by inches.
He said: "That was a lot of fun. The front nine was just as good as the back nine, and the back nine putts started going in, which is a nice feeling.
"But you know what Rory is capable of. Fair play to him for making all those birdies down the stretch."
Luke Donald, who led alongside McIlroy overnight, finished on 18-under for the tournament after making two bogeys on the final round having not made any over the first 100 holes of the tournament.
He finished level alongside 2011 Masters champion Charl Schwartzel.