'Hit Man' Hatton quits boxing
November 25, 2012 -- Updated 1649 GMT (0049 HKT)
STORY HIGHLIGHTS
Ricky Hatton has retired from boxing for a second time
The 'Hit Man' was defeated by Vyacheslav Senchenko
Hatton had hoped to relaunch his career after three-year absence
Boxer admits: "It's the end of Ricky Hatton."
(CNN) -- Ricky Hatton has hung up his gloves after suffering a ninth-round knockout in his comeback fight against Vyacheslav Senchenko.
The 34-year-old, who was fighting for the first time since suffering a second-round defeat by Manny Pacquiao in 2009, had hoped to relaunch his career after deciding to return to the ring.
'The Hit Man' as he is affectionately known, had endured a troubled time since quitting the sport following the loss to Pacquiao
Hatton had faced a battle with drink, drugs and depression before deciding to give boxing one last shot.
But the former two-weight world champion was shown no mercy by his opponent and was left to rue a career-ending defeat.
End game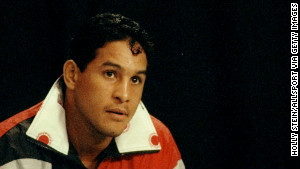 Boxer Hector 'Macho' Camacho dies at 50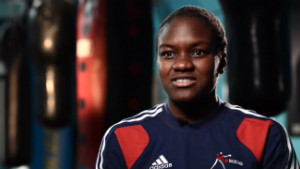 How Nicola Adams punched her way to gold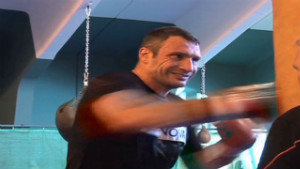 Boxing champ enters political ring
A badly bruised Hatton told reporters: "I found out tonight it isn't there no more. I'm a straight-shooter and I tell the truth. I can look at myself in the mirror and tell myself I did my best, but there is always an excuse to find.
"I got in the best shape I possibly could, but if I hadn't been hit with that body shot I would have just scraped over the line with a points win and I honestly think I would still be telling you all the same thing.
"A fighter knows and I know it isn't there any more. It's too many hard fights, I've burned the candle at both ends, I've put my body through the mire in and out of the ring but it doesn't matter how hard I train, I couldn't have done any better.
"I'm a happy man tonight. I don't feel like putting a knife to my wrists. I have got the answers I needed.
"I got the opportunity and I got the answers and no matter how upsetting it is, I have got to be a man and say it is the end of Ricky Hatton."
Career
Hatton became the British light-welterweight champion in 2000 after going 21 fights unbeaten.
He followed that up the following year by winning the WBU light-welterweight title.
It was in 2005 that he secured his legacy, defeating the then IBF light-welterweight champion Kostya Tszyu.
He claimed a points victory over Luis Collazo in 2006 to seal the WBA welterweight title.
Defeat to Floyd Mayweather Jr in December 2007 hit him hard, but Hatton returned to the ring with victories over Juan Lazcano and Paulie Malignaggi in 2008.
It was his brutal beating by Pacquiao in May 2009 which looked to have ended his career before he announced his shock return to the sport last September.

Part of complete coverage on
U.S. Sport

Is 80 years of sporting tradition really more important than respecting Native American rights, asks CNN's Kurt Mullen?
October 25, 2013 -- Updated 1734 GMT (0134 HKT)

Women dancing on the fringes of competitive sport has been labeled an echo from an age of sexism and misogyny.

CNN's Dane Stallone argues that the Women's National Basketball League deserve more respect.
October 19, 2013 -- Updated 1555 GMT (2355 HKT)

A Texas white hat has crossed through the pearly gates.
October 9, 2013 -- Updated 2309 GMT (0709 HKT)

American football is continuing its love affair with London.
October 21, 2013 -- Updated 1638 GMT (0038 HKT)

Former NBA player Shaquille O' Neal buys part of NBA's Sacramento Kings. CNN's Rachel Nichols has more.
October 7, 2013 -- Updated 1519 GMT (2319 HKT)

It was only a year and a half ago that a phenomenon swept the globe and made basketball fans a little, well, "Linsane."
September 24, 2013 -- Updated 1002 GMT (1802 HKT)

Soccer may be the No. 1 sport in most of Africa but basketball is growing fast and the NBA is courting the continent in a big way.
June 14, 2013 -- Updated 1645 GMT (0045 HKT)

Sebastien De La Cruz has become a household name after his renditions of the U.S. national anthem during the NBA Finals.
May 31, 2013 -- Updated 2004 GMT (0404 HKT)

OK, readers, let's have a debate: Who is the best player in the NBA? Is it Kevin Durant, LeBron James or Kobe Bryant?
June 6, 2013 -- Updated 1629 GMT (0029 HKT)

Tiger Woods has not only climbed back to the top of the golf rankings, he has reclaimed his crown as the world's highest-paid athlete.
May 28, 2013 -- Updated 2223 GMT (0623 HKT)

After a prolonged courtship with Seattle, the Sacramento Kings are officially staying put.
May 27, 2013 -- Updated 2134 GMT (0534 HKT)

Robbie Rogers became the first openly gay male athlete to play in a pro American sporting match when he took the field for MLS team LA Galaxy.
Today's five most popular stories