Hamas leaders in Egypt for cease-fire talks involving Israel
November 25, 2012 -- Updated 1522 GMT (2322 HKT)
STORY HIGHLIGHTS
Abbas says all Palestinian factions support the renewed statehood bid
A spokesman says the Hamas prime minister does not support the move
A restriction loosens for Palestinian fishermen under the cease-fire deal, Hamas says
Egypt helped to broker the deal, along with the United States
Gaza City (CNN) -- A high-level delegation from Gaza has arrived in Egypt "to complete arrangements for cease-fire talks" involving sticking points between Hamas and Israel, Hamas said in a statement Sunday.
Talks are set to resume Monday in Cairo between Israelis and Egyptians to further discuss the details of the cease-fire, which began to take hold last week, Hamas Prime Minister Ismail Haniyeh's office said.
Discussions will include topics such as opening border crossings and easing Israel's economic blockade in Gaza, Haniyeh's office said.
Read more: Timeline: Israel-Gaza conflict
The cease-fire was brokered last week after Israel launched a series of strikes on Gaza with the stated goal of halting Israel-bound rocket attacks from militants in the Palestinian territory. The ongoing talks come as Palestinian Authority leaders plan to renew their bid for statehood before the United Nations this week.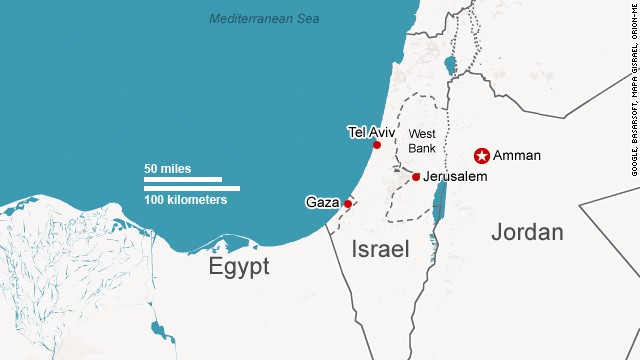 Map: Israel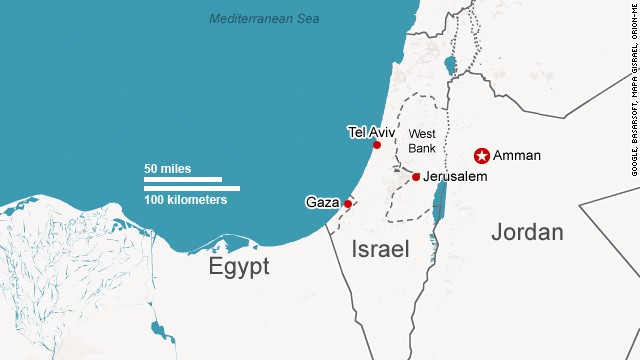 Map: Israel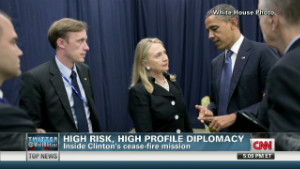 Behind scenes look at Gaza ceasefire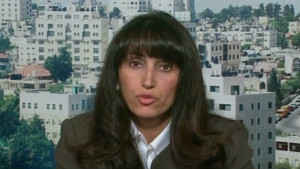 Buttu: Palestinians need reconciliation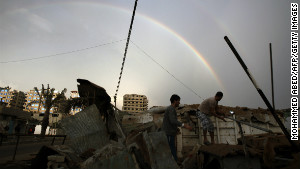 Clashes flare in Gaza during cease-fire
"All the Palestinian factions are behind us as we go tomorrow to the United Nations," Palestinian Authority President Mahmoud Abbas said Sunday in a speech broadcast on Palestine TV.
But the Gaza-based Hamas has long opposed the gambit that Abbas launched last year, and Hamas spokesman Taher al-Nunu said Sunday that there was "no truth" to reports that Haniyeh's office "has blessed the move to go to the United Nations."
Read more: Can cease-fire result in real change?
At least one Hamas member expressed support for the statehood bid over the weekend. Nasser al-Shaer, a former government minister and Hamas deputy, said he supports the U.N. bid, according to Hamas-run and Palestinian Authority-run media.
A vote on the Palestinian status is expected at the United Nations on Thursday.
Meanwhile, a restriction has been loosened for Palestinian fishermen as part of the Hamas-Israel cease-fire deal, the Hamas movement said.
Read more: Israeli: 'How would you feel if your children were constantly scared?'
The fishermen are now permitted to head out six nautical miles offshore, rather than three, according to a statement issued by Haniyeh.
The head of Egyptian intelligence, who helped spearhead the cease-fire between Israel and Hamas, informed Haniyeh of the move, the statement said.
There was no immediate reaction from Israel.
Egypt and the United States helped forge the cease-fire as Israeli ground forces gathered near the Gaza border for a possible ground invasion. The eight-day conflict left more than 160 Palestinians dead, many of whom were civilians.
Six Israelis also died, including civilians and soldiers.
CNN's Amir Ahmed contributed to this report.

Today's five most popular stories
Part of complete coverage on
Israel-Gaza conflict

Are you in the region? Share photos and video of what you are witnessing, but please do not expose yourself or others to a dangerous situation.

Follow CNNArabic for the latest news and analysis from the Middle East and rest of the world.
November 24, 2012 -- Updated 2025 GMT (0425 HKT)

As the dust settles over Gaza and Israel amid relative calm, analysts consider who were the winners and losers from the conflict.
November 23, 2012 -- Updated 1240 GMT (2040 HKT)

Palestinian Authority leaders renewed calls for unity with their Hamas-led rivals after the latest Israel-Gaza conflict, but the fighting may have left Hamas with the upper hand.

The relentless pace of the Israeli airstrike on Gaza gave the country's military time to make a significant dent in the offensive capability of Hamas, the Israeli military said.
November 22, 2012 -- Updated 1425 GMT (2225 HKT)

The brief but bloody Gaza conflict marks a clear wake-up call to both sides on the need to start serious talks beyond the new cease-fire.
November 22, 2012 -- Updated 1425 GMT (2225 HKT)

However crude the calculation, the winners and losers in the Israel-Gaza conflict are already reshaping political alliances in the Middle East.
November 22, 2012 -- Updated 1428 GMT (2228 HKT)

In the background of the drama playing out in Gaza and southern Israel, an election looms. On January 22, Israelis will go to the polls.
November 26, 2012 -- Updated 1136 GMT (1936 HKT)

Four-year-old Yosef lies in a hospital bed with curiosity gleaming in his eyes as he listens to a family friend tell him the age-old story of Jonah and the whale.
November 22, 2012 -- Updated 1958 GMT (0358 HKT)

Egyptian President Mohamed Morsy has won praise for his effort to bring about a cease-fire highlight the delicate balancing act he faces.
-- Updated GMT ( HKT)

Israel and the Palestinian militant group Hamas have been engaged in a bitter, decades-long conflict over Gaza.
November 24, 2012 -- Updated 1855 GMT (0255 HKT)

What is the group, where did it come from and what does it hope to achieve by its rocket attacks on Israeli targets? CNN explains.