STORY HIGHLIGHTS
More than 2.7 million children in America live with a parent in prison, says a recent study
In some countries, children even have to live in prison with their parents
These children often become depressed and angry; some repeat the cycle of crime
Top 10 CNN Hero Pushpa Basnet and others are reaching out to support these kids
(CNN) -- The boy was scared, angry, insecure. His dad was away in prison, and the son didn't know how to grapple with his loss.
"Everybody says my father is so bad, but I really love him," the boy said.
Sharon Content still recalls that conversation -- a reminder of her life's calling. She worked on Wall Street for five years before realizing that she needed something more meaningful.
"I just didn't feel satisfied," she said.
Content is the founder of the Brooklyn, New York-based Children of Promise organization, aimed at helping children cope with having a mother or father in prison. Her organization works with about 200 children between the ages of 6 and 16, all of whom have at least one parent in prison.
"I call them the silent victims of incarceration," Content said. "They're not the victim who the crime was committed against, but they are feeling the ramifications of their parents doing time."
More than 2.7 million children in America have a parent in prison, according to a 2010 study (PDF) by The Pew Charitable Trusts. For the vast majority, there are few outlets for the kids. Children are left to be reared by grandmothers, aunts, moms -- themselves often already struggling below the poverty line. Sometimes, they fall into the hands of the state.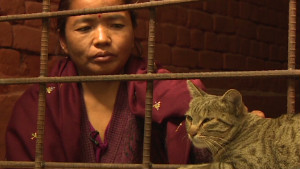 Saved from a life behind bars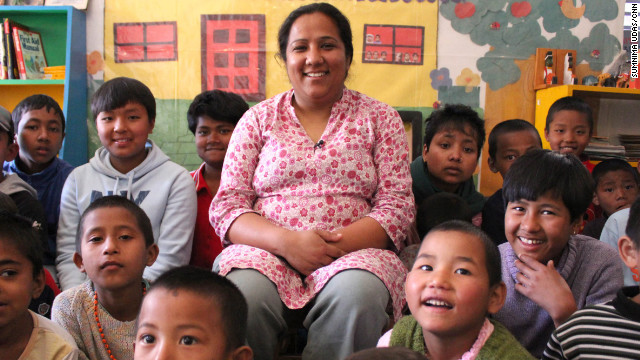 Pushpa Basnet was shocked to learn that children in Nepal were living in prisons with their parents. In 2005, she started a children's center that has provided housing, education and medical care to more than 140 children of incarcerated parents. "I always had a dream to build our own home for these children, and I want to rescue more children who are still in prisons," Basnet said. See more photos of Pushpa Basnet, who was voted CNN Hero of the Year for 2012.
Wanda Butts lost her son in a drowning accident six years ago. In his memory, she started the Josh Project, a nonprofit that taught nearly 1,200 children -- most of them minorities -- how to swim. "I started the Josh Project to keep other mothers from having to suffer such unforgettable loss," she said. See more photos of Wanda Butts
Mary Cortani is a former Army dog trainer who started Operation Freedom Paws, a nonprofit that helps war veterans train their own service dogs. Since 2010, she has worked with more than 80 veterans who have invisible wounds such as post-traumatic stress disorder. "I'm hoping this brings awareness to the world that PTSD is real and that we will be able to reach more veterans who so desperately need help," Cortani said. See more photos of Mary Cortani
Catalina Escobar is helping young moms in Colombia, where one in five girls age 15-19 is or has been pregnant. Since 2002, her foundation has provided counseling, education and job training to more than 2,000 teenage mothers. "Teenage pregnancy is a world poverty problem, and we have developed models of intervention that break the cycle," Escobar said. "I want to share it with people around the world." See more photos of Catalina Escobar
Razia Jan is fighting to educate girls in rural Afghanistan, where terrorists will stop at nothing to keep them from learning. She and her team at the Zabuli Education Center are providing a free education to about 350 girls, many of whom wouldn't normally have access to school. "This honor is a God-given gift that will make it possible for me to continue to give a ray of hope to these girls," Jan said. "My goal is to break the cycle of violence." See more photos of Razia Jan
Thulani Madondo struggled as a child growing up in the slums of Kliptown, South Africa. Today, his Kliptown Youth Program provides school uniforms, tutoring, meals and activities to 400 children in the community. "We're trying to give them the sense that everything is possible," he said. See more photos of Thulani Madondo
In memory of his daughter who was killed by a drunken driver in 2007, Leo McCarthy started Mariah's Challenge. The nonprofit gives college scholarships to teenagers who pledge not to drink while they're underage. Nearly $150,000 in scholarship money has been awarded. "We can change an apathetic culture of teenage drinking and driving," McCarthy said. "Hopefully one day soon we will not need Mariah's Challenge." See more photos of Leo McCarthy
Connie Siskowski is helping young people who have to take care of an ill, disabled or aging family member. Since 2006, her nonprofit has provided assistance to more than 550 young caregivers in Palm Beach County, Florida. "I can only believe that when more people understand about this precious population, they, too, will want to recognize and support them," Siskowski said. "These children suffer silently behind closed doors." See more photos of Connie Siskowski
After beating his addiction to drugs and alcohol, Scott Strode found support through sports. Since 2007, his nonprofit, Phoenix Multisport, has provided free athletic activities and a sober support community to more than 6,000 participants in Colorado. "This is an opportunity to shine a light on individual stories of recovery and sobriety in a way that will help remove the shame and stigma that surrounds dependency and addiction," he said. See more photos of Scott Strode
Malya Villard-Appolon is a rape survivor dedicated to supporting victims of sexual violence in Haiti. In 2004, she co-founded KOFAVIV, an organization that has helped more than 4,000 rape survivors find safety, psychological support and/or legal aid. "This encourages me to continue to fight on behalf of women and girls who are victims," she said. "I hope it brings about a change for my country." See more photos of Malya Villard-Appolon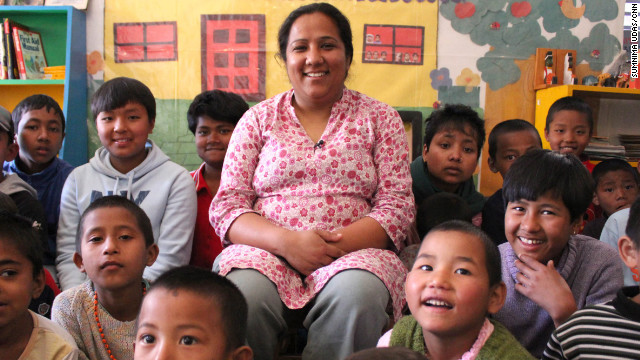 The top 10 Heroes: In their own words
In some countries, children actually grow up behind bars with their parents because no one else can raise them and there isn't a social safety net large enough to take care of them all. Pushpa Basnet, one of this year's top 10 CNN Heroes, runs a home in Nepal where dozens of these children can live a more normal life, even in their parents' absence.
At her organization in Brooklyn, Content says separation from parents often leads to depression, anxiety and anger. In some cases, the kids witnessed the crimes their parents committed, so the group works with the children to remove the stigma they may feel.
"There's so many different scenarios that these young people go through," Content said. "But the one thing that's consistent is, there's a level of embarrassment of what your parent did, and they shoulder that level of shame."
Across town from Content, Christopher Watler runs the Harlem Community Justice Center, a nonprofit group that works with the state court system in helping inmates re-enter society. It helps about 250 inmates a year find jobs, get mental health treatment and strive for a life beyond crime.
"Lots of times when a guy comes home, there's a lot of excitement, and the families welcome them back home," Watler said. "But very soon after the honeymoon phase of the release ends, the reality starts to sink in: When are you going to get a job?
"For some, those pressures can lead them back. We don't want that."
Many times, a parent has missed large chunks of his child's most formative years while serving time. That can create awkward and tense moments upon his or her return.
Watler's organization works with a "family re-entry" social worker and interfaith groups to help ease that transition by providing help with rent, food and little things like diapers.
"If you're arguing because you don't have Pampers to contribute to the household," Watler said, "we want to help solve that problem in the short term until you get on your feet."
They especially focus on men and women 18 to 24 years old, who are at the highest risk of committing crimes again. Watler's group provides counseling to give them the skills to be a successful parent while emphasizing that staying crime-free is an important lesson for their kids to witness.
"They want to have those relationships with their children," he said.
At Children of Promise, more than 100 letters of thanks adorn the walls. They are notes from parents in prison thanking the organization for keeping them in contact with their children. "They're happy that we still respect this very important relationship," Content said.
The children in the after-school and summer programs write to their moms and dads every two weeks. They include photographs, report cards and other items going on in their lives. Often the kids will ask each other: What did you tell your dad?
In Nepal, Basnet also wants to preserve the bond between parent and child. During school holidays, she sends the younger children to the prisons to visit, and she brings them food, clothing and fresh water during their stay. She also started a program to teach the parents how to make handicrafts, which she sells to raise money for the children's care.
"Often, they think that they're useless because they're in prison," Basnet said. "I want to make them feel that they are contributing."
Who's your CNN Hero of the Year? Cast your vote now!
Content believes that programs tailored to children are vital in breaking the generational cycle of incarceration.
"The cycle doesn't continue because (the children) saw behavior and repeated it," she said. "From my experience working with the population, the cycle repeats itself because of the lack of support that this young person now has after going through these traumatic experiences."
The children are allowed to still be kids at her program. They play sports and other recreational activities. But the children also talk in groups about their feelings, and they are allowed access mental health support.
"Young people who have lost a parent to military deployment or death or even divorce, society has a level of compassion and understanding for that," Content said. "But for a child who loses a parent to incarceration, that same level of empathy doesn't exist."
She recalls consoling the one boy who wondered about whether it was OK to love his father.
"Your dad is not bad," she told him. "He made some bad decisions and ... is paying for those mistakes. You can feel good about loving him."
Content knows that helping 200 children is "just a drop in the bucket" compared with millions of kids with incarcerated parents. But she hopes her organization grows, first statewide and then nationwide, to bring attention to society "about a population they may not even think about."
"If I'm able to give a bit of a voice to the population," she said, "I feel like I'm doing my part."
CNN's Kathleen Toner contributed to this report.