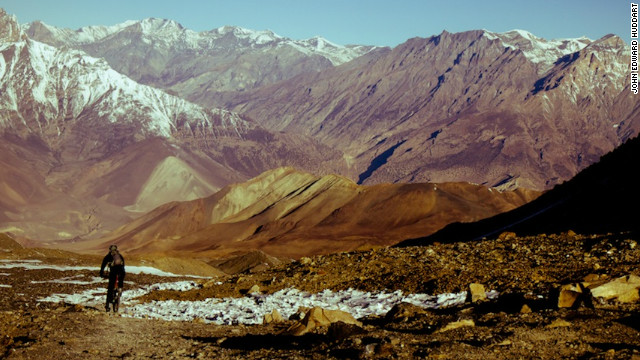 The spectacular setting of the Himalayas is the battleground for the Yak Attack -- a 400km feat of mountain biking endurance and nerve. IInvolving 12,000m of climbing over the highest mountain pass in the world, competitors have to cope with the effects of altitude, frostbite and snow blindness.
The Four Deserts ultramarathon race series challenges competitors to take part in races in the Gobi Desert, the Sahara, the Atacama and Antartica. Each race covers 250km over seven days in some of the world's most inhospitable climates. Athletes carry their own food and equipment with only limited assistance.
Paragliding experience and a heap of endurance are the requirements if you take part in the Red Bull X-Alps - a biennial event which requires competitors to traverse the length of the European Alps -- nearly 900km -- from Salzburg in Austria to the Principality of Monaco. The route goes from mountain top to mountain top but you must also trek with all your equipment.
The EWR South Pole Race tests competitors to the limit as they brave bitter temperatures of -40C and blinding snowstorms in their trek across the infamous Antarctic Polar Plateau in the footsteps of great explorers such as British Captain Robert Scott and the Norwegian Captain Roald Amundsen.
An ultra distance race of 100 miles (160km) is tough enough but the Western States 100 has athletes battling high altitude in the Squaw Valley at 1900m and and over 5500m of climbing -- all in under 30 hours.
The Norseman in Norway is surely among the toughest of all ironman events with the start seeing athletes jump into a freezing fjord to swim 3.8km. They cycle 180km through mountainous terrain and the 42km marathon run finishes on top of the 1880m Gaustatoppen mountain.
Competitors in Earth in the Jungle Marathon tackle 220km of inhospitable terrain in seven days, battling swamps, poisonous trees and intense heat in the Amazon. Athletes are self-supported to toughen the challenge.
Patagonia is a forbidding but spectacular setting for an endurance adventure race. The teams of four in the Patagonia Expendition Race must tackle 600km -- using foot, bike and kayak over multiple days in the territory straddling Argentina and Chile.
The concept is simple. Cycle 4828km across the United States, either in teams or alone. No less than 51,800m of climbing are involved as you cross 12 states from California to Maryland. The cut off time is just 12 days which means sleep deprivation and exhaustion are major issues, not to mention the changing weather conditions.
The Hawaii Ironman is the most famous event in triathlon but also among its toughest. Intense heat and crosswinds bring competitors to their knees as they tackle the 3.8km swim, 180km bike ride and marathon run on Kona Island.
The Dead Sea ultra marathon is a 48.7km run with a difference as competitors go from a starting point over 900m above sea level in Amman to finish at the Dead Sea at 400m below sea level. Heat is a major inhibiting factor in this endurance test.
The Swedish archipelago is the setting for the Otillo, which sees teams of two swim 10km and run 54km over the course of 14 hours. The cold water is continually entered and exited and many choose to swim in their shoes, even wearing a rucksack, and run in wetsuits.
The Cape Epic in South Africa is one of the most famous mountain bike races in the world with teams of two competing over 966km of terrain over six stages with massive climbs and daunting terrain.
Alpine climbing is the order of the day in the La Haute Route which starts in Geneva and finishes in Nice. Competitors can expect to ride around 730km over seven stages, with up to 17,000m of ascent. Many of the classic cols of the Tour de France are tackled on the way.
The start of the annual Comrades Marathon -- a famous ultra distance running race -- which sees over 12,000 runners tackle the 89.2km from Durban to Pietermaritzburg in South Africa.
Himalayan experience
Desert challenge
Alpine wonders
In the footsteps of Scott
Hard core ultra distance
Triple test
Amazonian feats
Patagonian adventure
Race Across America
Triathlon's blue riband event
Dead Sea test
Chill factor
Mountain bike epic
Height of endurance
Comrades on foot
STORY HIGHLIGHTS
Extreme endurance challenges growing in popularity
Amateur athletes and celebrities joining professionals on start line
The 42km marathon run used to be considered the ultimate test
Many of these endurance events take several days to complete
(CNN) -- While obesity rates soar in the developed world and we live an ever more sedentary lifestyle, the flip side to this health time bomb is the paradox that more and more amateur athletes are taking on extreme endurance challenges.
Running a 42km marathon is still considered a huge achievement, but "weekend warriors" have now turned in their droves to Ironman Triathlons.
For the uninitiated, that's a 3.8km swim, 180km cycle race and the marathon to finish.
And the more offbeat the challenge, the more entrants seem to be attracted.
In Telford, England each year thousands of people take part in an eccentric event called the Tough Guy Challenge, which involves a 12km run and assault course in freezing winter conditions.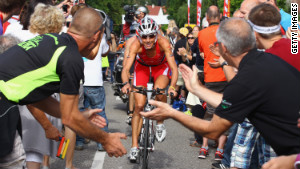 Ironman champ: 'Your mind matters more'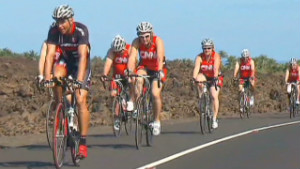 Fit Nation: Tips from Ironman champ
Just to make it more interesting, the organizer sets fire to parts of the course and puts in barbed wire fences and muddy bogs. Yet they come back year after year to be subjected to this torture.
Worn out just thinking about it?
The Tough Guy Challenge is a relative breeze in comparison to an Ironman race in Norway with arctic temperatures for the swim in a fjord, biking through a mountainous range, then finishing the 42km run at the top of a 1,880m peak.
That's the challenge awaiting competitors in the Norseman, one of 50 events featured in a book, the World's Toughest Endurance Challenges, by Richard Hoad and Paul Moore.
Triple Ironman
Despite the pain and the hours of preparation, such endurance events are strangely addictive.
Briton Mark Kleanthous has competed in 34 Ironmans -- including the most famous of them all in the blistering heat and brutal winds of Hawaii -- two double Ironmans and one Triple Ironman.
Since the mid-eighties, the 51 year-old has finished over 450 triathlons, making him almost certainly the record holder in that respect, not to mention the small matter of 75 mere marathons.
"The longer the event, the more the mind takes over, in a marathon it is probably only 10% mental in a Triple Ironman, with sleep deprivation, it must be at least 40% mental strength to continue," Kleanthous, who now coaches and mentors athletes who take on these challenges, told CNN.
Kleanthous took just under 46 hours of continuous action to complete his solitary Triple Ironman attempt.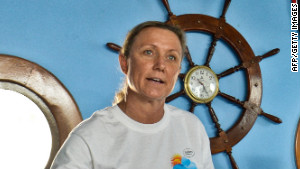 Palfrey abandons swim from Cuba to U.S.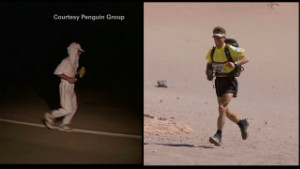 Karnazes: Marathons are just practice
"After swimming, cycling and running a total distance of 521 miles I had no facial hair growth for 10 days," he said. "I think it was my body's way of saying I am shutting down."
But there can be a darker side to this type of challenge.
Sleep deprivation
"I have known ultra endurance athletes to commit suicide within months of finishing sleep deprivation events," said Kleanthous.
"In events lasting days with no sleep for one or two hours per day athletes have hallucinated and believed they have seen friends or family cheering them by the side of the roads.
"One competitor believed he saw his parents and it was only after the race he realized he had hallucinated because his parents were dead."
Read: Tips from an Ironman world champion
Despite these warnings, it does not stop the rush to compete in events like the Marathon des Sables, which is also featured in the 50 challenges.
It is a near 200km run in the blazing temperatures and freezing nights of the Sahara Desert -- with a two-year waiting list to compete.
Many competitors are inspired by the exploits of superstar endurance athletes such as four-time Hawaii Ironman world champion Chrissie Wellington of Britain.
Mind games
"Of all the body parts we train, none is more important than the mind," she told CNN.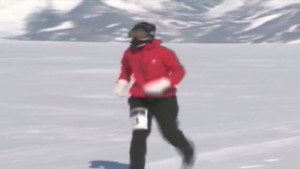 7 marathons, 7 continents, 5 days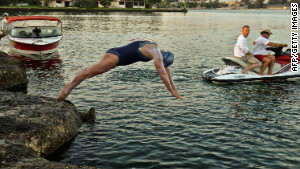 Endurance swimmer halfway to Florida Keys
"There is an obsession in triathlon with tracking how far and how fast we have gone in our latest session. People think that if their training log is in order, then so must be their preparation.
"But it's when the discomfort strikes that they realize a strong mind is the most powerful weapon of all," added Wellington.
Not all the most famous endurance challenges are multi-sport events, but swimming the English Channel or cycling the near 5,000 km in the Race Across America are still grueling tests.
Extremes of temperature also play a part from the Four Deserts Marathon challenge to the South Pole equivalent at -40C.
High altitude is the enemy in the Yak Attack, a mountain bike race through the Himalayas, while a head for heights is required in the Red Bull X-Alps where competitors paraglide and trek from Salzburg to Monaco across the European mountain range.
Celebrities have also begun to embrace the idea of sporting endurance challenges.
Charitable aims
British comedian David Walliams swam the English Channel for charity and topped that by completing the 224km of the River Thames in eight days.
Olympic gold medal winning rower James Cracknell finished 12th in the Marathon des Sables, and then attempted to swim, cycle, run and row between Los Angeles and New York before he was hit by a petrol tanker in Arizona.
It nearly cost him his life, although he has returned to adventure and endurance challenges to raise money for good causes.
Kleanthous is full of admiration for anyone who finishes just one of these events, but then really threw down the guantlet:: "What if someone attempted to do all 50 of the challenges? "