Supreme Court takes no action yet on same-sex marriage appeals
November 30, 2012 -- Updated 2126 GMT (0526 HKT)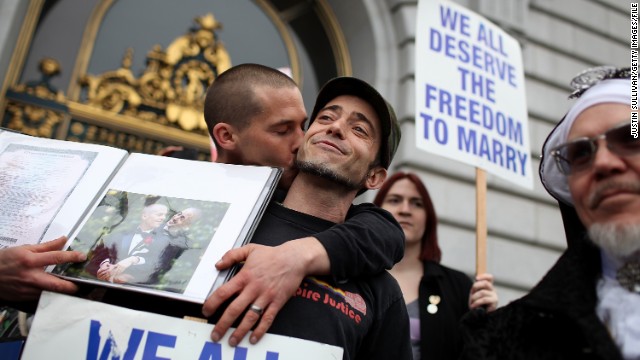 The
U.S. Supreme Court
is scheduled to hear two same-sex marriage cases next week. Above, Frank Capley-Alfano and Joe Capley-Alfano celebrate outside of San Francisco City Hall in February after a federal appeals court blocked the law.
Washington Gov. Chris Gregoire celebrates after signing marriage equality legislation into law earlier this year. Voters there approved same-sex marriage on Election Day.
In 2010, television reporter Roby Chavez, right, shares a moment with gay rights activist Frank Kameny during Chavez' and Chris Roe's wedding ceremony in the nation's capital.
Phyllis Siegel, 76, kisses her wife, Connie Kopelov, 84, after exchanging vows at the Manhattan City Clerk's office last year.
Michael Miller, left, and Ross Zachs marry on the West Hartford Town Hall steps after same-sex marriages became legal in Connecticut in 2008. A shift in beliefs was captured in a recent Pew Center poll that found 48% of Americans now favor same-sex marriage. Just four years ago, only 39% felt that way.
Maryland Gov. Martin O'Malley, center, shakes hands with Senate President Thomas V. Mike Miller after signing a same-sex marriage bill. The law was challenged, but voters approved marriage equality in a November referendum.
Lara Ramsey, left, and her partner of eight years, Jane Lohmann, play with their 7-month-old son, Wyatt Ramsey-Lohmann. The two wed in 2004 after Massachusetts approved same-sex marriage.
Beth Robinson of the Vermont Freedom to Marry Task Force was among those who fought for marriage equality in Vermont in 2009.
Amy Klein-Matheny, left, and her wife Jennifer were married in 2009 in Iowa after same-sex couples were allowed to marry there.
Same-sex marriage amendments in U.S.
Same-sex marriage amendments in the U.S.
Same-sex marriage amendments in the U.S.
Same-sex marriage amendments in the U.S.
Same-sex marriage amendments in the U.S.
Same-sex marriage amendments in the U.S.
Same-sex marriage amendments in the U.S.
Same-sex marriage amendments in the U.S.
Same-sex marriage amendments in the U.S.
STORY HIGHLIGHTS
Justices held closed-door meeting to decide whether to hear appeal
Unclear, but justices could need more time; next meeting Dec. 7
NEW: Some states have approved same-sex marriage; while others have banned it
Court again could be at center of case with huge social, legal and political stakes
Washington (CNN) -- The Supreme Court took no action Friday on a pending series of appeals over the divisive issue of same-sex marriage.
The justices had a closed-door conference to consider whether to accept for review several challenges to federal and state laws restricting the ability of gay and lesbian couples to legally wed.
But the court, without explanation, had nothing to report on the pending appeals. It was perhaps a sign it needed more time to consider the complex legal and constitutional questions.
If the high court has merely delayed consideration of the same-sex marriage cases, it may be prepared to revisit them as early as next Friday, when the justices hold another private conference.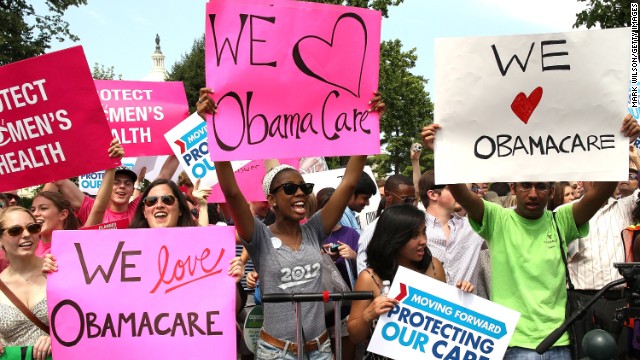 The Supreme Court upheld most of the Affordable Care Act, the Obama administration's health care reform law, on June 28, 2012. The decision could determine how hundreds of millions of Americans receive health care in the future. Here's a look at other landmark Supreme Court cases.
Activists rally in February 2012 to urge the Supreme Court to overturn its decision that fundamentally changed campaign finance law by allowing corporations and unions to contribute unlimited funds to political action committees not affiliated with a candidate.
Gregory Lee Johnson lights a flag on fire to protest the Reagan administration and some Dallas-based corporations. Johnson was convicted of desecrating a venerated object but the court overturned the verdict on First Amendment grounds.
President Richard Nixon claimed executive privilege over taped conversations regarding the Watergate break-in in an attempt to keep the tapes out of a congressional investigation. The Supreme Court ruled that executive privilege is not ironclad.
Wanda McCorvey, identified as "Jane Roe" sued the Dallas County, Texas, District Attorney Henry Wade over a law that made it a felony for her to have an abortion unless her life was in danger, citing her personal liberty. The court agreed with Roe and overruled any laws that made abortion illegal in the first trimester.
Ernesto Miranda confessed to a crime without the police informing him of his right to an attorney or right against self-incrimination. His attorney argued in court that the confession should have been inadmissible because police did not properly inform him of that right. The court agreed and the "Miranda Rights" got their name.
In 1961, Clarence Earl Gideon was convicted of burglary after he was denied the right to an attorney by a Florida court. Convinced that Constitution guaranteed him the right to an attorney, he wrote a note from his prison cell to the Supreme Court, which unanimously overturned the verdict.
Dollree Mapp was arrested under an Ohio law for possession of obscene materials after police entered her home waving a piece of paper and calling it a warrant. The Court ruled that states could not violate the Fourth Amendment right to reasonable search and seizure, which rendered evidence gained that way inadmissible.
Nathaniel Steward, 17, recites his lesson surrounded by white classmates at the Saint-Dominique School, in Washington, the first school in which the Supreme Court ruling banning school segregation was applied.
Fred Korematsu, a Japanese-American man, was arrested after authorities found out he claimed to be a Mexican-American to avoid being imprisoned in an interment camp during World War II. The court ruled that the rights of individuals were not as important as the need to protect the country during wartime.
Homer Plessy, who was of mixed descent, said because he was 7/8 white and 1/8 black, he should be alowed to ride the whites-only car on a segregated railway in Louisiana. The court upheld a 1890 state statute requiring railway cars provide separate but equal accomodations.
The front page of 'Frank Leslie's Illustrated Newspaper' reports the Dred Scott case, in which the court ruled that a slave could not gain his freedom by entering a state in which slavery was outlawed. The decision inflamed anti-slavery sentiment in the North.
Gibbons v. Ogden was the first case to establish Congress' power to regulate interstate commerce. The ruling signaled a shift in power from the states to the federal government and was later used as part of the basis of the Civil Rights Act of 1964.
In response to the federal government's controversial decision to institute a national bank, Maryland tried to tax the bank out of business. A customer sued Maryland and the court ruled that the implied powers in the Constitution allowed the federal government to create a national bank and that national supremacy made Maryland's actions unconstitutional.
Outgoing President John Adams tried to appoint a number of Federalist loyalists to to judicial positions but some of the appointments had not been delivered by the time Thomas Jefferson took office. Jefferson instructed his Secretary of State James Madison (pictured) to stop delivery on the appoinments, including that of William Marbury, who sued. The court's ruling established the principal of judicial review -- the court's ability to rule on a law's constitutionality.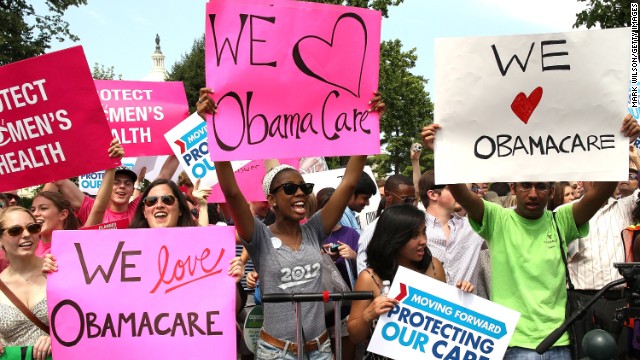 Cases that changed America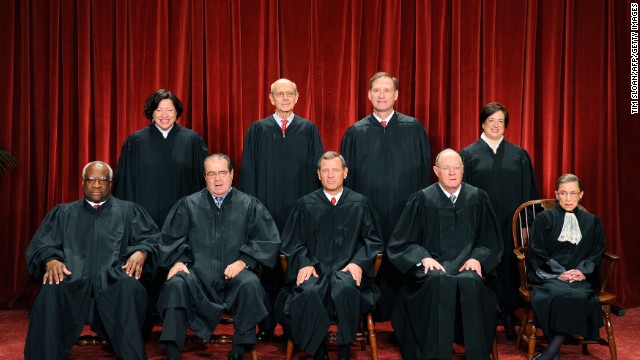 The justices of the U.S. Supreme Court sit for their official photograph on October 8, 2010, at the Supreme Court. Front row, from left: Clarence Thomas, Antonin Scalia, Chief Justice John G. Roberts, Anthony M. Kennedy and Ruth Bader Ginsburg. Back row, from left: Sonia Sotomayor, Stephen Breyer, Samuel Alito Jr. and Elena Kagan.
In 2005, Chief Justice John G. Roberts was nominated by President George W. Bush to succeed Justice Sandra Day O'Connor as an associate justice. After Chief Justice William Rehnquist died, however, Bush named Roberts to the chief justice post. The court has moved to the right during his tenure, although Roberts supplied the key vote to uphold President Barack Obama's Affordable Care Act.
Justice Antonin Scalia, 76, was appointed by President Ronald Reagan in 1986 to fill the seat vacated by Justice William Rehnquist when he was elevated to chief justice. A constitutional originalist -- and a colorful orator -- Scalia is a member of the court's conservative wing. He is currently the court's longest-serving justice.
Justice Anthony M. Kennedy, 76, was appointed to the court by President Ronald Reagan in 1988. He is a conservative justice but has provided crucial swing votes in many cases, writing the majority opinion, for example, in Lawrence v. Texas, which struck down that state's sodomy law.
Justice Clarence Thomas, 64, is the second African-American to serve on the court, succeeding Justice Thurgood Marshall when he was appointed by President George H. W. Bush in 1991. He is a conservative, a strict constructionist who supports states' rights.
Justice Ruth Bader Ginsburg, 79, is the second woman to serve on the Supreme Court. Appointed by President Bill Clinton in 1993, she is a strong voice in the court's liberal minority.
Justice Stephen G. Breyer, 74, was appointed to the court in 1994 by President Bill Clinton. He is considered a member of the court's liberal minority.
Justice Samuel A. Alito Jr., 62, was appointed by President George W. Bush in 2006 and is known as one of the most conservative justices to serve on the court in modern times.
Justice Sonia Sotomayor, 58, is the court's first Hispanic and third female justice. She was appointed by President Barack Obama in 2009 and is regarded as a resolutely liberal member of the court.
Justice Elena Kagan, 52, is the fourth female justice and a member of the court's liberal wing. She was appointed in 2010 by President Barack Obama and is the court's youngest member.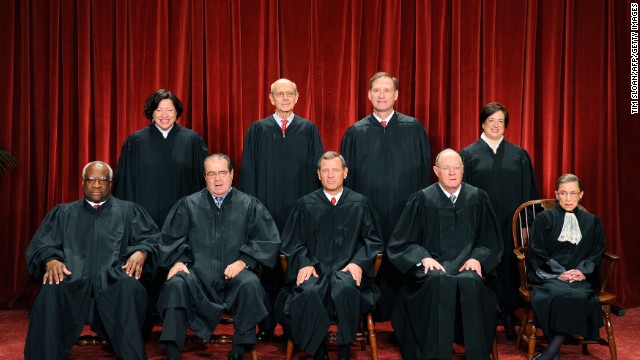 Photos: Today's Supreme Court
The political, social, and legal stakes of this long-simmering debate would once again put the high court at the center of national attention, a contentious encore to its summer ruling upholding the massive health care reform law championed by President Barack Obama.
Three separate issues on same-sex marriage confront the justices, including federal benefits, state benefits and state referendums.
Although there was no certainty the court was prepared to announce it would be tackling the issue, there was building anticipation among advocacy groups on both sides of the debate.
The Boston-based Gay & Lesbian Advocates & Defenders had set up temporary offices in a building next door to the high court to await word. Officials there privately expressed a measure of anxiety as the hours passed with no announcement.
The organization represents a broad group of gay and lesbian individuals and families in New England who were denied a range of federal benefits under the federal Defense of Marriage Act, or DOMA.
For federal purposes under the 1996 law, marriage is defined as only between one man and one woman. That means federal tax, Social Security, pension, and bankruptcy benefits, and family medical leave protections -- do not apply to gay and lesbian couples.
Earlier this month, voters in Maryland, Washington, and Maine approved same-sex marriage, adding to the six states and the District of Columbia that already have done so. Minnesota voters also rejected an effort to ban such unions through a constitutional amendment.
The court on Friday did accept for review two unrelated cases, including an appeal of whether human genes are patentable.

Part of complete coverage on
February 6, 2013 -- Updated 1526 GMT (2326 HKT)

Advocates say the exam includes unnecessarily invasive and irrelevant procedures -- like a so-called "two finger" test.
February 6, 2013 -- Updated 0009 GMT (0809 HKT)

Supplies of food, clothing and fuel are running short in Damascus and people are going hungry as the civil war drags on.
February 6, 2013 -- Updated 1801 GMT (0201 HKT)

Supporters of Richard III want a reconstruction of his head to bring a human aspect to a leader portrayed as a murderous villain.
February 5, 2013 -- Updated 1548 GMT (2348 HKT)

Robert Fowler spent 130 days held hostage by the same al Qaeda group that was behind the Algeria massacre. He shares his experience.
February 6, 2013 -- Updated 0507 GMT (1307 HKT)

As "We are the World" plays, a video shows what looks like a nuclear attack on the U.S. Jim Clancy reports on a bizarre video from North Korea.

The relationship is, once again, cold enough to make Obama's much-trumpeted "reset" in Russian-U.S. relations seem thoroughly off the rails.

Ten years on, what do you think the Iraq war has changed in you, and in your country? Send us your thoughts and experiences.
February 5, 2013 -- Updated 1215 GMT (2015 HKT)

Musician Daniela Mercury has sold more than 12 million albums worldwide over a career span of nearly 30 years.

Photojournalist Alison Wright travelled the world to capture its many faces in her latest book, "Face to Face: Portraits of the Human Spirit."
February 6, 2013 -- Updated 0006 GMT (0806 HKT)

Europol claims 380 soccer matches, including top level ones, were fixed - as the scandal widens, CNN's Dan Rivers looks at how it's done.
February 6, 2013 -- Updated 1237 GMT (2037 HKT)

That galaxy far, far away is apparently bigger than first thought. The "Star Wars" franchise will get two spinoff movies, Disney announced.
February 8, 2013 -- Updated 0718 GMT (1518 HKT)

It's an essential part of any trip, an activity we all take part in. Yet almost none of us are any good at it. Souvenir buying is too often an obligatory slog.

Today's five most popular stories