Pakistani schoolgirl activist Malala thanks supporters after being shot by Taliban
December 3, 2012 -- Updated 1027 GMT (1827 HKT)
STORY HIGHLIGHTS
Malala Yousufzai says thank you for "the outpouring of love and support"
She is recovering in Britain after being shot by Taliban gunmen in Pakistan
Her father says she is walking and reading books
She expresses commitment to the cause of promoting girls' education
(CNN) -- Malala Yousufzai, the Pakistani schoolgirl activist who was shot in the head by the Taliban, has expressed gratitude to the people around the world who have supported her as she recovers from the traumatic attack.
"Thank you so much for the outpouring of love and support," Malala said in a message read by Anderson Cooper at the CNN Heroes ceremony in Los Angeles. "I thank the people that supported me without distinguishing religion and color."
Malala has been campaigning for girls' right to education in a conservative area of Pakistan for years.
In her message, she praised girls in northwestern Pakistan "who are continuing their studies despite threats from militants."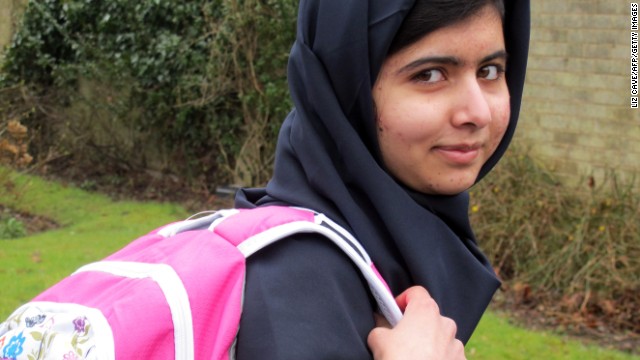 Malala Yousafzai returns to school for the first time at Edgbaston High School for Girls in Birmingham, England, on March 19, 2012. The 15-year-old said she had "achieved her dream."
Malala was one of seven people featured on the cover of Time's 100 most influential people edition of the magazine in April.
The teen was discharged from Queen Elizabeth Hospital in Birmingham, England, in February 2012.
Malala Yousufzai, 15, reads a book on November 7, 2012 at the hospital.
Malala talks with her father, Ziauddin. She was attacked for advocating for girls' education in Pakistan.
Malala sits up in bed on October 25, 2012 after surgery for a gunshot wound to the head.
Malala recovers at Queen Elizabeth Hospital on October 19, 2012 after being treated.
Pakistani hospital workers carry Malala on a stretcher on October 9, 2012 after she was shot in the head by the Taliban in Mingora.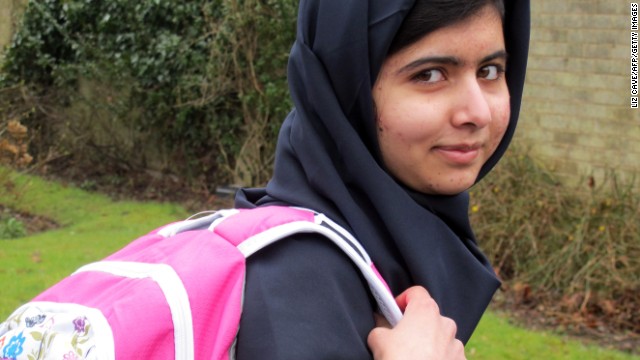 Photos: Malala's recovery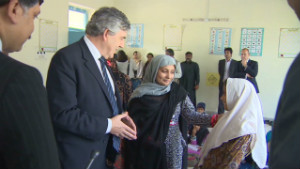 Gordon Brown supports Malala's message
She is now at a hospital in Britain, where she was transferred to soon after the assassination attempt in northwestern Pakistan in October. Examinations there revealed that she had suffered no major neurological damage, but she still faces a long struggle to recover from her injuries.
Malala is reading books and walking in the hospital in the city of Birmingham, according to her father, Ziauddin Yousufzai.
Her story generated a huge amount sympathy and support in Pakistan and across the globe.
The Pakistani Taliban have threatened to go after her again, but Malala appears to be undeterred from her campaigning.
"People have actually supported a cause, not an individual," she said in her message. "Let's work together to educate girls around the world."
CNN's Kyle Almond and journalist Nasir Habib contributed to this report.

Today's five most popular stories
Part of complete coverage on
October 9, 2013 -- Updated 2238 GMT (0638 HKT)

The teen blogger simply wanted an education. But she became a symbol of defiance against militants, empowering young women worldwide.
October 10, 2014 -- Updated 1624 GMT (0024 HKT)

More than three million girls are out of school in Pakistan, while spending on education has decreased to 2.3 percent of GDP in 2010.
October 9, 2013 -- Updated 1720 GMT (0120 HKT)

According to UNESCO, regional neighbors fare better in getting a literate population than Pakistan.
October 10, 2014 -- Updated 1651 GMT (0051 HKT)

Malala's journey from Pakistan hospital to the United Nations, author and education rights activist.
January 28, 2013 -- Updated 2012 GMT (0412 HKT)

Becky Anderson checks in on Pakistani schoolgirl Malala Yousufzai, who has become a global symbol for girls' education.
October 9, 2013 -- Updated 2233 GMT (0633 HKT)

The Pakistani Taliban issues a new death threat against Malala, who turns the other cheek.
October 19, 2012 -- Updated 1744 GMT (0144 HKT)

Hundreds of messages from around the world were received by CNN for Malala Yousufzai, the Pakistani teen activist attacked by the Taliban.
January 30, 2013 -- Updated 1031 GMT (1831 HKT)

The University Hospital in Birmingham, UK show scans and 3D images of Malala's head wound.
November 10, 2012 -- Updated 1407 GMT (2207 HKT)

Pakistan has a new heroine and a new cause -- a girl's right to education. Now the government vows to get every child into school by end 2015.