STORY HIGHLIGHTS
Acclaimed music photographer Randee St. Nicholas curated coffee table book
Sister-in-law Pat Houston conceptualized project to shine light on Houston's legacy
"Tribute to An Icon" features works from top fashion and entertainment photographers
(CNN) -- It's been nine months since pop music superstar Whitney Houston passed away, but her legacy continues to live on via television musical tributes, a recently released Greatest Hits compilation, the DVD release of her final film work, "Sparkle," and a critically panned reality show starring her family members.
"These projects are just some of the things that are a continuation of her legacy," said her sister-in-law/manager, Pat Houston. "They're showing Whitney in a very beautiful light. For the past 10 years or more, it has been very turbulent with the media and her personal life."
In the time leading up to her death, negative media attention plagued Houston, who was one of the best-selling artists of all time. A new book of photographs aims to shine a more positive light on her legacy. Released last week, it's called, "Whitney: A Tribute to An Icon."
Curated by acclaimed photographer Randee St. Nicolas, the oversized book features over 130 images of Houston captured by 22 world-class shutterbugs: Patrick Demarchelier, David LaChapelle, Sante D'Orazio, Bill Jones, Dana Lixenberg and Steven Meisel are just a few who shot her over the past 30 years.
Whitney Houston's storied career: A regal rise, a tragic fall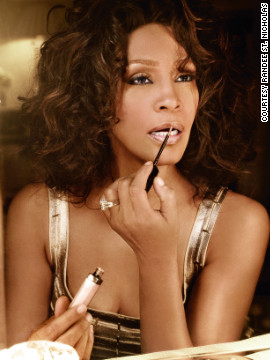 A new book of photographs, "Whitney: A Tribute to an Icon," was released last week.
"This was just shot in the bedroom," said Randee St. Nicholas, who curated the project and took many of the pictures in the book. "What I wanted to do with this shoot -- and I'm so happy I had the time to do it -- was just give a well-rounded perspective of her."
"She's not smiling and she's not dancing, which is what she did all day and every day. And when you're trying to shoot her, she's always dancing and singing, which is really fun. But every now and then, you want to get a more serious shot, just a moment where Whitney is more introspective. So that's what that setup was about."
"There's a little theater in this house, a screening room," St. Nicholas said. "That was at the end of the night. And you could see how much fun she was still having. We were there about 16 hours. It was heaven on Earth for me because you look at all of those pictures from that shoot and you see how amazing she was to shoot. This day I got to have her for as many hours as we needed. And at the end, she says, 'I'm getting a little tired.' I go 'Really? I think we can do one more shot.' '"
"They hired me to shoot publicity pictures, and she had one day available and it was the dead of winter," St. Nicholas said. "So we just rented a house and shot there. I had not seen her at that point in maybe six years. It's been a long time. She hadn't really been doing anything. So when I got there she was in the amazing frame of mind and she was absolutely gorgeous. We had a wonderful day shooting. It was one of the only times she didn't have something else to do."
"She did everything she needed to do to make it special," sister-in-law Pat Houston remembers. "The camera loved her and she loved the camera. And she had such an iconic appeal with the beauty and her style that it was amazing. And to go along with that phenomenal voice, she was just absolutely amazing. Didn't have to do too much, just step in front of the camera. And once that happened, that was it."
"Fiji water was her water of choice," Pat Houston said. "She loved Twix. She was a candy buff. Twix and M&Ms. Of course it didn't matter about the color. Just make sure her water was there; she could survive."
This photo was taken by during the music video shoot for "Exhale (Shoop, Shoop)," which was directed by Forest Whitaker. "In between them shooting, I set a black backdrop and pulled her to the side and shot this," St. Nicholas said. "Of course, she was listening to music. She loved music."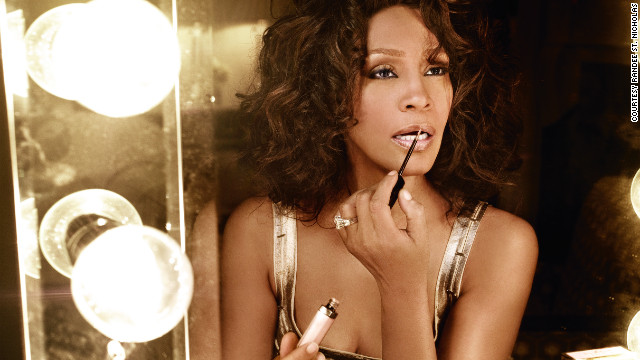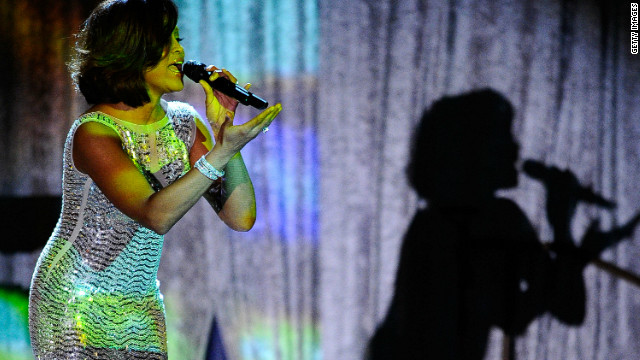 One year has passed since Whitney Houston was found dead by her bodyguard on the fourth floor of the Beverly Hills hotel. Hours later she was to attend a pre-Grammy bash hosted by her longtime mentor, Clive Davis. She was 48. Here, Houston performs at a 2011 pre-Grammy event in Beverly Hills. The following is a look at the singer's life through the years.
"I Wanna Dance With Somebody" was a hit single from Houston's second album, titled "Whitney."
Whitney Houston poses with her American Music Award in 1986 backstage at the Shrine Auditorium in Los Angeles.
Houston poses with her mother, Cissy Houston, in March 1987.
Whitney Houston strikes a glamorous pose for a photo in 1987.
Houston performs in May 1988 at Wembley Arena in London.
Whitney Houston flashes her radiant smile in January 1991.
Houston sings "The Star-Spangled Banner" before Super Bowl XXV in Tampa, Florida, in January 1991, during the Persian Gulf War.
Houston gestures as she sings the national anthem before the start of Super Bowl XXV in 1991.
Whitney Houston performs in July 1991.
Houston performs in October 1993 in the Netherlands.
Houston attends the Rainforest Foundation Benefit Concert at Carnegie Hall in New York City in 1994.
Houston appears with her husband at the time, Bobby Brown, at the Soul Train Music Awards in March 1995. Houston received the Sammy Davis Jr. Award for entertainer of the year.
Houston stars in the 1996 movie "The Preacher's Wife."
Whitney Houston appears in New York, 1997.
Houston performs during an AmFar Benefit Concert in New York City in December 1998.
Houston received the Best R&B performer award during the 1999 MTV Europe Music Awards in Dublin, Ireland.
Houston appears at the Grammy Awards in Los Angeles in February 2000.
Houston performs at the MTV Music Video Awards in 2000 at Radio City Music Hall in New York.
Whitney Houston performs in 2001.
Houston poses with her cousin Dionne Warwick and producer Clive Davis during the15th annual Ella Awards in Beverly Hills, California, in September 2006.
Houston arrives at the Beverly Hilton Hotel for a charity function in October 2006.
Houston performs during the German TV show "Let's Make a Bet" in 2009.
Houston performs at the American Music Awards in Los Angeles in 2009, where she won the International Favorite Artist award.
Houston performs at 02 Arena in London in April 2010.
Houston performs during a concert at the O2 World in May 2010 in Berlin.
Houston performs at Mediolanum Forum in Milan, Italy, in May 2010.
Houston and her daughter, Bobbi Kristina Brown, arrive at a gala event honoring David Geffen at the Beverly Hilton Hotel in February 2011.
Houston performs at the Beverly Hilton in February 2011.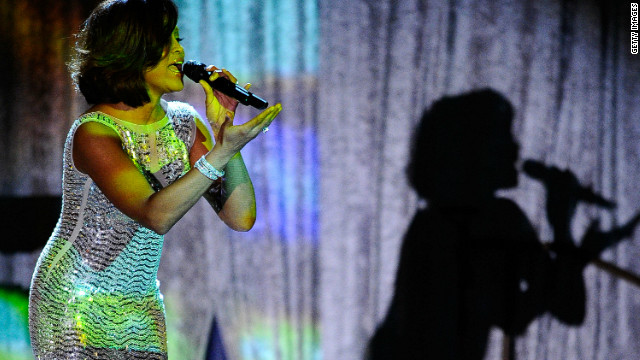 Photos: Whitney Houston through the years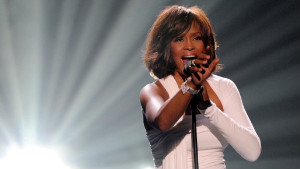 Perry: The night Whitney Houston died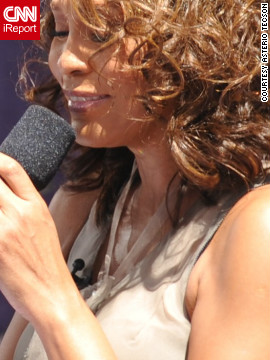 Asterio Tecson was in New York's Central Park in September 2009, testing out his new Nikon D700 and telephoto lens. He saw that Whitney Houston was performing as part of Good Morning America's Summer Concert Series, and he got into the show. So many people were trying to get close to the stage that it was "utterly impossible to steadily hold the long lens when Whitney sang her hit singles!" Tecson says. "Whitney was just so raw and stood proud, oozing with confidence."
Shaun Rajah, 32, grew up listening to and singing Houston's music in Malaysia, and says she was one of the reasons he moved to the United States as an adult. The hotel special events manager briefly met the singer in the lobby of the Chicago Four Seasons in 2008. Her security guard asked him to leave, but Houston later autographed a hotel notepad for him. Rajah also saw her perform on the set of the "Oprah" show. "I'm just glad I met her, I had a brief encounter with her and I saw her perform," he says.
In 2010, Salvador Lopez, 22, made a doll in Houston's image. "I was listening and dancing to Whitney's 'I Wanna Dance with Somebody' when it hit me there were not any Barbie dolls in her likeness out there ... I enjoy making my own one-of-a-kind celebrity dolls and it was only logical to add such an icon to my collection."
Kimberly Harding shares this photo taken at her Fredericksburg, Virginia, home in 1987, after she unwrapped Whitney Houston's chart-topper "Whitney," a present for her seventh birthday. "I remember getting my first CD boom box in the mid '80s. Suzanne Vega's 'Solitude Standing' was my first CD, and Whitney Houston's 'Whitney' album was my second."
The day after Houston was found dead at a Beverly Hills hotel, fans left flowers and notes outside New York's Apollo Theater, where she filmed one of her first music videos. One fan wore a T-shirt in her memory. New Jersey photographer Caryn La Greca says she "felt sorrow for the young singer who lost her life so young."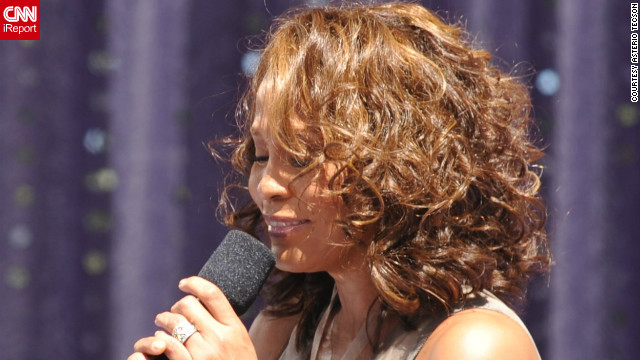 iReporters remember Whitney Houston
With a 30-plus year career in the music business, the Los Angeles based photographer -- who first met the pop superstar at the Bel Air Hotel while she was filming "The Bodyguard" -- was entrusted by Houston's estate to handle the daunting task.
"To know her is to love her through and through and when I was looking through the thousands of photographs that was sent for the book, they were all amazing," St. Nicholas told CNN.com.
With just six weeks to complete "Tribute to An Icon" -- the book publisher wanted to make sure it was in stores during the holiday season -- St. Nicholas and her team combed through archives from various sources to obtain the perfect images for the project.
The book showcases the "Saving All My Love For You" chanteuse in work mode: at photo shoots, in concert, at video shoots, movie stills, etc. And according to St. Nicholas, that was the intention. "In this book, I did not think we should have any pictures of anyone but Whitney. It's a tribute to her and it's of her professional side, her career, her 30 years of being an iconic artist."
But two of the pics do involve other people. One features an unseen Clive Davis, Houston's longtime mentor and one features child Bobbi Kristina -- the last page of the book.
"That day I remember really well," Nicholas recalled. "It was shot at the Four Seasons Hotel and I was shooting all of them. I shot amazing pictures of Whitney and (Bobby Brown) too. It was a very good time in their relationship. And they were both in great spirits. But it was the way that Whitney looked at her in that picture and the way Bobbi Kristina was focused on her, I feel that it captured the connection, obviously some kind of karmic connection of not between just a mother and a child but between two souls. And I thought it was s such a poignant moment and it was so full of joy and they seem so content and so complete and I thought it was a nice way to end the book. That was her heart right there."
Photos: Never-seen photos of a young Whitney Houston
According to Pat Houston, who also oversees Houston's estate, Nicholas was one of Whitney Houston's most beloved photographers, one she called on regularly. And after seeing her work on the Prince coffee-table book, "21 Nights," she knew she was the right person for the job. "It was a no-brainer," Houston said. "She did a phenomenal job."
St. Nicholas, who has worked with countless music stars and directs music videos, was reluctant to do another musician book. "When you've done a book with Prince you've already done it," she said.
"But because I love Whitney so much, I thought why don't I do something with a broader scope. It shouldn't just be about my 20-something year relationship with Whitney, it should be about Whitney over the last 30 years of her career and it's much broader than me because she worked with many photographers. Even though she and I had a total love-fest, there are other opportunities for other people who've shot her."
According to Pat Houston, all of the photographers -- who contributed the work at no cost -- graciously worked closely with St. Nicholas in the tight time frame.
Aside from writing the poignant Foreword to the book, Davis, who reigned supreme as the Chief Executive Hit-maker at Arista Records for 30 years, even had some input. Nicholas called on the legendary music executive for advice and to make sure "she got it right" once it was in the finishing stages.
"It was a really an emotional journey for him," she said. "He said it was like looking at his life, 'This is my whole life right here.' He said to me, 'I really want to make sure that we capture those really important, poignant moments in her life.' The one thing he added was pictures from 'The Bodyguard.' Other than that, we'd gotten it all."
Pat Houston couldn't be more proud of "Tribute to An Icon."
"We've been talking abut a book for quite some time and this is a continuation of one of the projects that we wanted to do and it's for the fans, an enclosure," she said.
"She was such a beautiful, beautiful person physically and had such a gift, a God given gift. We wanted the pages, the photography to remind them of who she really was."
"I hope they can really enjoy it for years and pass it on for generation after generation."
People we've lost in 2012: The lives they lived