'Superjumbo' A380 marks five years in the sky
December 3, 2012 -- Updated 1122 GMT (1922 HKT)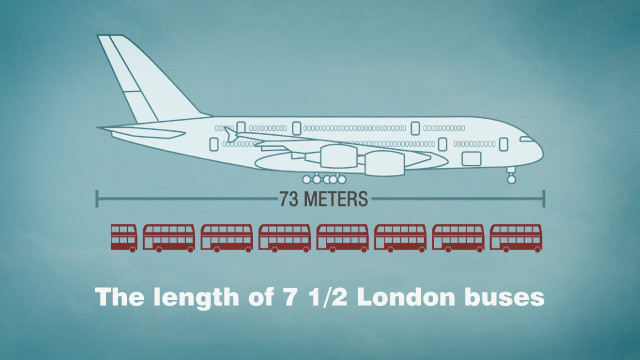 A380 in numbers
A380 in numbers
A380 in numbers
A380 in numbers
STORY HIGHLIGHTS
The Airbus A380 has just celebrated its fifth anniversary as a commercial aircraft
It's 15 meters wider than a Boeing 747 "Jumbo Jet"
There are now 89 A380s in service around the world, operated by nine airlines
Business Traveller is a monthly show about making the most of doing business on the road. Follow CNN's resident business travel news correspondent Ayesha Durgahee on Twitter.
(CNN) -- It was conceived in secret in the 1980s but it's difficult to miss the Airbus A380 these days.
The giant aircraft is a true leviathan of the sky and has just marked its fifth year of commercial service.
In October 2007 Singapore Airlines became the first airline to fly the A380, the world's longest commercial airliner at the time. That title is now claimed by the Boeing 747-8 Intercontinental, but the A380 is still wider and carries more passengers.
Read more: Boeing 747-8 vs. Airbus A380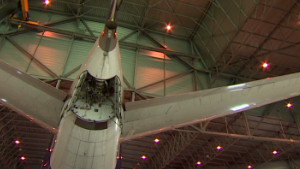 Inside the Airbus A380 assembly line
Since first taking to the skies to great fanfare, 89 A380s have come into service around the world, with Thai Airways recently becoming the ninth airline to operate the "Superjumbo."
In total, 257 orders for new A380s are booked in, with Airbus aiming to ramp up production to as many as three aircraft per month in the coming years.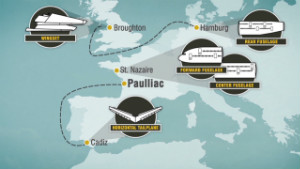 'Superjumbo' breaks the mold
Cultivating this demand is essential if the plane is to be profitable. The A380 initially arrived three years overdue and billions of dollars over budget. Other setbacks during its first five years of service -- including cracks in the wing components discovered in January this year -- have also slowed production as checks and repairs were made on the worldwide fleet.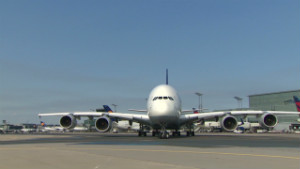 'Biggest Beast' good for bottom line
See also: What will Airbus A380 fault mean for airlines?
Despite these challenges, Airbus says it expects to break even on the A380 by 2015. Key to this expansion is securing large orders in emerging markets such as Brazil, China and Mexico, the company says.
Stiff challenges will undoubtedly come from Boeing's 747-8i, but with a few years' head start, Airbus hopes the A380 will see off the competition.
Check out the gallery at the top of the page to see more of the Airbus A380's impressive stats.

July 8, 2014 -- Updated 0248 GMT (1048 HKT)

Show us how you travel with twitpics and instagram via #howipack
July 7, 2014 -- Updated 0923 GMT (1723 HKT)

Could airlines drop fossil fuel in favor of cooking oil?
July 1, 2014 -- Updated 0940 GMT (1740 HKT)

How do you kill time during flight delays?
June 24, 2014 -- Updated 0800 GMT (1600 HKT)

Fancy stripping off before a flight and getting sweaty with fellow passengers? Head to Helsinki.
June 19, 2014 -- Updated 0255 GMT (1055 HKT)

The skies are under threat. Not from terrorists or hardened criminals, but from everyday passengers who seem to go a little loco.
June 18, 2014 -- Updated 0334 GMT (1134 HKT)

A German entrepreneur claims to have found a way to buy 1 million air miles for as little as $6,500.
June 12, 2014 -- Updated 0213 GMT (1013 HKT)

These days, no fashion house portfolio is complete without a hotel -- or at the very least, a luxuriously designed suite.
June 5, 2014 -- Updated 1039 GMT (1839 HKT)

Is sky the limit for green aviation? Take our quiz and find out.
May 26, 2014 -- Updated 0319 GMT (1119 HKT)

Some collect spoons from their travel, others collect a whole lot more.
May 7, 2014 -- Updated 1507 GMT (2307 HKT)

There is no shortage of adjectives one can apply to airline seats; no wonder that many carriers are looking to make a change.
May 5, 2014 -- Updated 0558 GMT (1358 HKT)

Etihad Airways has unveiled new cabins that are more like suites complete with butler and chef.

Today's five most popular stories