STORY HIGHLIGHTS
Prince William, Duchess of Cambridge expecting first child
Catherine is daughter of self-made millionaires from rural England
Catherine met Prince William when both were at university in Scotland
William and Catherine's child will be next in line to British throne after William
While the world waits for the royal baby, CNN iReport would like to hear from mothers: How did pregnancy change you?
(CNN) -- When Kate Middleton walked down the aisle and into the British Royal Family last year, she lifted the spirits of nation mired in economic gloom.
Now, 19 months after marrying Prince William, the couple has given the country -- and the Commonwealth -- another reason to celebrate.
On Monday, the palace announced that the couple is expecting a baby, though the Duchess of Cambridge had been admitted to hospital with severe morning sickness.
Latest: William and Catherine expecting royal child
The woman carrying the next in line to the British throne after William is the daughter of self-made millionaires from rural England.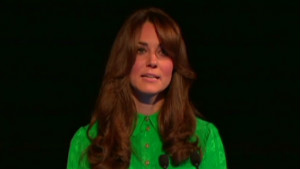 Catherine Middleton expecting first child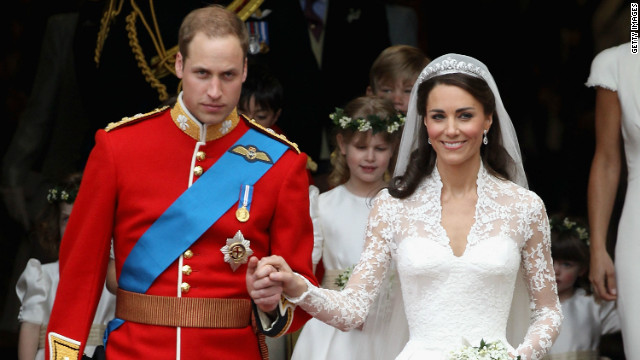 Getty Images photographer Chris Jackson talks to CNN about key images of Kate Middleton: "I was lucky enough to be positioned right outside the front of Westminster Abbey. I was seriously nervous. I had to get this picture. As they came out the front door, the crowd roared and I was just shooting away and you literally only had a matter of minutes, if that."
Jackson on THAT photo of Pippa Middleton: "You never know exactly what's going to happen afterwards, what the media are going to talk about but I did really feel that this was a strong image. I mean how often do you take a picture where you haven't got someone facing you, you can't see their face? I didn't realise it would be quite such a big deal."
Kate meets Reese Witherspoon in Los Angeles: "I think the thing for me, which really struck me about this moment was having a chat with Reese [Witherspoon] before, she seemed so excited about meeting Catherine. This is someone who mixes with Hollywood royalty every day. But meeting actual royalty was just an incredible thing for her."
On the photo that stirred false pregnancy rumors: "I'm not sure if someone made a joke or Prince William said something to her but she just sort of laughed a bit and held her hands there and obviously it's a fortunate or unfortunate picture, depending on how you're looking. The picture has winged its way around the world onto numerous front pages."
On Kate's official apperance after her engagement to Prince William: "From the point of view of pictures and moving images, I think Catherine always looks very confident. Even from her first appearance, I remember up in north Wales, she stepped out of the car with a huge smile on her face."
Jackson: "She's developed a few mannerisms. Photographing her on a regular basis, I notice. You know, there's a laugh where she comes back and she laughs and looks at the camera. She often uses her handbag almost like a security blanket. It all looks great, it doesn't look bad at all."
Jackson: "She always enjoys chatting to people and she gives people a great deal of time. Quite often you'll see Prince William has walked off ahead but she is left chatting with someone because she wants to keep talking to them."
Jackson: "This was one of her solo engagements which she made while William was in the Falklands flying rescue helicopters. It just really shows that she gets stuck in and she's got the common touch and a real affinity with the children."
Jackson: "Some of the fashionistas were getting very excited about Kate's jeans. She looked amazing, again. I think she was a little bit nervous when she arrived. But she knocked the ball around for a bit and I think the nerves evaporated slightly. It's great seeing her get stuck in and she doesn't hold back."
Jackson: "She looks great in pictures. There's much talk about her weight. The fact is she's slightly slimmer. I think she looks healthy. It means that clothes look really good on her."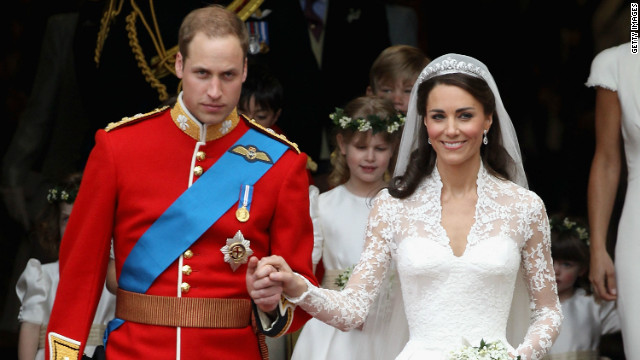 Royal photographer's year with a duchess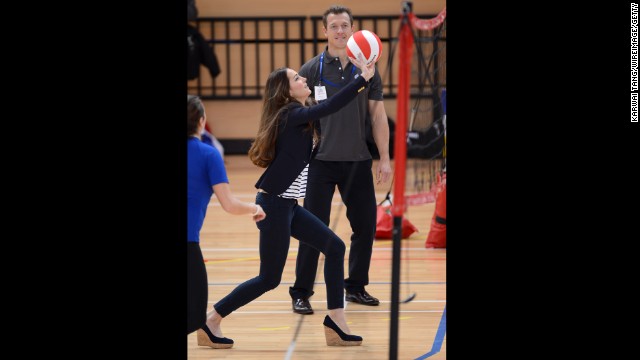 Catherine, Duchess of Cambridge, participates in a SportsAid Athlete Workshop in London on Friday, October 18. She showed up for the charity event in skinny jeans, a smart blazer and wedges. Click through to see more photos of her style through the years.
Catherine, Duchess of Cambridge attends the Tusk Trust Conservation Awards at The Royal Society on Thursday, September 12, in London.
Kate and Prince William start the Ring O'Fire Anglesey Costal Ultra Marathon In Holyhead, Wales, on Friday, August 30. It was Kate's first public appearance since the birth of Prince George.
Kate at the Ring O'Fire Anglesey Coastal Ultra Marathon on August 30.
Kate, has proved to be quite the fashionista since her relationship with Prince William catapulted her into the limelight.
Showing off her new 'do on November 27, she wore a green Mulberry dress to the opening of The Natural History Museum's Treasures Gallery in London.
Prince William and Catherine dress casually for a walk through the Danum Valley research center in Sabah, Malaysia, on September 15.
The duchess donned a white and gold gown by Alexander McQueen for a dinner hosted by Malaysia's head of state on September 13.
Wearing a white suit by Alexander McQueen, the Duchess of Cambridge arrived at Singapore's Gardens by the Bay on September 12.
She wore a Prabal Gurung dress while visiting the Istana in Singapore on September 11. "So xctd that I just stopped some strangers on the street n showed them the pic of Kate Middleton in our dres," Prabal Gurung tweeted that day.
Also on July 26, she and Prince William visited Bacon's College in London. The grey and white Hobbs dress she wore sold out quickly.
The Duchess of Cambridge stunned in a Jenny Packham gown at an event hosted by the British Olympic Association. The teal number, complete with a lace back, is just one of her many noteworthy looks.
Kate donned a belted emerald coat by Emilia Wickstead on St. Patrick's Day in Aldershot, England. She accessorized her ensemble with a gold shamrock brooch -- a royal heirloom, according to The Telegraph.
She ditched her usual heels and fascinator to play field hockey with Great Britain's women's team wearing tangerine-colored jeans.
Kate wore a printed Orla Kiely coatdress while visiting Rose Hill Primary School in Oxford. That day, Lucky magazine reported that the jacket had already sold out in stores and online.
Wearing a gray coatdress, the Duchess of Cambridge posed for pictures at the National Portrait Gallery in London.
Prince William kept his wife dry at the London premiere of "War Horse" on January 8, 2012. She wore a black lace Alice by Temperley gown and carried a black clutch.
Kate wore an Amanda Wakeley gown to a reception at London's Clarence House on October 26 2011.
Clad in Alexander McQueen, she arrived for BAFTA's Brits to Watch event in Los Angeles on July 9 2011.
Earlier that day, Kate attended the Foundation Polo Challenge wearing a knee-length, floral Jenny Packham dress.
Kate wore a green Diane Von Furstenberg frock in Los Angeles on July 8 2011.
That same day, she attended an event at the Beverly Hilton hotel wearing a knee-length Roksanda Ilincic dress.
On one of the first stops on Will and Kate's Canadian tour, the couple watched a rodeo demonstration in Calgary on July 7 2011.
Kate almost had a wardrobe malfunction when the pair arrived in Calgary that day. The skirt of her canary yellow Jenny Packham dress kept blowing up in the wind.
Kate kept it casual in Yellowknife, Canada, on July 6 2011.
Will and Kate, wearing a purple Issa dress, celebrate Canada Day in Ottawa.
Stepping out in another Jenny Packham gown, Kate attends a gala at London's Kensington Palace with William on June 9 2011.
Camilla, duchess of Cornwall, and Kate attend the Order of the Garter Service on June 13 2011. Kate wore a silver coat and fascinator.
Last but not least is Kate's stunning wedding dress. She wore the gown by Alexander McQueen designer Sarah Burton when she married William on April 29, 2011.
Kate, dressed in a red coat, and her then-fiancé visited the University of St. Andrews in Fife, Scotland, in February 2011. The couple met while studying at the university.
Will and Kate posed for photographs after announcing their engagement in November 2010.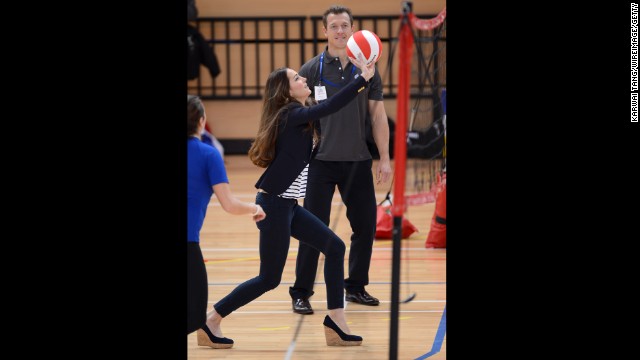 Photos: Kate's best looks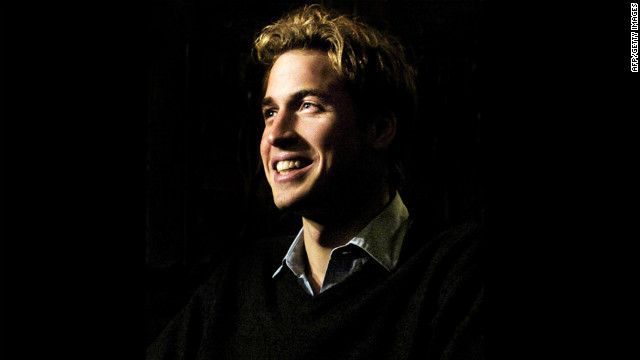 As the first-born child to the late Princess Diana and the Prince of Wales and second in line to the British throne, Prince Wiliiam has never been far from the public eye. Click through the gallery for a look back at every year of his life so far.
Prince Charles and Princess Diana leave St. Mary's Hospital in London with Prince William on June 22, 1982. A bulletin announced that the royal baby weighed 7 pounds, 1 1/2 ounces.
Prince William takes his first steps in public with his parents in the walled garden at Kensington Palace on December 14, 1983.
Accompanied by his nanny Barbara Barnes, Price William waves as he leaves St. Mary's Hospital after visiting his mother and his newborn brother, Prince Harry, on September 16, 1984.
From the balcony of Buckingham Palace, a young Prince William watches the Trooping of the Color in 1985 with Lady Gabriella Windsor, left, and Lady Zara Phillips.
Prince William waves from a carriage en route to the wedding of Prince Andrew and Sarah Ferguson on July 23, 1986.
Wearing a regulation school uniform, Prince William waves to the press on his first day at Wetherby School on January 15, 1987.
In 1988, Prince Charles and Princess Diana visit Palma De Mallorca, Spain, with their two sons.
Prince William and Prince Harry ride bicycles with their parents in 1989 while on holiday in the Scilly Isles.
On a private beach in 1990, Prince William shovels sand onto his mother. Photos of the young prince with his adoring mother were common as media interest swelled.
Prince William and Prince Harry wave from the deck of the Royal Yacht Britannia in 1991.
Princess Diana and Prince William wait for Prince Harry after attending the annual Easter Sunday church service in 1992 at St. Georges Chapel inside Windsor Castle.
Prince William grimaces after riding Splash Mountain at Disney World's Magic Kindom in Florida. He was with friends of the royal family on a three-day vacation in 1993.
Accompanied by Prince William, Princess Diana arrives at Wimbledon before the start of the women's singles final in 1994.
Queen Elizabeth II, Prince William and Prince Charles attend a service commemorating VJ Day outside Buckingham Palace in August 1995. The event was in honor of the day Japan surrendered to Allied forces, effectively ending World War II.
Prince Charles and Prince Harry, at left, stand for anthems as Prince William, right, looks around during the Wales-Scotland game in the 1996 Five Nations rugby championship.
At age 15, Prince William and his brother Harry, 12, bow their heads after their mother's funeral at Westminster Abbey on September 6, 1997. Princess Diana died in a car crash in Paris that August.
Prince William receives flowers from an adoring crowd in Vancouver on March 24, 1998. He was on a weeklong vacation with his father and brother, though they also made time for official engagements.
Britain's Queen Mother joins Prince Charles and his sons during an occasion marking her 99th birthday at her London residence in 1999.
Prince William hammers a log while helping construct walkways in a remote village in Chile during his Raleigh International expedition in 2000.
In 2001, Prince William, left, and Prince Harry take part in an exhibition polo match in Gloucestershire, England.
The royal family stand vigil besides the Queen Mother's coffin at Westminster Hall on April 8, 2002. Prince William, right, stands alongside Prince Harry, Princess Anne and Sophie of Wessex.
A London officeworker licks a first-class stamp that was issued to mark Prince William's 21st birthday in 2003. Commemorative coins were also minted for the occassion.
Prince William makes his water polo debut for the Scottish national universities squad in the annual Celtic Nations tournament in 2004.
In 2005, Prince William graduates from St. Andrews University in Scotland with a degree in geography.
Queen Elizabeth glances up at her grandson, right, as she inspects the parade at the Royal Military Academy in 2006. Prince William graduated as an Army officer and later went on to receive his Royal Air Force pilot's wings
Prince William and Prince Harry speak on stage with Sir Elton John, far left, during a concert they put on to celebrate Princess Diana on July 1, 2007. The event fell on what would have been their mother's 46th birthday and marked 10 years since her death.
Prince William sports a beard for the first time in public at a Christmas Day church service in 2008. He was clean-shaven by early January.
Prince William walks with a group of homeless people during a 2009 hike with Centrepoint, the United Kingdom's largest youth charity for the homeless. William became the patron of the organization in 2005.
During his first official overseas visit, Prince William is welcomed to Sydney with a traditional smoke ceremony by local Aboriginal elder Uncle Max in 2010.
After their wedding service, Prince William kisses his wife, Kate Middleton, on the balcony of Buckingham Palace on April 29, 2011.
Prince William throws a foam javelin as his wife, now the Duchess of Cambridge, stands at his side during a visit to Nottingham, England, on June 13, 2012. The couple were in the city as part of Queen Elizabeth II's diamond jubilee tour, marking the 60th anniversary of her accession to the throne.
The Duke and Duchess of Cambridge depart St. Mary's Hospital in London with their newborn son on July 23, 2013. Prince George was born a day earlier, weighing 8 pounds, 6 ounces.
Prince George and his parents celebrate his first birthday at a butterfly exhibition at the Natural History Museum in London on July 2.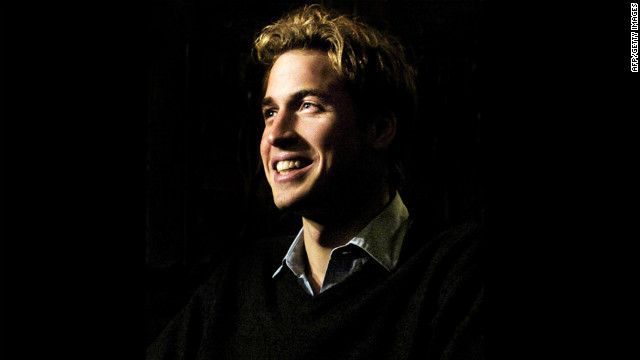 Photos: Prince William through the years
Catherine, 30, grew up in a small village of thatched cottages in Bucklebury, around 45 miles west of London.
One of three children, Catherine completed her schooling as a boarder at the prestigious Marlborough College before taking a degree in History of Art at St. Andrew's University in Fife, Scotland, in 2001. It was there that she met Prince William, then the 19-year-old son of Prince Charles, the heir to the throne, and Princess Diana.
Both were studying art history when they met, but Catherine is said to have played a key role in encouraging the prince to switch to a degree in Geography in his second year. The students grew closer after moving into a shared house with two other friends and were said to have started dating in late 2003.
Their status as a couple was made public in March 2004 when they were photographed holidaying together in the Swiss ski resort of Klosters. Their relationship attracted intense media interest and the following year her lawyers filed their first official complaint about media intrusion.
Catherine and William baby news sparks media frenzy
Such was the level of media interest in the girl "who could be Queen" that in 2007, the Guardian newspaper reported that Catherine "ran the gauntlet of more than 20 press photographers and five television crew as she emerged from her flat."
It was her birthday and rumors had spread that the prince would mark the day with a proposal.
The incident was quoted during a UK parliamentary inquiry into the self-regulation of the press and the efficacy of Britain's Press Complaints Commission Code of Practice.
In his testimony, The Sun newspaper's royal photographer Arthur Edwards described the duchess's frequent run-ins with the paparazzi.
"She has been stopped at traffic lights, where they climb off their motorbikes and start photographing her. She has been out shopping in stores and they run into the stores after her. She uses public transport a lot -- or she did -- but they climb on the buses and the bus driver is having to throw them off," he said.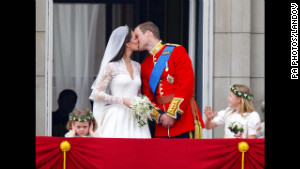 2011: Prince kisses new bride ... twice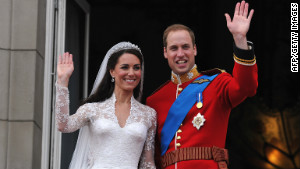 Recapping the royal wedding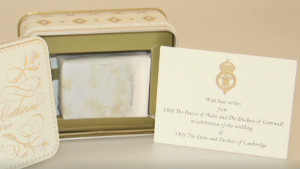 Will and Catherine's cake slice for sale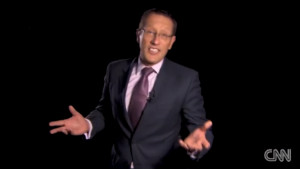 2011: CNN Explains: The Royal Wedding
The proposal never came and one month later, "Kate and Will" were back in headlines as it emerged that their four-year relationship was over. The split was said to be amicable with the couple determined to remain friends.
At the time, photographer Arthur Edwards told CNN that the couple's ages and constant media attention took their toll.
"William has said 28 is a good time to get married -- 28 to 30. Now, that's a few years off yet and I don't think she wants to put up with that for the next four or five years, every morning coming out of her house going to her office having those problems, and I think she just thinks enough's enough," he said.
Royal commentators speculated that the split was due to the class divide between the prince and his middle-class girlfriend. Catherine's mother is a former air stewardess and her father worked as a pilot before they set up their own business. Catherine is the eldest of their three children.
Despite conjecture over the cause of their split, the pair remained close. In July 2007, Catherine sat in the royal box at Wembley Stadium in London for the Concert for Diana, a massive charity concert to remember Prince William's mother, Princess Diana, 10 years after her death in a car crash.
The two were seen together several times over the summer and were dating again by the end of 2007.
Around the same time, Catherine resigned from women's fashion chain Jigsaw, where she started working as an accessories buyer after graduating from university in 2005. However, it wasn't until October, 2010 that William asked for Catherine's hand in marriage in a remote hut in a wildlife reserve on the slopes of Mount Kenya, Africa's second highest peak.
Wedding fever gripped the UK as royal-watchers and the general public speculated for months about what Catherine would wear, her hair and the scale of the event in a country entrenched in austerity measures.
Street parties were planned and a myriad of royal memorabilia lined shelves as the country prepared for an influx of visitors.
Then finally, on April 29, 2011, Catherine married Prince William in a televised ceremony at Westminster Abbey in London, becoming Her Royal Highness the Duchess of Cambridge, before an audience of millions.
Read more: Wedding Special | British royal family tree
In January 2012, the duchess announced the four charities she would support as a patron: the Art Room, which helps disadvantaged children express themselves through art; the National Portrait Gallery, which houses a famous collection of royal paintings and photographs; East Anglia's Children's Hospices, which helps children with life-threatening conditions; and Action on Addiction, which assists those with addiction issues.
Since then, the duchess has braved her first public speech and traveled with her new husband to meet royal supporters in Canada and more recently in Southeast Asia.
The latter was marred by controversy over a decision by a French magazine to publish images of the duchess sunbathing topless while on a private holiday with William in France. The couple took legal action action the magazine, French Closer, in September, which was also fined by a French court and ordered not to distribute the edition in print or online. It was also told to hand over the photos to the royals within 24 hours.
Read more: Angry royals take Catherine's topless photo battle to court
The Duchess of Cambridge was last seen in public during an official tour to Cambridge, England last week, when there was more talk about her new hairstyle than any speculation of pregnancy.
The palace has declined to name a due date, as Catherine is less than 12 weeks pregnant. She's expected to remain in hospital for several days while doctors treat her for Hyperemesis Gravidarum, a condition that causes acute morning sickness.
Prince William and Catherine's child will be next in line to the throne after William regardless of whether it is a boy or a girl, the British Cabinet Office said Monday. Last year, Commonwealth leaders agreed to change British succession laws to allow a female to take the throne ahead of a younger brother.