STORY HIGHLIGHTS
Catherine suffers hyperemesis gravidarum, more severe than typical morning sickness
The child would be next in line to the British throne after William
The pregnancy is in "its very early stages," the palace says
The birth would bring the first grandchild for Prince Charles and the late Diana
While the world waits for the royal baby, we'd like to hear from mothers: How did pregnancy change you?
London (CNN) -- Britain's Prince William and Catherine, Duchess of Cambridge, are expecting their first child after 19 months of marriage, the palace announced Monday.
The royal revelation, which followed months of tabloid speculation, came as Catherine was admitted to a central London hospital with acute morning sickness Monday afternoon. She is expected to be in King Edward VII Hospital for several days, the palace said.
Acute morning sickness: What is it?
The palace said her illness is hyperemesis gravidarum, which involves nausea and vomiting more severe than typical morning sickness.
Prince William spent much of Monday with his wife at the hospital, the palace said, but he was seen leaving Monday evening.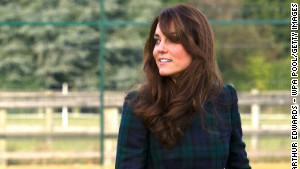 Why is the duchess in the hospital?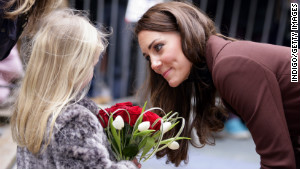 Duchess of Cambridge pregnant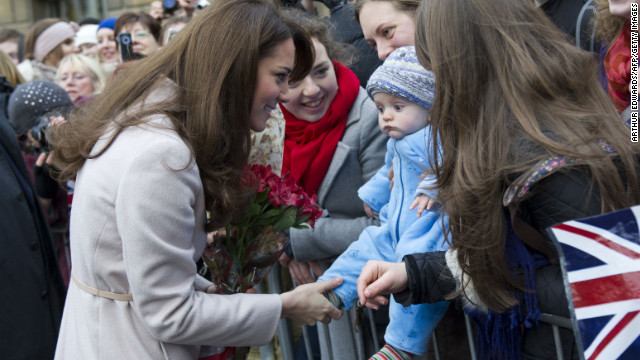 Catherine, Duchess of Cambridge, left, meets 5-month-old James William Davies as she arrives at the Guildhall during her visit to Cambridge on November 28, 2012. Prince William and his wife, Catherine, are expecting their first child, the palace announced Monday, December 3. Click through this gallery to see the her interacting with the younger generation.
Prince William and Kate kiss on the balcony of Buckingham Palace in London after their wedding at Westminster Abbey on April 29, 2011. Two young bridesmaids, Grace Van Cutsem, left, and Margarita Armstrong-Jones, right, seem to have differing views of being in the public eye.
Catherine speaks with two young girls as she presents shamrocks to members of the 1st Battalion Irish Guards at the St Patrick's Day Parade on March 17, 2012, at Mons Barracks in Aldershot.
Catherine joins in a music class during a visit to The Treehouse in Ipswich, eastern England, on March 19, 2012. Her visited marked the formal opening of The Treehouse, a children's hospice service for the counties of Suffolk and Essex.
A young child holds up a banner as Catherine visits Alder Hey Children's NHS Foundation Trust on February 14, 2012, in Liverpool, England.
A young girl offers Catherine a toy rose as the Duchess visits Alder Hey Children's Hospital on February 14, 2012, in Liverpool, England. Interacting with children during visits to hospital or charities is a part of official duties that Catherine seems to enjoy.
Catherine meets children at Nauti Primary School during the couple's Diamond Jubilee tour of the Far East on September 18, 2012, in Funafuti, Tuvalu. Since her marriage with Prince William, the Duchess has reached out to children and schools all over the world.
Eloise Taylor, Catherine and Margarita Armstrong-Jones stand on the balcony of Buckingham Palace after the Colour Parade on June 11, 2011, in London. The parade is a celebration of the sovereign's official birthday, although the queen's actual birthday is on April 21.
Catherine greets a young girl during a walkabout as she visits Alder Hey Children's Hospital on February 14, 2012, in Liverpool, England.
Catherine talks with flag-waving schoolchildren as she arrives for a visit to The Art Room's classroom at Rose Hill Primary School on February 21, 2012, in Oxford, England. Since the beginning of the year, Catherine has become patron of four charities, including the Art Room.
Catherine receives a bouquet of flowers from a young girl during her visit to the UNICEF Centre on November 2, 2011, in Copenhagen, Denmark.
Catherine laughs as she receives flowers from 2-year-old Lola Mackay, who refused to let go of them, during a visit to the CRI Stockton Recovery Service on October 10, 2012, in Stockton-on-Tees, England.
Catherine, right, speaks with schoolchildren during an official visit to the Art Room facilities at Rose Hill Primary School in Oxford on February 21, 2012.
Catherine talks with a young girl as she arrives for a visit to Alder Hey Children's Hospital on February 14, 2012, in Liverpool, England.
Prince William and Catherine help pack care packages for military children at the Mission Serve: Hiring Our Heroes event on July 10, 2011, in Culver City, California.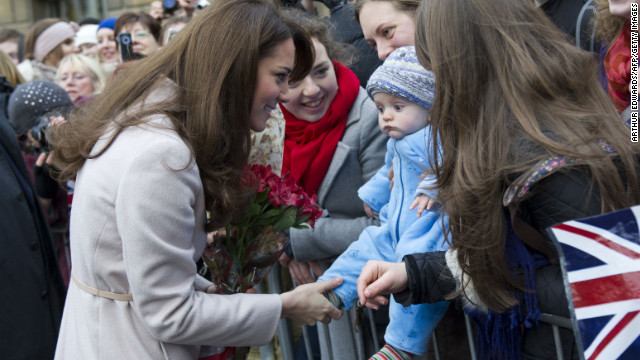 Photos: Kate's love for kids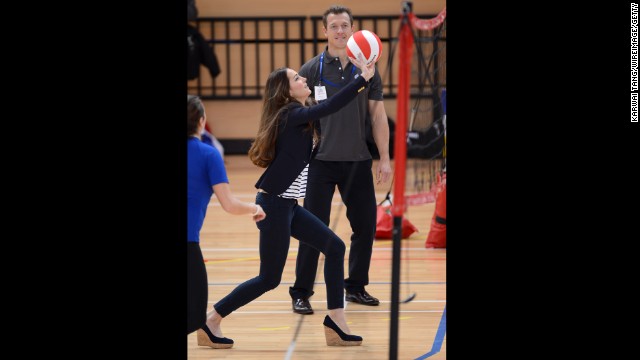 Catherine, Duchess of Cambridge, participates in a SportsAid Athlete Workshop in London on Friday, October 18. She showed up for the charity event in skinny jeans, a smart blazer and wedges. Click through to see more photos of her style through the years.
Catherine, Duchess of Cambridge attends the Tusk Trust Conservation Awards at The Royal Society on Thursday, September 12, in London.
Kate and Prince William start the Ring O'Fire Anglesey Costal Ultra Marathon In Holyhead, Wales, on Friday, August 30. It was Kate's first public appearance since the birth of Prince George.
Kate at the Ring O'Fire Anglesey Coastal Ultra Marathon on August 30.
Kate, has proved to be quite the fashionista since her relationship with Prince William catapulted her into the limelight.
Showing off her new 'do on November 27, she wore a green Mulberry dress to the opening of The Natural History Museum's Treasures Gallery in London.
Prince William and Catherine dress casually for a walk through the Danum Valley research center in Sabah, Malaysia, on September 15.
The duchess donned a white and gold gown by Alexander McQueen for a dinner hosted by Malaysia's head of state on September 13.
Wearing a white suit by Alexander McQueen, the Duchess of Cambridge arrived at Singapore's Gardens by the Bay on September 12.
She wore a Prabal Gurung dress while visiting the Istana in Singapore on September 11. "So xctd that I just stopped some strangers on the street n showed them the pic of Kate Middleton in our dres," Prabal Gurung tweeted that day.
Also on July 26, she and Prince William visited Bacon's College in London. The grey and white Hobbs dress she wore sold out quickly.
The Duchess of Cambridge stunned in a Jenny Packham gown at an event hosted by the British Olympic Association. The teal number, complete with a lace back, is just one of her many noteworthy looks.
Kate donned a belted emerald coat by Emilia Wickstead on St. Patrick's Day in Aldershot, England. She accessorized her ensemble with a gold shamrock brooch -- a royal heirloom, according to The Telegraph.
She ditched her usual heels and fascinator to play field hockey with Great Britain's women's team wearing tangerine-colored jeans.
Kate wore a printed Orla Kiely coatdress while visiting Rose Hill Primary School in Oxford. That day, Lucky magazine reported that the jacket had already sold out in stores and online.
Wearing a gray coatdress, the Duchess of Cambridge posed for pictures at the National Portrait Gallery in London.
Prince William kept his wife dry at the London premiere of "War Horse" on January 8, 2012. She wore a black lace Alice by Temperley gown and carried a black clutch.
Kate wore an Amanda Wakeley gown to a reception at London's Clarence House on October 26 2011.
Clad in Alexander McQueen, she arrived for BAFTA's Brits to Watch event in Los Angeles on July 9 2011.
Earlier that day, Kate attended the Foundation Polo Challenge wearing a knee-length, floral Jenny Packham dress.
Kate wore a green Diane Von Furstenberg frock in Los Angeles on July 8 2011.
That same day, she attended an event at the Beverly Hilton hotel wearing a knee-length Roksanda Ilincic dress.
On one of the first stops on Will and Kate's Canadian tour, the couple watched a rodeo demonstration in Calgary on July 7 2011.
Kate almost had a wardrobe malfunction when the pair arrived in Calgary that day. The skirt of her canary yellow Jenny Packham dress kept blowing up in the wind.
Kate kept it casual in Yellowknife, Canada, on July 6 2011.
Will and Kate, wearing a purple Issa dress, celebrate Canada Day in Ottawa.
Stepping out in another Jenny Packham gown, Kate attends a gala at London's Kensington Palace with William on June 9 2011.
Camilla, duchess of Cornwall, and Kate attend the Order of the Garter Service on June 13 2011. Kate wore a silver coat and fascinator.
Last but not least is Kate's stunning wedding dress. She wore the gown by Alexander McQueen designer Sarah Burton when she married William on April 29, 2011.
Kate, dressed in a red coat, and her then-fiancé visited the University of St. Andrews in Fife, Scotland, in February 2011. The couple met while studying at the university.
Will and Kate posed for photographs after announcing their engagement in November 2010.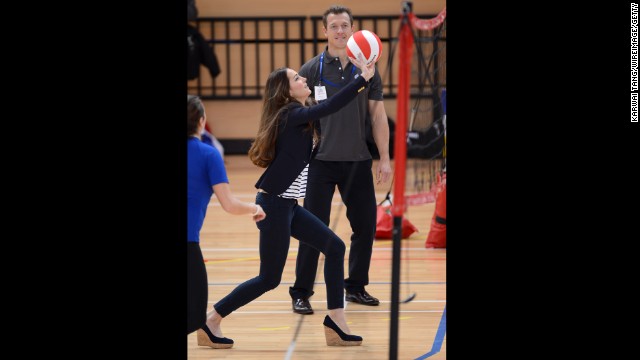 Photos: Kate's best looks
Read more: Who can inherit the British throne?
"As the pregnancy is in its very early stages, Her Royal Highness is expected to stay in hospital for several days and will require a period of rest thereafter," the statement said.
Catherine, 30, is not yet 12 weeks pregnant, Clarence House told CNN, so the palace is not announcing a due date for the child.
William and Catherine's child will be next in line to the British throne after William, regardless of whether it is a boy or a girl, the British Cabinet Office said Monday. Planned changes to the law of succession that end the tradition of a boy jumping over an elder sister are already de facto in effect, the Cabinet Office said.
William and Catherine were married at Westminster Abbey on April 29, 2011, in London's biggest royal wedding in three decades.
The baby would be the first grandchild for the heir to the British throne, Prince Charles, and the late Diana, Princess of Wales.
The news immediately became a top trending topic worldwide on Twitter.
Former PM: William and Kate reinvigorated monarchy
British Prime Minister David Cameron was quick to tweet his joy: "I'm delighted by the news that the Duke & Duchess of Cambridge are expecting a baby. They will make wonderful parents."
British Labour Party leader Ed Miliband tweeted: "Fantastic news for Kate, William and the country. A royal baby is something the whole nation will celebrate."
Catherine is an art history graduate and the eldest child of Michael and Carole Middleton, self-made millionaires who run a party-supplies company.
In photos: Duchess of Cambridge at 30
Tabloid speculation about a pregnancy increased in September when Catherine substituted water for wine during a state dinner toast in Singapore.
The buzz reached a boil two weeks ago when Australia's New Idea magazine quoted close friend Jessica Hay saying her former schoolmate, Catherine, would soon announce "wonderful, happy news."
Life & Style magazine in the United States published its own "exclusive" with the same Hay quotes of a December announcement, which she said she had on "the highest authority."
A family history website did the math last summer and predicted Catherine would be with child by November, according to a Time.com report. Genesreunited.co.uk calculated that "the average period between a royal wedding taking place and the couple's child being born is 851 days." Based on that, it predicted a pregnancy in November and a birth on August 27, 2013.
CNN's Matthew Fitzgerald and Jamie Hamilton in London contributed to this report.