Ford CEO on fiscal cliff, Lincoln's relaunch
December 4, 2012 -- Updated 1121 GMT (1921 HKT)
STORY HIGHLIGHTS
The Ford Motor Co. is revamping its Lincoln car line to try to recapture past prestige
Ford announced Monday it is renaming its Lincoln division as the Lincoln Motor Co.
Building up Lincoln after divesting of investments in Aston Martin and other luxury brands
CEO Mulally optimistic that U.S. fiscal cliff negotiations will be sucessful
(CNN) -- After divesting from luxury brands purchased in Europe, the Ford Motor Co. is revamping its Lincoln car line to try to recapture the prestige -- and market share -- of the past.
"We had purchased Aston Martin and Jaguar and Landover and Volvo, and we had decreased our investment in Lincoln," Ford CEO Alan Mulally told CNN's Richard Quest. "With our One Ford Plan in 2006, we decided to have a laser focus not only on the Ford brand but Lincoln. We continued to invest in the toughest times and the MKZ is our first proof point of a new line of luxury Lincoln vehicles."
Ford announced Monday it is renaming its Lincoln division as the Lincoln Motor Co. Lincoln is not being spun off into an altogether separate carmaker, notes CNNMoney's Peter Valdes-Dapena, but Ford wants to give it greater separation from the more mass market Ford "blue oval" brand. Lincoln have has its own product development team, designers and salespeople. The all-new MKZ is due to hit the market soon.
"As you know the Lincoln has been part of the Ford Motor Co. for nearly 90 years and its always been known for elegant styling and design, inside and out, and also very useful and exciting technology and innovation," Mulally told Quest.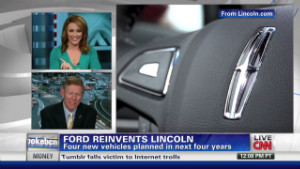 Ford reinvents Lincoln
Ford was able to avoid the bailouts required to keep U.S. competitors General Motors and Chrysler afloat after an aggressive restructuring that began in 2006, before the financial crisis struck. But the carmaker has been hit of late by the slowdown in the eurozone. The company announced in October the closure of two plants in England and one in Belgium in the next two years, which together employed 5,700 workers.
"We are moving very decisively on our better plan to serve the European customers both with a more complete family of best in class vehicles that we describe, but also taking the actions on the productivity and the utilization of our facilities," Mulally said. "It's going to take us a couple years to do that, we know how to do it, everybody watched us do it in the United States."
Mulally, who has been among the U.S. CEOs who have met with President Obama on the looming U.S. fiscal cliff, says he's optimistic the talks will avert crisis.
"The last few weeks has really centered on discussion about not only the fiscal cliff, which needs to deal with the revenue side but also the expense side, is what do we do to create the environment where businesses can grow, can be more competitive, to provide the economic expansion that we all want," he said.
"I might also add that we are very encouraged by the ongoing dialogue in Europe on the same subject, because clearly we're in a recession in Europe and pulling together around a compelling vision to facilitate economic growth is what's most important for all of us."

Part of complete coverage on
March 13, 2014 -- Updated 1157 GMT (1957 HKT)

Mobile World Congress spans the full spectrum of untethered gadgetry Explore this year's top trends with Stuff Magazine Editor Will Findlater.
February 28, 2014 -- Updated 1623 GMT (0023 HKT)

Cocoa-nomics: Why chocolate really doesn't grow on trees. CNN returns to Africa's cocoa plantations to examine the fight against child labor.
February 27, 2014 -- Updated 1958 GMT (0358 HKT)

CNN's Maggie Lake speaks to Lego CEO Jørgen Vig Knudstorp about why Lego continues to be a hugely popular toy.
February 27, 2014 -- Updated 2032 GMT (0432 HKT)

A Japanese rocket roared into orbit carrying what NASA calls its most precise instrument yet for measuring rain and snowfall.
February 28, 2014 -- Updated 2003 GMT (0403 HKT)

When you hail yourself as a "passionate advocate" for job-seekers, you probably ought not blast one of those job-seekers in a snide e-mail.
February 26, 2014 -- Updated 2201 GMT (0601 HKT)

Love that chocolate Haagen-Dazs ice-cream? But what about the way its makers treat their farmers? Oxfam reveals the ethics behind the brands.
February 20, 2014 -- Updated 1121 GMT (1921 HKT)

SnapScan is an award-winning app allowing buyers to pay with their smartphone -- no need to worry about carrying cash or lost credit cards.
February 18, 2014 -- Updated 1452 GMT (2252 HKT)

In the wake of recent credit card breaches, CNN's Richard Quest explores the threats of the non-cash economy. Is your money as safe as you think?
February 19, 2014 -- Updated 0833 GMT (1633 HKT)

Like many companies in China, Fu Shou Yuan uses celebrities to attract clients. Except, in this case, they're dead. They're in the funeral business.
February 19, 2014 -- Updated 1255 GMT (2055 HKT)

Coca-Cola is staying afloat as the soda market shrinks, and many point to a marketing strategy around the so-called "secret recipe."

Today's five most popular stories