Ford CEO on fiscal cliff, Lincoln's relaunch
December 4, 2012 -- Updated 1121 GMT (1921 HKT)
STORY HIGHLIGHTS
The Ford Motor Co. is revamping its Lincoln car line to try to recapture past prestige
Ford announced Monday it is renaming its Lincoln division as the Lincoln Motor Co.
Building up Lincoln after divesting of investments in Aston Martin and other luxury brands
CEO Mulally optimistic that U.S. fiscal cliff negotiations will be sucessful
(CNN) -- After divesting from luxury brands purchased in Europe, the Ford Motor Co. is revamping its Lincoln car line to try to recapture the prestige -- and market share -- of the past.
"We had purchased Aston Martin and Jaguar and Landover and Volvo, and we had decreased our investment in Lincoln," Ford CEO Alan Mulally told CNN's Richard Quest. "With our One Ford Plan in 2006, we decided to have a laser focus not only on the Ford brand but Lincoln. We continued to invest in the toughest times and the MKZ is our first proof point of a new line of luxury Lincoln vehicles."
Ford announced Monday it is renaming its Lincoln division as the Lincoln Motor Co. Lincoln is not being spun off into an altogether separate carmaker, notes CNNMoney's Peter Valdes-Dapena, but Ford wants to give it greater separation from the more mass market Ford "blue oval" brand. Lincoln have has its own product development team, designers and salespeople. The all-new MKZ is due to hit the market soon.
"As you know the Lincoln has been part of the Ford Motor Co. for nearly 90 years and its always been known for elegant styling and design, inside and out, and also very useful and exciting technology and innovation," Mulally told Quest.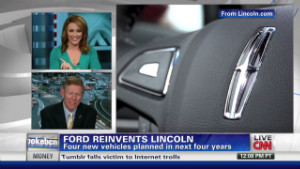 Ford reinvents Lincoln
Ford was able to avoid the bailouts required to keep U.S. competitors General Motors and Chrysler afloat after an aggressive restructuring that began in 2006, before the financial crisis struck. But the carmaker has been hit of late by the slowdown in the eurozone. The company announced in October the closure of two plants in England and one in Belgium in the next two years, which together employed 5,700 workers.
"We are moving very decisively on our better plan to serve the European customers both with a more complete family of best in class vehicles that we describe, but also taking the actions on the productivity and the utilization of our facilities," Mulally said. "It's going to take us a couple years to do that, we know how to do it, everybody watched us do it in the United States."
Mulally, who has been among the U.S. CEOs who have met with President Obama on the looming U.S. fiscal cliff, says he's optimistic the talks will avert crisis.
"The last few weeks has really centered on discussion about not only the fiscal cliff, which needs to deal with the revenue side but also the expense side, is what do we do to create the environment where businesses can grow, can be more competitive, to provide the economic expansion that we all want," he said.
"I might also add that we are very encouraged by the ongoing dialogue in Europe on the same subject, because clearly we're in a recession in Europe and pulling together around a compelling vision to facilitate economic growth is what's most important for all of us."

Part of complete coverage on
April 22, 2013 -- Updated 0647 GMT (1447 HKT)

Twitter resumes -- or "twesumes" -- have been touted as the best way for social media-savvy types to snag a dream job.
April 17, 2013 -- Updated 0800 GMT (1600 HKT)

We live in a three-speed economic world, according to the International Monetary Fund.
April 17, 2013 -- Updated 1627 GMT (0027 HKT)

Women have long dominated the heated discussion around gender equality. But men need to too, says Facebook's Sheryl Sandberg.
April 19, 2013 -- Updated 1053 GMT (1853 HKT)

Security threats from mobile malware are on the rise and nearly 95% of targets operate on the Android operating system, according to a new report from NQ Mobile.
April 15, 2013 -- Updated 2006 GMT (0406 HKT)

Microsoft is working on a touch-enabled smartwatch, The Wall Street Journal says, reporting that the company asked Asian suppliers to ship components for the device.
April 19, 2013 -- Updated 0647 GMT (1447 HKT)

Give your anxious, negative colleagues a chance, and they just might surprise you.
April 17, 2013 -- Updated 1046 GMT (1846 HKT)

In Europe, high-speed rail has come to stand for ease and efficiency where journeys of four hours or less trump airplanes and the hassle of airport security.
April 19, 2013 -- Updated 1812 GMT (0212 HKT)

Infographic: Singapore may be tiny but it is also one of East Asia's most powerful trading hubs.
April 22, 2013 -- Updated 0027 GMT (0827 HKT)

In Hong Kong urban lore, an apartment where a violent death took place can often be bought for as much as 10-30 per cent off the market price.
April 16, 2013 -- Updated 1605 GMT (0005 HKT)

With gold prices officially in a bear market, investors must ask themselves if this is the time to buy?

Today's five most popular stories