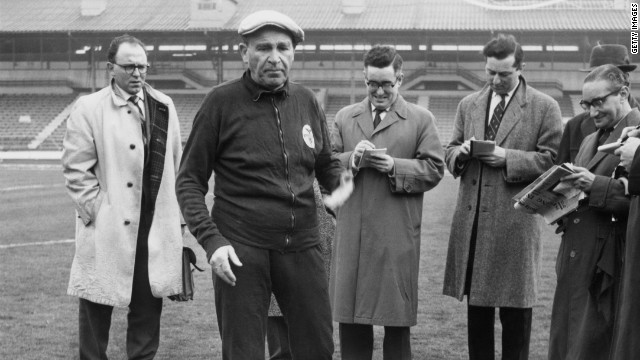 Bela Guttmann was a Hungarian Jew who transformed the face of modern football. He worked across the world, enjoying huge success in Brazil and Portugal, where he won the European Cup on two occasions with Benfica.
Guttmann took some inspiration from the great Gustav Sebes, the man who coached the "Magnificent Magyars" in the 1950s. Under Sebes, Hungary became the first nation to defeat England on its home soil, winning 6-3 in 1953 before reaching the World Cup final the following year. Striker Ferenc Puskas, who is pictured here training at Craven Cottage, scored twice in that famous Wembley game.
During his time in Brazil with Sao Paulo between 1957 and 1958, Guttmann introduced the 4-2-4 system which Brazil used at the 1958 World Cup. Pele is pictured here celebrating after scoring in Brazil's 5-2 World Cup final win over Sweden in Stockholm.
Guttmann led Benfica to glory in the 1961 European Cup final, beating Barcelona 3-2. After arriving at the club from Porto in 1960, Guttmann immediately fired 20 of his squad before going on to win the Portuguese league title two years in a row.
Benfica faced then five-time winners Real Madrid in the 1962 final in Amsterdam, where Guttmann's side produced a famous 5-3 victory. Puskas scored a first-half hat-trick for Real against his former manager but it was not enough as Eusebio fired the Lisbon side to glory with two second-half goals.
Eusebio was brought to Benfica from Mozambique by Guttmann in 1961. Under his guidance Eusebio would go on to greatness, establishing himself as one of the game's most talented players.
When Guttmann left Benfica after a pay dispute following the 1962 European Cup win, legend has it that he left a curse on the club. He is reported to have told the board that they would never win the title again. The following year, Benfica lost 2-1 to AC Milan in the final -- and suffered defeat in four more since then.
Before the 1990 final against AC Milan in Vienna, Eusebio prayed for forgiveness at Guttmann's grave but it did little good as Benfica lost 1-0. That was Benfica's last European Cup final appearance.
Many have compared Guttmann with Real Madrid manager Jose Mourinho. The two are said to have shared many traits, including their man-management skills, fiery tempers and winning mentality. Mourinho's father, Felix, played against Guttmann's Benfica side, saving a penalty from Eusebio.
Portuguese club Benfica are nicknamed the Eagles and before each home game an eagle flies around the Estadio da Luz.
Despite being under pressure for much of the 2013 Europa League final, Fernando Torres raced clear to fire home in style and Chelsea the lead.
Fernando Torres does his best impression of Usain Bolt after giving Chelsea the lead.
Benfica hit back with 22 minutes remaining when Oscar Cardozo netted from the penalty spot after Cesar Azpilicueta handled inside the penalty area.
But with the game looking set for extra time, Branislav Ivanovic popped up at the death to head a dramatic winner and secure victory for Chelsea.
One year on from winning the Champions League, Chelsea's players celebrate with the Europa League trophy.
Bela Guttmann
Magnificent Magyar
Brazil legacy
Bela's Benfica
Real triumph
A star is born
The curse
Eusebio prays
The legacy
The Eagles have landed
Torres torments
Bolt from the blue
Bela's Benfica 'curse'
Bela's Benfica 'curse'
Bela's Benfica 'curse'
STORY HIGHLIGHTS
Bela Guttmann was a Hungarian Jew who survived the Holocaust
He led Portuguese soccer team Benfica to European Cup glory in 1961 and 1962
After leaving Benfica, he left a "curse" that the club would never win it again
Guttmann coached in 13 different countries, before dying at the age of 82 in 1981
(CNN) -- Vienna, Austria. 1990. A man weeps by a grave. He lowers his head and murmurs a few quiet words.
He sits awhile, glances intently at the writing on the headstone, he uses the palm of his hand to wipe away the dirt. His eyes glaze over with a look of hopelessness, almost pleading for something to happen. Nothing happens.
The man rises, turns and leaves. That night he gets his answer -- the curse lives on.
Despite being finalists on seven occasions in various major European finals -- in 1963, 1965, 1968, 1983, 1988, 1990 and in 2013 -- each time Benfica have been unable to bury the famous curse. Bela Guttmann's curse.
A condemnation that even the prayers of his famous protege Eusebio could not lift that day in Vienna.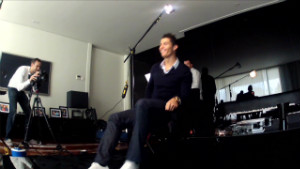 Ronaldo's best ever goal?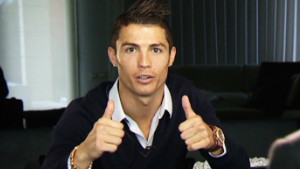 A day in the life of Cristiano Ronaldo
"Every year when Benfica plays in the Europe they try to get rid of the curse," Portuguese journalist Jose Carlos Soares told CNN.
"Any time that Benfica play near Guttmann's grave, somebody will take flowers. It hasn't worked."
The way Benfica were beaten by Chelsea in Wednesday's Europa League final in Amsterdam -- Branislav Ivanovic's injury-time header securing the English side's 2-1 win -- if you were fan of the Portuguese side you could have been forgiven for thinking some other powerful force was at work.
Even in death, Guttmann is determined to have his own way -- much to the anguish of a club he left in anger after taking it to the peak of European football in the early 1960s.
A charismatic and sometimes eccentric genius, Guttmann revolutionized football during a coaching career which spanned 25 jobs in 13 different countries before he passed away in 1981, aged 82.
Holocaust
Born into a Jewish family in Budapest in 1899, Guttmann, like his parents, became a trained dance instructor before switching his focus to football.
After becoming part of the MTK Hungaria side which won the league title in 1920 and 1921, Guttmann left for Vienna following the rise of anti-Semitism under Miklos Horthy's regime.
It was here, among the Austrian intelligentsia, that he flourished, taking in the political and literary debates in Vienna's coffee-house society.
There he joined the exclusively Jewish football club Hakoah Wien, where he won the league title in 1925 as well as winning four caps for Hungary.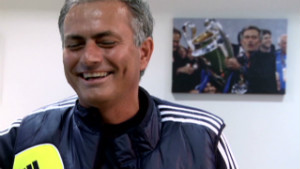 José Mourinho on managing star players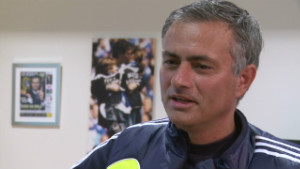 Mourinho on the enigma of Balotelli
After traveling on a tour to the U.S. with Hakoah, Guttmann decided to stay put in New York only to lose a considerable amount of money in the Wall Street crash.
Read: Football grapples with anti-Semitism storm
That forced the nomadic traveler to move on once again, first back to Vienna where he took on a coaching role with Hakoah before joining Dutch side SC Enschede.
But Guttmann's life, like those of so many other Jews, was turned on its head during the rise of Hitler in Europe and the Holocaust which killed six million people.
"Guttmann was hugely talented," says leading football writer Jonathan Wilson, author of the book "Outsider: A History of the Goalkeeper."
"He was tactically very astute but also very awkward and difficult," Wilson told CNN. "He was very quick to take offense.
"The central theme with Guttmann is the war. We don't know how he survived it, and the fact he skips over it in his book could mean one of two things.
"Did he feel guilty for surviving or did he compromise himself to stay alive?
"Or, perhaps it was that the memories were just too painful to share and that the loss of so many of his loved ones meant he didn't speak about it.
"He was hugely successful but there was something tragic about him, which probably comes from that time."
Famine
While family members, including a brother, perished in concentration camps, Guttmann escaped to Switzerland where he was held in internment.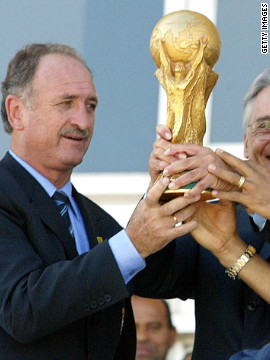 Luiz Felipe Scolari first took over Brazil in 2001, turning around their 2002 World Cup qualification campaign and leading them to a record fifth tournament win in Japan and South Korea.
"Big Phil" also enjoyed a degree of success in charge of Portugal. When the Iberians hosted Euro 2004 all appeared to be going to plan as Portugal reached the final. But Scolari and his team were beaten 1-0 by underdogs Greece in the Lisbon final.
Portugal bounced back and reached the last four of the 2006 World Cup in Germany. But Scolari's team ran into a Zinedine Zidane-inspired France in the semifinals, with "Zizou" scoring the winning penalty.
Chelsea's oligarch owner Roman Abramovich hired Scolari in 2008. Despite Scolari's Chelsea starting the season in fine attacking form, he was fired in February 2009 after a run of poor results.
Scolari joined Sao Paulo-based Palmeiras in 2010. With his team struggling, Scolari departed the club in September. Palmeiras were consequently relegated to Brazil's second tier.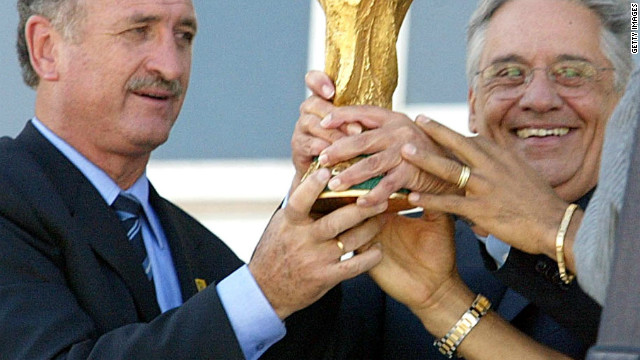 The career of Luiz Felipe Scolari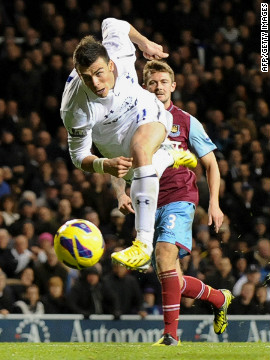 West Ham have already banned one fan for life after he was cautioned by police for "racially aggravated gesturing" during their match with Tottenham on Sunday. West Ham's fans are also reported to have aired songs about Adolf Hitler. The FA are to investigate. Tottenham won the game 3-1 with Gareth Bale (left) on the scoresheet.
Neither West Ham manager Sam Allardyce (L) or his Tottenham counterpart Andre Villas-Boas were keen to wade into the controversy. Allardyce told reporters at a post match press call: "I don't want to be a political animal -- I'm here to talk about football."
West Ham's Israeli midfielder Yossi Benayoun took to Twitter to express his view of the chants. He said: "I was very disappointed to hear some of the songs yesterday and it was embarrassing. But we need to remember that it was made by a minority group of fans and I'm sure the FA together with West Ham will do everything to find and punish them."
A group of Tottenham fans were attacked before their recent Europa League match with Lazio as they drank in the city center. One supporter is still in hospital suffering from stab wounds. West Ham's fans allegedly made reference to the incident in their chants.
A section of Lazio fans unfurled a "Free Palestine" banner during the 0-0 Europa League draw with Tottenham, which was marred by anti-Semitic chanting from the home supporters. Tottenham traditionally have a strong Jewish following.
Just last week Chelsea's complaint that Premier League referee Mark Clattenburg aimed racist language at midfielder Jon Obi Mikel was dismissed by the Football Association due to a lack of evidence.
Chelsea's John Terry (L) was found not guilty in a criminal court of racially abusing Queens Park Rangers defender Anton Ferdinand but received a four-match ban from the FA and a $356,000 fine for calling his opponent a "f*****g black c***."
Liverpool's Uruguayan striker Luis Suarez served an eight-match ban in the 2011/12 season for racially abusing Manchester United defender Patrice Evra. Suarez maintained his innocence but Liverpool were heavily criticized for their handling of the case.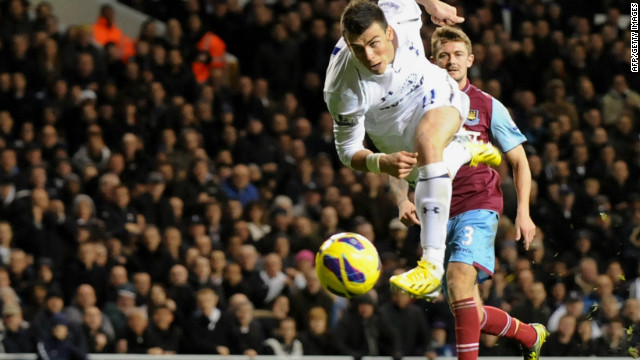 Hammers vow action on anti-Semitic chants
It wasn't until the end of the war in 1945 that he returned to football, this time in Romania.
It was here, in 1946 with club side Ciokanul, that he demanded to be paid in vegetables at a time when famine was a growing problem.
While parsnips and carrots were gratefully received, Guttmann's relationship with the board was never a particularly healthy one. When a club director began to interfere in team selection, Guttmann finally lost patience.
His fiery temper and attitude of "my way or the highway" earned him plenty of attention, especially from the media.
Following spells with Padova and Triestina in Italy, Boca Juniors and Quilmes in Argentina and Apoel Nicosia in Cyprus, Guttmann hit the big time with AC Milan in 1953.
His team led the Serie A table after 19 games in his second season, only for another run-in with the board to curtail his tenure.
"I have been sacked, even though I am neither a criminal nor a homosexual," he told a shocked press conference. "Goodbye."
Nomadic career
Years later, on his first day as the manager of Benfica, he fired 20 players before leading the club to the Portuguese title.
"He was an incredible man," Wilson said. "Did he become a parody of himself? Did he do those kind of things because people expected it?
"I don't know. But it was clear that he never wanted to stay in one place for long, he was always moving.
"That could have been because of the war, but also because he was looking for the next pay check."
Read: Never forget: Football remembers
It was in Portugal, after a successful spell in South America, that Guttmann really secured his legacy, securing back-to-back European Cups with Benfica in 1961 and 1962.
It was the first time that any club other than Real Madrid had won the competition.
During his time in Brazil with Sao Paulo between 1957 and 1958, where he won the league title before moving to Porto, Guttmann introduced the 4-2-4 system which Brazil used at the 1958 World Cup.
Inspiration
It was a system that laid the groundwork for the great Brazil sides to establish themselves as masters of the beautiful game.
Guttmann had taken some inspiration from the great Gustav Sebes, the man who coached the "Magnificent Magyars" in the 1950s.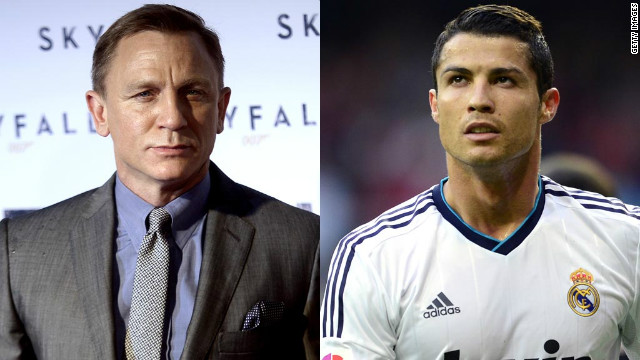 Daniel Craig and Cristiano Ronaldo have both been outspoken in their desire to reclaim a right to privacy. Both men have become frustrated with their treatment in public.
Cristiano Ronaldo and his model girlfriend Irina Shayk enjoy some peace and quiet together but the camera lens is never far away from the pair.
Shayk is a celebrity in her own right having established herself as a leading model. The Russian's romance with Ronaldo has taken her fame to new heights.
"We are just partners," Ronaldo told CNN when asked about his relationship with Shayk. "We have a good relationship, we are almost three years together, I love to be with her, I love her. It's great."
Ronaldo has yet to pop the question to Russian model Shayk but he admits he has thought about marriage. He said: "Not now, but of course in the future, yes. Everyone wants that. I still haven't done that. I don't have the courage."
"In Real Madrid we are always under pressure," Cristiano Ronaldo told CNN. "This is maybe the best club in the world... so we have a lot of pressure and we know that the fans, the Madrid city... everyone wants 'La Decima' (a 10th European Cup). "
Ronaldo has nothing but praise for Real coach Jose Mourinho: "Well, my relationship with him is perfect. I don't ask for nothing better. In terms of coaching I'm sure 100%... 200% that he is the best. He shows every country who's the best because he wins all the leagues."
Ronaldo will be up against Barcelona's Lionel Messi for the Ballon d'Or with the Argentine having won the prize on each of the past three occasions. Both men were on target twice during the last El Clasico match which finished 2-2 at the Camp Nou.
Ronaldo has scored 160 goals in 164 appearances for Real Madrid since his move from Manchester United in 2009. His determination to win is always evident, even when it comes to beating his girlfriend at swimming in their own pool. He said: "Sometimes you have to give her an opportunity to be happy, but I win because I don't like to lose."
Ronaldo last won the Ballon d'Or in 2008 after helping lead Manchester United to the Champions League crown with victory over Chelsea in Moscow. In the 2007-8 season, he scored 42 goals as United also won the English Premier League title.
While Ronaldo has enjoyed great club success with Manchester United and Real Madrid, he has yet to win a major tournament with Portugal. "I'm not saying Portugal doesn't have the capacity to win the World Cup or Euro, but its more tough... its difficult, because you don't have 100 players to choose," sai the Portuguese star.
Ronaldo insists he'd relish the opportunity to talk to his critics and listen to their opinions on why they believe he is arrogant. He told CNN: "People who call me arrogant, I'm interested, not with all of them, but most of them. One day I would like to sit with them and have a chat to see in which way they think I'm arrogant."
When he finishes his football career, Ronaldo wants to become an actor.
Ronaldo tells CNN's Pedro Pinto in an exclusive interview that he believes his perceived 'arrogance' has made him less popular than his chief rival Lionel Messi. "You know, sometimes I'm a victim of that because they don't know the real Cristiano," said the Real Madrid forward.
Cars are one of Ronaldo's great passions. In 2009, while at Manchester United, Ronaldo was lucky to esacpe injury after crashing his Ferrari.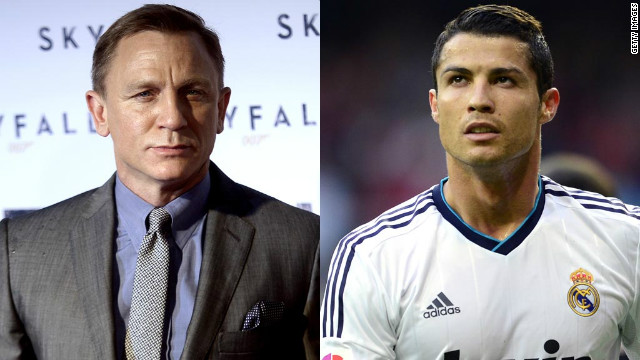 The Real Ronaldo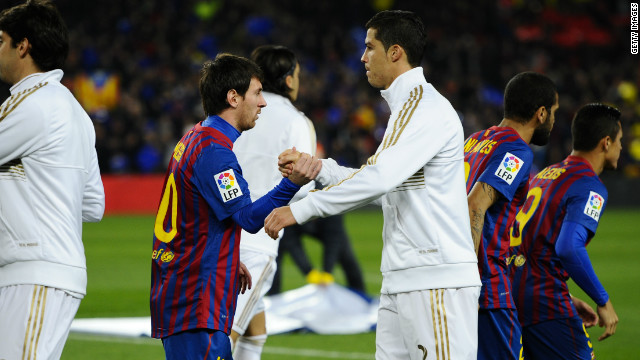 Barcelona's Lionel Messi (left) and Real Madrid's Cristiano Ronaldo (right) -- widely considered the two best players in the world -- shake hands before the 'El Classico' derby between Spain's two biggest clubs. But is the huge wealth of Barca and Real damaging the rest of Spanish football?
Real Madrid manager Jose Mourinho (left) and Barcelona manager Tito Vilanova (right) shake hands at the derby between the two clubs. Real's revenue is $695 million, $42 million more than Barca and $526 million more than that of Valencia.
Barcelona's Andres Iniesta, Lionel Messi and Real Madrid's Cristiano Ronaldo were all nominated for the prestigious Balon d'Or award this year. The last time the Barca-Real league monopoly was broken was in 2004 when Rafael Benitez's Valencia won La Liga.
Atletico Madrid striker Radamel Falcao is arguably the best striker in the world, but the Colombian is likely to be sold at the end of the season.
Real Oviedo fans show their support for the club in the Estadio Carlos Tartiere with a banner reading "For the future of Real Oviedo". The third-tier club's financial problems are so great that they have turned to their fans for help, offering them the right to buy shares in Oviedo.
The Real Oviedo team huddle on the pitch before taking on Real Madrid's reserve team in Asturias. Oviedo need to raise $2.4 million to save the club.
Real Oviedo fans hold up banner as they march through the city on their way to the league match to protest against the possible closure of the club due to financial difficulties.
The Spanish financial crisis has led to a raft of anti-austerity measures. Protests against cuts have been seen on the streets of Madrid, where a minority of protesters have been involved in violent clashes with the police.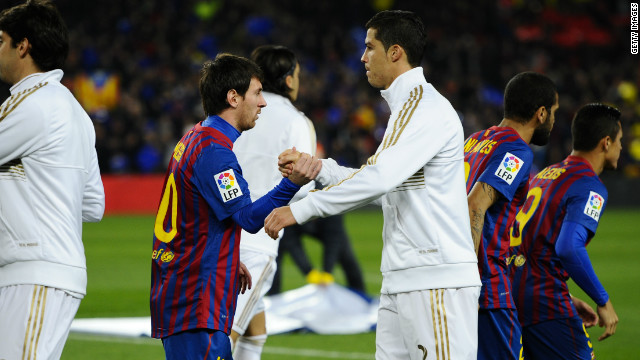 Spanish football hit by sponsorship cutbacks
Under Sebes, also of Jewish descent, Hungary became the first nation to defeat England on its home soil, winning 6-3 in 1953 before reaching the World Cup final the following year.
From 1950 until the Hungarian Revolution in 1956, the national team won 42 games, drew seven and lost just once --- in the World Cup final against West Germany.
Sebes preferred a 3-2-1-4 formation which allowed Ferenc Puskas, the great Hungarian striker, to thrive alongside the precociously talented Nandor Hidekuti.
That slowly changed to the 4-2-4 formation which would inspire Benfica to European and domestic glory.
"I never minded if the opposition scored, because I always thought we could score another," Guttmann once said.
His thirst for innovation and his psychology degree, which he earned in his younger days, helped him become a leading figure in man-management and a master tactician.
At Benfica, it was the arrival of Eusebio which allowed Guttmann to play Mario Coluna in a deeper position and unleash one of the most attacking teams of the era.
Benfica defeated Barcelona 3-2 in Berne in the 1961 European Cup final before coming from behind to beat then five-time winners Real Madrid 5-3 the following year.
But where there was triumph, disaster was never far away.
"From the moment he arrived in Portugal, Bela Guttman's relationship with Benfica was destined to be complex," says Portuguese football expert Ben Shave.
"After the second European Cup victory, Guttman approached the recently-elected president Antonio Carlos Cabral Fezas Vital with what seemed an eminently reasonable request -- a pay rise.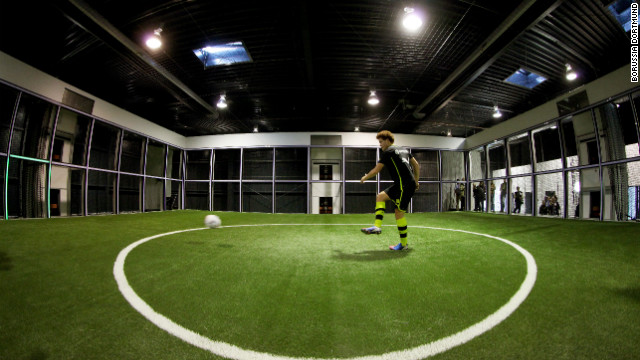 The "Footbonaut" -- is a robotic cage which footballers can use to improve passing, spatial awareness and control. The machine is being used by German champions Borussia Dortmund.
Once inside the "Footbonaut", a player is fed balls by eight different machines and then has deliver the ball to one of the 72 panels - - which is indciated by a flashing green light -- that make up the space-age contraption before they receive another ball. This picture shows Dortmund's German star Mario Gotze testing himself against the machine.
German coach Jurgen Klopp has overseen Dortmund's recent domination of German football. Dortmund have won the Bundesliga in each of the last two seasons, winning plaudits for the adventurous style of play. Klopp's team also currently sit top of a European Champions League group containing Real Madrid, Manchester City and Ajax.
Dortmund's rise to prominence has forced their attractive young squad into the limelight. None more so than Polish striker Robert Lewandowski, who was strongly linked with a move to Manchester United earlier this year.
One player who did swap Dortmund for Manchester was Shinji Kagawa. The Japanese playmaker had made a promising start to his Old Trafford career before being sidelined with a knee injury last month. Another player developed by Dortmund was Nuri Sahin, the Turkish midfielder who signed for Real Madrid in 2011 before joining Liverpool on a season-long loan deal in August.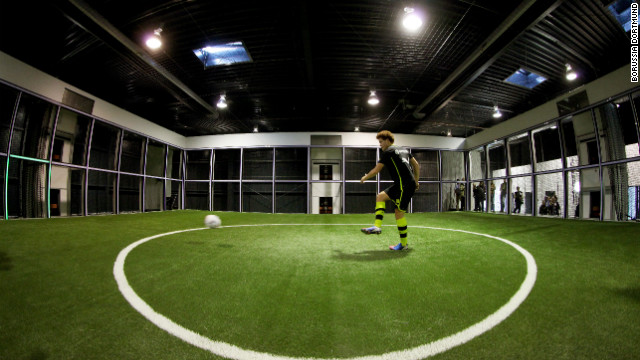 Dortmund's training pays dividends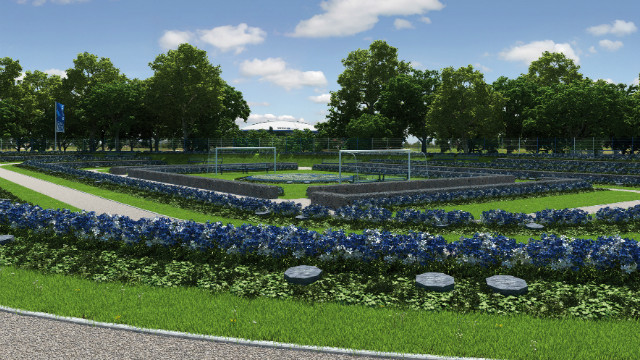 The Schalke Fan Feld, whose centerpiece will be a club logo made up of blue and white flowers lying between two goals, looks directly on to the Bundesliga club's home stadium - the white domed Veltins-Arena, which can be seen in the gap between the trees in this picture.
Schalke fans are known as some of the most passionate in German football.
The cemetery will only have space for 1,904 graves -- reflecting the year of Schalke's foundation -- and the club says there will not be another site when the entire allocation is taken up.
Schalke's on-field fortunes have improved in recent years to the point where they have brought in leading strikers Raul Gonzalez, who left the club earlier this year, and current Dutch striker Klaas-Jan Huntelaar.
The cemetery will be laid out in the shape of a stadium, with the miniature pitch located at the centre.
The "pitch" will feature the Schalke logo, made up of blue and white flowers, with a goal at each end and benches in the middle of those.
Schalke's Veltins-Arena was built in the run-up to the 2006 World Cup and can hold over 65,000 fans.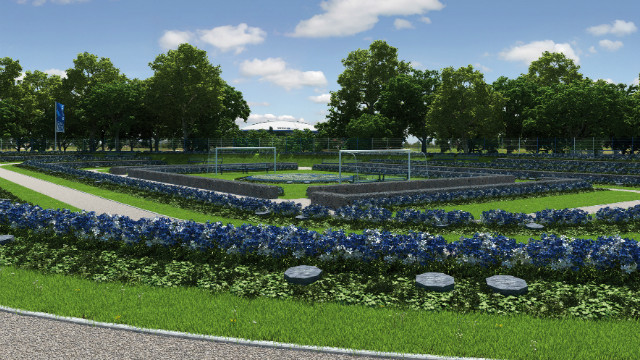 From the cradle to the grave
"Vital chose to turn Guttman down, whereupon the Hungarian departed with what has become a well-worn parting shot: a simple declaration that Benfica would not win another European Cup.
"Guttman's curse has proved painfully prophetic -- the Aguias have lost five European Cup finals in 1963, 1965, 1968, 1988, 1990, the 1983 Uefa Cup final and now the Europa League final."
Mourinho comparison
Remembered for his uncompromising attitude, his innovation on the field and his nomadic existence, Guttmann's story gained further resonance following the emergence of Portuguese coach Jose Mourinho, a European champion with Porto in 2004 and Inter Milan in 2010 after beginning his career with a brief spell at Benfica.
"Guttman's prickly personality and relentless pursuit of success have led to comparisons with Mourinho in some quarters," Shave told CNN.
"What is certainly true is that both left Benfica in unfortunate fashion, and both departures became matters of considerable regret for the club.
"The results of Guttman's 'curse' have been well documented, whilst presidential candidate Manuel Vilarinho's stated wish to replace Mourinho with club legend Toni following the 2000 elections led to 'the Special One' taking his talents elsewhere.
"In a similar scenario to that which led to Guttman's tenure coming to an end, Mourinho approached Vilarinho with a contract extension request shortly after his election (and a 3-0 win over Sporting), which was denied.
"Vilarinho's opponents have dined out on that mistake since."
As for the Benfica's players the task of finally closing the book on Guttmann's curse continues.