Royal baby announcement marks dramatic break with tradition
December 4, 2012 -- Updated 1353 GMT (2153 HKT)
STORY HIGHLIGHTS
Palace forced to announce Duchess of Cambridge's pregnancy after hospital trip
Unclear when senior members of royal family, including the queen, were told
Saunders: Pregnancy could be one of most significant in the UK royal history
Editor's note: Mark Saunders is a longtime reporter on the royal family and has covered more than 200 official royal engagements. He the author of several books on the royals, including "Prince Harry: The Biography."
(CNN) -- The news the Duchess of Cambridge is expecting a child marks a dramatic departure from previous royal pregnancies. For it is believed even the queen may not have been given the happy news.
Buckingham Palace were forced to make the announcement only after Catherine was taken to hospital suffering from acute morning sickness. Usually proclamations of royal births are posted on the gates at Buckingham Palace only after the 12th week of pregnancy.
But knowing it would be impossible to keep Catherine's visit to hospital a secret, Buckingham Palace took the unusual step of pre-empting press speculation and revealing the news immediately.
The announcement is in stark contrast to Princess Diana's first pregnancy, which was announced some six weeks after the queen had been informed, and after months of intense press speculation.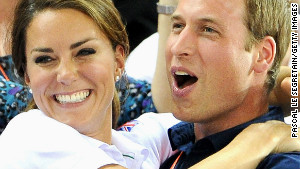 With royal baby, three wait for throne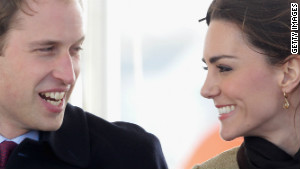 A royal baby on the way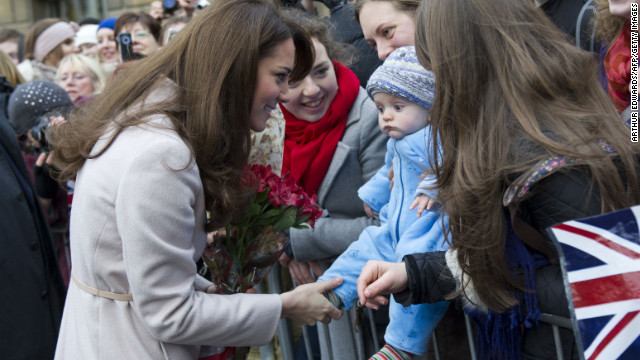 Catherine, Duchess of Cambridge, left, meets 5-month-old James William Davies as she arrives at the Guildhall during her visit to Cambridge on November 28, 2012. Prince William and his wife, Catherine, are expecting their first child, the palace announced Monday, December 3. Click through this gallery to see the her interacting with the younger generation.
Prince William and Kate kiss on the balcony of Buckingham Palace in London after their wedding at Westminster Abbey on April 29, 2011. Two young bridesmaids, Grace Van Cutsem, left, and Margarita Armstrong-Jones, right, seem to have differing views of being in the public eye.
Catherine speaks with two young girls as she presents shamrocks to members of the 1st Battalion Irish Guards at the St Patrick's Day Parade on March 17, 2012, at Mons Barracks in Aldershot.
Catherine joins in a music class during a visit to The Treehouse in Ipswich, eastern England, on March 19, 2012. Her visited marked the formal opening of The Treehouse, a children's hospice service for the counties of Suffolk and Essex.
A young child holds up a banner as Catherine visits Alder Hey Children's NHS Foundation Trust on February 14, 2012, in Liverpool, England.
A young girl offers Catherine a toy rose as the Duchess visits Alder Hey Children's Hospital on February 14, 2012, in Liverpool, England. Interacting with children during visits to hospital or charities is a part of official duties that Catherine seems to enjoy.
Catherine meets children at Nauti Primary School during the couple's Diamond Jubilee tour of the Far East on September 18, 2012, in Funafuti, Tuvalu. Since her marriage with Prince William, the Duchess has reached out to children and schools all over the world.
Eloise Taylor, Catherine and Margarita Armstrong-Jones stand on the balcony of Buckingham Palace after the Colour Parade on June 11, 2011, in London. The parade is a celebration of the sovereign's official birthday, although the queen's actual birthday is on April 21.
Catherine greets a young girl during a walkabout as she visits Alder Hey Children's Hospital on February 14, 2012, in Liverpool, England.
Catherine talks with flag-waving schoolchildren as she arrives for a visit to The Art Room's classroom at Rose Hill Primary School on February 21, 2012, in Oxford, England. Since the beginning of the year, Catherine has become patron of four charities, including the Art Room.
Catherine receives a bouquet of flowers from a young girl during her visit to the UNICEF Centre on November 2, 2011, in Copenhagen, Denmark.
Catherine laughs as she receives flowers from 2-year-old Lola Mackay, who refused to let go of them, during a visit to the CRI Stockton Recovery Service on October 10, 2012, in Stockton-on-Tees, England.
Catherine, right, speaks with schoolchildren during an official visit to the Art Room facilities at Rose Hill Primary School in Oxford on February 21, 2012.
Catherine talks with a young girl as she arrives for a visit to Alder Hey Children's Hospital on February 14, 2012, in Liverpool, England.
Prince William and Catherine help pack care packages for military children at the Mission Serve: Hiring Our Heroes event on July 10, 2011, in Culver City, California.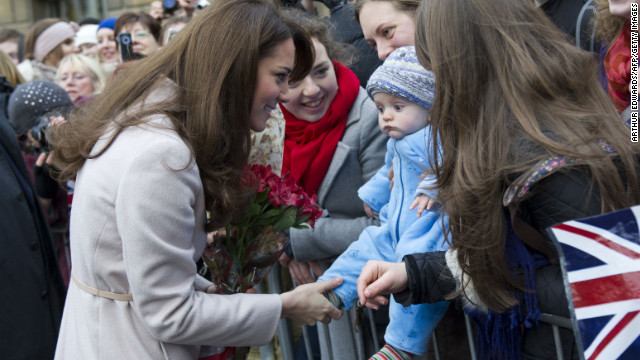 Photos: Kate's love for kids
Royal advisors are being surprisingly open about Catherine's condition, despite recent intrusions into her private life, including the publication of topless photos, which were condemned by Buckingham Palace. It is believed a new spirit of openness has been embraced by William and Catherine in an attempt to prevent the massive press interest and speculation that surrounded Princess Diana.
Prince William drove his wife to hospital earlier today and spent hours by her bedside. He left tonight looking tense but happy. Catherine is expected to stay in hospital for several days.
Catherine and William baby news sparks media frenzy
Sources said the couple are "incredibly happy but nervous." In a statement on their website William and Catherine said they were "delighted with the news."
It is unclear when senior members of the royal family, including the queen, were told about the pregnancy -- but a palace insider says Catherine's parents were already aware their eldest daughter was expecting because she was taken ill whilst staying at their family home in Berkshire this weekend.
Catherine's pregnancy could turn out to be one of the most significant in the history of the British royal family, for the child will accede to the throne even if she is a girl.
The child will not be subject to the centuries old law of primogeniture, which puts male heirs ahead of women.
Britain's Prime Minister David Cameron has agreed a deal to change the rules on the royal line of succession, which means male heirs will no longer be given priority.
News of the pregnancy was met with joy throughout the UK. Within minutes of the announcement being published on the royal couple's website it had crashed under the weight of traffic.
Photos: The Duchess of Cambridge's best looks