STORY HIGHLIGHTS
French racing authority bans Frankie Dettori for six months over positive drug test
Jockey accepts the decision and vows to rebuild his reputation when he returns
Father of five regrets having let down his family and fans, Dettori's lawyer says
He will have to undergo further testing before he can start racing again in May
(CNN) -- Champion jockey Frankie Dettori has vowed to "rebuild his reputation" after accepting a six-month suspension, having been found guilty of using a banned substance.
Dettori, who will be 42 this month, tested positive in France on September 16 for a drug that has widely reported by British media to have been cocaine. He was cautioned by police for possession of the drug in 1993.
France Galop, the country's horse racing ruling body, announced on Wednesday that the Italian will be banned from November 20 to May 19, though it did not reveal the substance in question. It has asked other horse racing authorities around the world to enforce its decision.
"For similar cases, France Galop has never revealed the substances found and will therefore not reveal the substance for this specific case," spokesman Julien Pescatore said.
Dettori's legal representative Christopher Stewart-Moore said the jockey had accepted the punishment.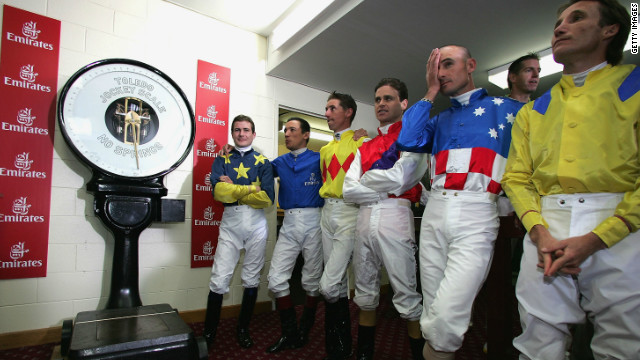 Jockeys line up for weighing ahead of the Melbourne Cup.
Sweat suits, saunas, hot baths and starvation are still in use in the racing industry. Though there is a growing movement to change it.
The minimum riding weight in the U.S. is 53kg.
A hungry, dizzy rider on a 450kg horse galloping at 64km, poses a danger to everyone on the track, PJA medical adviser, Anna-Louise MacKinnon, said.
Nine-time Epsom Derby winner Lester Piggott weighs in, 1980. Dietary education has greatly improved in Britain in the last 20 years.
Australian jockey Scobie Breasley's weight is measured in sultanas in 1959. Riders must follow strict low-calorie diets to keep their weight down.
British jockey Steve Donoghue is weighed before a race in 1930.
At 178cm, British jockey Fred Archer was one of the tallest on the field in the 19th Century, and struggled to keep his weight down. The strain was partly blamed for his suicide in 1886, aged 29.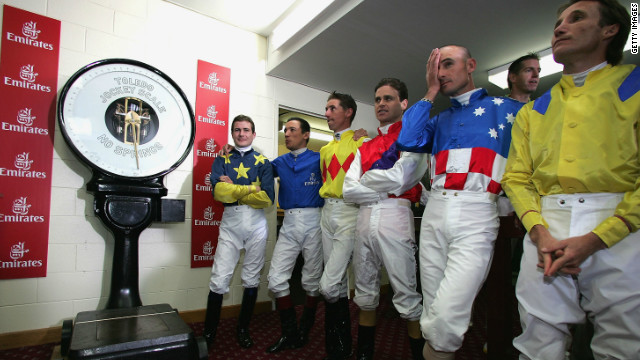 A weight issue: Jockey diets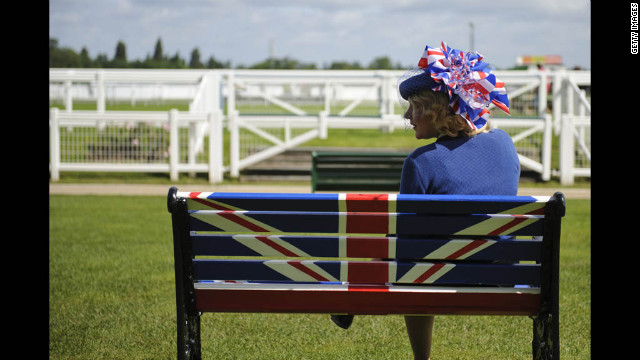 A race-goer attends day five of the Royal Ascot races in Ascot, England, on Saturday, June 23.
Queen Elizabeth II and Prince Philip, Duke of Edinburgh, arrive at the course on day four of the races.
A sign and flags hang in the air.
Attendees escape the rain under their umbrellas on day four.
An attendee examines a booklet with descriptions of the racers.
Riders race during the Diamond Jubilee Stakes on day five of Royal Ascot races Saturday.
Two onlookers congratulate each other with a high-five.
A large hat resembling the British flag sits atop a woman's head.
Racehorse Black Caviar neighs after carrying his rider across the finish line for the win on Saturday.
Racegoers sit at a table and study the form on Friday.
Queen Elizabeth II and Prince Philip, Duke of Edinburgh, and other members of the royal familly arrive in the Parade Ring at the Royal Ascot on Ladies Day on Thursday, June 21. Ladies Day is traditionally the fashion highlight of the five-day race meeting.
Rain falls on the race-goers attending the Royal Ascot.
A couple stand in a puddle at Royal Ascot.
Frankie Dettori celebrates riding Colour Vision to win The Gold Cup during Ladies Day at Royal Ascot.
A woman shows off her unusual hat.
Race-goers wear plastic rain covers over their dresses during some showers.
Frankie Dettori riding Colour Vision, center, to win the Gold Cup.
Larisa Katz shows off an umbrella hat design at Royal Ascot.
A visitor to Royal Ascot photographs her friends.
A woman poses with a striking hat and equine-themed umbrella.
A group of women in striking hats poses for a photo.
It's the end of the day in the silver ring during Ladies Day at Royal Ascot .
A race-goer poses on day three of the Royal Ascot.
Princess Anne and Princess Beatrice attends Ladies Day.
A worker checks benches in the grandstand.
Pat Smullen riding Princess Highway wins The Ribblesdale Stakes during Ladies Day at Royal Ascot at Ascot racecourse.
A worker attempts to dry tables and chairs at a Champagne bar on Ladies Day at Royal Ascot.
A bench is decorated with a Union Jack flag in the Grandstand on Ladies Day at Royal Ascot.
Top hats are worn by race-goers at the Royal Ascot in England on Wednesday, June 20. The five-day meeting is one of the highlights of the horse racing calendar and the season. Thousands of race fans are expected to attend.
Runners take the bend away from the grandstand at Ascot racecourse.
A visitor to Royal Ascot holds a race guide and a glass of Champagne.
Race-goers from The Royal Enclosure watch the arrival of the royal family.
Two women chit-chat on day one of the races.
Lisa Scott Lee attends day two of Royal Ascot.
Photographers in top hats snap photos of Royal Ascot attendees.
Queen Elizabeth II smiles as she arrives.
A dress code assistant holds a basket of pashminas at the main entrance to Royal Ascot. Visitors are expected to keep to a strict dress code.
Visitors to Royal Ascot enjoy a picnic before the start of racing.
A race-goer wearing a flamboyant hat poses for the media.
Race-goers sit together on a bench.
A woman in a striking hat attends day one of the races.
A woman wearing an elaborate hat designed to look like a bird cage attends day one of the races.
The Tootsie Rollers retro girl-band entertains visitors.
A race-goer poses for photographers at the races.
Race-goers ride an escalator down from the private boxes of the Royal Enclosure.
Jackie St. Clair attends day two of Royal Ascot.
Black Caviar, ridden by Paddy Bell, gallops before the Royal Ascot race meeting on June 14.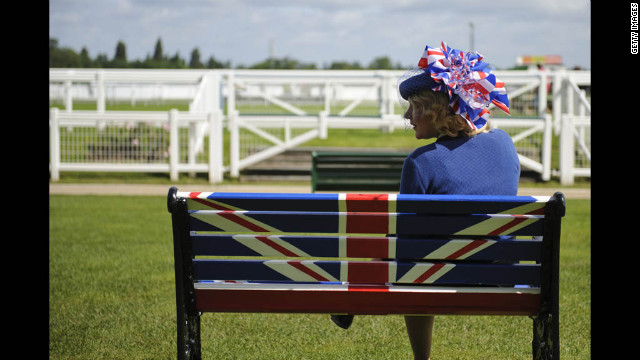 Photos: Royal Ascot 2012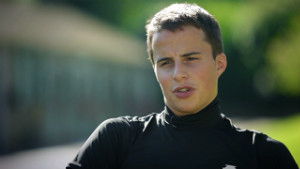 Jockeys: the ultimate athletes
"He also accepts that he has let down the sport he loves and all those associated with it, as well as the wider public," Stewart-Moore said in a statement.
"But most of all, and this is his greatest regret, he has let down his wife and children."
Dettori, who has five children with wife Catherine, is one of the world's most successful jockeys.
He is most famous for riding seven successive winners in one meeting at prestigious English course Ascot in 1996, and has more than 500 Group-level victories in his career so far.
He is a household name in Britain, where one bookmaker announced odds of his chances of success in next year's premier meetings immediately after the French authority's decision was announced.
Dettori revealed in October that he will be ending his fulltime role at the Godolphin stable next year, and last month news broke about his positive test during a race meeting at the Longchamps course in Paris.
"Racing has been good to Frankie and he knows that his privileged position brings with it responsibility," Stewart-Moore said.
"For this reason he is determined to rebuild his reputation when he returns to the saddle."
France Galop said Dettori will have to undergo further drug testing from April 20 before he is allowed to return to racing.
Stewart-Moore said the three-time British champion, who has admitted taking weight-loss drugs in the past, is taking full responsibility for the failed test.
"He is clear that the responsibility for his current situation lies squarely with him," Stewart-Moore said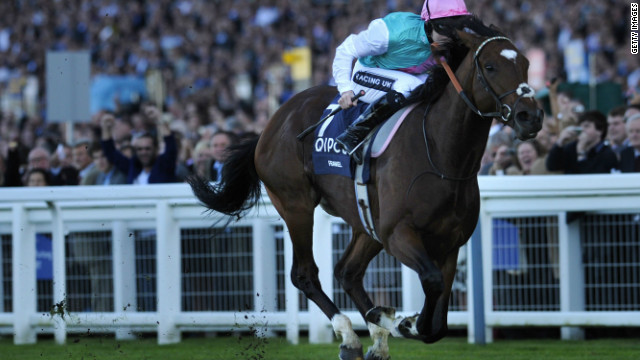 "Frankel was a cracking name -- it jumped out of the microphone," says racing commentator Cornelius Lysaught. The superstar colt, who recently retired after an unblemished 14-win career, scooped the main prize at the 2012 UK Horse of the Year awards.
A young racegoer shows her support for Australian horse Black Caviar. The owners chose the name because they thought it appeared sophisticated and stylish.
Phar Lap is immortalized in the Melbourne Museum. The New Zealand-born champion gelding's name has also been included in the International Federation of Horseracing Authorities' protected list.
Camelot's owners reserved the name in the hope of finding a horse that would live up the mythical Arthurian city. The British colt came close, but failed to secure the Triple Crown this year.
"It's not the pronunciation that's difficult, it's identifying the horse," says Lysaght.
"The Queen is renowned for naming her horses sensible, cleverly constructed words," says BBC commentator Lysaght.
Horse names can influence punters, with inexperienced betters particularly drawn to humorous or quirky titles.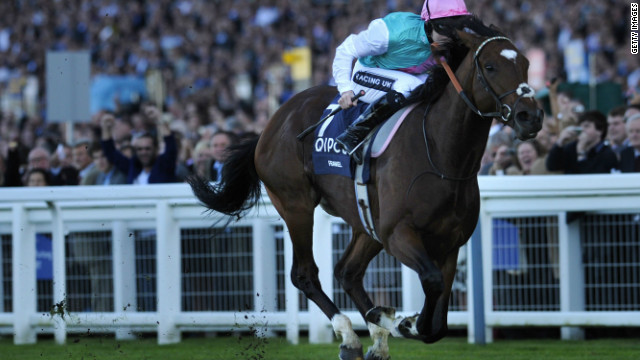 Betting on a winner: What's in a name?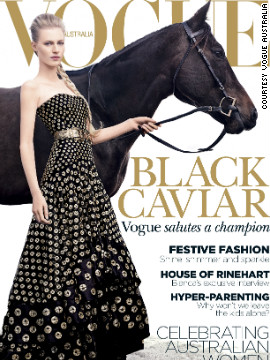 Champion thoroughbred Black Caviar appears on the December issue of Vogue Australia. It is the first time in the 53-year history of the magazine that a horse has featured on the front cover.
The $7 million horse was photographed by Australian Benny Horne in a secret location in the Dandenong Ranges, just outside of Melbourne.
"Her coat is this extraordinary pitch black, almost like velvet, with this handsomely structured face and that awesome rump that propels her so fast," Vogue Australia editor Edwina McCann said.
Since demolishing the field in her first win in the 2009 Danehill Stakes, an air of mystique has followed the sprinter, who now boasts more than 22,000 Twitter followers.
Black Caviar secured her record 22 consecutive win at Royal Ascot in July. Despite a leg injury she took the prestigious Diamond Jubilee Stakes in a nailbiting finish against France's Moonlight Cloud.
Australians have taken the mare to their hearts, with diehard fans even traveling to Britain's Royal Ascot to watch her compete.
Black Caviar's owners have created a distinctive brand around the champion thoroughbred. Everything from her name to the color of her silks has been carefully aligned with "sophistication and style."
One of Vogue Australia's most memorable front covers was the 50th anniversary edition, featuring an illustrated image of Oscar-winning actress Cate Blanchett.
The magazine has tended to stay away from controversial models. One of its more unusual front covers was of pregnant Australian model Miranda Kerr, wife of Hollywood actor Orlando Bloom, in January 2011.
The world-renowned fashion magazine featured Princess Mary of Denmark on its cover in December 2004. The Australian met husband Prince Frederik during the 2000 Sydney Olympics.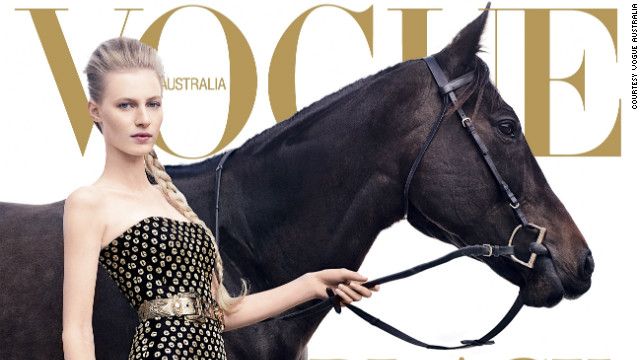 Vogue's most controversial cover model?
"From the start of France Galop's inquiry he has acknowledged to them he has made a mistake and that the fault was his.
"Finally, he has asked me to thank everyone for the many messages of support he and his family have received."
The British Professional Jockeys' Association said it would support Dettori's rehabilitation, but denied there was a widespread problem of drug use among its members.
"From 2,607 in-competition urine tests and 3,697 breath tests since 2005, there is no evidence to suggest that there is a fundamental drug problem with jockeys," PJA chief executive Paul Struthers said.
"0.3% of urine tests were positive for drugs and 0.2% of both urine and breath tests were positive for alcohol."
The PJA said from 2005-11 it had recorded four positive tests for cocaine, one for cannabis and two for diuretics (water shedding drugs) -- both of which were for amateur riders. One alcohol positive was above the drink driving limit, and five were below.
Struthers said the PJA was aiming to raise awareness about the issue of jockeys' mental wellbeing.
"As well as all the normal pressures that other sportsmen and women have to contend with, unlike many other sports jockeys have the added pressures of massively reduced calorific intake and are constantly at very real risk of serious injury," he said.
"When it comes to mental wellbeing, racing perhaps lags behind other sports particularly when it comes to raising awareness of the issues and the support that is available, and it is overdue that more was done."