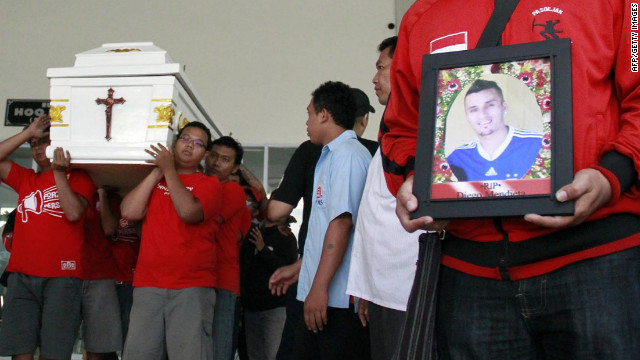 Diego Mendieta's former teammates carry his coffin at the Paraguayan footballer's funeral in Solo, Indonesia.
He passed away at the age of 32, dying in hospital after contracting an infection. Mendieta was unable to return home to his wife and children because he was owed four months' wages.
Mendieta is mourned by wife Valeriana Alvarez and their children Bele (left) and Gaston.
Mendieta's plight has highlighted the schism in Indonesian football, where two organizations are fighting for control of the game following the creation of a breakaway league. The players' union says 13 clubs are behind in promised salary payments.
Mendieta (left) celebrates with Persis Solo teammates Romuald Noah and Yanuar Ruspuspito after scoring in a match against Persip Pekalongan.
Tragic end
Widow's grief
Loss of father
Indonesian infighting
Happier times
STORY HIGHLIGHTS
Paraguayan footballer dies at the age of 32 in an Indonesian hospital
Diego Mendieta was owed $12,500 in wages, unable to pay for medical treatment
Mayor of Solo to pay player's hospital bills after his death
His plight highlights a schism in Indonesian football
(CNN) -- Diego Mendieta was a man who needed help.
There he lay, helpless. Alone. Dying.
There were no news stories. There was no #prayforMendieta hashtag, not even a line on the internet.
With the world oblivious to his plight, the Paraguayan, thousands of miles from home, passed away at the age of 32 in an Indonesian hospital on Tuesday.
Mendieta was a footballer who formerly played for Persis Solo, a club based 90 minutes' flight from the capital, Jakarta.
He had longed to return home to see his wife and two children but had not been paid four months' wages -- worth an estimated $12,500.
Mendieta fell ill and died of cytomegalovirus, a common infection that can be spread by coughing or sneezing.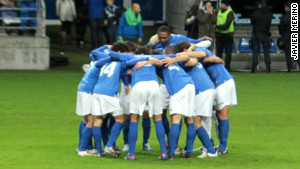 Billionaire saves Spanish football team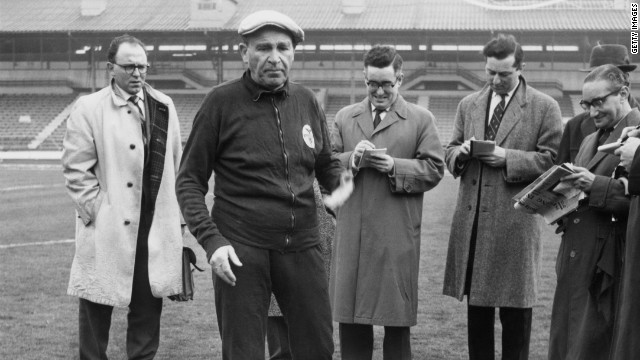 Bela Guttmann was a Hungarian Jew who transformed the face of modern football. He worked across the world, enjoying huge success in Brazil and Portugal, where he won the European Cup on two occasions with Benfica.
Guttmann took some inspiration from the great Gustav Sebes, the man who coached the "Magnificent Magyars" in the 1950s. Under Sebes, Hungary became the first nation to defeat England on its home soil, winning 6-3 in 1953 before reaching the World Cup final the following year. Striker Ferenc Puskas, who is pictured here training at Craven Cottage, scored twice in that famous Wembley game.
During his time in Brazil with Sao Paulo between 1957 and 1958, Guttmann introduced the 4-2-4 system which Brazil used at the 1958 World Cup. Pele is pictured here celebrating after scoring in Brazil's 5-2 World Cup final win over Sweden in Stockholm.
Guttmann led Benfica to glory in the 1961 European Cup final, beating Barcelona 3-2. After arriving at the club from Porto in 1960, Guttmann immediately fired 20 of his squad before going on to win the Portuguese league title two years in a row.
Benfica faced then five-time winners Real Madrid in the 1962 final in Amsterdam, where Guttmann's side produced a famous 5-3 victory. Puskas scored a first-half hat-trick for Real against his former manager but it was not enough as Eusebio fired the Lisbon side to glory with two second-half goals.
Eusebio was brought to Benfica from Mozambique by Guttmann in 1961. Under his guidance Eusebio would go on to greatness, establishing himself as one of the game's most talented players.
When Guttmann left Benfica after a pay dispute following the 1962 European Cup win, legend has it that he left a curse on the club. He is reported to have told the board that they would never win the title again. The following year, Benfica lost 2-1 to AC Milan in the final -- and suffered defeat in four more since then.
Before the 1990 final against AC Milan in Vienna, Eusebio prayed for forgiveness at Guttmann's grave but it did little good as Benfica lost 1-0. That was Benfica's last European Cup final appearance.
Many have compared Guttmann with Real Madrid manager Jose Mourinho. The two are said to have shared many traits, including their man-management skills, fiery tempers and winning mentality. Mourinho's father, Felix, played against Guttmann's Benfica side, saving a penalty from Eusebio.
Portuguese club Benfica are nicknamed the Eagles and before each home game an eagle flies around the Estadio da Luz.
Despite being under pressure for much of the 2013 Europa League final, Fernando Torres raced clear to fire home in style and Chelsea the lead.
Fernando Torres does his best impression of Usain Bolt after giving Chelsea the lead.
Benfica hit back with 22 minutes remaining when Oscar Cardozo netted from the penalty spot after Cesar Azpilicueta handled inside the penalty area.
But with the game looking set for extra time, Branislav Ivanovic popped up at the death to head a dramatic winner and secure victory for Chelsea.
One year on from winning the Champions League, Chelsea's players celebrate with the Europa League trophy.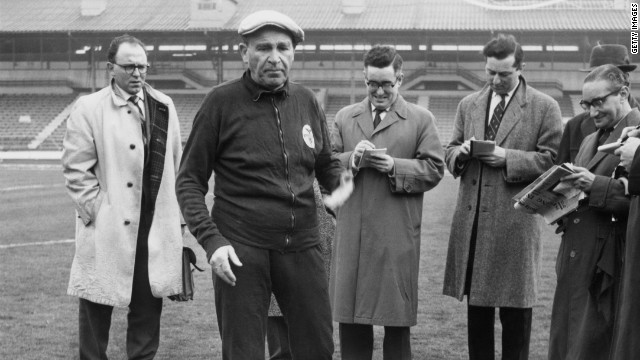 Bela's Benfica 'curse'
In his final days, without enough money to finance his medical treatment, he changed hospitals three times and lost about 17 kilograms (about 37 pounds) in weight before his death.
His skeletal frame was left on a stretcher, covered by an old Real Madrid shirt, with a few football fans for company.
It is a story that has spread around the globe and left another stain on the sport in Indonesia, where two rival organizations are battling for control of the game.
"After his contract expired in June and his former club had not paid his salary, Mendieta suffered financially. He played in some rough football matches to survive in Solo," Indonesian journalist Sam Hadi of Kompas Daily said.
"He was unable to pay for his rented room in the last six months. He even had difficulties to pay for food, so his friends, colleagues and fans raised money to help him.
"His agent had advised Mendieta to go home by preparing the flight ticket for him. But Mendieta reportedly said that he was ashamed of not bringing back money to his country."
Having fallen ill in early November, Mendieta was first diagnosed with typhoid. By the time he reached his third hospital, where he could not afford his medical bills, the cytomegalovirus had crawled to his brain, Hadi said.
"It was very, very sad situation for him."
Football in the Asian country has been torn apart by infighting between the Indonesian Soccer Association (PSSI) and the breakaway Indonesian Soccer Rescue Committee (KPSI).
Football's ruling body, FIFA, has threatened to impose sanctions unless an agreement is reached.
Both bodies, which have their own competitions, have agreed to run just one league next season to avoid punishment from FIFA, whose executive committee expects to have to rule on the matter at its meeting next Friday. The PSSI did not immediately respond to CNN's request for comment.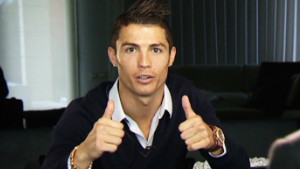 A day in the life of Cristiano Ronaldo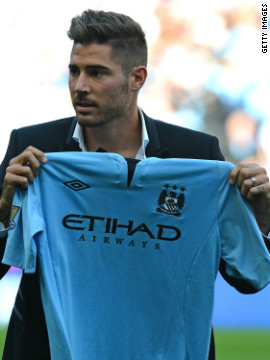 Manchester City was the highest spender when it came to agents' fees, paying out close to $17million. Manager Roberto Mancini was busy in the transfer market, bringing in the likes of Javi Garcia from Benfica.
New Liverpool manager Brendan Rodgers brought in $40 million worth of talent in Fabio Borini and Joe Allen in August. The Anfield club has struggled on the pitch however, languishing in 12th place.
Esteban Granero arrived at Queens Park Rangers with the hope of lighting up the Premier League. But the former Real Madrid man has endured a difficult start, with his new team rock bottom and yet to win a game.
Tottenham manager Andre Villas-Boas was a busy man during the summer transfer window, bringing in the likes of Clint Dempsey and Mousa Dembele from Fulham as well as France goalkeeper Hugo Lloris and Belgium's Jan Vertonghen.
Eden Hazard was just one of the big arrivals at Chelsea after arriving from French club Lille in a deal worth over $50 million. The Blues also brought in Brazilian playmaker Oscar and German winger Marko Marin.
When it comes to business, Arsenal is held up as a beacon club by many. It spent wisely once again in pre-season, attracting Germany international Lukas Podolski, Spain's Santi Cazorla and France forward Olivier Giroud.
Robin van Persie was Manchester United's big summer signing after he arrived from Arsenal. United also brough in Shinji Kagawa from Borussia Dortmund and Alex Buttner from Vitesse Arnhem.
Premier League newcomers Southampton spent the least on agents' fees. The Saints spent most of its budget on Gaston Ramirez from Bologna, who cost just over $19 million.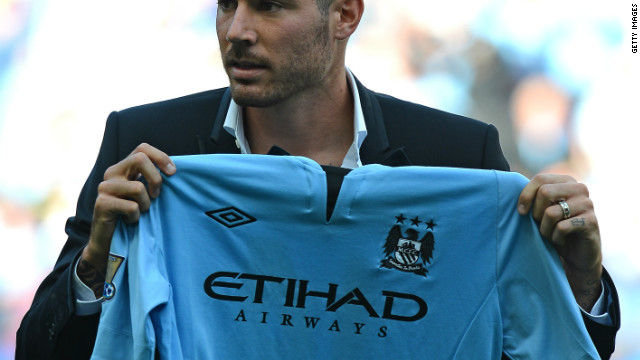 EPL agents earn millions
"Unfortunately yet again, it seems that the set objectives will not be reached and we, therefore, anticipate that the PSSI will be sanctioned," FIFA Secretary-General Jerome Valcke wrote in a letter to Indonesian sports minister Andi Mallarangeng.
"We are fully aware that Indonesia is passionate about football and that sanctions will have a major impact. We have tried tirelessly to solve the problems, but we are afraid that there will be no choice unless the objectives are met or that significant progress has been made."
The division has caused great ructions within Indonesian football, with players often the victims both financially and physically.
"Mendieta's death raises questions of how he was treated by Liga Super's management. Why was he not paid his salary for so long?" PSSI official Rudolf Yesayas told AFP.
"Managing football is a complicated affair. Mendieta's death highlights the importance of having one football association, not more."
The national team has also suffered, losing 10-0 to Bahrain in a World Cup qualifier in March, a result that was investigated by FIFA because of suspicions of match-fixing.
"It has been almost two years since Indonesian football split," Hadi said.
"However, the financial problems do not only hit the breakaway clubs but also the clubs which play under the PSSI competition."
He said 13 clubs from both leagues are months late with payments, according to the players' association.
"On this matter, PSSI said on its official website that they would help the cost of flying Mendieta's body back to Paraguay, but they won't pay the players' salary as Persis did not play under PSSI competition," Hadi said.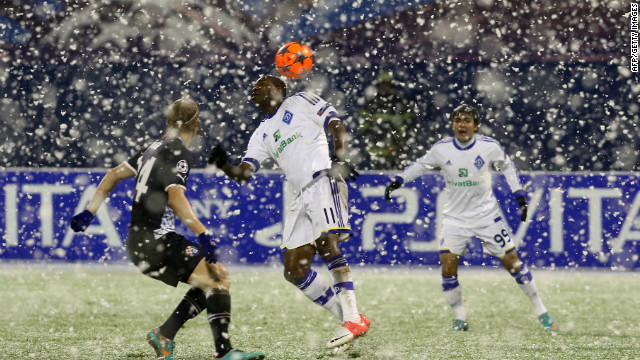 Dynamo Kiev's Ideye Brown fights for the ball with Dinamo Zagreb's Domagoj Vida in a game which was halted after 11 minutes following a snow storm in Croatia. The teams returned to the field after a 17 minute delay and played out a 1-1 draw
The snow in Zagreb was so bad that players were ordered to leave the pitch and wait in the changing rooms, while groundstaff helped to clear the pitch. Andriy Yarmolenko's 41st minute strike had given the visitors the lead but a 90th minute penalty by Ivan Krstanović secured a point for Dinamo.
Real Madrid's Kaka celebrates becoming the all-time leading Brazilian goalscorer in Champions League history after claiming his 28th strike in the competition to overtake Rivaldo.
Cristiano Ronaldo opened the scoring for Real Madrid against Ajax to register his 61st goal of 2012. Real eased to a 4-1 win thanks to a brace from Jose Callejon and a Kaka strike.
Malaga became the first Spanish side in Champions League history to take the field with 10 non-Spanish players in its starting line-up. Uruguay's Sebastian Fernandez, who is from Uruguay, was a constant menace for the Anderlecht defenders in a game which finished 2-2.
Zenit captain Danny stunned AC Milan by firing his side into the Europa League with a 1-0 win at the San Siro. Milan had already qualified for the last-16 of the Champions League after finishing second to Malaga.
Daniel Congre of Montpellier challenges Teemu Pukki of Schalke during the 1-1 draw in France. The point was enough for the German side to top Group B ahead of Arsenal, which was beaten by Olympiakos.
Carlos Tevez takes on Ilkay Guendogan of Borussia Dortmund during a frustrating night for Manchester City as it crashed out of European competition with a 1-0 defeat. City becomes the first English team to have failed to win a single group game in the compeititon.
Borussia Dortmund's Julian Schieber celebrates his winner against Manchester City as his team secures top spot in Group D. The Germans finished one point ahead of Real Madrid and will be relishing the knockout phase.
Paris Saint-Germain star Thiago Silva played a key role in his side's 2-1 win over Porto. The Brazil defender fired his team ahead after 29 minutes before Jackson Martinez equalized for Porto. Ezequiel Lavezzi's 61st minute strike ensured victory for the French.
Arsenal's Marouane Chamakh endured a disappointing night as the Gunners were beaten 2-1 by Olympiakos in Greece. Tomas Rosicky's effort had given Arsenal the lead but strikes from Giannis Maniatis and Kostas Mitroglou gave the Greek side victory.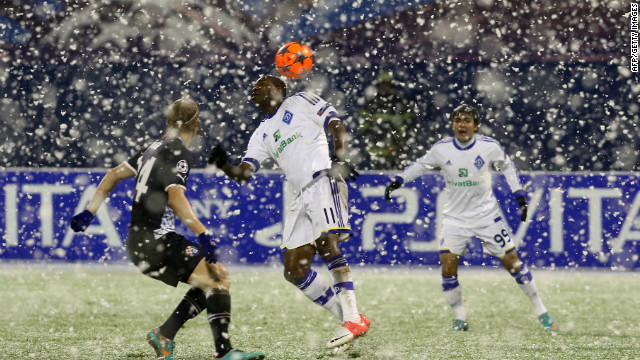 Champions League action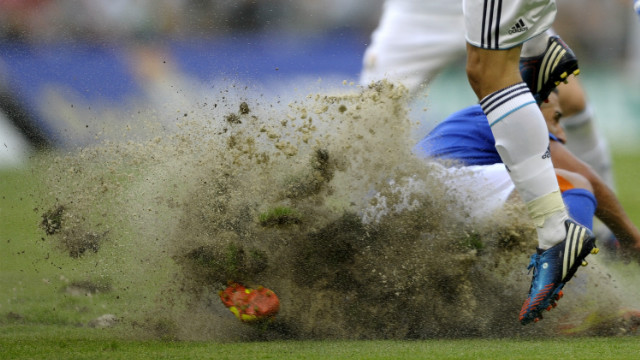 Over the weekend third-tier Spanish club Real Oviedo were saved from extinction after receiving a huge injection of cash from the world's richest man Carlos Slim.
Oviedo fans show their support for the club in the Estadio Carlos Tartiere with a banner reading "For the future of Real Oviedo". The Spanish club had needed to raise €1.9 million ($2.4 million) by November 17 or go bust.
Earlier in November Oviedo's board announced a share issue to attract investment and save the club. Remarkably the scheme took off as fans from all over the world bought the €11 ($13) shares after Oviedo's precarious position was highlighted on the social media website Twitter.
Slim was so impressed by the interest of fans in Oviedo from across the world -- he described their support as "extraordinary" -- that the Mexican tycoon pumped in a further $2.5 million to become Oviedo's majority shareholder. According to Forbes magazine, Slim has a net worth of $69 billion, having made his fortune in the telecommunications industry.
The Oviedo players huddle on the pitch before the match. Just over a decade ago Oviedo were playing in La Liga alongside Real Madrid and Barcelona, but mismanagement from the club's directors took the Asturian team to the brink of bankruptcy in recent years.
In September, Slim bought 30% stakes in two Mexican football teams, Pachuca and Leon, and he plans to use Oviedo "to create synergies and exchanges between Spanish, Mexican and Latin American football.''
Oviedo fans display a banner in the Estadio Carlos Tartiere reading: "Happen what may, Oviedistas until death." Of Slim's intervention, an Oviedo statement said: "This challenge and ambition is strictly a sports investment and one that looks to benefit the club and its fans. The investment will try to support Oviedo's players so they can reach their goals and the club can reach the division that corresponds to its history and values.''
Spanish football expert and long-time Oviedo supporter Sid Lowe has been a key figure in publicizing the club's plight. "Naturally, I have reservations, doubts & concerns," tweeted Lowe last weekend. "But with c. €2m of shares bought by 13,000+ ppl round world & Slim buying €2m Oviedo safe."
World Cup winner Juan Mata is one of the stars produced by Oviedo's youth system. He now plays for England's European champions Chelsea.
Michu was a Real Oviedo player for four years and has been campaigning on Twitter to save the club. He now plays in the English Premier League with Welsh club Swansea.
Arsenal's midfield maestro Santi Cazorla is another big-name player from Oviedo's academy who helped save his former club.
Mexican tycoon Slim is pictured at the 2012 Homeless World Cup in October. His widespread interests include providing financial backing for Mexican Formula One driver Sergio Perez.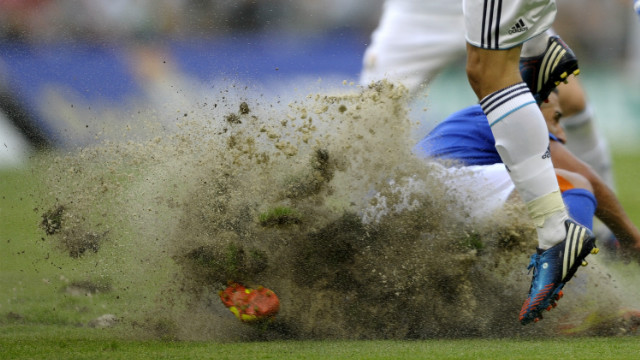 Real Oviedo - A fan's view
"On the other hand, Persis officials said they have transferred Mendieta's salary to his wife in Paraguay. "
Hadi said an out-of-contract Brazilian footballer, Bruno Zandonadi, also died in similar circumstances three months ago after being infected during treatment in an Indonesian hospital.
While Solo Mayor Hadi Rudyatmo has said he will pay Mendieta's hospital bills, the act of charity has come too late for FIFPro, which represents footballers around the world, with a membership of 60,000.
FIFPro launched a "Black Book" this year, detailing the abuse of players in Eastern Europe. It has repeatedly fought cases for players facing violence, arbitrary termination of contracts and non-payments of salaries.
It has also taken up the case of 2010 World Cup finalist Wesley Sneijder, who has been asked to extend his contract for no additional pay by Italian club Inter Milan.
"FIFPro demands that the Indonesian football association make an end to the structural mismanagement of countless football clubs," the Netherlands-based group said in a statement.
"It is a disgrace for the whole of professional football in Indonesia," added Frederique Winia, secretary general of FIFPro's Asia division.
"I know countless stories of players who are intentionally not paid by their club and have to wait for months for their salary. But I have never before heard a story where a seriously ill player has been left completely to his fate by a club.
"I assume that both the club and the national football association of Indonesia realize that they have seriously failed and that they have much to explain, particularly to the family and relatives of Diego Mendieta. The least the club can do is to pay the arrears in salary to his family."
Mendieta's body has been transported back to Paraguay, where he will be buried.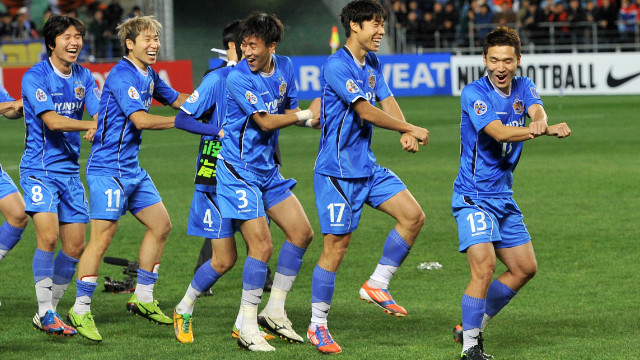 Ulsan Hyundai players perform the horse-riding dance of Psy's worldwide pop hit "Gangnam Style" after winning the AFC Champions League football final against Saudi Arabia's Al Ahli.
Ulsan Hyundai thrashed Al Ahli 3-0 to become the third South Korean club in four years to be crowned kings of Asia, having reached the final for the first time.
Ulsan captain Kwak Tae-hwi celebrates after scoring the opening goal of the final in front of his home fans.
Ulsan's supporters had much to celebrate, but their team is struggling to qualify for next year's tournament after falling off the pace in the K-League.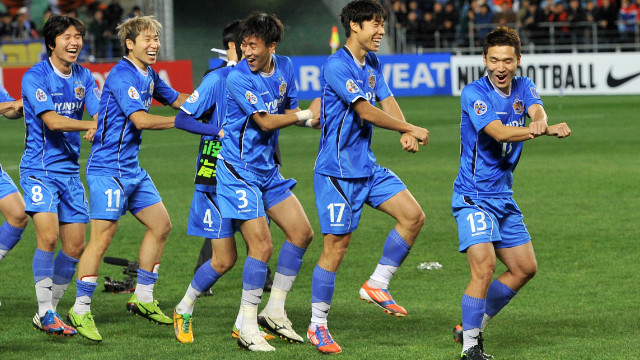 Asian champions go 'Gangnam Style'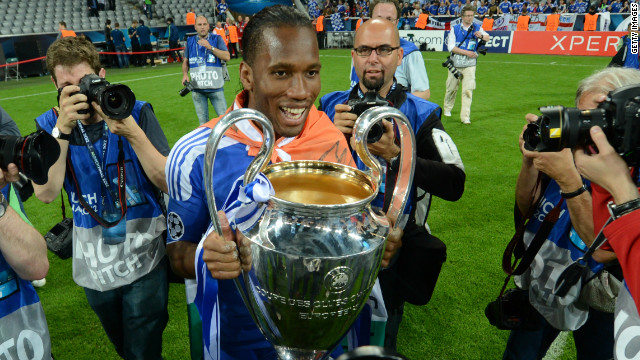 Didier Drogba has signed a two-year contract with Shanghai Shenhua. The former Chelsea star is the latest in a line of high-profile soccer stars to head to the Chinese Super League.
Veteran Italian coach Marcello Lippi was announced as coach of Guangzhou Evergrande last month. Lippi led Italy to FIFA World Cup glory in Germany in 2006.
Eyebrows were raised when Argentine playmaker Dario Conca joined Guangzhou from Brazilian club Fluminense for a Chinese record transfer fee in July 2011.
French Euro '84 winner Jean Tigana was unveiled as the new coach of Shanghai Shenhua in December 2011. But the former Fulham manager did not last long in the post, resigning from the position last month.
One highlight of Tigana's reign was the arrival of French striker Nicolas Anelka from Chelsea in January 2012. The 33-year-old enjoyed a prolific career across Europe, playing for clubs such as Arsenal, Real Madrid and Liverpool.
In addition to his playing duties, Anelka also had a brief spell in a coaching role at Shenhua following Tigana's departure in April. Drogba's arrival means Anelka will be reunited with his former Chelsea teammate.
Guangzhou broke the Chinese transfer record once more to capture Lucas Barrios from German champions Borussia Dortmund. The Paraguay striker officially joined the club on June 1.
The latest player to be linked with a move from England to China is Yakubu. The Nigerian striker, currently contracted to recently relegated Blackburn Rovers, is reportedly set to sign for Guangzhou Fuli.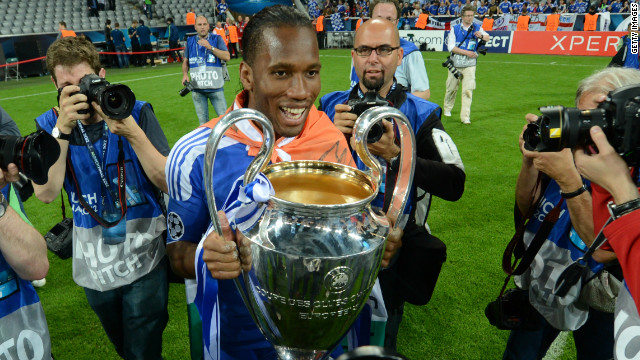 China's football ambition
His wife, Valeria, remains adamant that the Indonesian authorities are solely responsible for Mendieta's death.
"He was practically abandoned. The only help he received was from three Paraguayan companions, nothing other than that," she told Radio Cardinal.
Mendieta's plight has drawn widespread sympathy.
"It's a heartwrenching tale," Indonesian football expert Antony Sutton said.
"As an expat myself, I know what it's like to be on your own in a foreign country and left to fend for yourself," said Sutton, author of the Jakarta Casual blog.
"He hadn't been paid in four months and was all alone without anyone to pay the bills. The Persis Solo fans, who are extremely passionate, did their best to raise money and made about $300.
"But before I found out about the story, it was too late and he was dead. It's a real tragedy."
Emotional Muamba 'gets closure'
While the case of Fabrice Muamba, the former Bolton player who collapsed on the pitch after going into cardiac arrest, drew intense media coverage, Mendieta did not have the same fortune.
Muamba's collapse at Tottenham's White Hart Lane in March was broadcast around the world after the midfielder's heart stopped for 76 minutes.
Twitter went into overdrive, players around the world wore "Muamba" shirts to express their solidarity, and news channels jumped on the story.
His subsequent recovery has also been well documented, with interviews beamed around the globe, and an autobiography recently released.
But in Indonesia, where football is not king and the sport is in disarray, Mendieta had little chance.
It is only after his death that his name has become commonplace.
"He always complained of being lonely," said Guntur Hernawan, head of the internal medicine division at Moewardi Hospital in Solo.
"He said he wanted to go home because all of his relatives were in Paraguay."
Dutch teens charged in football linesman's death