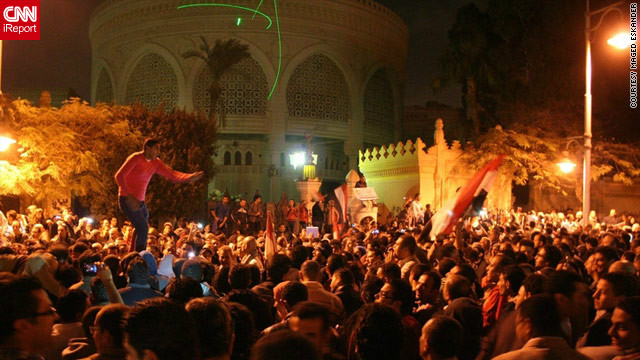 Pro- and anti-government protesters have filled the streets of Cairo since last month, when Egyptian President Mohamed Morsy moved to extend his powers in a move he said was to protect the country's nascent revolution. In this image by iReporter Maged Eskander from December 4, anti-Morsy protesters can be seen
thronging the area
around the presidential palace.
iReporter Hasan Amin
at a demonstration that turned violent on November 24. Protests began shortly after Morsy announced his powers extension on November 22.
An anonymous protester holds empty tear gas canisters and a shell casing in this photo by
this man
in iReporter Hasan Amin's image from November 24, who wore a mask borrowed from Alan Moore's comic "V for Vendetta" and frequently seen on global "Occupy" demonstrators.
Anti-Morsy protesters said they feared a return to the days of ousted President Hosni Mubarak. Some appropriated iconic images from other global protests, such as
In this image by iReporter Hasan Amin, taken on November 27, a protester is captured preparing to throw back a tear gas canister fired by police.
Police, and some men not in uniform, charged at protesters amid a hail of stones and ripped-up pavement cement blocks in this image by Hasan Amin from November 27. At least 35 officers have been injured in the various protests.
waving flags and placards
in Cairo's iconic Tahrir Square on November 27.
At earlier protests, those gathered were "hopeful and very determined," said iReporter Sherine Mishriki, who sent in this image of youths
Anti-government protesters set up tents in Tahrir Square, calling on Morsy to reverse his decree, in this image by Sherine Mishriki from November 27. Protesters were angered by the nation's draft constitution, which liberal, secular groups said did not offer enough protections to women or religious minorities.
held their own march
in support of the president, as seen in this image by Mahmoud Gamal El-Din, who does not support the government.
On December 1, Morsy supporters
marched on the presidential palace
in Cairo, as seen in this image by iReporter Maged Eskander. Crowds shouted "liar" in reference to Morsy and chanted anti-Muslim Brotherhood slogans.
By December 4, protests had gotten larger and anti-government demonstrators
in this image
, a pro-Morsy supporter pointed what appears to be a rifle at protesters on the opposing side. The military rolled tanks into protest flashpoint areas, but many fear more violence ahead of a planned constitutional referendum on December 15.
On December 5, pro- and anti-Morsy protesters fought bloody battles on the streets outside the palace. Several deaths have been reported and hundreds of people have been injured, authorities say. iReporter Hasan Amin said
Hitting the streets
Preparing for protests
'No return' to the old days, protesters vow
Clashes begin
Police fight back
'Hopeful and determined'
Tent city
Pro-Morsy supporters emerge
Marching on the presidential palace
Protests turn deadly