STORY HIGHLIGHTS
Lionel Messi named in Barcelona squad for Sunday's La Liga trip to Real Betis
Argentine has recovered quickly from injury that threatened his world record bid
Messi is one goals short of Gerd Muller's record of 85 in a calendar year
Real Madrid come from behind to close gap on second-placed Atletico
(CNN) -- Lionel Messi's bid to break Gerd Muller's record for goals in a calendar year is back on after the Argentina star was named in Barcelona's squad to travel to Real Betis on Sunday.
Messi, who is one short of the German's 1972 milestone mark of 85, has made a quick recovery from the injury he suffered on Wednesday that had football fans around the world so worried.
"He completed training on Saturday without any kind of trouble," coach Tito Vilanova said on Barca's website.
"There are still a lot of hours until kickoff and we'll all evaluate the situation together and decide whether he'll play the full 90 minutes or just part of the match.
"The important thing is that he's feeling okay ... But he could easily wake up in the morning and tell us he's feeling pain again."
Mapping Messi's annus mirabilis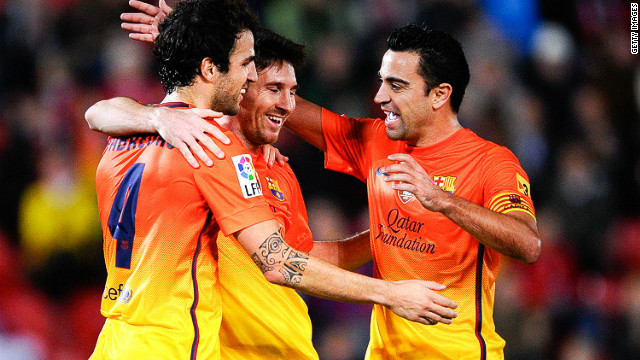 Lionel Messi, center, celebrates with Barcelona teammates Cesc Fabregas, left, and Xavi Hernandez after matching Pele's 75 goals in a calendar year.
The Argentina star then moved past the Brazil legend with his second goal of the match against Mallorca, which left Messi nine short of the best tally for a year held by Germany's Gerd Muller.
The 25-year-old has had a new celebration since the birth of his first child, son Thiago, earlier this month.
Messi is in line to win a fourth successive world player of the year award in January. Pele presented him with the Ballon d'Or at the start of this year.
Pele scored 75 goals in 1958, when he launched onto the football scene as a 17-year-old and helped Brazil win that year's World Cup.
That feat was surpassed in 1972 by Muller, who scored 85 goals as West Germany won the European Championship and his club Bayern Munich lifted the Bundesliga title.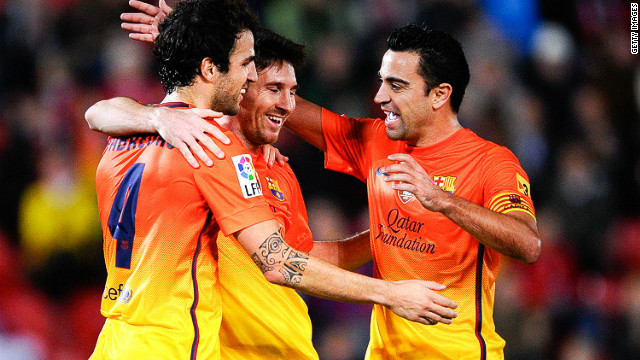 Messi moves past Pele milestone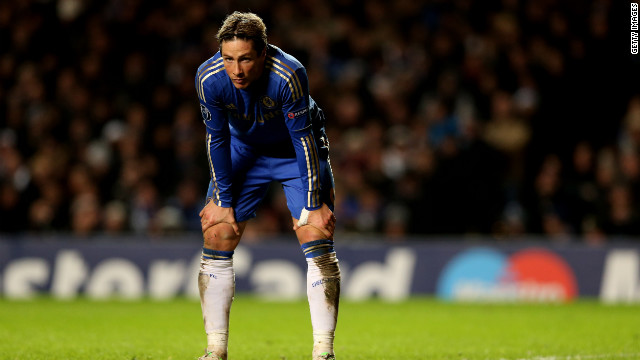 Fernando Torres scored twice as Chelsea crushed Danish side Nordsjaelland 6-1 at Stamford Bridge but it wasn't enough to save them from elimination from the Champions League. Juventus picked up a 1-0 win at Shakhtar Donetsk to secure its place in the last-16 and dump Chelsea into the Europa League.
Juventus secured its place in the next round with a 1-0 win in Ukraine courtesy of Olexander Kucher's 56th minute own goal. The victory also enabled the Italian club to snatch top spot from Shakhtar with the Donetsk side finishing second.
Gary Hooper and Kris Commons were the stars as Celtic claimed a 2-1 win over Spartak Moscow to clinch its place in the knockout phase. Hooper's 21st minute strike gave the Scottish champions the lead, only for Ari to equalize six minutes before the break. Commons fired home the winner from the penalty spot with nine minutes remaining.
Leo Messi endured a miserable night after he was forced off with injury during Barcelona's 0-0 draw with Benfica. The striker, who started the night on the Barcelona bench with his side having already qualified for the next stage, has scored 84 goals in 2012 and was hoping to break Gerd Muller's record of 86 goals in a calendar year which the former Bayern Munich and Germany forward set back in 1972.
Mario Gomez and Xherdan Shaqiri were both on target as last year's finalist Bayern Munich secured top spot in Group F with a 4-1 win over 10-man BATE Borisov. Thomas Muller and David Alaba were also on target, while Denis Polyakov was sent off for BATE.
Jonas fired Valencia to a 1-0 win at Lille with a 36th minute penalty. The Spanish club was already through to the last-16 before the game and will now look forward to the knockout phase.
Burak Yılmaz struck his sixth goal of the Group Stage to inspire Galatasaray to a 2-1 triumph at Braga. The win takes the Turkish side into the last-16 at the expense of Romanian side Cluj. Mossoro had given Braga a first-half lead, but goals from Yilmaz and substitute Aydın Yılmaz sealed the victory.
Cluj missed out on the last-16 of the Champions League despite becoming the first Romanian team to win at Old Trafford. Luis Alberto's 56 minute strike gave Cluj victory in United manager Alex Ferguson's 200th Champions League match in charge.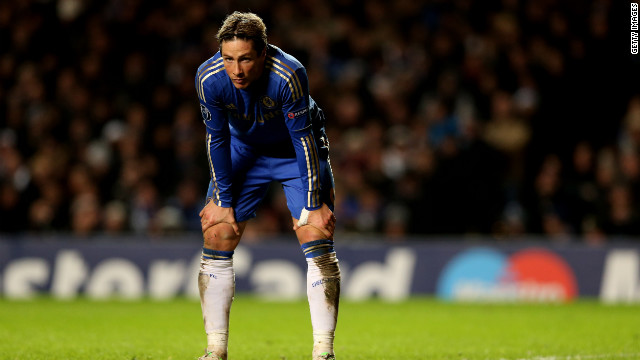 Champions League action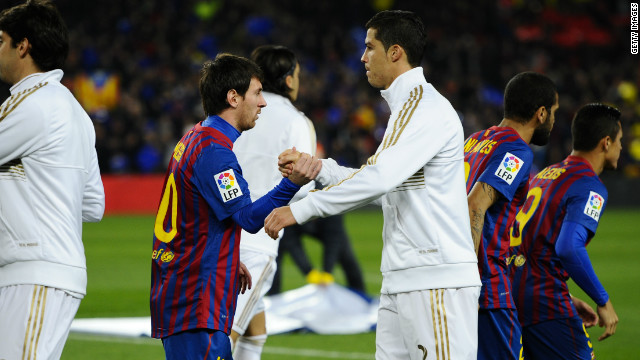 Barcelona's Lionel Messi (left) and Real Madrid's Cristiano Ronaldo (right) -- widely considered the two best players in the world -- shake hands before the 'El Classico' derby between Spain's two biggest clubs. But is the huge wealth of Barca and Real damaging the rest of Spanish football?
Real Madrid manager Jose Mourinho (left) and Barcelona manager Tito Vilanova (right) shake hands at the derby between the two clubs. Real's revenue is $695 million, $42 million more than Barca and $526 million more than that of Valencia.
Barcelona's Andres Iniesta, Lionel Messi and Real Madrid's Cristiano Ronaldo were all nominated for the prestigious Balon d'Or award this year. The last time the Barca-Real league monopoly was broken was in 2004 when Rafael Benitez's Valencia won La Liga.
Atletico Madrid striker Radamel Falcao is arguably the best striker in the world, but the Colombian is likely to be sold at the end of the season.
Real Oviedo fans show their support for the club in the Estadio Carlos Tartiere with a banner reading "For the future of Real Oviedo". The third-tier club's financial problems are so great that they have turned to their fans for help, offering them the right to buy shares in Oviedo.
The Real Oviedo team huddle on the pitch before taking on Real Madrid's reserve team in Asturias. Oviedo need to raise $2.4 million to save the club.
Real Oviedo fans hold up banner as they march through the city on their way to the league match to protest against the possible closure of the club due to financial difficulties.
The Spanish financial crisis has led to a raft of anti-austerity measures. Protests against cuts have been seen on the streets of Madrid, where a minority of protesters have been involved in violent clashes with the police.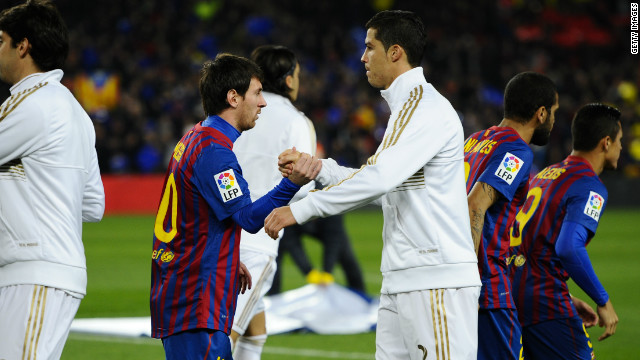 Spanish football hit by sponsorship cutbacks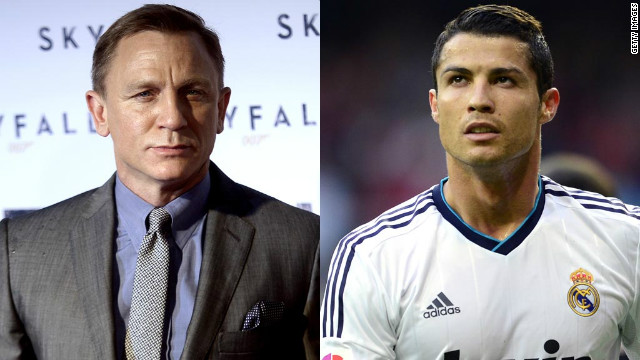 Daniel Craig and Cristiano Ronaldo have both been outspoken in their desire to reclaim a right to privacy. Both men have become frustrated with their treatment in public.
Cristiano Ronaldo and his model girlfriend Irina Shayk enjoy some peace and quiet together but the camera lens is never far away from the pair.
Shayk is a celebrity in her own right having established herself as a leading model. The Russian's romance with Ronaldo has taken her fame to new heights.
"We are just partners," Ronaldo told CNN when asked about his relationship with Shayk. "We have a good relationship, we are almost three years together, I love to be with her, I love her. It's great."
Ronaldo has yet to pop the question to Russian model Shayk but he admits he has thought about marriage. He said: "Not now, but of course in the future, yes. Everyone wants that. I still haven't done that. I don't have the courage."
"In Real Madrid we are always under pressure," Cristiano Ronaldo told CNN. "This is maybe the best club in the world... so we have a lot of pressure and we know that the fans, the Madrid city... everyone wants 'La Decima' (a 10th European Cup). "
Ronaldo has nothing but praise for Real coach Jose Mourinho: "Well, my relationship with him is perfect. I don't ask for nothing better. In terms of coaching I'm sure 100%... 200% that he is the best. He shows every country who's the best because he wins all the leagues."
Ronaldo will be up against Barcelona's Lionel Messi for the Ballon d'Or with the Argentine having won the prize on each of the past three occasions. Both men were on target twice during the last El Clasico match which finished 2-2 at the Camp Nou.
Ronaldo has scored 160 goals in 164 appearances for Real Madrid since his move from Manchester United in 2009. His determination to win is always evident, even when it comes to beating his girlfriend at swimming in their own pool. He said: "Sometimes you have to give her an opportunity to be happy, but I win because I don't like to lose."
Ronaldo last won the Ballon d'Or in 2008 after helping lead Manchester United to the Champions League crown with victory over Chelsea in Moscow. In the 2007-8 season, he scored 42 goals as United also won the English Premier League title.
While Ronaldo has enjoyed great club success with Manchester United and Real Madrid, he has yet to win a major tournament with Portugal. "I'm not saying Portugal doesn't have the capacity to win the World Cup or Euro, but its more tough... its difficult, because you don't have 100 players to choose," sai the Portuguese star.
Ronaldo insists he'd relish the opportunity to talk to his critics and listen to their opinions on why they believe he is arrogant. He told CNN: "People who call me arrogant, I'm interested, not with all of them, but most of them. One day I would like to sit with them and have a chat to see in which way they think I'm arrogant."
When he finishes his football career, Ronaldo wants to become an actor.
Ronaldo tells CNN's Pedro Pinto in an exclusive interview that he believes his perceived 'arrogance' has made him less popular than his chief rival Lionel Messi. "You know, sometimes I'm a victim of that because they don't know the real Cristiano," said the Real Madrid forward.
Cars are one of Ronaldo's great passions. In 2009, while at Manchester United, Ronaldo was lucky to esacpe injury after crashing his Ferrari.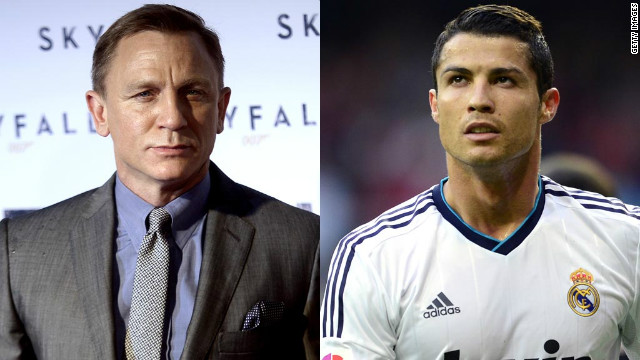 The Real Ronaldo
Messi injured his knee after coming on as a substitute in the 0-0 Champions League draw with Benfica, prompting fears that he would miss Barcelona's last four games of 2012.
"When I first felt the knock, the pain made me imagine I'd be out for many months," he said.
However, he announced the following day that the injury was not serious -- and now it appears he is fit to face fifth-placed Betis.
"If he travels it's because he's ready to play. If there was the slightest risk, he wouldn't be going," Vilanova said.
"I think Messi was comforted when he found out that it's not a serious injury. If he wants to be in the squad because he's not feeling any trouble, then so much the better for us.
"But he doesn't need to make this kind of effort to show how much he loves this sport."
Barcelona went into the weekend six points clear of Atletico Madrid, who host Deportivo La Coruna earlier on Sunday.
Champions Real Madrid closed to within two points of Atletico after coming from behind to beat seventh-placed Valladolid on Saturday.
Angolan striker Manucho twice put the home side ahead, but Germany midfielder Mesut Osil scored his second goal of the match with a superb 72nd-minute free-kick that went in off the underside of the crossbar to clinch a vital win for Real.
Jose Mourinho brought on Angel Di Maria and Luka Modric in the second half to boost his attacking options, then was able to substitute opening goalscorer Karim Benzema late in the match with Real ahead.
Malaga, like Real and Barca through to the last 16 of the Champions League, moved up to fourth on goal difference after a 4-0 win at home to Granada.
Joaquin and Javier Saviola scored in the first half, while Ignacio Camacho and Roque Santa Cruz netted late in the second to leave Granada third from bottom.
In Italy, veteran striker Francesco Totti scored twice as Roma moved up to fourth place in Serie A with a 3-2 win at home to Fiorentina.
Fiorentina could have moved above third-placed Inter Milan, but went 3-1 down as Totti netted his second in first-half injury time.
Moroccan striker Mounir El Hamdaoui reduced the deficit immediately after the interval but Totti set up Argentina-born Italy international Pablo Osvaldo for his eighth goal this season to put the capital side above the visitors on goal difference.
Atalanta moved up to seventh with a 2-1 win over mid-table Parma, as veteran Argentine striker German Denis netted the opener for his sixth goal in Serie A this campaign.
Defender Federico Peluso made it 2-0 before Brazilian Amauri reduced the deficit just before halftime.
Valencia beat Osasuna 1-0 in Ernesto Valverde's first game as coach, moving up to 10th in the table thanks to a 55th-minute goal from Spain striker Roberto Soldado.