Four more arrests made over Dutch linesman death
December 11, 2012 -- Updated 1817 GMT (0217 HKT)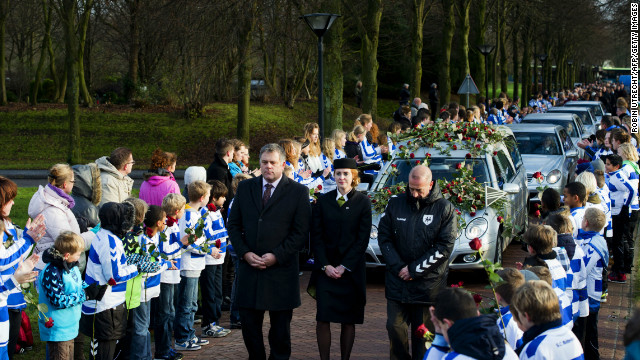 Members of Dutch football club SC Buitenboys pay respect to Richard Nieuwenhuizen as the hearse carrying his body arrives at the crematorium in Almere on December 10.
Relatives of the late linesman took part in a silent march in his memory in Almere the previous day.
Nieuwenhuizen collapsed and fell into a coma after he was attacked by three teenagers at the end of a junior club football match on December 2.
While 33,000 amateur matches were canceled across the Netherlands, professional teams held a minute's silence ahead of their games to pay tribute to the 41-year-old.
People lay flowers for Nieuwenhuizen at the Buitenboys clubhouse in Almere on December 9, 2012. Eight people have been arrested in connection with the attack, which came following a match against Amsterdam's Nieuw Sloten.
Last respects
Family remembers
Tragic death
Silent tribute
Fatal attack
STORY HIGHLIGHTS
Eight people now in custody over the death of Dutch volunteer soccer official
Two 16-year-olds, a 17-year-old as well as a 50-year-old man arrested on Tuesday
Dutch police appeal for anyone with photos or video recordings of the attack to come forward
Richard Nieuwenhuizen, 41, died after being beaten following an amateur match
(CNN) -- Four more arrests have been made in connection over the death of a Dutch volunteer soccer official who was allegedly beaten by teenage players at an amateur game earlier this month.
Dutch police said Tuesday they had arrested two 16-year-olds, a 17-year-old and a 50-year-old man.
The latter is the father of a player of the Amsterdam junior side Nieuw Sloten that played in the match against SC Buitenboys, for whom 41-year-old Richard Nieuwenhuizen had volunteered to act as linesman for the December 2 game.
There are now a total of eight people in custody following the arrest of four teenagers last week, and Dutch police have asked for anyone with photos or video recordings of the attack to come forward.
If convicted of charges of manslaughter and assault, the two 15-year-olds in detention would serve a maximum sentence of one year in a youth prison -- while the 16-year-olds could be jailed for up to two years, unless judges rule that they should be treated as adults.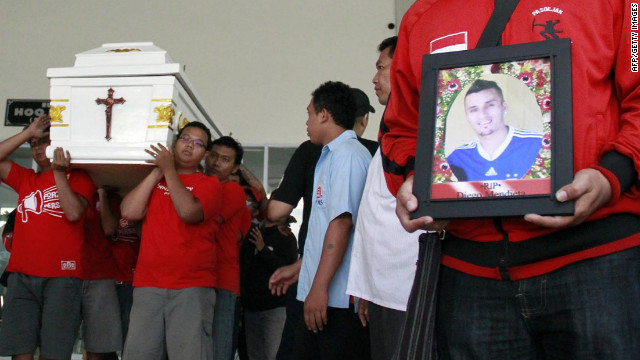 Diego Mendieta's former teammates carry his coffin at the Paraguayan footballer's funeral in Solo, Indonesia.
He passed away at the age of 32, dying in hospital after contracting an infection. Mendieta was unable to return home to his wife and children because he was owed four months' wages.
Mendieta is mourned by wife Valeriana Alvarez and their children Bele (left) and Gaston.
Mendieta's plight has highlighted the schism in Indonesian football, where two organizations are fighting for control of the game following the creation of a breakaway league. The players' union says 13 clubs are behind in promised salary payments.
Mendieta (left) celebrates with Persis Solo teammates Romuald Noah and Yanuar Ruspuspito after scoring in a match against Persip Pekalongan.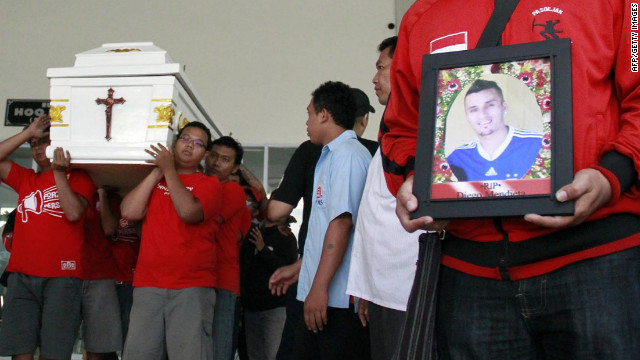 Paraguayan player's Indonesian tragedy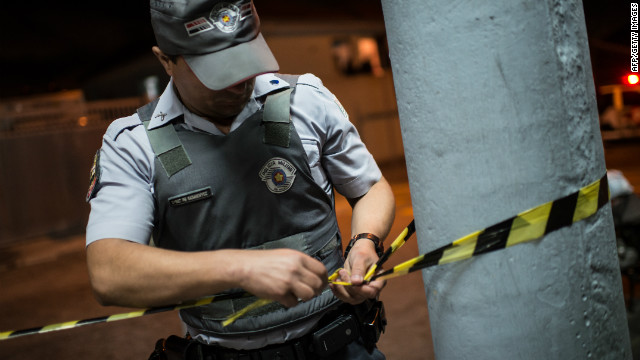 The Brazilian city of Sao Paulo has been battling a crime wave, with 100 police officers dying this year -- prompting security concerns ahead of the 2014 World Cup.
The Brazilian government has implemented programs to control violence in shantytowns around the country. Here an officer patrols one of Rio de Janeiro's favelas.
The South American nation's World Cup bid team has announced that $900 million will be spent on security for the soccer tournament as it tries to appease safety concerns.
Brazilians are passionate about football. Here Corinthians supporters cheer their team's players at at the Cumbica International Airport in Sao Paulo before their departure to December's FIFA Club World Cup in Japan.
While the draw for next year's Confederations Cup was taking place, members of the anti-violence group Paz de Rio protested in Sao Paulo against the increase of the murder rate in Brazil.
Brazilian model Adriana Lima was enlisted to help with the draw for the tournament, which is traditionally staged by the World Cup host as a warmup event and features eight nations.
Rio's iconic Maracana Stadium is still undergoing renovation, but is expected to be ready for when Brazil's five-time world champions begin their defense of the Confederations Cup title next June.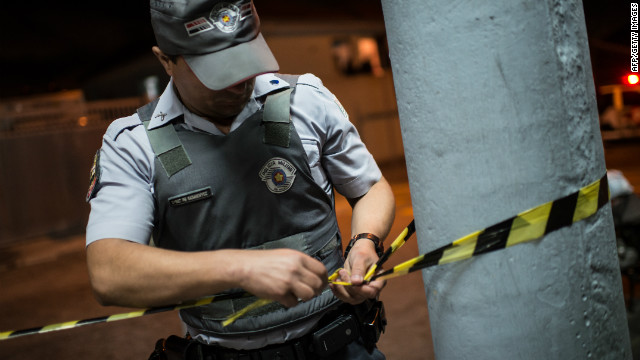 Brazil boosts World Cup security budget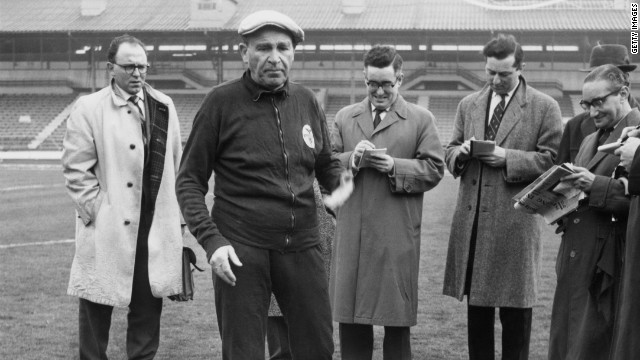 Bela Guttmann was a Hungarian Jew who transformed the face of modern football. He worked across the world, enjoying huge success in Brazil and Portugal, where he won the European Cup on two occasions with Benfica.
Guttmann took some inspiration from the great Gustav Sebes, the man who coached the "Magnificent Magyars" in the 1950s. Under Sebes, Hungary became the first nation to defeat England on its home soil, winning 6-3 in 1953 before reaching the World Cup final the following year. Striker Ferenc Puskas, who is pictured here training at Craven Cottage, scored twice in that famous Wembley game.
During his time in Brazil with Sao Paulo between 1957 and 1958, Guttmann introduced the 4-2-4 system which Brazil used at the 1958 World Cup. Pele is pictured here celebrating after scoring in Brazil's 5-2 World Cup final win over Sweden in Stockholm.
Guttmann led Benfica to glory in the 1961 European Cup final, beating Barcelona 3-2. After arriving at the club from Porto in 1960, Guttmann immediately fired 20 of his squad before going on to win the Portuguese league title two years in a row.
Benfica faced then five-time winners Real Madrid in the 1962 final in Amsterdam, where Guttmann's side produced a famous 5-3 victory. Puskas scored a first-half hat-trick for Real against his former manager but it was not enough as Eusebio fired the Lisbon side to glory with two second-half goals.
Eusebio was brought to Benfica from Mozambique by Guttmann in 1961. Under his guidance Eusebio would go on to greatness, establishing himself as one of the game's most talented players.
When Guttmann left Benfica after a pay dispute following the 1962 European Cup win, legend has it that he left a curse on the club. He is reported to have told the board that they would never win the title again. The following year, Benfica lost 2-1 to AC Milan in the final -- and suffered defeat in four more since then.
Before the 1990 final against AC Milan in Vienna, Eusebio prayed for forgiveness at Guttmann's grave but it did little good as Benfica lost 1-0. That was Benfica's last European Cup final appearance.
Many have compared Guttmann with Real Madrid manager Jose Mourinho. The two are said to have shared many traits, including their man-management skills, fiery tempers and winning mentality. Mourinho's father, Felix, played against Guttmann's Benfica side, saving a penalty from Eusebio.
Portuguese club Benfica are nicknamed the Eagles and before each home game an eagle flies around the Estadio da Luz.
Despite being under pressure for much of the 2013 Europa League final, Fernando Torres raced clear to fire home in style and Chelsea the lead.
Fernando Torres does his best impression of Usain Bolt after giving Chelsea the lead.
Benfica hit back with 22 minutes remaining when Oscar Cardozo netted from the penalty spot after Cesar Azpilicueta handled inside the penalty area.
But with the game looking set for extra time, Branislav Ivanovic popped up at the death to head a dramatic winner and secure victory for Chelsea.
One year on from winning the Champions League, Chelsea's players celebrate with the Europa League trophy.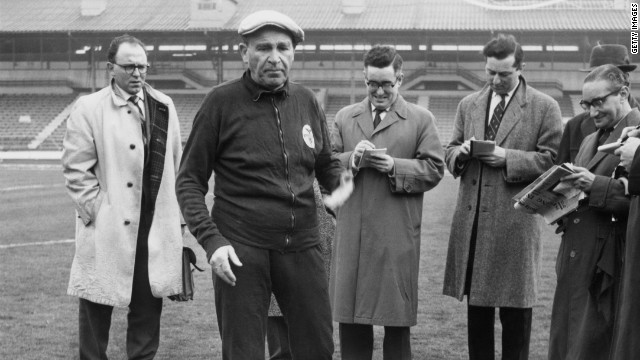 Bela's Benfica 'curse'
Nieuwenhuizen's son was playing for Buitenboys when the incident occurred in the city of Almere. The linesman reportedly fell into a coma after he was beaten, and he died the next day.
Last weekend, 33,000 amateur football games across the Netherlands were canceled in tribute to Nieuwenhuizen, who was buried on Monday.
Nieuwenhuizen's death has resonated across the globe, with FIFA president Sepp Blatter among those extending condolences.
"Football is a mirror of society, and sadly the same ills that afflict society -- in this case violence -- also manifest themselves in our game," the head of world soccer said in a statement on FIFA's website.
"Nevertheless, I remain convinced that football -- through the example set by the tireless efforts of people like Mr. Nieuwenhuizen -- is a force for good, and we must continue to use its positive example to educate people against these wrongs."
Despite a relatively small population of 17.5 million, Holland has built an outstanding reputation for developing young footballers over the years, with its amateur youth clubs providing a strong breeding ground for the country's professional clubs.

Today's five most popular stories
Part of complete coverage on
October 28, 2014 -- Updated 1253 GMT (2053 HKT)

They splash the cash on the world's best players, now Real Madrid are giving the Bernabeu the same treatment with a bling makeover.
October 27, 2014 -- Updated 1309 GMT (2109 HKT)

Football world mourns South African captain Senzo Meyiwa who was shot and killed during a botched robbery in a township near Johannesburg.
October 21, 2014 -- Updated 1348 GMT (2148 HKT)

From the ancient ruins of Rome, a new empire rises. But the eyes of the city's newest gladiator light up at thoughts of the Colosseum.
October 21, 2014 -- Updated 1622 GMT (0022 HKT)

Once part of Germany's largest Jewish sports club, now he's the first ISIS suspect to stand trial in a country left shocked by his alleged radicalization.
October 17, 2014 -- Updated 1411 GMT (2211 HKT)

One goal in eight matches for new club Liverpool, and dumped by the Italian national team -- Mario Balotelli has yet to shine on his English return.
October 18, 2014 -- Updated 1819 GMT (0219 HKT)

Should a convicted rapist, who has served their time in prison, be allowed to resume their old job? What if that job was as a high-profile football player?
October 16, 2014 -- Updated 1247 GMT (2047 HKT)

After 10 years of golden glory, it's easy to see how Lionel Messi has taken his place among the football gods.
October 16, 2014 -- Updated 1034 GMT (1834 HKT)

When will the tears stop? A leading Italian football club is pursuing a new direction -- under the guidance of its new Indonesian owner.
October 13, 2014 -- Updated 2241 GMT (0641 HKT)

Norwegian 15-year-old Martin Odegaard is the youngest player ever to feature in a European Championships qualifying match.
October 10, 2014 -- Updated 1310 GMT (2110 HKT)

After revolutionizing cricket with its glitzy Twenty20 league, India has now thrown large sums of money at a new football venture.
October 2, 2014 -- Updated 1453 GMT (2253 HKT)

Get ruthless. That is Rio Ferdinand's message to soccer's authorities in the fight to tackle the scourge of racism.
September 10, 2014 -- Updated 1328 GMT (2128 HKT)

He's just 15 and the world is seemingly already at his feet. Norway's Martin Odegaard is being sought by Europe's top clubs.