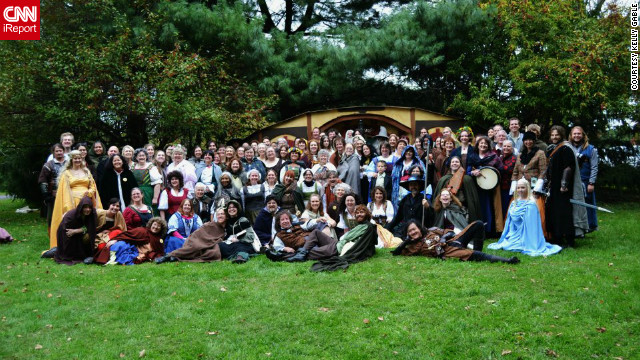 For some J.R.R. Tolkien fans, the release of "The Hobbit: An Unexpected Journey" in movie theaters this week is like a family reunion. This 2011 gathering of fans, called
"A Party Long Expected,"
takes place
every few years
at the Shaker Village of Pleasant Hill in Harrodsburg, Kentucky. A smaller group plans to meet there to see "The Hobbit" opening weekend, according to CNN iReporter Kelly Gable.
Nadine Palmer
(portraying Arwen here) says she has loved Tolkien's stories since she was a teenager -- and especially the costumes in Peter Jackson's films -- and she has made a business out of creating these outfits. "We've collected, made and worn bits of memorabilia," the San Antonio resident says. "I've made a lot of costumes ... over the years, but (Tolkien-inspired) costumes have been made more times than anything else! I've made (everything) from Legolas to the Witch King."
Palmer met her boyfriend, Chris Herzberg, a dead ringer for Legolas, at Atlanta's Dragon*Con a few years ago. They work together on her costuming business and plan to attend a weekend screening of "The Hobbit" in full dress.
Jeffrey Root
of Provo, Utah, says he became captivated with Tolkien's Middle-earth four years ago while taking a college course on the author. He was already a fan after seeing "The Lord of the Rings" films, but the class hooked him. Here he is in his homemade Bilbo Baggins costume (which he will wear to "The Hobbit") looking at home in "the Shire."
Vera Campbell's
fascination with Tolkien goes back to a high school assignment of "The Hobbit" more than 10 years ago. The moment she heard "The Hobbit" was being made into a film, she set about creating a costume that would be as close to the movie as possible. "I started off by ordering the Frodo ears from WETA (Workshop), cast from the same mold Elijah Wood's ears came from," she says. "I made a smocked chemise from raw silk and dyed a moss green cotton fabric to make the skirt. The bodice I chose a rust orange/red matelasse fabric."
Roxanna Meta
of Oakland, California, rediscovered her dream of creating an elf costume once "The Hobbit" movie was announced. She had a goal for the premiere of the first "Hobbit" film: a costume for herself based on Arwen's. Meta has updated her progress on iReport as she assembled what was needed for her outfit.
With the midnight screening approaching, Meta's Arwen costume is nearly finished. She has described the process of sewing this dress together as an "obsession."
Samm Green, who often portrays an elf of Mirkwood, takes part in the game of Dagorhir. "In a way, Dagorhir is similar to a LARP," he says, referring to live action role-playing in which people act out characters. "There is just more emphasis on the battle part."
Jenn Marshall of Oakland, California, prepared for the new Peter Jackson movie by baking "Hobbit"-themed cookies. She says she's been obsessed with Tolkien since sixth grade and has even attempted to become fluent in the Elvish language from the books.
"The Hobbit" is the film that Tolkien fan Eric Lindberg has been waiting for his entire life. "In preparing for the movie, I've been spending a great deal of time in Middle-earth," the Oak Park, Illinois, resident says. "I've reread many of the Tolkien books on my shelf. I've rewatched the films. ... I created a Bilbo Baggins costume and wore it proudly on Halloween and at Dragon*Con in Atlanta. I've participated in Tolkien fansites and shared in the maddening excitement of fellow fans."
Tolkien fans await 'The Hobbit'
Tolkien fans await 'The Hobbit'
Tolkien fans await 'The Hobbit'
Tolkien fans await 'The Hobbit'
Tolkien fans await 'The Hobbit'
Tolkien fans await 'The Hobbit'
Tolkien fans await 'The Hobbit'
Tolkien fans await 'The Hobbit'
Tolkien fans await 'The Hobbit'
Tolkien fans await 'The Hobbit'
STORY HIGHLIGHTS
J.R.R. Tolkien fans welcome theater release of "The Hobbit: An Unexpected Journey"
Large group of fans planning to see the movie in Kentucky after a Hobbit-themed party
Relationships and families have begun and grown closer through Tolkien's stories
After 75 years, Tolkien fans have taken to social media to continue exploring his work
(CNN) -- For Jo Sharpton, it started so early that she can't quite recall how long ago it was.
She does have a specific memory of enjoying the works of J.R.R. Tolkien at age 7.
"I remember that my sister and I saw the Rankin-Bass animated version of 'The Hobbit,' and then had the special deluxe Double LP Edition," she said.
"We listened to this dozens, if not hundreds, of times, memorizing every piece of music, every word of dialogue, every special effects sound. At such a young age, I was immune to the bigger picture of Tolkien's world -- it was enough for me to enjoy the kids' story for what it was."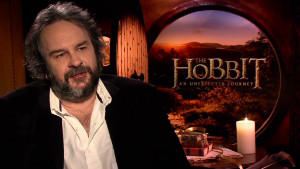 Peter Jackson: Iconic moments are vital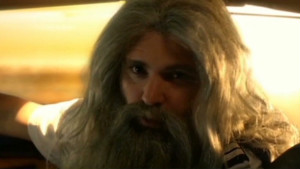 See new Hobbit airline safety video
With 75 years of history to draw on, and an official Tolkien Society for 40 of those years, countless fans like Sharpton have begun their journeys with stories like this. In so many ways, Tolkien fandom has become a family affair.
Now an adult, Sharpton sees this week's release of "The Hobbit: An Unexpected Journey," as a chance for what she calls a "family reunion."
The retail worker from Atlanta will be joining 50 of her closest friends in Tolkien fandom, all traveling to Pleasant Hill, Kentucky, to see the movie as a group.
The town's Shaker Village holds a special place in the hearts of those in her large group, because they have held two gatherings there since 2008.
They're called "A Long Expected Party," a term based on the first chapter of "Fellowship of the Ring." The Shaker Village, once home to a 19th century religious community, was seen as the perfect stand-in for the Hobbits' Shire from Tolkien's stories.
"We had over a hundred attendees, for three days of music, laughter, love and 'Fellowship,'" says Sharpton of the first gathering in 2008. "We thought of ourselves as the anti-(fan) convention -- no hurried crowds, no standing in lines for hours, no cold, lonely hotel rooms."
The lack of amenities was seen as a plus: "There was very little technology present -- some of the houses and rooms did not even have TV's, Internet was only available in a couple of places, and there was little to any cell phone reception. And no one cared. In fact, it made the magic all the more real. We were in the Shire. We were living in Tolkien's world, if only for a few days. "
They plan to do it all over again in 2014, but this weekend's smaller gathering will be special as well. As at "A Long Expected Party," many of them will attend the movie in costume.
"It is something that most of us have been looking forward to for months."
Sharpton really started to appreciate Tolkien's work in her teen years, and was especially drawn to the character of Eowyn, a hero who dresses as a man in armor to fight in a battle in "Return of the King."
"(I admire) her courage, her desperation, her need to love and be loved, her desire for honor and glory 'far above the mean things that crawl upon the Earth,'" says Sharpton. "I began to write stories about her as a teen, using her as a character of her future self, having finally found love and honor but always yearning for that little bit more."
Like Sharpton's Eowyn, a particular Tolkien character captured the imagination of Nadine Palmer of San Antonio: Arwen, the elf portrayed by Liv Tyler in Peter Jackson's series of Tolkien films, starting with "The Lord of the Rings."
She, too, plans to attend "The Hobbit" in costume, but she has taken it a step further: Costuming is now her business as well.
Jackson's "Fellowship of the Ring" captivated her as a teenager in 2001 and she immediately sought out Tolkien's work in the library. But the costumes also stood out to her in a big way.
"I made it a point to learn how to sew costumes due to how gorgeous the costume design was in this film," she said.
"I made a costume of Arwen's that was five sizes too big, made from the completely wrong fabrics, and by all accounts was horrible! But I loved it. I was so proud that I did hand-beading on the sleeves and I had grown my hair out to an elven length. And I had elf ears!"
In 2004, she went to Atlanta's Dragon*Con and spent time with a cosplay group called "Arms of Middle-earth." That's where she met "a cute guy dressed as 'behind the scenes Legolas.'"
She and her now-boyfriend work on Celtic Ruins costuming, and, of course, have grand plans for "The Hobbit" release. "I've just completed a nearly screen-accurate Bilbo for a friend who looks, creepily, like Martin Freeman! Handmade down to the buttons."
Costuming isn't the only thing Tolkien fans have in common. It's quite literally a family affair for those who pass down a love of Tolkien stories from generation to generation.
There is live-action Tolkien role-playing, where fans re-enact scenes from the book or create new ones.
In preparation for the movie, fans are re-reading the book, creating flow charts identifying dwarves versus hobbits, putting on trivia contests, updating their cosplay progress, and that old standby, posting Instagram photos of movie tickets.
With "The Hobbit" trilogy expected to be another box office behemoth, Tolkien fandom can only grow from here.
CNN's Nikki Rau-Baker contributed to this story.