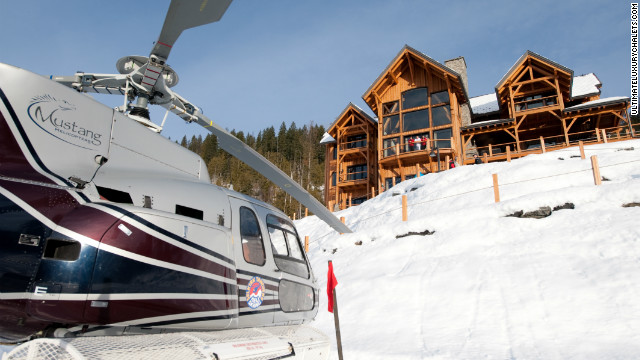 Bighorn is an apt title for this palatial chalet on the Rainbow Range of mountains in British Columbia. It sleeps 16 and comes with its own helipad. Also included are a Teppanyaki grill, an outdoor fireplace and a hot tub with a sparkling vista.
As is customary, size does matter in the United States and at Casa Nova you can sleep a small army of 25. Nestled in the Deer Valley Resort, it has four bars, as well as an oxygen bar, a 15-seat screening room, while a privately patrolled ski trail is a mere seven yards from the front door. Yours for just $125,000 a week in peak season.
Edelweiss raised the bar when it came on to the rental market in September 2012; at peak season in January it will cost you $516,000 for a 10-day stay. With its four floors, nine en-suite bedrooms and accessories that include its own nightclub (pictured), you might never want to leave if you've got deep pockets.
Grace has everything you'd expect from a luxury chalet, with the requisite yoga room to the extensive bar, but the real selling point is the stunning views it offers of the Matterhorn.
You can have a waterfall or air jet massage at the Tivoli Lodge, but if you bring any kids most of your time will be spent on crowd control in the chalet's indoor two-storey soft play gym that can cater for 20 children. Just bring your earplugs.
Kernow has a plethora of ways to keep you occupied with games consoles, giant TVs, a spa, a gym and study but it is heaven for wine buffs with a purpose-built cellar that houses a private collection of over 2,500 bottles. That's a lot of vino.
Marco Polo has an extensive balcony complete with barbecue and heated seating but should you prefer to stay indoors a wellness center on the first floor has the prerequisite pool, hot tub and sauna complete with a full entertainment system.
You may have come to ski but when you are off piste there are few better chalets to keep you entertained than La Grand Roche, which has a full cinema room with a 103" HD television. There is even a waterproof 42" TV in the pool area. Yours for just $120,400 a week.
Spa's spa is fitted to the highest standard of course, but perhaps the outdoor seven seater jacuzzi is a better bet with its views of the Alps? There is a Scandinavian rock sauna, therapy room and a humidification system throughout to promote restful sleep.
On a clear day Mont Blanc will shimmer in the distance; if not, the 180 degree views from the glass sauna should suffice. There is also a slide that takes you from the fourth floor bar to the wine cellar. Perfect when you need another bottle of vintage claret.
Chesa Falcun in the Klosters Valley has all the mod cons and comes with a personal chef and two chauffeurs, but its pièce de résistance is its covered outdoor hot tub -- perfect when the snow is falling.
Despite its lush indoor decor surely the terrace at Les Anges will entice you into the crisp mountain air. With a 14-seat table and a barbecue, you might not even visit the natural stone relaxation area.
Ormello underwent a $1.2 million facelift in 2009 and offers 1,000 square meters of space. It has a lift to all floors, a range of spa and pool facilities, and a state-of-the-art private cinema.
If you fancy working out in front of a five-star view then Zermatt Peak could be just the ticket. It makes the most of its stunning views with a jacuzzi that begins in the wellness center and extends outside onto the terrace. Should you want to stay inside, three HD cinema rooms should keep you entertained.
If you are lucky enough to be staying in the master en-suite room in Chalet B at Trois Couronnes you have a 19th century elevator that drops you right by the pool. Heated by solar and geothermal power, it also boasts an art gallery, wine cellar and banqueting hall.
Bighorn, Revelstoke, Canada
Casa Nova, Utah, USA
Edelweiss, Courchevel, France
Grace, Zermatt, Switzerland
Tivoli Lodge, Davos, Switzerland
Kernow, Verbier, Switzerland
Marco Polo, Val d'Isere, France
La Grand Roche, Courchevel, France
Spa, Verbier, Switzerland
Grand Corniche, Les Gets, France
Chesa Falcun, Klosters, Switzerland
Les Anges, Zermatt, Switzerland
Ormello, Courchevel, France
Zermatt Peak, Zermatt, Switzerland
Trois Couronnes, Verbier, Switzerland