Japan scrambles fighter jets after Chinese plane seen near disputed islands
December 14, 2012 -- Updated 0212 GMT (1012 HKT)
STORY HIGHLIGHTS
NEW: China says the plane was part of a joint air-sea patrol of the area
NEW: The Chinese plane didn't show up on Japanese military radar
NEW: Japan says it sent eight F-15 jets and another plane to the area
This is the first time the island dispute has involved aircraft
Read a version of this story in Arabic.
Tokyo (CNN) -- Japan scrambled fighter jets after a Chinese plane was seen Thursday near small islands in the East China Sea that are claimed by both countries.
This is the first time that the dispute over the islands -- which Japan calls Senkaku and China refers to as Diaoyu -- has involved aircraft, introducing a new sphere of risky encounters for the two Asian neighbors.
Chinese government ships have repeatedly entered the waters around the remote, rocky islands since the Japanese government announced in September it was buying several of the islands from private owners.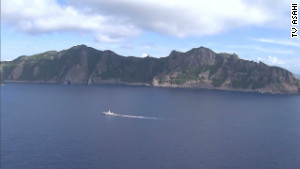 Japan scrambles fighter jets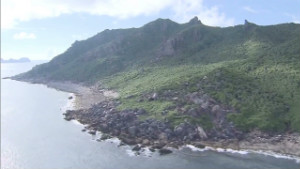 Why is Japan feuding over islands?
Why Asia is arguing over its islands
Japanese Coast Guard vessels have engaged in games of cat and mouse with the Chinese ships, with both sides broadcasting messages to one another insisting they have territorial sovereignty over the area.
Analysts say that by sending its own patrols into the area, China is challenging Japan's de facto control of the islands, which has been the status quo for the past 40 years.
On Thursday morning, a Japanese Coast Guard patrol vessel spotted the Chinese government plane in airspace around the islands, Chief Cabinet Secretary Osamu Fujimura said.
As a result, the Japanese Self Defense Force sent eight F-15 jets and an early warning E2C plane to the area, the government said, revising up the number of planes it initially said it had deployed.
By the time the Japanese jets arrived, there was no sign of the Chinese plane, which had not shown up on military radar, the Japanese Self Defense Force said.
South China Sea risks becoming 'Asia's Palestine'
China's State Oceanic Administration said a B-3837 patrol plane had arrived in the islands' airspace Thursday morning in order to carry out a joint air-sea patrol with ships in the area. The patrol teams announced China's territorial claim and told the Japanese ships to leave the area, it said.
Fujimura said that the Chinese plane's entry into the area was "extremely regrettable" and that Japan has lodged a protest with the Chinese government through diplomatic channels.
The Japanese government's acquisition of the islands in September also set off several days of violent anti-Japanese protests across China and soured economic ties between the two Asian nations.
The United States has said it doesn't take sides in territorial disputes and urged the two sides to resolve the situation peacefully. Nonetheless, U.S. officials have admitted that the islands fall under the scope of a mutual defense treaty between Washington and Tokyo.
CNN's Yoko Wakatsuki reported from Tokyo, and Jethro Mullen reported and wrote from Hong Kong. Junko Ogura and Alex Zolbert in Tokyo and contributed to this report.

Today's five most popular stories
Part of complete coverage on
Asia's disputed islands

At first sight it looks like a scene from a post-apocalyptic movie. Journalist Tomas Etzler travels to one of the most remote locations in the South China Sea -- the front line of a dispute between the Philippines and China.
November 29, 2013 -- Updated 0521 GMT (1321 HKT)

President Xi Jinping has reshaped China's foreign policy by recalibrating its stresses on sovereignty and stability, writes Shen Dingli.
November 27, 2013 -- Updated 0412 GMT (1212 HKT)

Two U.S. military aircraft flew into China's new air defense zone, an action that could inflame power tensions, a U.S. official said.
November 27, 2013 -- Updated 0715 GMT (1515 HKT)

Tensions magnified among the world's top three economies over China's controversial new air defense zone.

CNN looks at the main flashpoints as tension simmers between rival countries over a series of scattered and relatively barren islands.
November 27, 2013 -- Updated 0024 GMT (0824 HKT)

CNN's David McKenzie reports from Beijing on why the Chinese claim sovereignty over an area in the East China Sea.
November 1, 2013 -- Updated 0042 GMT (0842 HKT)

Surprise, surprise, Japan and China are still not getting along, writes Jeff Kingston of Temple University in Japan.
October 25, 2013 -- Updated 0935 GMT (1735 HKT)

Japan is using YouTube to bolster assertions of ownership over islands also claimed by neighboring China and South Korea.
August 6, 2013 -- Updated 0100 GMT (0900 HKT)

Players join the ranks of the country's military to take on the enemy in China's first online game co-developed by the People's Liberation Army.
April 24, 2013 -- Updated 1016 GMT (1816 HKT)

The fragile relationship between China and Japan came under fresh strain as ships from both sides crowded around the disputed islands.
April 8, 2013 -- Updated 1753 GMT (0153 HKT)

Sightseeing cruises soon to set sail to China's newest city, Sansha, located on a disputed island in the South China Sea, a Chinese official said.

America's power and purpose are in jeopardy if the world's three largest economies cannot step back from the brink, writes Patrick Cronin.
November 15, 2012 -- Updated 0854 GMT (1654 HKT)

China uses perceived provocations as a chance to change the status-quo in its favor, writes Stephanie Kleine-Ahlbrandt.