'Barbaric' whipping of horse in Pistorius race
December 14, 2012 -- Updated 1422 GMT (2222 HKT)
STORY HIGHLIGHTS
Animal rights organizations criticize "barbaric" whipping of horse which raced against Oscar Pistorius
Double amputee Pistorius, a six-time Paralympic gold medalist, beat an Arab horse on Wednesday
World Horse Welfare describe jockey's use of the whip as "completely unnecessary"
The use of the whip is horse racing has been cause of much controversy in Britain
(CNN) -- Animal welfare groups have criticized the "utterly barbaric" whipping of a horse which competed in a race against Paralympic icon Oscar Pistorius.
The South African double amputee, who made history by competing in the 2012 Olympic and Paralympic Games, beat an Arab horse in a race in Doha, Qatar on Wednesday -- as part of a campaign highlighting contributions made by people with disabilities.
World Horse Welfare, a body which advises on rules for international equestrian competitions, branded the treatment of the horse, which started the race 15 meters behind Pistorius, as a "disgrace".
"World Horse Welfare are appalled at the way the jockey used the whip which was not only completely unnecessary but utterly barbaric," the organization told CNN.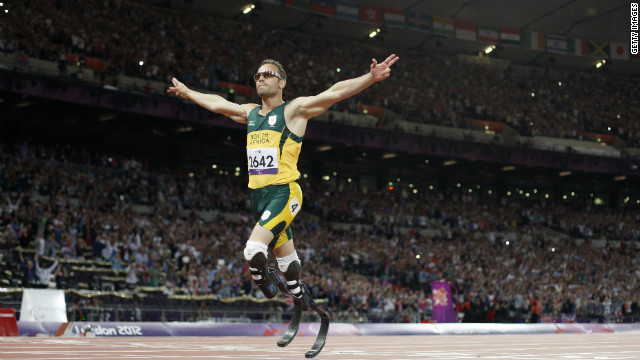 South African sprinter Oscar Pistorius, the first amputee to compete in the Olympic Games, will race a horse in Qatar on Wednesday. The one-off event is to show case the contributions made by disabled people.
Pistorius demonstrates his sprinting skills to London Olympic chief Sebastian Coe at an event to launch the 2012 Paralympic Games.
Pistorius claimed gold for the first time at the 2004 Athens Paralympics in the final of the men's 200m, setting a new world record.
A close of view of the specially designed prosthetic carbon-fiber blades which Pistorius uses for track and field events.
Pistorius held off Jerome Singleton of the United States to win gold over 100m in the T44 class at the 2008 Beijing Paralympics. He also won the 200 and 400m events in the Chinese capital.
Pistorius was honored at the 2012 Laureus World Sport Awards for his achievements and services to disabled sport.
Pistorius competed in the semifinals of the able-bodied men's 400m at the 2011 World Championships in Daegu in South Korea.
Pistorius with one of his sporting heroes, Namibian sprint star Frankie Fredericks, and South African rugby player Bryan Habana, right.
Pistorius helped South Africa to the final of the 4x400m at the 2011 World Championships in Daegu, but was left out of the quartet which won silver. Having run in the heats, he was still awarded a medal, becoming the first disabled athlete to achieve that feat.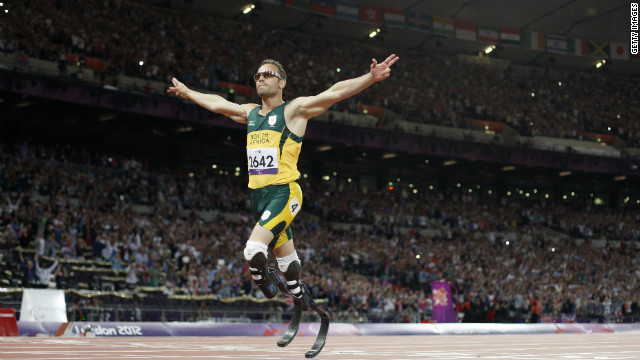 'Blade Runner' Oscar Pistorius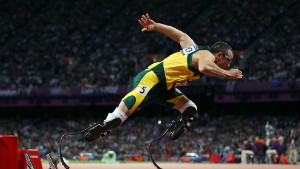 Paralympian superstar Oscar Pistorius
Read: Pistorius to race a horse
"Excessive whip use like this is a disgrace to racing as a sport. We applaud the achievements of Oscar Pistorius and his race could have been a great spectacle, but instead it was marred by the flagrant abuse of this horse."
Prior to the race against Pistorius, World Horse Welfare had said it had no problem with the horse competing providing it was treated fairly.
"We commented on the race beforehand to say we didn't see any immediate welfare concerns providing the horse was treated well. Clearly it wasn't," said the body's deputy chief executive Tony Tyler.
In a statement to CNN, six-time Paralympic gold medalist Pistorius -- who also reached the semifinals of the Olympic 400 meters competition -- said he was unaware of any ill treatment to the horse.
"I participated in the race in good faith as it was to promote abilities across sport and I was totally unaware of any alleged excessive force being used on the horse," said the 26-year-old.
"I don't condone any ill-treatment of animals and would always hope that a horse would be ridden in the correct way. Those who know me well are very aware of my well-publicized care and love of animals."
The organizers of the race were not immediately available for comment.
The use of the whip in horse racing has been a source of controversy in recent years, notably in Britain.
Regulator British Horseracing Association completed a 10-month review of whip regulations in November 2011, recommending its use be regulated, with bans issued for excessive use.
Penalties, which can include losing prize money, become more severe depending on the number of times a jockey breaches regulations.

Today's five most popular stories
October 30, 2014 -- Updated 1237 GMT (2037 HKT)

He's won six Olympic medals on two legs, but Bode Miller's future will ride on four -- can he replicate his skiing success in the "Sport of Kings"?
October 23, 2014 -- Updated 1247 GMT (2047 HKT)

As a jockey, Philip Blacker lived for the thrills and spills of horse racing. As a sculptor, his work captures the horror of World War I.
October 14, 2014 -- Updated 1512 GMT (2312 HKT)

Ever thought zebras couldn't be tamed? Think again. Gary Witheford has a remarkable way with wild animals -- which he proved after a pub boast.
October 9, 2014 -- Updated 1435 GMT (2235 HKT)

The internet went wild for so-called "horse yoga" -- but there was something deeper going on that reconnects humans with the animal world.
September 1, 2014 -- Updated 1323 GMT (2123 HKT)

The going is always soft and the only permanent building is a toilet block. It's the antithesis to the pomp of Royal Ascot ... welcome to Irish beach racing.
August 13, 2014 -- Updated 1107 GMT (1907 HKT)

Each August, over a thousand tents and hundreds of horses converge on Little Big Horn River in Montana for the Crow Fair and Rodeo.
August 1, 2014 -- Updated 0957 GMT (1757 HKT)

Show me the money! Hollywood star Tom Cruise was a big hit when he visited the Glorious Goodwood festival.
July 21, 2014 -- Updated 1241 GMT (2041 HKT)

Little-known outside the tribes of the Rocky Mountains in the American northwest, Indian Relay is a "magical" horse-racing relay.
July 8, 2014 -- Updated 1325 GMT (2125 HKT)

Now in his 50s, one of the world's most successful jockeys explains why he gave up acting to return to the sport that nearly crippled him.

Winning Post's Francesca Cumani is impressed by the all-round multitasking skills of Ireland's champion trainer Aidan O'Brien.
June 7, 2014 -- Updated 0853 GMT (1653 HKT)

More people have walked on the moon than have won the fabled Triple Crown of U.S. horse racing. California Chrome is seeking to square that score.
June 5, 2014 -- Updated 1137 GMT (1937 HKT)

A long history of controversy made him the "enfant terrible" of horse racing, but veteran jockey Kieren Fallon is looking for redemption.