STORY HIGHLIGHTS
Head of world football says he will talk to European counterpart about Serbia case
Sepp Blatter says racism and discrimination deserve "harsh punishments"
FIFA president expresses concern about 2014 World Cup safety after Brazil violence
He says Indonesia lucky not to be suspended as a FIFA member nation
(CNN) -- Stronger sanctions should have been taken against the Serbian Football Association, according to FIFA president Sepp Blatter -- who said that "zero tolerance" policies against racism need to be upheld.
The Serbian FA was fined $105,000 by UEFA on Thursday following an Under-21 match where opposing England players said they were racially abused. The fine was less than the punishment handed to a player at the Euro 2012 finals for exposing undershorts bearing the logo of a betting company.
European soccer's body also banned two Serbian coaches and a total of six players from both sides, while also ordering the eastern European nation to play its next competitive Under-21 match behind closed doors.
UEFA was widely criticized, especially in England, for not taking a stronger stance -- and it was reported in the UK press that president Michel Platini might seek to appeal his own organization's ruling.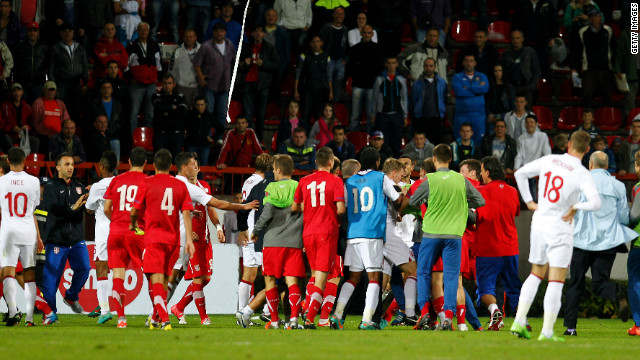 England midfielder Danny Rose claims he was subjected to monkey chants before, during and after the second-leg of their Under-21 Euro 2013 playoff match against Serbia on Tuesday, and had stones thrown at him by the crowd in Krusevac. Fans also ran on to the pitch and scuffles broke out after a 1-0 win secured England qualification for Euro 2013.
The Macedonia FA were fined $26,000 after fans racially abused England trio Ashley Cole, Sol Campbell and Emile Heskey during a qualifying game for Euro 2004.
In September 2011, Bulgaria were fined $55,000 after a small number of fans directed monkey chants at England's Ashley Young, Cole and Theo Walcott during a Euro 2012 qualifier in Sofia.
Russia was hit with a $38,000 punishment after supporters made monkey noises towards Czech Republic defender Theodor Gebre Selassie during Euro 2012
The Croatian FA were ordered to pay a $16,000 fine after their fans were found guilty of "displaying a racist banner and showing racist conduct during the Euro 2008 quarter-final tie against Turkey.
Russia were again in the news for the wrong reasons at Euro 2012 and were fined $39,00 for "the setting off and throwing of fireworks by Russia spectators, displaying of illicit banners and the invasion of the pitch by a supporter," during the Euro 2012 tie against Poland. Russia was also fined $155,000 after clashes between supporters and police during and after their game against the Czech Republic.
Denmark's Nicklas Bendtner was given a one-match ban and a $126,000 fine after he lifted his shirt to reveal a betting company's logo on his underwear while celebrating a goal against Portugal in a Euro 2012 group game.
Porto were hit by a $27,000 fine after their fans were found guilty of subjecting Manchester City forward Mario Balotelli to monkey chants during a Europa League game in February 2012. It took UEFA six weeks to finally hand out a punishment. But questions were raised after UEFA also fined City $40,000 after the club were found guilty of coming back out on to the field of play late after the halftime interval.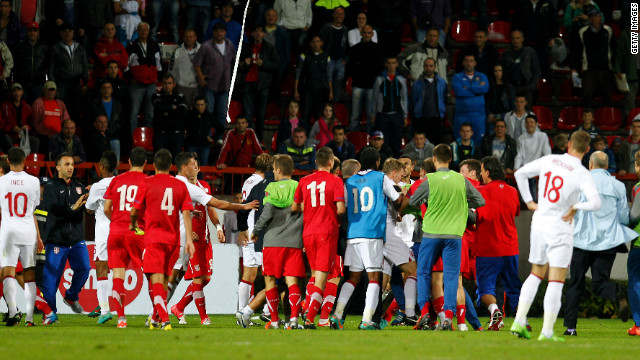 Soccer racism in Eastern Europe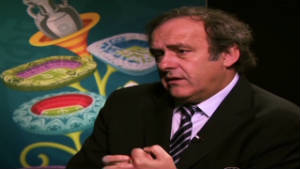 Platini: Blatter racism claims 'clumsy'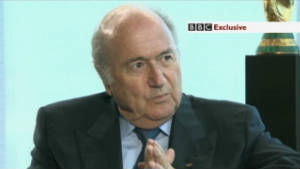 Sorry Blatter refuses to quit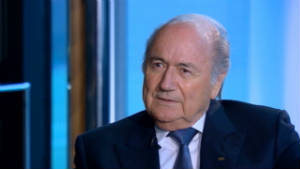 FIFA President denies racism in football
"Not only racism, but discrimination has no place in football and there is zero tolerance for it," Blatter told reporters at a press conference in Japan on Saturday.
"I just learned yesterday what the (Serbia) decision was and I'm sure we will also take it up with UEFA at the level of governance, that there should be in all football, with every confederation and all national associations strong, harsh punishment when it comes to racism and discrimination."
Blatter told CNN last year that racism on the pitch could be "settled with a handshake" but following the furore those comments caused he has pledged his commitment to battling the problem.
"I will take up a discussion with the president of UEFA, but I don't know if he has an influence on his disciplinary committee," the 76-year-old said in Tokyo when asked about the Serbia-England case.
"We will ask for details of the file but I repeat we have it in our organization that there must be very, very strong, strong punishment."
In a wide-ranging press conference following Friday's FIFA executive committee meeting, Blatter also addressed concerns about security at the 2014 World Cup in Brazil following the midweek problems at a top South American club match in Sao Paulo.
The second leg of the Copa Sudamerica final was abandoned at halftime after visiting Argentine team Tigres claimed they had been threatened with guns by security officials as they left the pitch.
Sao Paulo has experienced a drastic rise in crime this year, and Brazil has boosted its security budget in order to quell concerns that visiting fans will not be safe.
"Such an incident I have to say is also a warning for the organizers in the World Cup -- a warning for all organizers about what will happen," said Blatter, who is in Japan for the Club World Cup, which climaxes with Sunday's final between Brazilian team Corinthians and European champions Chelsea.
"Security is not a matter of sports organizers, it's a matter of the authorities, police, army, whatever as we have no power in football to change security," Blatter added.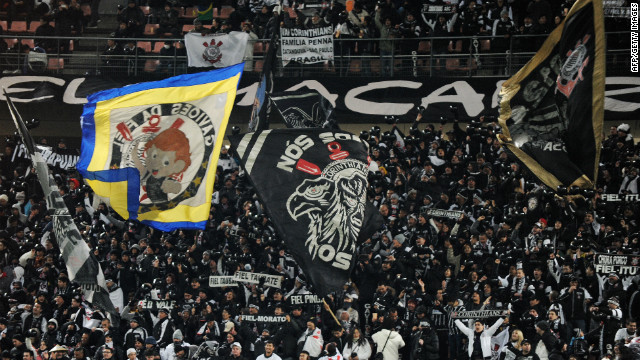 It is estimated 30,000 Corinthians fans are in Japan to support the Brazilian club in the Club World Cup.
Back in Sao Paulo, fans of the Brazilian club were determined to join in the celebrations after the Copa Libertadores winners reached the Club World Cup final with a 1-0 semifinal win over Al-Ahly.
"I'm conscious 30 million supporters need to be made happy," said Corinthians coach Tite ahead of the semifinal against Al-Ahly.
A Corinthians fans shows off his tattoo with the emblem of the team in Sao Paulo.
Some 15,000 Corinthians supporters waved banners, set off fireworks and blocked roads at Sao Paulo's main airport as the team set off for Japan.
Hundred of fans followed the team bus from the Corinthians training camp to the airport.
As well as the flags, banners and scarves, no Brazilian group of supporters would be complete without a drummer.
If you have made the trek to Japan to watch your club play in the Club World Cup it makes sense to watch the team at every available opportunity -- even at training sessions.
After the 1-0 semifinal win over Ah-Ahly, the Corinthians players applaud their travelling fans in the Toyota stadium
European teams have won the last five editions of the Club World Cup. But Corinthians, who are coached by Tite, go into Sunday's final with plenty of confidence given they were the first unbeaten winners of the Libertadores Cup since 1978.
Corinthians will play European Champions League winners Chelsea in Sunday's final. Chelsea reached the final after beating Mexican club Monterrey in Yokohama, with Juan Mata scoring the opening goal for the English Premier League side in a 3-1 win.
Paulinho -- full name Jose Paulo Bezerra Maciel Junior -- played in Europe for clubs in Lithuania and Poland as a teenager before returning home, where he made his name at Corinthians.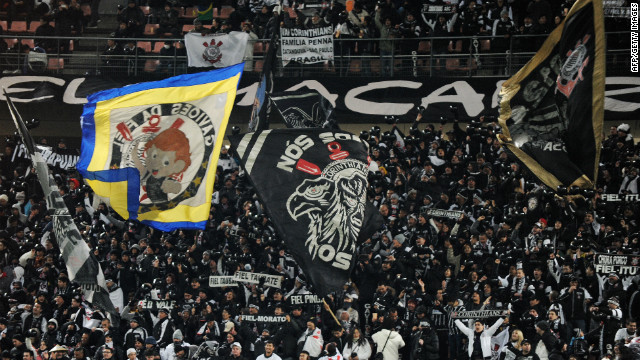 Craziest fans in the world?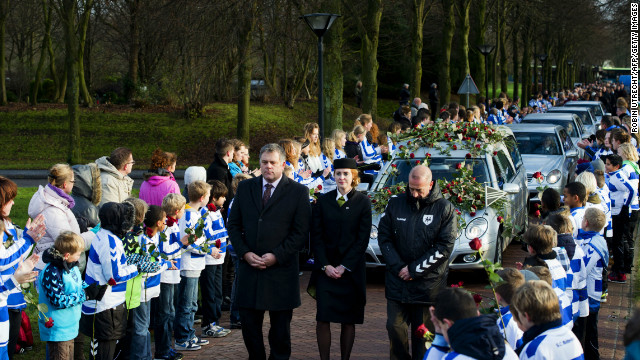 Members of Dutch football club SC Buitenboys pay respect to Richard Nieuwenhuizen as the hearse carrying his body arrives at the crematorium in Almere on December 10.
Relatives of the late linesman took part in a silent march in his memory in Almere the previous day.
Nieuwenhuizen collapsed and fell into a coma after he was attacked by three teenagers at the end of a junior club football match on December 2.
While 33,000 amateur matches were canceled across the Netherlands, professional teams held a minute's silence ahead of their games to pay tribute to the 41-year-old.
People lay flowers for Nieuwenhuizen at the Buitenboys clubhouse in Almere on December 9, 2012. Eight people have been arrested in connection with the attack, which came following a match against Amsterdam's Nieuw Sloten.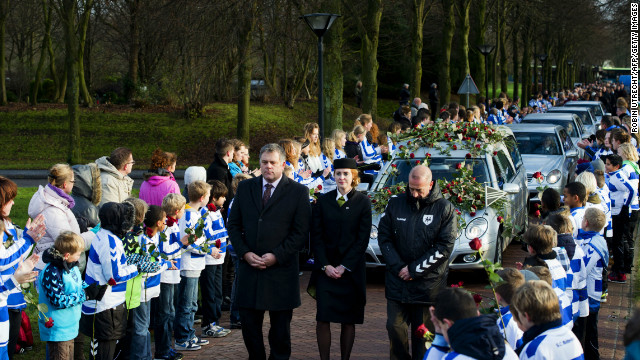 Funeral for slain Dutch soccer linesman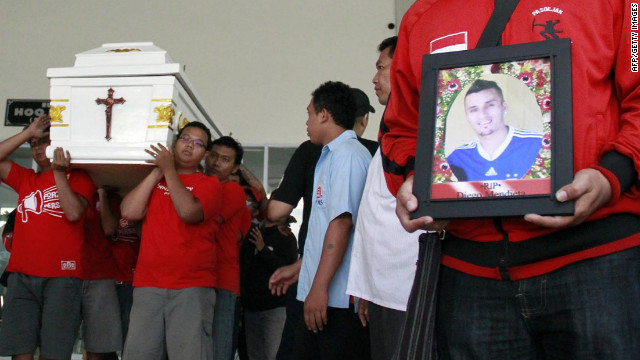 Diego Mendieta's former teammates carry his coffin at the Paraguayan footballer's funeral in Solo, Indonesia.
He passed away at the age of 32, dying in hospital after contracting an infection. Mendieta was unable to return home to his wife and children because he was owed four months' wages.
Mendieta is mourned by wife Valeriana Alvarez and their children Bele (left) and Gaston.
Mendieta's plight has highlighted the schism in Indonesian football, where two organizations are fighting for control of the game following the creation of a breakaway league. The players' union says 13 clubs are behind in promised salary payments.
Mendieta (left) celebrates with Persis Solo teammates Romuald Noah and Yanuar Ruspuspito after scoring in a match against Persip Pekalongan.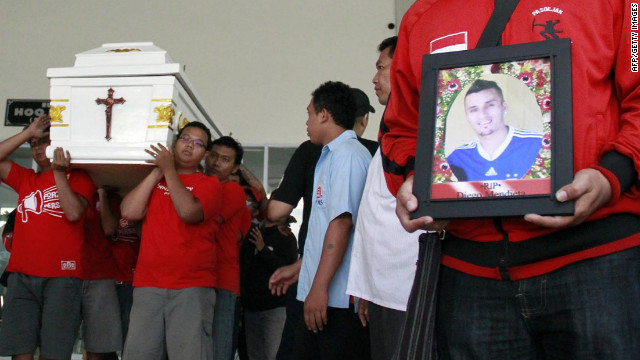 Paraguayan player's Indonesian tragedy
He said world football's governing body had given Indonesian soccer authorities a "Christmas gift" by agreeing to a new deadline to resolve a two-year power conflict.
The Indonesian Football Association (PSSI) is battling for control with the breakaway Indonesian Soccer Rescue Committee (KPSI) -- a struggle that has been brought to prominence by the death of a Paraguayan player who was owed four months' wages.
Diego Mendieta died in hospital after contracting an illness, having been unable to return home to his family due to lack of funds after his contract expired.
"It has been two years now, two years that they have tried to put together the two parts of the football organizations, but they couldn't do it," Blatter said.
"They have asked for another three months to be given, until March next year, and also the Asian Football Confederation was advocating that. I think it was quite a Christmas gift to Indonesia that they haven't been suspended.
"They have a league but the players of that league cannot play in the national team. Something is wrong.
"Since 2011 we have tried to bring together these two different halves of Indonesian football. We have given until the next meeting of the Executive Committee on the 20th and 21st of March next year to bring their house in order."