STORY HIGHLIGHTS
South African veteran earns luxury car after holing second hole in one of tournament
Keith Horne climbs to sixth place at European Tour event after his repeat ace on Saturday
He trails leading compatriot Charl Schwartzel by 12 shots at Alfred Dunhill Championship
European team has one-point lead over Asia in Royal Trophy event in Brunei
(CNN) -- It's not uncommon for golfers of any level to hole in one, but it's not often that one player does it twice in two days at a top-level tournament.
Keith Horne shared the limelight with runaway leader Charl Schwartzel at the European Tour's Alfred Dunhill Championship in their native South Africa on Saturday, landing a repeat ace that earned him an unexpected Christmas present.
The 41-year-old will take home a luxury car following his hole-in-one at the par-three 12th at Leopard Creek in the third round.
"Unbelievable. It was the same club, but the wind was different, so I had to hit a full eight iron this time," he told the European Tour website after matching his Friday feat at the same hole.
"It was in all the way -- never looked like missing. Went in a bit faster this time, so I didn't get to admire it as much as yesterday, but it really got the adrenaline going much more."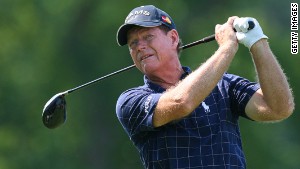 Tom Watson named Ryder Cup captain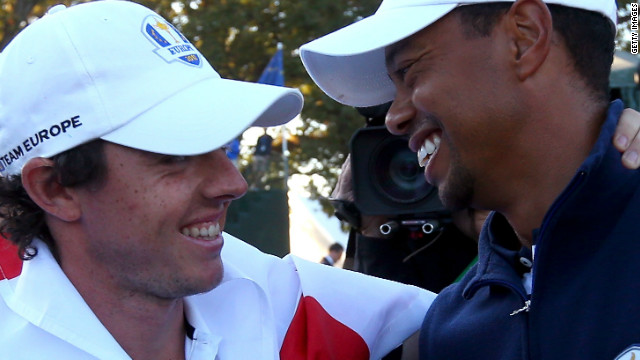 Tiger Woods, right, congratulates Rory McIlroy after Europe's remarkable victory over the U.S. on the final day of the 2012 Ryder Cup in September. The two are big rivals on the golf course, but a friendship has also blossomed this year.
Golf great Nick Faldo has questioned whether they should be so close. Sports psychologist Dan Abrahams says they would benefit from keeping a bit of distance. "In the heat of battle it becomes more difficult to emotionally detach yourself from that person's performance if you're good friends with that person," he told CNN.
McIlroy has admitted idolizing Woods as a boy, but has now usurped him as golf's No. 1. "Once they step on the first tee, those competitive juices are flowing and they're focused either on their own game or beating each other," Abrahams said.
They are following in golf's great tradition of rivalries -- most notably Jack Nicklaus, left, and Arnold Palmer. "The power of the mind and the capability of that mental discipline is what separates the good from the great," sports leadership expert Khoi Tu told CNN. "That might allow them to become friends with people off the course, but not on the course."
Formula One's greatest rivalry was between Alain Prost and Ayrton Senna. "They absolutely detested each other," Tu says. "They were two very different personalities, and often that's one of the features of great sporting rivalries: Fire and ice."
Fernando Alonso, left, has now twice been beaten to the F1 championship by Sebastian Vettel -- who is widely rumored to be his teammate at Ferrari come 2014. "When you get two No. 1 drivers together with no team rules, then the sparks can really fly," Tu says. "It's rare for them to be good mates. They may get along, they may trust and respect each other in a professional capacity, but hanging out is a different issue."
Former world champion Jackie Stewart, seen here playing with the children of F1 rival Graham Hill, was remarkably friendly with his peers, Tu says. "He was incredibly fond of a number of people who drove with him. That partly is because there was a clearer distinction of him being a number one and them being number two drivers."
A new rivalry has grown in tennis this year between U.S. Open and Olympic champion Andy Murray, left, and childhood friend Novak Djokovic, the world No. 1. "People say that Murray and Djokovic are close but I think it's rare," Tu says. "The best sporting rivalries are the ones where there are these very distinct, almost opposite personalities, but they're very close in terms of their competence."
Rafael Nadal, left, ended the tennis dominance of Roger Federer but they have publicly expressed their friendship despite reports of arguments about on-tour issues. "As people get older they've done so much, broken lots of records, I think that competitive edge is slightly dulled," Tu says. "That makes it easier to be friendlier. You can keep your dignity if you're not crying every time you lose to a younger, faster athlete."
Martina Navratilova, left, and Chris Evert had one of the biggest rivalries in women's tennis. "They ended up as good buddies, but that was when the battling had been done," Tu says. "All of the respect and friendship you get in sport comes through competence first -- ' I know how hard it is to be this good, so I respect them for that.' "
Fiery American John McEnroe, left, and ice-cool Swede Bjorn Borg created an iconic tennis rivalry. "When those two collided, at the height of tennis perfection, that's when the audience is really enthused and enthralled," Tu says. "To get that rivalry, they have to leave any friendship on the sidelines."
Sometimes you get two great athletes, but they are too close to be proper rivals -- such as tennis star Serena Williams, left, and her sister Venus. "The great things about sport is the sense of competition, the uncertainty of the outcome, the fairness of the playing field," Tu says. "You might be able to suspend enough of your fraternal or sisterly love to play a decent game of tennis but it won't reach the heights of the rivalries that make the sport."
Muhammad Ali, left, "demonized" Joe Frazier to hype up their fights despite being showed respect outside the ring by his rival. "He came up with the gorilla term to create a spectacle, which he knew was important, but it revved himself up too," Tu says. "He needed to have a real enemy. By the end of the (Manila) fight, he said that Frazier brought out the best of him."
Then there's modern football's greatest rivalry -- Lionel Messi and Cristiano Ronaldo. "I'm not sure Messi is a rival with anyone, he still has that unique joy of just playing," Tu says. "But I think with Ronaldo, the truth is Messi is his nemesis -- and the fact that Messi doesn't care makes it even worse."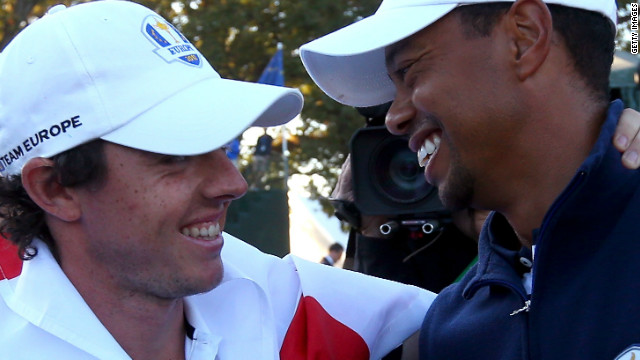 Great sporting rivalries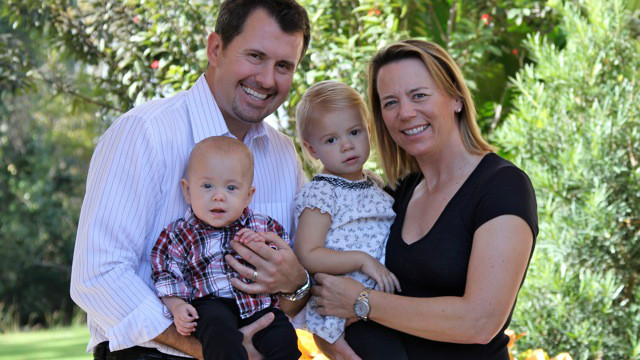 Since retiring from professional golf, Annika has started a family with husband Mike McGee, with Ava born in 2009 and William two years later.
Sorenstam became the first woman to take part in a men's professional PGA tournament when she competed in the Colonial in Texas in 2003. She narrowly missed the halfway cut.
Sorenstam divides her time between family commitments and her business interests which include a successful golf academy.
Sorenstam has always been keen to expand the horizons of the game and has helped with inner city programmes in New York.
Sorenstam's culinary skills are legendary and she has given demonstrations at LPGA tournaments.
Sorenstam still draws a large crowd whenever she competes in charity golf tournaments.
Sorenstam celebrates one of her 10 major titles by taking the traditional winner's leap into the lake after claiming the 2005 Kraft Nabisco Championship.
Sorenstam supports many good causes through her own foundation which focuses on a healthy lifestye through fitness and nutrition.
Sorenstam still spends a lot of time on the golf course as she works with players of all standards in her thriving academy.
Sorenstam has found contentment in retirement but her hectic lifestyle leaves her little time to reflect on former glories.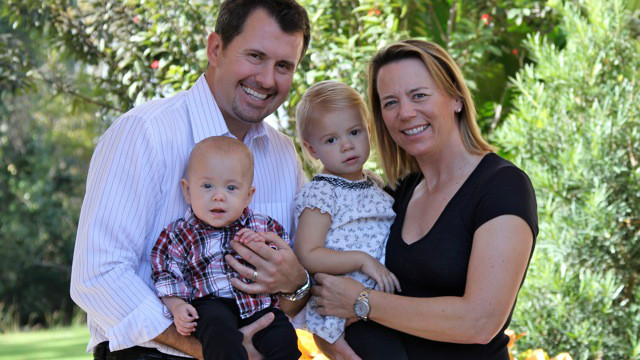 Annika Sorenstam: Golfing Legend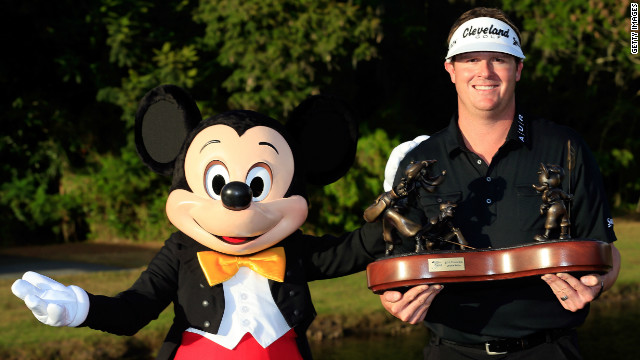 American rookie Charlie Beljan wins the Children's Miracle Network Hospitals Classic just two days after being taking to hospital with an elevated heart rate and numbness in his arm.
Beljan speaks with emergency medical services staff during his second round at the Magnolia course on Friday.
Beljan, who was fighting to keep his PGA Tour playing rights for next season, told his caddy that he thought he was "going to die" after suffering elevated blood pressure and numbness in his arms.
The 28-year-old was taken to hospital following Friday's round, having shot a remarkable eight-under-par 64 to lead the $4.7 million tournament by three shots.
The Arizona native confirmed that he would play in Saturday's third round in Florida despite being advised to rest by doctors.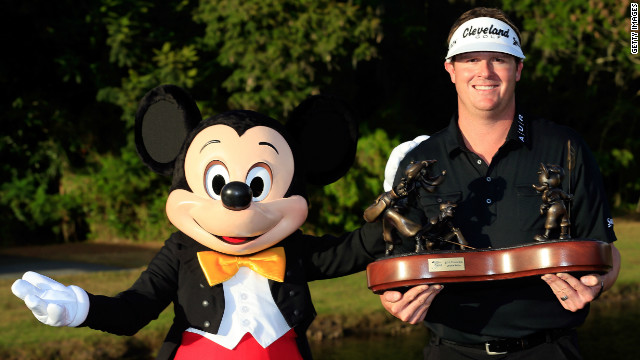 Charlie Beljan's Cinderella story
Under competition rules, it would not have earned him a prize as the car is only on offer for holes-in-one on the final day, but sponsor BMW made an exception.
"I'm really chuffed. It was very kind of them to recognize that two holes-in-one were worthy of giving me the car," said Horne, who is still waiting for his first European Tour victory.
"I wasn't expecting it, so I'm over the moon. This was an unbelievable Christmas present and I couldn't have asked for a more beautiful car."
The world No. 246 signed for a four-under-par 68 that put him sixth ahead of Sunday's final round -- 12 shots behind 23rd-ranked Schwartzel.
Schwartzel won by 11 shots in Thailand last weekend for his first victory since the 2011 Masters, and he is poised for another convincing triumph after shooting 64 to go 10 clear.
"It is a nice comfort, and I'd rather be 10 ahead than nine ahead. Whatever lead you can build is great," said the 28-year-old, who won at the same venue eight years ago and has been runner-up there four times.
"We've all see what can happen in this game. I don't want to think about it -- if all goes well I'm going to celebrate."
Schwartzel had shared the halfway lead with Gregory Bourdy, but the Frenchman dropped back to second on 11-under 205 after slumping to a 74.
Branden Grace, who won four times on the European Tour last season with the first two coming on home soil in South Africa, was tied for third on 206 with Sweden's Kristoffer Broberg and Englishman Steve Webster.
Meanwhile, Europe will take a one-point lead against Asia into Sunday's final round of the Royal Trophy teams event in Brunei.
Led by former Ryder Cup captain Jose Maria Olazabal, the Europeans could not repeat Friday's strong opening and lost Saturday's fourball matches 3-1 for an overall 4½ -- 3½ scoreline.
The veteran Spaniard will play in the first of Sunday's deciding singles matches, taking on South Korea's Bae Sang-moon.
The eighth and final match will be between Ryder Cup winner Francesco Molinari and veteran Korean Y.E.Yang.
"Francesco Molinari played against Tiger Woods in the final match last time and got an excellent half point, so he was a good choice to go out last again," said Olazabal, referring to September's incredible final-day comeback against the U.S. at Medinah.