U.S. skier Nyman savors 'best gift' after long-awaited win
December 15, 2012 -- Updated 2204 GMT (0604 HKT)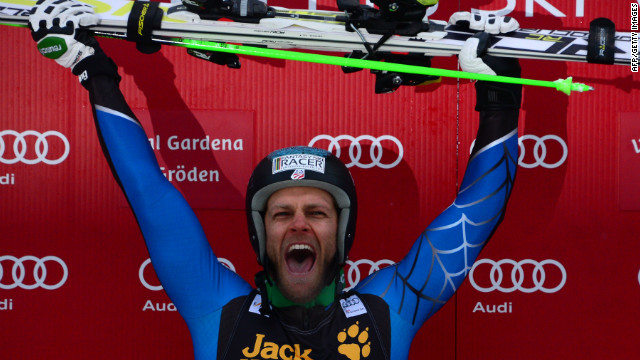 Steve Nyman celebrates his victory in the men's World Cup downhill race at Val Gardena, Italy. His only other win came at the same race in 2006.
The American missed all of last season due to Achilles problems, having been plagued by injuries in recent years.
Aksel Lund Svindal was fifth, extending his overall World Cup lead to 177 points following his victory in the previous day's Super G race.
The men's downhill went ahead despite heavy snowfall, but the women's World Cup Super-G event on the same day at Val d'Isere in the French Alps was called off.
History repeats
Winning comeback
Svindal stretches lead
Too much snow
STORY HIGHLIGHTS
History repeats as Steve Nyman wins second World Cup race of his career
The U.S. skier's only other victory came at the same Italian downhill event in 2006
The 30-year-old beat second-placed Slovenian Rok Perko, with Canada's Erik Guay third
Aksel Lund Svindal was fifth in difficult conditions to extend his overall lead to 177 points
(CNN) -- It's been a long time between wins for Steve Nyman, but the American skier is determined to prove he is over his injury problems.
On Saturday Nyman celebrated his first World Cup victory since 2006, having recently returned to top-level action after missing all of last season.
The 30-year-old had placed 29th in Friday's Super G race at Val Gardena-Groden, but stormed home in Saturday's downhill after starting 39th in the Italian event.
His triumph came in the same Saslong Classic race where he earned his only other career win six years ago, as he earned a podium place for the first time since 2007.
The two-time Olympian took advantage of improving conditions to head off Slovenia's surprise second-placer Rok Perko by 0.19 seconds, with Canadian Erik Guay finishing third from Norway's Kjetil Jansrud.
Alpine Edge: Inside World Cup venues
"Weather was a huge factor but hats off to Erik and Jansrud who ran in the snow and the fog," Nyman said. "When I heard Rok coming into the lead I said, 'Right on, it's on, it's open!'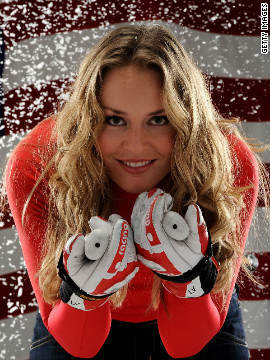 Lindsey Vonn is a marketeer's dream, with her skiing prowess and profile taking the sport to new corners of North America.
Vonn burst on to the scene as a 16-year-old and represented the U.S. team on home soil at the Salt Lake City Winter Olympics in 2002 as a 17-year-old.
Skiing is a treacherous sport, demonstrated by this fall Vonn had at the 2006 Winter Olympic Games in Turin. She was airlifted to hospital but returned two days later to compete and finished eighth. Her grit earned her the U.S. Olympic Spirit Award.
Vonn married fellow U.S. skier Thomas Vonn in 2007. Vonn also became her coach. The pair split in November 2011.
Vonn secured her first World Cup title in 2008. She set a new record for the most World Cup downhill victories in a season with 10. Vonn would go on to win it again two years in a row and now has four to her name.
Another serious injury, this time to her thumb, ruled Vonn out of the World Ski Championships in Val d'Isere back in February 2009.
Vonn's only Olympic gold medal to date came in the downhill competition at the 2010 Winter Olympics in Vancouver. "Seeing my name and the number one next to it was the best feeling I've had in my life," she told reporters.
Lake Louise is Vonn's playground. She has dominated there in recent years, winning all three downhill events in December 2012, like she did the year before. Her request to race against the men there this year was rejected.
Vonn missed out on a fourth successive World Cup title to her good friend Maria Riesch by three points in 2011.
Vonn took time out of her preparations for an Alpine World Cup event in Val d'Isere to catch up with CNN's Alpine Edge show.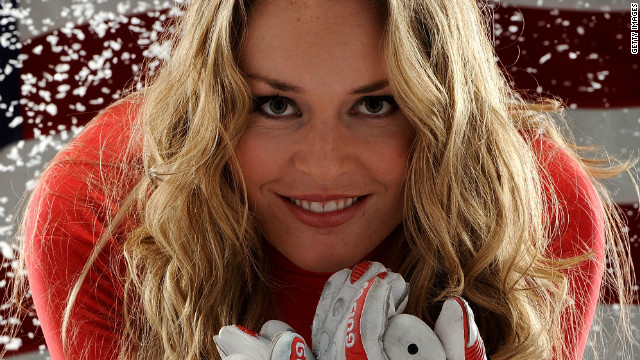 Vonn and on: Lindsey's quest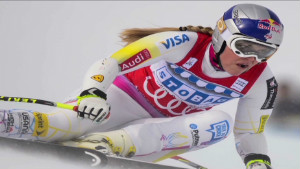 Lindsey Vonn vows to take on the men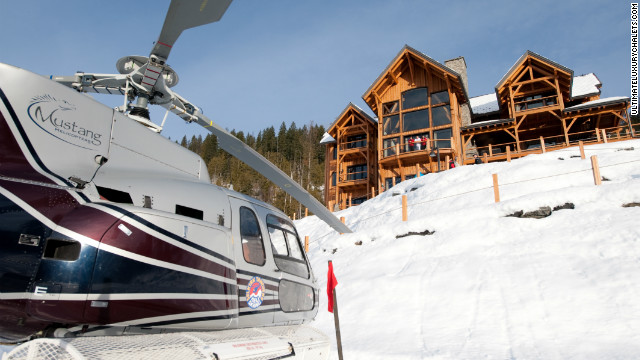 Bighorn is an apt title for this palatial chalet on the Rainbow Range of mountains in British Columbia. It sleeps 16 and comes with its own helipad. Also included are a Teppanyaki grill, an outdoor fireplace and a hot tub with a sparkling vista.
As is customary, size does matter in the United States and at Casa Nova you can sleep a small army of 25. Nestled in the Deer Valley Resort, it has four bars, as well as an oxygen bar, a 15-seat screening room, while a privately patrolled ski trail is a mere seven yards from the front door. Yours for just $125,000 a week in peak season.
Edelweiss raised the bar when it came on to the rental market in September 2012; at peak season in January it will cost you $516,000 for a 10-day stay. With its four floors, nine en-suite bedrooms and accessories that include its own nightclub (pictured), you might never want to leave if you've got deep pockets.
Grace has everything you'd expect from a luxury chalet, with the requisite yoga room to the extensive bar, but the real selling point is the stunning views it offers of the Matterhorn.
You can have a waterfall or air jet massage at the Tivoli Lodge, but if you bring any kids most of your time will be spent on crowd control in the chalet's indoor two-storey soft play gym that can cater for 20 children. Just bring your earplugs.
Kernow has a plethora of ways to keep you occupied with games consoles, giant TVs, a spa, a gym and study but it is heaven for wine buffs with a purpose-built cellar that houses a private collection of over 2,500 bottles. That's a lot of vino.
Marco Polo has an extensive balcony complete with barbecue and heated seating but should you prefer to stay indoors a wellness center on the first floor has the prerequisite pool, hot tub and sauna complete with a full entertainment system.
You may have come to ski but when you are off piste there are few better chalets to keep you entertained than La Grand Roche, which has a full cinema room with a 103" HD television. There is even a waterproof 42" TV in the pool area. Yours for just $120,400 a week.
Spa's spa is fitted to the highest standard of course, but perhaps the outdoor seven seater jacuzzi is a better bet with its views of the Alps? There is a Scandinavian rock sauna, therapy room and a humidification system throughout to promote restful sleep.
On a clear day Mont Blanc will shimmer in the distance; if not, the 180 degree views from the glass sauna should suffice. There is also a slide that takes you from the fourth floor bar to the wine cellar. Perfect when you need another bottle of vintage claret.
Chesa Falcun in the Klosters Valley has all the mod cons and comes with a personal chef and two chauffeurs, but its pièce de résistance is its covered outdoor hot tub -- perfect when the snow is falling.
Despite its lush indoor decor surely the terrace at Les Anges will entice you into the crisp mountain air. With a 14-seat table and a barbecue, you might not even visit the natural stone relaxation area.
Ormello underwent a $1.2 million facelift in 2009 and offers 1,000 square meters of space. It has a lift to all floors, a range of spa and pool facilities, and a state-of-the-art private cinema.
If you fancy working out in front of a five-star view then Zermatt Peak could be just the ticket. It makes the most of its stunning views with a jacuzzi that begins in the wellness center and extends outside onto the terrace. Should you want to stay inside, three HD cinema rooms should keep you entertained.
If you are lucky enough to be staying in the master en-suite room in Chalet B at Trois Couronnes you have a 19th century elevator that drops you right by the pool. Heated by solar and geothermal power, it also boasts an art gallery, wine cellar and banqueting hall.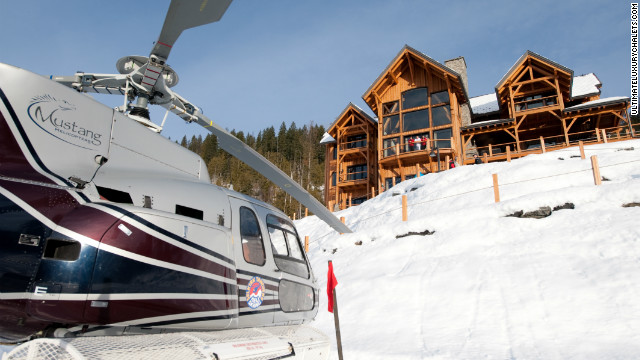 Chalet stay or chalet go now?
"I've always believed I had the speed. I hope to prove it through the year. But I guess no points to 100 points isn't that consistent.
"I'm just happy to feel good again. My body's feeling good. I had the flu, but battled that off. I had rib issues the first few races because I put it into the fence while training in Copper. The Achilles last year, the knees years before that and the back -- this is the best gift I could have."
Friday's race winner Aksel Lund Svindal was fifth, extending his overall lead to 177 points from absent American Ted Ligety, who will return to action for Sunday's giant slalom across the mountain at Alta Badia.
"Having trouble because of too much snow is in many ways a good thing," the Norwegian wrote on his blog on Saturday.
"Snow is good for ski business. And we're all a part of the business. But as a racer and an athlete days like todays like today are tough.
"We want to compete under equal and fair conditions. But sometimes that's not possible in the mountains. We didnt have good conditions but it could have been worse. The poor guys that started first had no chance. Racing is less fun on days like today."
Meanwhile, Saturday's women's World Cup Super G race at Val d'Isere was called off due to heavy snow at the French resort.
Val d'Isere is the traditional host of the start of the main European swing of the World Cup season, having staged men's races last weekend as part of the traditional Criterium de la Premiere Neige ("races of the first snow").