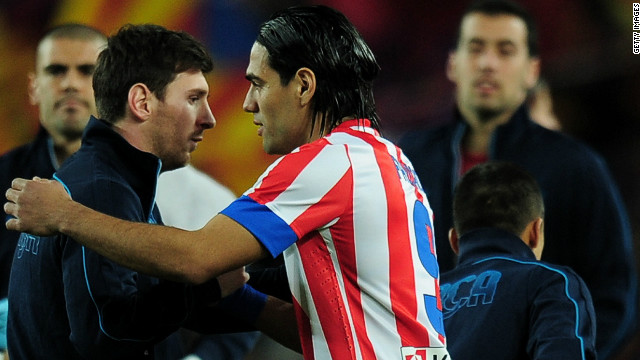 Lionel Messi and Radamel Falcao have both set La Liga alight this season with a number of stunning strikes. Messi had scored 88 goals in 2012 going into the clash, while Falcao had netted 16 times in the league this season ahead of the game at Camp Nou.
Barcelona's forward Pedro Rodriguez and Atletico's Filipe Luis go in for a challenge as La Liga's top two went head-to-head. Barca had taken an incredible 43 points from a possible 45, winning 14 of their 15 league games to lead Atletico by six points.
After hitting the woodwork early on and firing an effort wide of the post, Falcao finally put Atletico ahead on 30 minutes. The in-form striker nipped in between Barcelona's central defenders before lifting the ball over the goalkeeper to make it 1-0.
Falcao runs away to celebrate at a stunned Camp Nou as Atletico takes the lead with their third opportunity of a pulsating first-half.
Adriano's stunning curling effort brings Barcelona level with nine minutes of the first-half remaining. The full-back turned on to his left-foot before sending an unstoppable strike into the top corner of the Atletico net to make it 1-1.
With halftime approaching, Sergio Busquets pounces inside the penalty area to fire home his first goal of the season after Atletico failed to clear its lines.
Messi curls home Barca's third and his 89th of 2012 on 57 minutes to seal victory and stretch the team's lead at the top of La Liga.
Messi celebrates with fellow goalscorers Busquets and Adriano as Barca move into a 3-1 lead at Camp Nou.
Messi latches onto a defensive mistake and grabs his 90th goal of 2012 to make it 4-1 and send Barca nine points clear of Atletico at the summit.
Messi celebrates after scoring his 25th league goal of the season and 34th overall. It's also the sixth league game in a row which Messi has scored twice.
Goal machines
Tough at the top
Fabulous Falcao
Advantage Atletico
Amazing Adriano
Busquets bites
Magic Messi
Job done
Make that 90
Can't stop scoring
STORY HIGHLIGHTS
Lionel Messi took his tally to 90 for the calendar year with two goals against Atletico Madrid
Messi's double and further goals from Adriano and Sergio Busquets gives Barca 4-1 win
Real Madrid held to a 2-2 draw by lowly Espanyol
Real boss Jose Mourinho: "The league is now impossible."
(CNN) -- It was billed as the battle of the heavyweights.
In the red corner -- Radamel Falcao -- one of the most coveted strikers in world football and one of the most lethal finishers around.
Only last week, Falcao hit five in his side's demolition of Deportivo to add to his already burgeoning reputation.
In the blue corner -- Lionel Messi -- perhaps the greatest to have ever played the game. The man with 88 goals to his name in 2012.
The magical and mesmerizing feet of Messi going up against the pace and predatory instincts of Falcao. It had all the ingredients of a classic.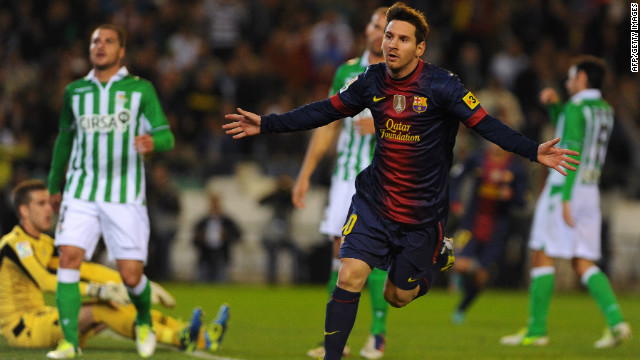 Lionel Messi celebrates after matching Gerd Muller's record of 85 goals in a calendar year, netting in the 16th minute of Barcelona's match against Real Betis in December 2012. Just nine minutes later the Argentina star passed the German's 1972 milestone.
Messi passed Muller with three more possible matches to play in 2012. Then a three-time world player of the year, he went on to win a record fourth Ballon d'Or in January,
The 25-year-old crept within one goal of Muller's record with two goals against Athletic Bilbao in a 5-1 victory in December. Click here to see a map of Messi's first 84 goals of 2012.
Messi made a quick recovery to be fit for the Betis game, having been injured after coming on as a substitute during a Champions League match against Benfica.
Messi enjoyed a stellar 2012. With a hat-trick against Grenada in March, he equaled and broke the all-time goalscoring record for Barcelona in official matches of 232 set by Cesar Rodriguez.
A hat-trick against Malaga in May took Messi to 68 goals for the 2011-12 season, edging him past the record for goals in a European season set by Bayern Munich's Muller in 1972-73.
Muller was one of the most predatory strikers in football history, winning both the World Cup and the Europan Championship with West Germany. Click here to see a comparison of Muller and Messi.
Messi also had a standout year for the Argentina national team. He scored 12 goals for his country in 2012, including a hat-trick against archrivals Brazil in June.
Messi became Barca's all-time leading goalscorer in "El Clasico" matches against Real Madrid in August 2012. His free-kick in that match was his 15th in the fixture against Barca's archrivals.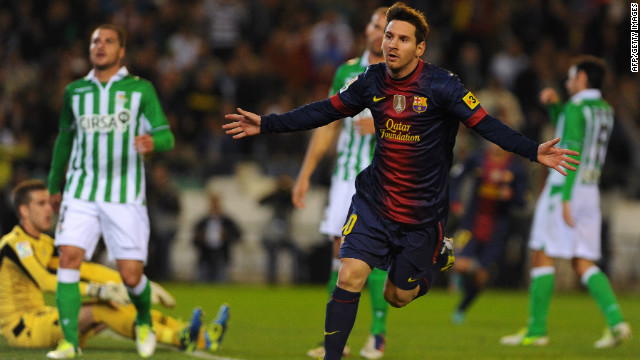 Lionel Messi's record year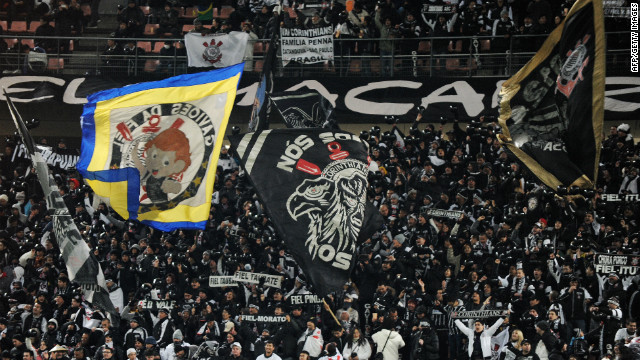 It is estimated 30,000 Corinthians fans are in Japan to support the Brazilian club in the Club World Cup.
Back in Sao Paulo, fans of the Brazilian club were determined to join in the celebrations after the Copa Libertadores winners reached the Club World Cup final with a 1-0 semifinal win over Al-Ahly.
"I'm conscious 30 million supporters need to be made happy," said Corinthians coach Tite ahead of the semifinal against Al-Ahly.
A Corinthians fans shows off his tattoo with the emblem of the team in Sao Paulo.
Some 15,000 Corinthians supporters waved banners, set off fireworks and blocked roads at Sao Paulo's main airport as the team set off for Japan.
Hundred of fans followed the team bus from the Corinthians training camp to the airport.
As well as the flags, banners and scarves, no Brazilian group of supporters would be complete without a drummer.
If you have made the trek to Japan to watch your club play in the Club World Cup it makes sense to watch the team at every available opportunity -- even at training sessions.
After the 1-0 semifinal win over Ah-Ahly, the Corinthians players applaud their travelling fans in the Toyota stadium
European teams have won the last five editions of the Club World Cup. But Corinthians, who are coached by Tite, go into Sunday's final with plenty of confidence given they were the first unbeaten winners of the Libertadores Cup since 1978.
Corinthians will play European Champions League winners Chelsea in Sunday's final. Chelsea reached the final after beating Mexican club Monterrey in Yokohama, with Juan Mata scoring the opening goal for the English Premier League side in a 3-1 win.
Paulinho -- full name Jose Paulo Bezerra Maciel Junior -- played in Europe for clubs in Lithuania and Poland as a teenager before returning home, where he made his name at Corinthians.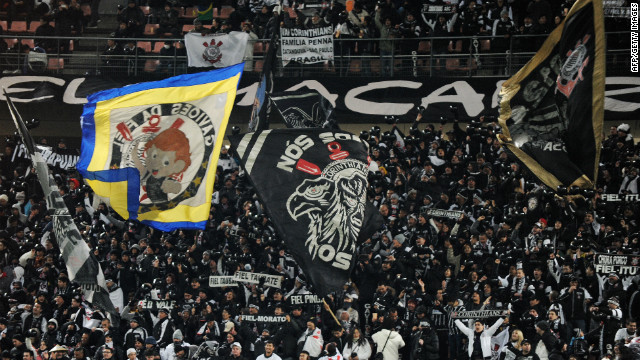 Craziest fans in the world?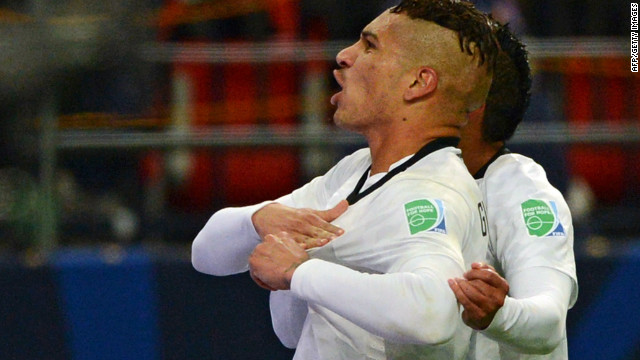 Corinthians forward Paolo Guerrero opened the scoring in the Club World Cup semi-final against Egyptian side Al-Ahly with a powerful header.
Peru's Guerrero spent six years with German team Hamburg before joining Brazilian club Corinthians earlier this year.
Corinthians were backed by thousands of supporters, who had come armed with huge banners and flags to the Toyota stadium.
Back in the Eygptian capital Cairo, Al-Ahly fans gathered to watch the semifinal. Al-Ahly qualified for the Club World Cup after winning the African Champions League despite domestic competition in Egypt being suspended following the death of more than 70 fans in February's Port Said stadium tragedy.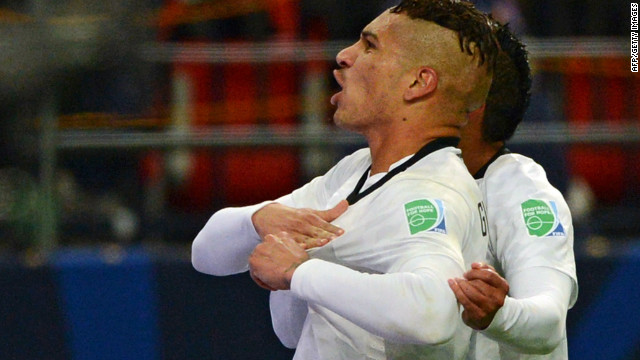 Corinthians defeat Al-Ahly
Between them they have run La Liga and European defenses ragged, scoring goals at will and leaving defenders trailing in their wake.
Going into the clash, Messi had plundered 23 league goals to Falcao's 16. It was time for the two to go head-to-head.
For Barcelona, victory over Atletico would place it nine points clear of its closest title rival and surely allow the Catalan club to wrestle the title away from defending champion Real Madrid.
A win for Atletico would finally confirm that Diego Simeone's men could be taken seriously as a championship challenger.
Magic Messi extends record streak
Atletico and Falcao -- the pretenders to Barcelona and Messi's crown.
And pretenders they will remain.
In the end, the chasm could scarcely have been greater as Simeone's men were put in their place without any sign of mercy from Tito Vilanova's side.
Barca has now won 15 of its opening 16 league games, taking an astonishing 46 points from a possible 48.
With Real Madrid only managing to draw with Espanyol earlier Sunday, Barca moved 13 points clear of its great rival.
It was Messi who stole the show once again as the little magician emerged out of the shadows to crush Atletico.
Two second-half strikes took his total to 90 for the calendar year and 25 league goals for the season as Barca came from behind to win 4-1.
Messi map: How Argentine maestro conquered the world
And yet for the opening 30 minutes it appeared that the Messi's evening might have not been so enjoyable.
Instead it was Falcao who took center stage, bullying Barcelona's defenders at every opportunity.
It was the Colombia star who had the first opportunity of the contest, heading against the post after just nine minutes as Atletico signaled its intentions.
Falcao then went close again after firing narrowly wide when well placed, while Messi seemed to vanish as Atletico took control of the contest.
Barcelona was finally undone just after the half-hour mark when Falcao produced an exquisite finish to silence the majorityof those packed inside the Camp Nou.
Messi fit to resume bid for goal record
After taking the ball in his stride, Falcao burst past Barcelona's central defenders before lifting the ball over the stranded Victor Valdes to net his 17th league goal of the season.
It was no less than Atletico deserved, but that strike only served to awaken Barca from its slumber.
No less than five minutes had elapsed before Barca drew level in spectacular style thanks to Adriano's stunning curling effort.
The right-back turned onto his left-foot, before unleashing a wonderful rasping effort into the top corner to bring his side level.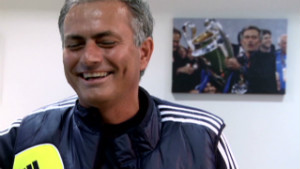 José Mourinho on managing star players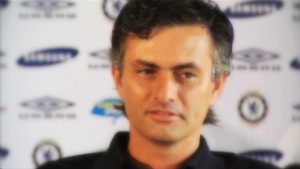 José Mourinho's press conference antics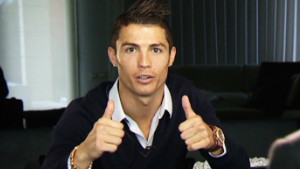 A day in the life of Cristiano Ronaldo
And with just seconds of the first half remaining, Busquets lashed home from close-range after Atletico had failed to clear.
From dominating the game, Atletico had been rumbled in the blink of an eye.
Messi makes case as world's greatest ever player
Worse was to follow as Messi began to find time and space as Atletico started to lose its way.
Just 12 minutes of the second half had passed before the Argentine finally grabbed his trademark goal, firing home his 89th of the year with a neat curling effort.
He reached 90 late on, taking advantage of a horrific defensive mistake to slot home his 25th league goal of the season.
Incredibly, Messi has scored 58 out of Barcelona's 116 league goals in 2012.
Mourinho: 'No story' in Real Madrid exit rumors
Meanwhile, the pressure continues to build on Real Madrid boss Jose Mourinho after he all but conceded defeat in the race for the title.
Real fell further off the pace after being held to a 2-2 draw at home by lowly Espanyol and are 13 points off the lead.
Espanyol had taken a shock lead through Sergio Garcia after 31 minutes before strikes from Cristiano Ronaldo and Fabio Coentrao put the home side in control.
But with just two minutes remaining, Juan Albin popped up to steal a precious point for relegation-threatened Espanyol and leave Real reeling.
"The league is now impossible," Mourinho told reporters.
"It is the first time that I have been in a situation like this where my team are a long way off their objectives.
"But I don't want to make a drama out of it, I will treat it as another stage of my life."
Elsewhere in La Liga, Valencia was beaten 1-0 at home by Rayo Vallecano, while Levante claimed a 1-0 victory at Real Zaragoza.