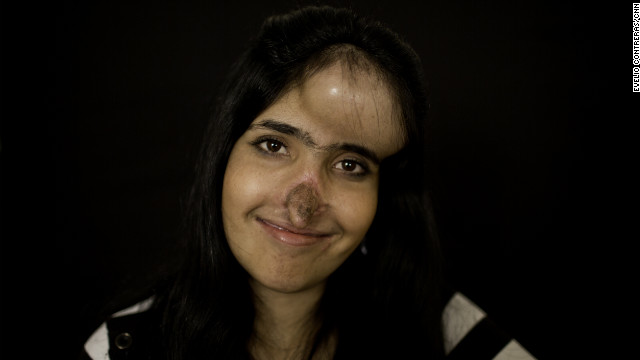 Aesha Mohammadzai is transforming both physically and emotionally. Six months into multistage reconstructive surgery, she's on her way to having the nose she's wanted since she was disfigured and left for dead in Afghanistan. These photos were taken before her latest surgery in December 2012.
Her ears, which were also cut off by her Taliban husband and in-laws, will be reconstructed after her nose is completed.
Scars on her left arm show where doctors took tissue that was then transplanted onto her face. Her emotional scars are also healing, and she's learning to trust in new ways.
On Monday, she will undergo the next dramatic surgery in a process she's not ashamed to show off.
The evolution of Aesha
The evolution of Aesha
The evolution of Aesha
The evolution of Aesha
STORY HIGHLIGHTS
When the world first saw her, she was a symbol for oppressed Afghan women
Now Aesha's face is hers alone and, like her life, it is transforming
She's finding peace, amid a medical odyssey and family challenges
CNN's Jessica Ravitz, behind this exclusive report, has followed her for two years
Editor's note: This story originally ran on Sunday, December 16, prior to Aesha's latest surgery.
Frederick, Maryland (CNN) -- For as long as the world has known her face, it has told a story.
In the beginning, when her disfigured image appeared on the August 2010 cover of Time magazine, the story was bigger than her. It symbolized the oppression of Afghan women.
Today, Aesha Mohammadzai's face tells a story that is hers alone.
Her forehead has ballooned to the size of a baseball, and narrow, darkened, peeling and drooping flesh protrudes from where her nose once was -- before her Taliban husband and in-laws cut it off. She is six months into multistage reconstructive surgery, and her face hints at a new path lined with resilience, hope and change.
Aesha is not ashamed to show it off.
"I don't care. Everybody has some kind of problem," she says, with the help of a translator. "At the beginning, I was very scared. I was scared to look at my face in the mirror. ... I was scared to think what will happen in the future to me. But now I'm not scared anymore."
Aesha, who didn't grow up celebrating birthdays but believes she's 21 or 22, is being treated by doctors at Walter Reed National Military Medical Center in Bethesda, Maryland. She is scheduled to undergo her fourth surgery on Monday, a procedure that will take about eight hours. If all goes as planned, she may be halfway done with her medical odyssey and on track to have the nose she wants by next summer.
Her transformation, though, isn't just physical. Aesha is evolving emotionally and growing up. She has managed to do this in spite of -- and perhaps because of -- the invasive and painful surgeries. And she's risen above the challenges that work against the family she lives with and now sees as her own.
A promise finally fulfilled
Aesha bounces up the stairs to the townhome's main level, wearing black leggings and a red sequined long-sleeve T-shirt touting "Glee," the popular television show she's never seen.
Though she has been in the United States for more than two years, she still prefers watching programs on her computer and gravitates to Bollywood films, Hindi dramas and variety shows.
On this night in early December, Mati Arsala -- the man she calls "momo," or uncle, but views as a father -- chats with guests while his wife, Jamila Rasouli-Arsala, finishes preparing dinner. Jamila's 15-year-old daughter from a first marriage, Miena Ahmadzai, hobbles into the room. She wears a large boot on her left leg, the result of an ankle sprain and break while playing soccer a month ago. Aesha stoops down beside the living room's coffee table and carefully lays out her most recent beaded jewelry creations.
Aesha joined this family right before Thanksgiving last year. Her move to Maryland came after 16 months in the United States, bouncing from California to New York while well-meaning people in both places tried to give her what they believed she needed.
But determining her needs wasn't easy. Aesha had never attended school and had experienced enough trauma to span 10 lifetimes. She lost her mother, she says, when she was only 2, was sent off to live with relatives elsewhere, then was retrieved by her father and forced into marriage at 16 to settle a family score. When she ran away from the Taliban family that abused her, they caught her, held her down, hacked off her nose and ears and left her for dead.
She arrived in America with the promise of a new nose, but caretakers in Southern California and then New York determined she wasn't emotionally prepared for the grueling surgeries. She threw violent tantrums and would sometimes hurt herself during what doctors called "faux seizures." Aesha was making progress and her condition was improving in New York when she decided she needed a change.
She landed in Maryland thanks to her own initiative. The task of saving Aesha, it turned out, would be taken on by the young woman herself -- and the Afghan family who embraced her. She saw in them what she wanted: people and a place that could feel like home.
She cuddles up with her family and poses for pictures. When they convince her to try a small nibble of American cheese, she grimaces and runs from the room laughing and spits it out. She makes and serves chai tea -- a weak pot for her, a strong one for everyone else -- and knows to give Mati three sugars. She takes a break from sharing yogurt with Miena so she can breathe, something she now can only do through her mouth.
Aesha's surgery is the fulfillment of an overdue promise, says Jamila, who is a trained physician. She wonders if the worry of others that Aesha wasn't ready for it might have been misplaced.
"How do you get ready for something like this?" she says, thinking about the magnitude of it all. "You can never be prepared for such a surgery. The point is you have to be prepared to support someone (who's going through) this kind of surgery."
Now that Aesha is moving forward -- getting the long-awaited chance to restore her face and seeing positive results -- she seems to trust people in new ways.
This isn't to say there aren't hurdles and fears. But the needles they poke into her, for IVs and other procedures, scare her more than the operations for which she's never awake.
Her forehead, over the course of six months, has been expanded to provide the extra tissue doctors will need to complete this surgical transformation.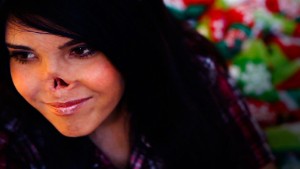 Saving Aesha: Life after Taliban attack
Because of privacy laws, Aesha's doctors at Walter Reed were not available to discuss her case. But based on explanations provided by her family and what CNN has seen, Dr. Bauback Safa, a plastic surgeon well-versed in nasal reconstruction, described the process.
To expand her forehead, he says, doctors inserted an inflatable silicone shell, or a sort of balloon, that they gradually filled with fluid.
It's heavy, which is why Aesha sleeps with her head propped up high on pillows. Each time doctors injected saline in her forehead, she screamed. She says the pain made her eyes water, and it felt like her eyeballs might fall out of her head.
Doctors have already transplanted tissue from her forearm to her face. That tissue will form the inner lining and lower part of her nose, explains Safa, who is with the Buncke Clinic in San Francisco. Aesha, who had to go to physical therapy after that surgery, says she couldn't use her left hand for two months.
On Monday, Mati says, doctors will take cartilage from Aesha's rib beneath her breast. Safa concludes that they will perform a procedure called a "forehead flap."
The rib cartilage, says Safa, will be used to build the structural support of her nose. One piece will run along the bridge, and others will be used to help shape her nostrils. Then, he says, skin from her forehead will be flipped down -- keeping the blood vessels intact -- and sewn atop the structure. The result will be trimmed, shaped and tweaked in the coming weeks and months.
I am in awe of all she continues to endure. As we talk, Aesha leans into me, then turns to take my fingers. She guides them to touch her blown-up forehead.
"Does that hurt?" I ask, stroking her head lightly.
"Yes," she answers, crinkling what's starting to look like a nose.
I stop immediately, and she clasps my hand to admire the beaded ring on my finger, one she made and gave me. "It's nice," she says, before wrapping her arms around me and squeezing.
Continuing education
The Aesha I first met about two years ago was caught between different worlds. She was, all at once, a stubborn child, a moody teenager, a broken woman. And though she's evolving and finding her footing, she still has her moments.
When she can't figure out how to open a large new bag of coffee from Costco, rather than ask for help she tears a hole in the middle of the package, letting the coffee grounds spill all over the cabinet. After falling outside the Capitol building last week at the end of a meeting with Sen. John McCain, she screams wildly to play up the drama and to welcome an ambulance. She barks at the hospital doctors to leave her alone and not touch her. Five hours later, she leaves with a sprained ankle.
Jamila calls Aesha "Dracula" because she stays up at night and sleeps during the day. Sometimes, when she's supposed to be sleeping, she hides beneath the covers and fake snores, but the light of her laptop computer gives her away.
The difference now, though, is that when it really matters, she wakes up on her own with no complaints. On a recent morning when Aesha had an early hospital appointment, Mati marveled as he watched her trudge toward the shower at 6:15 a.m. It used to be that they had to return to her bedside five times -- "Get up! Get up! Get up!" -- to get her moving.
"Before, she was very hard to handle," Mati says. "Over the past month or so, she's a totally different person."
The surgical process has not only helped her trust people more, but it also has made her more responsible and attentive to her own well being. She no longer goes to the playground to swing, one of her favorite pastimes, because she's scared she might fall and hurt herself and ruin the progress doctors have made. Though she misses going to her English class, she studies alone, afraid of catching a bug that would complicate an already complicated process.
Excited to show off how her reading and writing has improved, she finds a notebook and we exchange notes.
"What is your last name?" I write. She reads aloud, bends over the notebook and responds, "My last name is Mohammadzai."
"What is your favorite color?" I ask. She sounds this one out slowly and then writes, "My favorite color is Red."
"Where are you from?" I jot down. She rolls her eyes. This one is so easy. "I am from Afghanistan."
"Where do you live now?" I say at the bottom of the page. "I live in Frederick Maryand," she writes, passing the notebook back to me with a triumphant smile and a missing "l".
Her responses come quickly and her pen barely pauses.
"Jessica, remember in New York? Cat. Man. Pan," she says, recalling the simple words I saw her struggle to read a year and a half ago. I tell her I admire how far she's come.
Then, a minute later as my attention starts to turn elsewhere, she thrusts out her hand: "Jessica, you like my nail polish?" It is, of course, red.
These days, her education extends beyond reading and writing. She's learning from her doctors, too. After the last round of surgery when the raw tissue transplanted onto her face smelled like rotting meat, she religiously flushed it with water, just as she was instructed.
She used to relish wearing makeup, but has let go of vanity to keep her changing face free of possible contamination. So committed is she to being in a clean environment, at one point she was stripping her bed and changing her sheets every other day. The only problem? Others were left to do the laundry.
"One thing I will not let her do is wash clothes," says Mati, who worries she'll break the machine. "She fills it to the max."
Adds Miena, with a laugh and a shrug: "She doesn't have patience."
'Now I know the meaning of life'
Fortunately, there's plenty else Aesha has mastered around the house.
She loves doing dishes so much that she sometimes can't help but wash them before she puts them in the dishwasher. Her rice needs work, but she makes potatoes that Mati can't rave about enough. A pile of dough wrapped in plastic bulges from a shelf in the refrigerator door. She makes bread and, for a while, she and Miena got into baking croissants, which Aesha would warm up and smear with Nutella in the middle of the night.
Aesha is at peace in Maryland. She says there was too much going on in New York, where she lived for a year. Her mind, she says, has cleared.
"Now I know the meaning of life, how to live," she says in Pashto, which Jamila translates. "There, I couldn't understand how to live."
Jamila, her mother figure, is gone a lot these days. While the separation has been hard, it has helped Aesha step into new roles.
Jamila, who speaks six languages, was an OB-GYN in Germany before she permanently moved to the United States to be with Mati. To practice medicine here, she must start over in a residency program. She has passed the necessary exams and is open to residencies outside her previous specialty, including internal medicine, family medicine and pathology. But so far, despite several years of trying, she has gotten nowhere.
So, seven months ago Jamila tore herself away from her family and took a job at a hospital in Brooklyn, New York, in an effort to change her luck. She's working as a house physician at Lutheran Medical Center. It's a supervised resident-like position that's open to foreign-trained doctors. She has a small apartment walking-distance from the hospital.
It has been tough to be absent, especially around Aesha's surgeries. With the job comes long hours, plenty of overnight shifts and little flexibility. But Jamila, 46, hopes it will lead to a full-fledged residency somewhere.
Mati drives the 267 miles each way to bring his wife home on the days she has off. She tries to Skype with her family when she can. If it weren't for how tired and busy she is, homesickness would make this chapter in her life impossible.
Her husband loses sleep missing Jamila and fretting about her situation. He thinks it's a crime that she's not being utilized as a doctor. He has withdrawn thousands of dollars from his 401(k) to pay for the hundreds of residency applications she completed. He also worries about the security of his own job as a civil engineer at Bechtel, where he says layoffs are imminent and jobs have been moved to New Delhi. He would relocate the family anywhere in the country if it meant Jamila could do what she's supposed to be doing. If she can't practice medicine in the United States, he says, the whole family -- Aesha included -- may move to Germany.
And then, of course, he worries about Aesha. He sees how eager she is to learn and hopes they can find a way to provide the education and opportunities she deserves. She thinks about teaching others how to make jewelry. Someday, she says, she'd like to help women.
For now, she's helping family members, just as she relies on them.
When Miena couldn't get around right after her soccer injury, Aesha propped pillows under her foot. She brought her warm food. She fetched ice to help with the swelling. After Miena took showers, Aesha braided her wet hair.
Unable to wash her own hair after her surgeries, Aesha sits in a small chair and leans back over the bathtub so Mati can do it. When a pinched nerve in Mati's back left him bedridden, Aesha would pad upstairs to his bedroom to see what she could bring him. She offered him tea, food and her own pain medications.
The day she told him he was the first father she'd ever really had, they both cried. "Momo," she said, "I will always take care of you."
The satisfying sound of laughter
A note on the kitchen table bears Aesha's writing. Certain words are crossed out, casualties as she toiled with what she wanted to say. What is left is this: "Hola," which she picked up from Spanish speakers in her English as a second language class. "Besket Blue Piless."
Miena and I whisper, trying to figure out what it means. "Is there a blue basket," I wonder, looking around for one with piles in it. "Maybe it's basketball," Miena guesses.
Eventually, we turn to Aesha, who is sifting through the bags of groceries Jamila just bought.
She opens a box of individually wrapped Rice Krispies treats. The biscuits, as she calls them, are wrapped in blue foil. That's what she wanted, please. She'll eat one before breakfast and another after.
Jamila never saw the note, but she knows what Aesha likes. It's the sort of thing family members -- even those separated for stretches of time -- remember about one another. Knowing that Aesha is happy helps Jamila, who can't be home as much as she'd like.
Whenever she hears Aesha laugh, Jamila says, it makes her feel good.
Aesha's nightmares of being chased have stopped. She is not haunted the way she once was. She realizes there are many women in this world who have suffered like her, that she's not alone and that she is, in fact, very lucky. If she were still in Afghanistan, she's sure she'd be dead.
But being at peace doesn't mean her past is forgotten.
"What happened, it's part of me, part of my life and it's all the time in my mind and with me," she says in Pashto. "But I have to live, and I have to love."
If you are interested in sending a note to Aesha or making a donation to her personal account, which will support her on her journey, go to the website set up by the family who is caring for her: Aesha's Journey.
To contact the author of this piece, e-mail Jessica.Ravitz@turner.com.