Nurse in UK royals prank buried in India
December 18, 2012 -- Updated 1144 GMT (1944 HKT)
STORY HIGHLIGHTS
About 3,000 people attend the Mass and burial, priest says
Jacintha Saldanha took the prank call from DJs seeking info on the Duchess of Cambridge
She was found hanged on December 7, an apparent suicide
(CNN) -- Hundreds of mourners packed a church in southwest India on Monday to honor the Indian-born nurse believed to have killed herself after taking a prank call at the hospital treating Prince William's pregnant wife.
Jacintha Saldanha was buried Monday after a Mass at Our Lady of Health, Shirva, according to the Rev. Stany Tauro.
Tauro said about 3,000 people attended the service.
The funeral came two days after a Westminster Cathedral memorial service for Saldanha, who in early December took what turned out to be a prank call from two Australian radio show hosts pretending to be Queen Elizabeth and Prince Charles.
Read more: Who was nurse Jacintha Saldanha?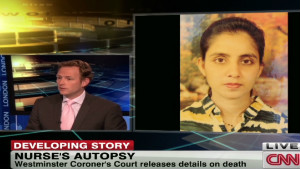 Autopsy results in prank nurse death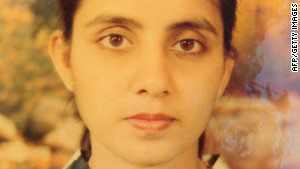 UK media attacks Australian DJs
Believing the call was genuine, she transferred it to the King Edward VII's Hospital ward where Catherine, Duchess of Cambridge, was being treated for severe morning sickness.
The hosts were able to get some information about Catherine's condition before the nurse who took the call grew suspicious and ended the call.
Saldanha was found hanging from a wardrobe door at her hospital living quarters on December 7, a coroner's court heard Thursday. She left three notes, according to the court. The content was not disclosed.
At Saturday's memorial in London, Saldanha's family spoke of the pain of losing her.
Read more: Nurse's family: 'We love you and will miss you forever'
"I feel a part of me has been ripped out," her husband, Benedict Barboza, said after the service. "Without your beautiful smile and sparkling personality, the house is an empty place to live."
"We are shattered and there's an unfillable void in our lives," her daughter, Lisha, said. "We love you, Mum. Sleep in peace and please watch over us until we meet again in Heaven. We will always love you and keep you close to our hearts."
Although the hosts have apologized, the show has been taken off the air indefinitely.
The hospital, which has said Saldanha was not subject to any disciplinary actions because of the prank, set up a memorial fund to benefit her family.
CNN's Harmeet Sigh, Laura Smith-Spark, Susanna Palk and Jack Maddox contributed to this report.

Today's five most popular stories
Part of complete coverage on
Prank call tragedy
December 12, 2012 -- Updated 1619 GMT (0019 HKT)

As the family and media search for answers, a picture emerges of a generous, caring woman who was caught up in a media maelstrom.
December 11, 2012 -- Updated 1043 GMT (1843 HKT)

Two DJs responsible for the prank call speak of their sorrow that a nurse caught up in the call apparently killed herself.
December 8, 2012 -- Updated 2156 GMT (0556 HKT)

Two DJs are under fire after the death of a nurse who received a hoax phone call. CNN's Matthew Chance reports.
December 11, 2012 -- Updated 1043 GMT (1843 HKT)

In this whole tragic affair Jacintha Saldanha was truly powerless, Ross Stevenson writes, explaining why airing the call was wrong.
December 11, 2012 -- Updated 1042 GMT (1842 HKT)

The apparent suicide of Jacintha Saldanha has provoked outrage, sadness and demands for retribution in all corners of the media.
December 10, 2012 -- Updated 1535 GMT (2335 HKT)

An Australian radio network defends its prank DJs, saying the media around the world has carried out a "witch hunt" against them.
December 11, 2012 -- Updated 1044 GMT (1844 HKT)

The hospital where a nurse committed suicide after being duped by a hoax condemned the station responsible in a strongly worded letter.
December 11, 2012 -- Updated 1044 GMT (1844 HKT)

The chairman of the Australian radio network has called the apparent suicide of one of the nurses duped by the prank "truly tragic."
December 11, 2012 -- Updated 1043 GMT (1843 HKT)

Many social media users were quick to point fingers at the two radio hosts who made the call and then promoted it on Facebook.
December 7, 2012 -- Updated 1753 GMT (0153 HKT)

Two Australian radio DJs made a prank call to the hospital where the duchess is staying, claiming to be Queen Elizabeth II and her son, Prince Charles.