Vonn to take 'break' from skiing World Cup circuit
December 18, 2012 -- Updated 1333 GMT (2133 HKT)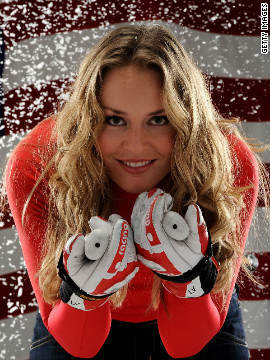 Lindsey Vonn is a marketeer's dream, with her skiing prowess and profile taking the sport to new corners of North America.
Vonn burst on to the scene as a 16-year-old and represented the U.S. team on home soil at the Salt Lake City Winter Olympics in 2002 as a 17-year-old.
Skiing is a treacherous sport, demonstrated by this fall Vonn had at the 2006 Winter Olympic Games in Turin. She was airlifted to hospital but returned two days later to compete and finished eighth. Her grit earned her the U.S. Olympic Spirit Award.
Vonn married fellow U.S. skier Thomas Vonn in 2007. Vonn also became her coach. The pair split in November 2011.
Vonn secured her first World Cup title in 2008. She set a new record for the most World Cup downhill victories in a season with 10. Vonn would go on to win it again two years in a row and now has four to her name.
Another serious injury, this time to her thumb, ruled Vonn out of the World Ski Championships in Val d'Isere back in February 2009.
Vonn's only Olympic gold medal to date came in the downhill competition at the 2010 Winter Olympics in Vancouver. "Seeing my name and the number one next to it was the best feeling I've had in my life," she told reporters.
Lake Louise is Vonn's playground. She has dominated there in recent years, winning all three downhill events in December 2012, like she did the year before. Her request to race against the men there this year was rejected.
Vonn missed out on a fourth successive World Cup title to her good friend Maria Riesch by three points in 2011.
Vonn took time out of her preparations for an Alpine World Cup event in Val d'Isere to catch up with CNN's Alpine Edge show.
Poster girl
Skiing starlet
Big heart
Sporting spouse
First of four
Under the thumb
Gold plated
Lake Lindsey
Best buddies
In conversation
STORY HIGHLIGHTS
American skier Lindsey Vonn is to take a break from World Cup circuit
Vonn says break will help regain "physical strength"
American Iooking forward to "getting back on the mountain in the New Year"
Alpine Director of the U.S. Ski Team Patrick Riml supports Vonn decision
(CNN) -- Skier Lindsey Vonn is to take a sabbatical from World Cup competition, but the American insists the break has nothing to do with her recent admission she suffers from depression.
Last month the finest female skier of her generation had to spend a couple of days in hospital due to an intestinal infection that she said had affected her "energy and strength".
"After talking with my family and consulting with my coaches and trainers, I've decided to take a break from the World Cup circuit," said Vonn on her Facebook page.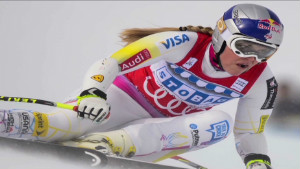 Lindsey Vonn vows to take on the men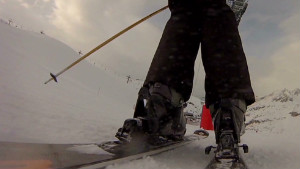 Longer skis reduce alpine injuries?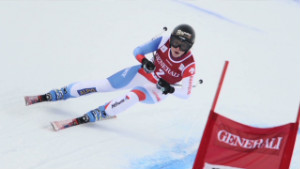 Lara Gut wins World Cup downhill
"I believe that some time off the mountain will help me regain the physical strength that I require to compete at the level that I demand from myself. I look forward to getting back on the mountain in the New Year."
Alpine Director of the U.S. Ski Team Patrick Riml added: "We support Lindsey in the decision so that she can return to the World Cup and compete in the World Championships at full strength."
This season Vonn has won two downhills and two super-Gs, with her St. Moritz super-G victory in Switzerland delivering a 57th career World Cup triumph to put her within five victories of record-holder Annemarie Moser-Proell on the all-time list.
But the American was below her best in the weekend races at Val d'Isere when her bid for a fifth-straight win ended in a crash.
"I want to be emphatic that this has nothing to do with my recent interview with People Magazine," added the 28-year-old Vonn on Facebook, referring to her admission that she has suffered from depression and currently takes an anti-depressant to manage the condition.
"I had completed that interview weeks before I was in the hospital with the intestinal infection."
In the magazine interview, Vonn revealed that she had hit a low point four years ago.
"I couldn't get out of bed anymore. I felt hopeless, empty, like a zombie," said Vonn, who added: "All the parts of my life are finally in sync. I accept who I am, and I'm moving forward."
Last week Vonn told CNN in an exclusive interview that was pondering taking legal action in her bid to race against the men after the International Ski Federation (FIS) blocked her bid to challenge the sport's top male stars at a recent meeting in Canada.
"I don't want to make a big stink out of it but I feel like their response that I can't race with the men simply because I'm a woman was definitely gender-biased so I'm going to do what I can and hopefully make something work.
"So right now I'm looking into options -- my father is an attorney so I'm just seeing if there's any options, legally, that I can take."