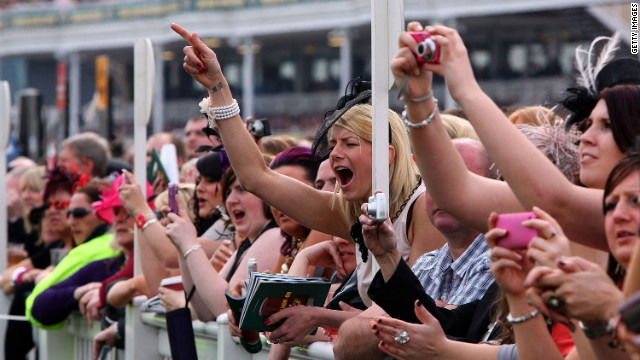 Horse racing is the second biggest spectator sport in Britain after football, with around 6 million people heading to the track every year. "People used to focus on the day out, rather than the race," said Simon Bazalgette, chief executive of The Jockey Club.
A growing number of people are becoming involved in the sporting side of racing. A record 130,000 punters attended the Epsom Derby, which launched Queen Elizabeth's Diamond Jubilee celebrations. Crowds also flocked to her commemorative race at Ascot (pictured).
Part of the jump in numbers was down to a rise in celebrity horses, such as Frankel. The British colt retired this year after winning an astonishing 14 consecutive races.
The four-year-old thoroughbred captured the public's imagination, making front page news rather than being relegated to the back sports pages.
Australian horse Black Caviar also hit headlines after winning her 22nd consecutive race. These were champions of a caliber rarely seen in one generation, let alone competing at the peaks of their careers in the same year.
A small army of Black Caviar fans -- draped in the horse's native Australian flag or salmon pink silks -- cheered on the mare to victory at the Queen's Diamond Jubilee Stakes in June.
In a new digital age the horses' fame was carefully cultivated. Marketing teams set up Twitter accounts, Facebook profiles, and pedaled merchandise online.
But it wasn't just a two-horse race. British thoroughbred Camelot came close to fulfilling his mythical promise, winning this year's 2,000 Guineas and Epsom Derby but failing to complete the English Triple Crown after finishing second at the St. Leger Stakes.
A media scrum surrounds Frankel's trainer, Henry Cecil. The celebrity racing figure is "hugely loved" by the public, according Bazalgette.
The crowd is a sea of camera phones as the Queen arrives at Ascot for the Jubilee Stakes. Celebrity horse owners such as the royal family, entertainers Ant and Dec and actress Judi Dench have helped raise the profile of the sport.
Audience numbers are on the rise, but it wasn't a flawless year for racing. The sport's poster boy, Italian jockey Frankie Dettori, was given a six-month ban earlier this month after failing a drugs test in France.
Canadian jockey and model Chantal Sutherland made history in March after becoming the first woman to compete in the world's richest horse race, the $10 million Dubai World Cup.
Jockeys are under enormous pressure to stick to miniature weights. But some relief is in sight, after the British Horseracing Authority raised the minimum weight by two pounds to 8 stone (50 kg).
The biggest challenge for the British racing industry this year was the weather -- 119 races across the UK were canceled up to the start of December.
Crowd pleaser
Bumper year
Fabulous Frankel
Media frenzy
Enter Black Caviar
Aussie pride
Marketing mare
Myth of Camelot
Sir Henry Cecil
Royal reception
Dettori's shame
Female jockeys
A weighty issue
Weather weary
STORY HIGHLIGHTS
2012 is a big year in horse racing as 6 million people head to the track
Rise of celebrity horses Frankel and Black Caviar helps create buzz
Female jockey Chantal Sutherland in naked photoshoot before retiring
Biggest challenge is British weather, with 119 races canceled
(CNN) -- A buzz ripples through the packed stadium as word quickly spreads: "He's here."
The jostling crowd surges forward, camera phones held high to catch a glimpse of the superstar flanked by a dense entourage.
But it's not an A-list actor or musician throwing the fans into a frenzy. Instead, a four-year-old horse called Frankel is about to make history by winning his 14th -- and final -- consecutive race.
A sold-out crowd of 32,500 people watched Frankel win Champions Day at Ascot in October -- the highest number for an autumn flat racing event in Britain.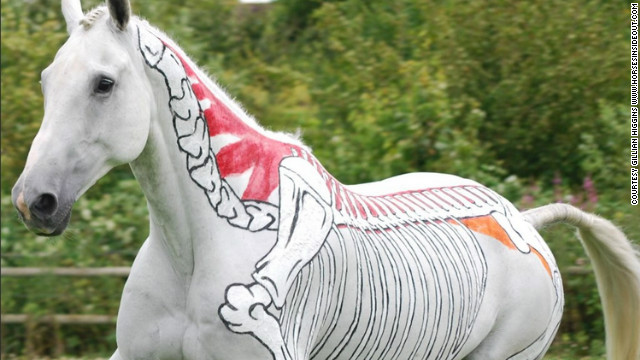 Equine massage therapist Gillian Higgins paints horses' anatomies on their coats, as part of an innovative teaching aid for students.
"It's not just about knowing the names of the bones, it's about understanding exactly what they do," Higgins said.
The carefully painted horses are displayed at races and equine teaching events across Britain, such as this horse by massage therapist Nicole Rossa.
Higgins gives a lecture on the equine skeletal system. Each horse has 205 bones, making living models a helpful way to memorize them all.
Higgins spent two years painting all 11 anatomical systems on horses, including the skeletal, digestive, muscular, respiratory and nervous -- as seen in this image.
Horses have more than 700 muscles, and Higgins color-coordinated each one according to its action.
It usually takes around four hours to paint each thoroughbred, such as this one which Rossa displayed at Royal Ascot race course.
This remarkable picture shows the horse's reproductive system, including an unborn foal.
With his gray coloring and placid temperament, Higgins' 15-year-old thoroughbred Freddie Fox is an ideal model. Here he shows off the respiratory system.
Champion British jockey Tony "AP" McCoy dons a matching Christmas jumper for The Jockey Club's unique equine calendar. Race horse Dr. Livingstone was painted by Rossa.
Rossa also painted a thoroughbred in the Union Jack as part of a special photoshoot for the Barbury International Horse Trials in Britain.
She used hypoallergenic chalk paint and brown sticky tape to create the straight lines of the flag.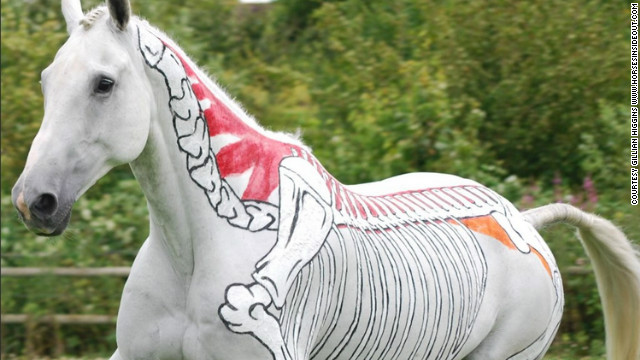 Healing hands: The art of equine massage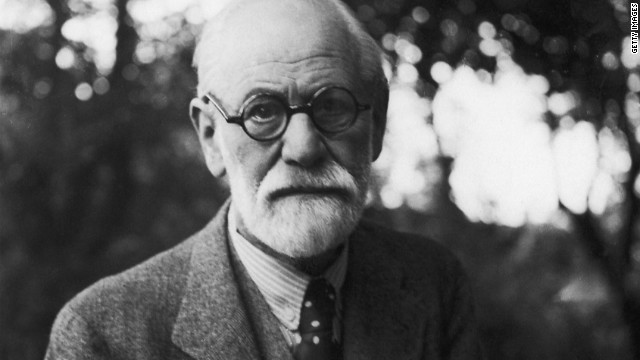 Animals have long been used in therapy. Renowned psychoanalyst Sigmund Freud, who died in 1939, believed dogs helped his patients relax during sessions.
A youngster at Sirona Therapeutic Horsemanship in Devon shares a special moment with one of the clinic's five horses. Equine therapy may help people suffering from depression, bipolar disorder, phobias, anger issues and trauma.
Equine therapy has grown in popularity in the UK in recent years and is now a member of the British Association for Counseling & Psychotherapy (BACP).
For patients coming from traumatic home lives, the fresh air of the great outdoors and chance to socialize, are just as much a part of the healing process as the horses themselves.
Anne Romney, the wife of Republican presidential candidate Mitt Romney, helped boost equine therapy's public profile this year when she revealed it helped her overcome depression.
British TV celebrity Katie Price, pictured launching a range of equestrian wear, has spoken of the therapeutic benefits of riding horses.
Patrick Swayze and wife Lisa Niemi, bred Arabian horses at their multimillion dollar ranch in the San Fernando Valley. The actor, who died in 2009, said the horses offered a relief from Hollywood superficiality.
The U.S.'s Jonathan Wentz competes in the dressage event at the London 2012 Paralympics. Many competitors said they became involved in riding as part of their treatment for physical disabilities.
Terminally ill patients at a hospice in Colorado enjoy the company of a visiting llama, used to boost morale and wellbeing.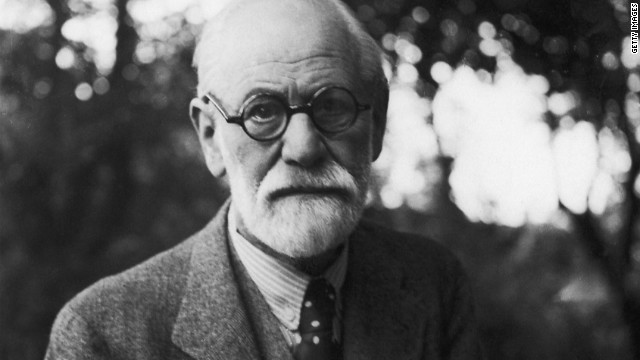 Rollover Sigmund Freud: Rise of equine therapy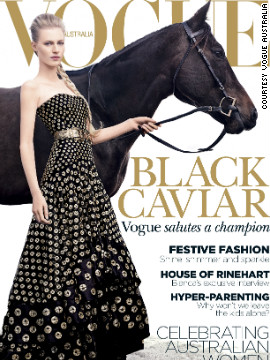 Champion thoroughbred Black Caviar appears on the December issue of Vogue Australia. It is the first time in the 53-year history of the magazine that a horse has featured on the front cover.
The $7 million horse was photographed by Australian Benny Horne in a secret location in the Dandenong Ranges, just outside of Melbourne.
"Her coat is this extraordinary pitch black, almost like velvet, with this handsomely structured face and that awesome rump that propels her so fast," Vogue Australia editor Edwina McCann said.
Since demolishing the field in her first win in the 2009 Danehill Stakes, an air of mystique has followed the sprinter, who now boasts more than 22,000 Twitter followers.
Black Caviar secured her record 22 consecutive win at Royal Ascot in July. Despite a leg injury she took the prestigious Diamond Jubilee Stakes in a nailbiting finish against France's Moonlight Cloud.
Australians have taken the mare to their hearts, with diehard fans even traveling to Britain's Royal Ascot to watch her compete.
Black Caviar's owners have created a distinctive brand around the champion thoroughbred. Everything from her name to the color of her silks has been carefully aligned with "sophistication and style."
One of Vogue Australia's most memorable front covers was the 50th anniversary edition, featuring an illustrated image of Oscar-winning actress Cate Blanchett.
The magazine has tended to stay away from controversial models. One of its more unusual front covers was of pregnant Australian model Miranda Kerr, wife of Hollywood actor Orlando Bloom, in January 2011.
The world-renowned fashion magazine featured Princess Mary of Denmark on its cover in December 2004. The Australian met husband Prince Frederik during the 2000 Sydney Olympics.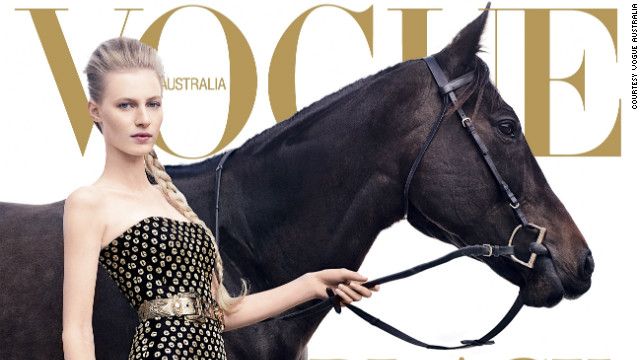 Vogue's most controversial cover model?
It's a testament to the popularity of the celebrity colt who, much like Madonna, Prince or Beyonce, needs no last name. But it's also an indication of just how far horse racing has come in 2012.
Changing perceptions
It's the second biggest spectator sport in Britain after football, with around 6 million people heading to the track every year.
But the pomp and pageantry of racing -- think silly hats, freeflowing champagne and manicured gardens -- means that the general public has long viewed it as a fun day out, rather than a competitive sport.
This year however, racing attracted a new audience who knew the names of horses, recognized industry heavyweights and understood the importance of big competitions.
"Probably the most amazing moment of the year was Frankel winning the Champion Stakes. You had 32,000 people all on their feet, cheering him on, it was just the most emotional moment," Simon Bazalgette, chief executive of The Jockey Club, said of the horse's last race.
"It's a bit of an eccentric world, horse racing. But once you understand the theater of it, once you know the big names, it becomes so much more enjoyable."
Rise of the celebrity horse
A lot of the hype was due to celebrity horses such as Frankel and Australia's Black Caviar, who remains unbeaten in 22 consecutive races and even appeared on the front cover of Vogue.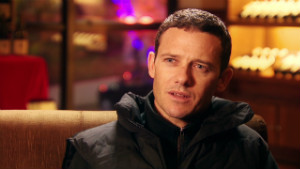 Hong Kong's celebrity jockeys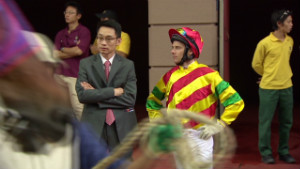 World's only three-story stables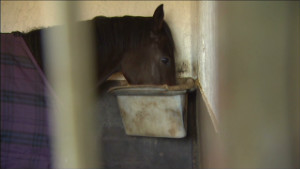 What do winners eat for lunch?
These were champions of a caliber rarely seen in one generation, let alone competing at the peaks of their careers in the same year.
Read: Tall, dark and handsome muse... is a horse
In a new digital age, their fame was carefully cultivated. Marketing teams set up Twitter accounts, Facebook profiles, and pedaled merchandise online.
And it seemed to work. Attendance at races starring Frankel were up 20% on last year.
Similarly, a small army of Black Caviar fans -- draped in the horse's native Australian flag or salmon pink silks -- cheered on the mare to victory at the Queen's Diamond Jubilee Stakes at Royal Ascot in June. However, the overall figure of 280,000 for all five days was down 14,000 from last year.
Meanwhile, a record 130,000 punters attended the prestigious Epsom Derby in July, which launched Queen Elizabeth's official jubilee celebrations, making it the largest sports crowd in Britain in 2012.
More people were also watching horse racing on TV, with 11 million tuning in to Britain's biggest competition, The Grand National -- up 2 million on last year.
Dettori's shame
However, it wasn't a flawless year for racing. The sport's poster boy, Italian jockey Frankie Dettori, was given a six-month ban earlier this month after failing a drugs test in France.
The three-time champion, who earlier announced the end of his long tenure with the Godolphin stable, said it was not a performance-enhancing substance.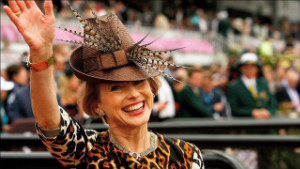 First lady of Australian horse racing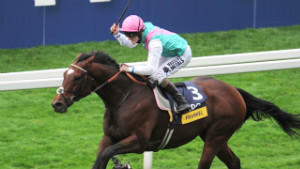 Frankel ends career in dramatic style
"He's admitted it was a moment of madness," Bazalgette said. "It's a shame. He's an important face in horse racing."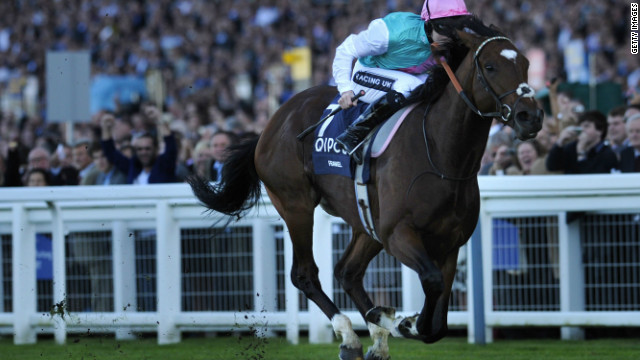 "Frankel was a cracking name -- it jumped out of the microphone," says racing commentator Cornelius Lysaught. The superstar colt, who recently retired after an unblemished 14-win career, scooped the main prize at the 2012 UK Horse of the Year awards.
A young racegoer shows her support for Australian horse Black Caviar. The owners chose the name because they thought it appeared sophisticated and stylish.
Phar Lap is immortalized in the Melbourne Museum. The New Zealand-born champion gelding's name has also been included in the International Federation of Horseracing Authorities' protected list.
Camelot's owners reserved the name in the hope of finding a horse that would live up the mythical Arthurian city. The British colt came close, but failed to secure the Triple Crown this year.
"It's not the pronunciation that's difficult, it's identifying the horse," says Lysaght.
"The Queen is renowned for naming her horses sensible, cleverly constructed words," says BBC commentator Lysaght.
Horse names can influence punters, with inexperienced betters particularly drawn to humorous or quirky titles.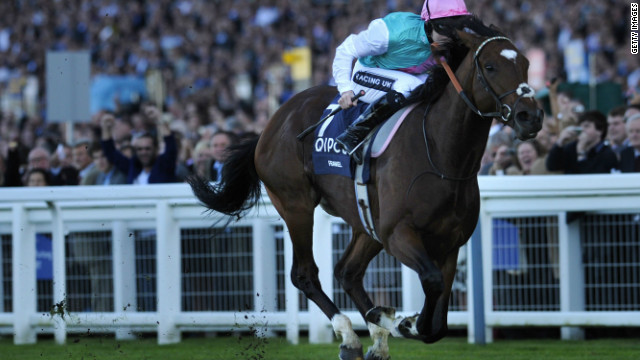 Betting on a winner: What's in a name?
"When it comes to talking to the media, jockeys are a bit of a challenge. These guys are living and breathing the sport, putting in a huge number of hours. They can be difficult to pin down."
Far better recognized were celebrity owners such as TV entertainers Ant and Dec, actress Judi Dench and Britain's Queen Elizabeth. Frankel's trainer Henry Cecil, who is battling cancer, was also "hugely loved," Bazalgette added.
Ladies' Day
One jockey not shying away from the camera this year was Canadian Chantal Sutherland.
The 36-year-old made history after becoming the first woman to compete in the world's richest horse race, the $10 million Dubai World Cup, in March.
But the model perhaps garnered more attention off the track for her naked photoshoot on a horse in Vanity Fair in June.
Read: Jockey who refused to stay in the kitchen
Sutherland, who did much to raise the profile of female jockeys in a traditionally male-dominated sport, retired in October. Not just a pretty face, she had more than 900 wins in a career spanning 12 years.
A weighty issue
Sutherland said she was now looking forward to "cutting loose and having a cheeseburger or some pizza."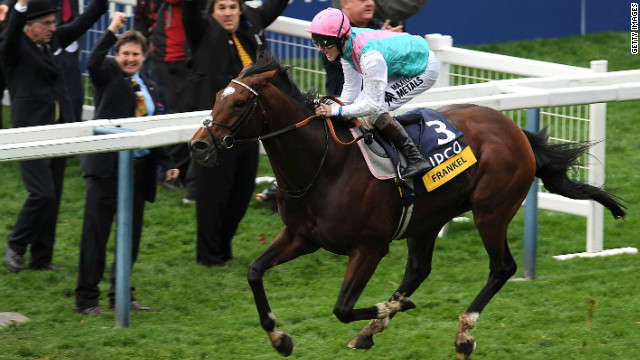 British colt Frankel powers home to take the Champion Stakes at Ascot -- his 14th consecutive win.
Queen Elizabeth II presents Frankel's jockey Tom Queally with the Champion Stakes trophy at Ascot.
Australian mare Black Caviar, pictured with trainer Peter Moody, remains unbeaten in 22 races.
Frankel has even been immortalised in a surrealist painting. Artist Michael Kirkbride's "Armchair Ride" was inspired by a poem about Frankel demolishing the field in last year's 2000 Guineas race.
Under the stewardship of jockey Queally, the four-year-old Frankel has brought home winnings of just over $4 million for his owners.
Trainer Henry Cecil has put his all into schooling Frankel and even installed a closed circuit TV system in the horse's stable to ensure he is safe at night.
Both Black Caviar and Frankel have spawned a micro marketing industry. Frankel flags were the order of the day at Glorious Goodwood this year. There is also an impressive line in Frankel fleeces, mugs and hats available online.
The Australian High Commission in the UK had to hold a ballot for Ascot tickets, such was the demand from the expat community to see Black Caviar on British soil. She also has an online store with cufflinks selling for $42.
Frankel and Black Caviar even have their own Twitter handles. "Goodbye UK, and thank you for your hospitality Your Majesty," tweeted @blackcaviar2006 after coming to Britain. "I enjoyed my time in Newmarket and racing at Royal Ascot xx."
In Frankel's new life as a stud, the in-demand colt is expected to command a fee of $160,000 each time he sires a foal.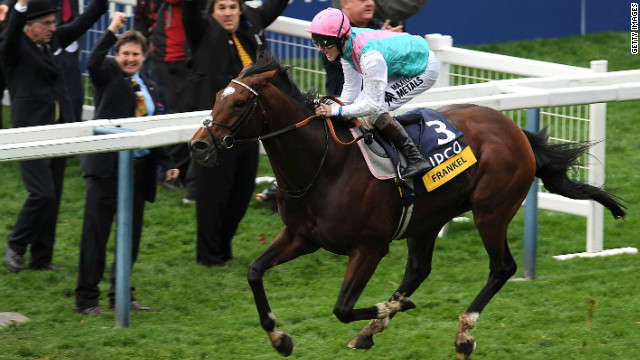 The 'Brangelina' of horse racing?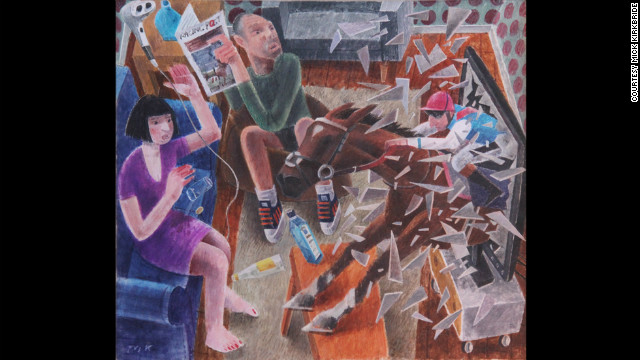 Artist Michael Kirkbride's painting, "Armchair Ride," was inspired by a poem about Frankel demolishing the field in last year's 2000 Guineas race.
Kirkbride painted the piece in egg tempura; a mixture of colored pigment and egg yolk which dates back to the 1st Century.
The British artist is perhaps best known for his paintings of English football scenes, including "Bar Kick," a surrealist look at sporting revelry in a pub.
British thoroughbred Frankel remained unbeaten in 14 consecutive races. The colt won his last ever race in the Champions Stakes at Ascot.
Leonardo da Vinci's 16th Century masterpiece "Mona Lisa," on display in Paris's Musee du Louvre, is one of the most visited artworks in the world. The famous portrait is thought to be of Lisa Gherardini, the wife of Francesco del Giocondo.
Pablo Picasso's 1937 painting "Weeping Woman" depicted long-time mistress Dora Maar. Their notoriously tempestuous relationship lasted nine years.
Frida Kahlo was the wife and muse of Mexican artist Diego Rivera. An acclaimed artist in her own right, today Frida is the more renowned of the pair, with actress Salma Hayek playing her in the 2002 biographical film "Frida."
Spanish artist Salvador Dali's wife Gala featured in many of his works, including 1949 painting "The Madonna of Port Lligat". She was also the muse of first husband, French poet Paul Eluard.
Andy Warhol catapulted model and actress Edie Sedgwick to "It Girl" status in his avant-garde films of the 1960s.
British artist Lucien Freud caused a stir with his 1995 painting of Job Centre supervisor Sue Tilley, called "Benefits Supervisor Sleeping." The naked woman weighed around 127kg at the time.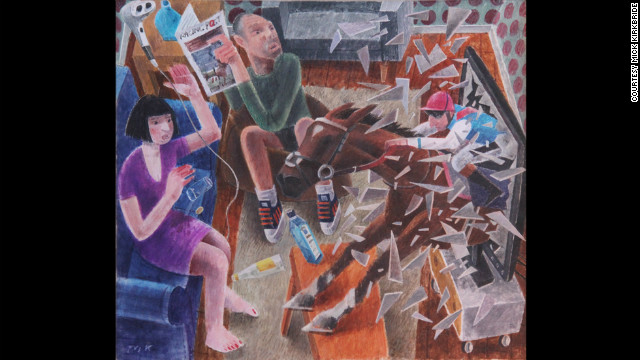 My muse: A race horse called Frankel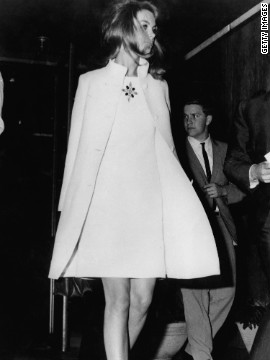 British model Jean Shrimpton caused a huge uproar after arrving at the Melbourne Cup Carnival in 1965 wearing a minidress five inches above the knees, with no stockings, gloves or hat.
London designer Colin Rolfe created the short, shoulderless dress after being given a limited amount of material by textile manufactuer DuPont.
For the first time since the inaugural race in 1861, the winning horse was knocked off newspaper front pages in favour of Shrimpton's legs.
Silence descended on the Flemington members' lounge as Shrimpton and Hollywood actor boyfriend Terence Stamp (pictured) marched in two hours late.
DuPont employed a local milliner, Adele Chapeaux of South Yarra, to create a hat for Shrimpton's next appearances. The model complied -- for one day.
Margaret Woods was the winner of the first Melbourne Cup Carnival "Fashions on the Field" competition in 1962. The top prize was a Ford Falcon Futura car.
Just three years after Shrimpton caused a stir, finalists in the 1968 "Fashions on the Field" competition can be seen wearing dresses well above the knee.
The 2011 "Fashions on the Field" winner Angela Menz (center) with finalists Alex Foxcroft and Louise Struber.
Competitors are judged on their originality, accessories, understanding of current fashion trends and deportment, with prizes in 2012 including a Lexus IS 250C F Sport convertible.
Actors Eva Longoria, right, and Ronn Moss attend the 2005 carnival. International celebrity guests are now a regular feature at the $6.2 million horse race.
Actress Kate Bosworth chats to jockey Chris Munce at the 2006 carnival. The mild Australian climate means punters aren't obliged to wear jackets and gloves.
"Sex and the City" star Sarah Jessica Parker at last year's carnival, alongside cricketer Shane Warne and actress Liz Hurley.
"Fashions on the Field" celebrated its 50th anniversary in 2012, with "O.C" star Mischa Barton one of the announced guests.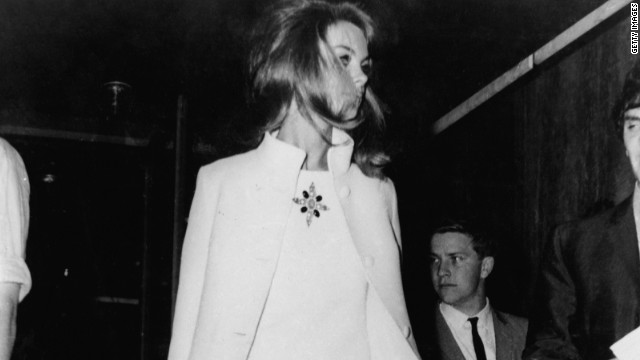 The legs that stopped a nation
"Those types of indulgences are not allowed when you constantly have to monitor your weight," she added.
Jockeys are put under enormous pressure to meet miniature weight requirements, with sweat suits, saunas, hot baths and starvation are some of the methods used to keep trim.
Read: Hidden world of jockey heaving bowls
But some relief is in sight -- albeit slight -- after the British Horseracing Authority last month raised the minimum weight by two pounds to 8 stone (50 kg), from January next year.
International highlights
Across the Atlantic, the winner of the United States' premier race, the Kentucky Derby, was denied the chance of a Triple Crown after being forced to retire ahead of the Belmont Stakes.
I'll Have Another developed a foreleg injury that trainer Doug O'Neill described as "freakish."
The three-year-old had been seeking to be the first horse in 34 years to win the treble, having triumphed at the 138th Kentucky showpiece in May and then the Preakness Stakes.
Racing authorities also confirmed that the legendary Secretariat set a record time in winning the 1973 Preakness event, ending a controversy that had lasted almost four decades.
In Australia, the Melbourne Cup was won by a home horse for the first time since 2009 as Green Moon headed off a strong field of "international invaders."
France's Prix de l'Arc de Triomphe was won by four-year-old filly Solemia, who denied Japan's Orfevre in his bid to become the first non-European trained victor. Danedream was unable to defend her title due to an outbreak of equine infectious anaemia at the racing yard in the German city of Cologne where she is trained.
Dubai's ruler Sheikh Mohammed celebrated as Mikael Barzalona rode Monterosso to victory in the the emirate's World Cup in April, but the result was somewhat overshadowed by the death of another Godolphin horse, Fox Hunt, in the inaugural Gold Cup held earlier in the meeting.
Weathering the storm
The biggest challenge for the UK racing industry this year? The great British weather -- which forced the cancellation of 119 races up to the start of December.
"After the Diamond Jubilee weekend it didn't stop raining until the end of July," Bazalgette said. "There was a good six weeks when we lost meetings."
Whatever the weather, the outlook looks bright for horse racing in 2013.