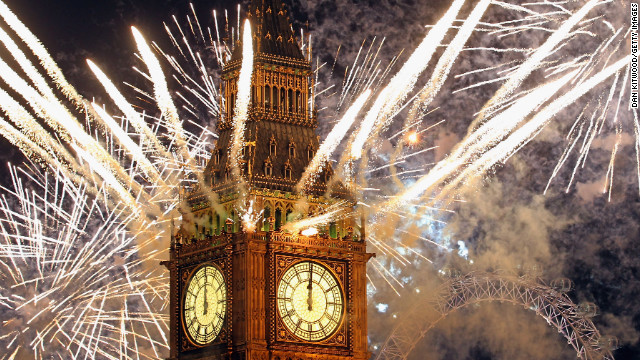 January 1:
Fireworks light up the London skyline just after Big Ben struck midnight, kicking off 2012. Photographers worldwide captured deadly conflicts, devastating storms, presidential politics and other memorable moments throughout the year. Click through the gallery to see 2012 unfold from beginning to end. Then check out
75 amazing sports moments you missed this year.
January 7: This portrait of Mitt Romney was made in New Hampshire shortly before its primary and appeared as part of an instantly classic photo essay by photographer Christopher Anderson for New York magazine.
January 9: Members of the Alabama Crimson Tide hold the BCS trophy after defeating the LSU Tigers to win the National Championship college football title in New Orleans.
January 10: "Voodoo spirits" walk the streets in Ouidah, Benin, for the annual Voodoo festival. Ouidah is the Voodoo heartland in this West African nation and thought to be the spiritual birthplace of Voodoo.
January 10: A surfer walks past cargo containers washed ashore from the stricken container ship Rena at Waihi Beach in New Zealand. The ship was stranded on a reef for more than three months before breaking up and sinking in rough seas, littering beaches with cargo and debris.
January 15: The cruise ship Costa Concordia lies stricken off the shore of the Italian island of Giglio. The ship struck a rock and turned on its side on January 13, killing 32 people from eight countries.
January 16: A man rides a horse through a bonfire in the small village of San Bartolome de Pinares, Spain, in honor of San Anton, the patron saint of animals.
January 20: The amorphous black blob, a group of performers huddled underneath stretched black material, makes its way among the Occupy Wall Street West protests in San Franscico's Financial District. The Occupy movement marked its one-year anniversary on September 17.
January 25: Former U.S. Rep. Gabrielle Giffords hugs House Cloak Room attendant Ella Terry after resigning from Congress. Giffords stepped down to focus on her recovery from a gunshot wound to the head she received last year in Tucson, Arizona. On August 7, Jared Lee Loughner plead guilty to 19 charges in the 2011 shooting that killed six people and wounded Giffords, among others.
January 26: An illuminated portrait of Syrian President Bashar al-Assad shines out as dusk settles over Damascus. About 40,000 civilians have been killed since the first protests began in March 2011 against al-Assad's government, according to the opposition Center for Documentation of Violations in Syria.
January 31: CIA director David Petraeus testifies before the Senate Intelligence Committee during a committee hearing on worldwide threats. On November 9, Petraeus submitted his resignation to President Obama, citing personal reasons. He admitted to having an extramarital affair with his biographer Paula Broadwell.
February 5: Football fans watch the New York Giants take on the New England Patriots in Super Bowl XLVI at Tonic Bar in New York. The Giants defeated the Patriots 21-17.
February 6: Anders Behring Breivik arrives for his court hearing in Oslo, Norway. He was sentenced to 21 years in prison on August 24 for killing 77 people in two terror attacks in Norway in 2011. Eight people died in a bombing in Oslo, while 69 young people were shot to death on nearby Utoya island.
February 11: Villagers carry coal scavenged illegally from an open-cast coal mine in the village of Jina Gora, India. Claiming that a decades-old underground coal fire threatened the homes of villagers, the government relocated more than 2,300 families.
February 13: Judges inspect a beagle during the 136th Westminster Kennel Club Dog Show at Madison Square Garden in New York. About 2,500 dogs competed.
February 13: Prime Minister Vladimir Putin meets with a group of parents, teachers and students in Kurgan, a factory town at the southern end of the Ural Mountains. Putin won a third term as Russia's president on March 4.
February 20: Israeli students wearing costumes visit an art exhibition in downtown Jerusalem. The special cultural project aimed to draw people out in spite of the cold weather to enjoy art in a party atmosphere.
February 22: Safeya Sayed Shedeed cries in Cairo while following the trial for former president Hosni Mubarak, who was tried on charges of corruption and giving orders to kill protesters. Her son was shot and killed by police officers on January 28, 2011, a day locals dubbed the "Friday of Rage." Mubarak was sentenced to life in prison in June.
February 26: Surrounded by the cast and crew, producer Thomas Langmann accepts the best picture award for "The Artist" during the 84th Annual Academy Awards in Hollywood. The silent, black-and-white film garnered five Oscars.
February 29: A protester runs for cover as riot police clash with students during a demonstration in Barcelona, Spain. Tens of thousands of students protested education cuts announced by the Catalan government.
March 7: Children and adults scavenge for recyclables and other usable items at the Trutier dump on the outskirts of Port-au-Prince, Haiti. Following the devastating 2010 earthquake that killed more than 220,000 people, the number of daily scavengers at the landfill grew from about 200 to an estimated 2,000. Much of the country is still in crisis.
March 20: A soldier faints as Camilla, Duchess of Cornwall, and Prince Charles, Prince of Wales, arrive for a wreath-laying ceremony at the National Monument at Akershus Fortress in Olso, Norway. The royals were on a Diamond Jubilee tour of Scandinavia.
March 26: A Tibetan exile runs after setting himself on fire in New Delhi, India, during a protest against Chinese President Hu Jintao's upcoming visit.
March 28: Sgt. 1st Class Paul Brady of the 182nd Infantry Massachusetts National Guard embraces his 6-year-old daughter, Regan, during a welcome home ceremony in Melrose, Massachusetts. The 182nd Infantry Regiment, one of the original units in the United States military, returned from a yearlong deployment in Afganistan.
April 1: A supporter kisses Aung San Suu Kyi, leader of the National League for Democracy, as she visits polling stations in her constituency as Burmese vote in parliamentary elections in Kawhmu, Myanmar. She won a seat in parliament in Myanmar's first multiparty elections since 1990.
April 17: A Sudan Armed Forces soldier lies dead in a pool of oil next to a leaking oil facility. He had engaged in heavy fighting with Sudan People's Liberation Army troops from South Sudan.
April 26: Rupert Murdoch, chief executive officer of News Corp., and his wife, Wendi, are driven from their London apartment. Testifying before an independent British inquiry into journalistic ethics, Murdoch admitted to a cover-up of abuses at the News of the World tabloid and apologized for not paying more attention to the phone-hacking scandal.
May 7: A young girl looks over the Doro refugee camp in South Sudan in May. More than 500,000 people have fled from Sudan into South Sudan as a result of the ongoing conflict between the two states.
May 8: Tonya sticks her trunk out of a container during her removal from the Zoo Blijdorp in Rotterdam, The Netherlands. She had to leave the zoo with her mother, Douanita, because she did not get along with the other elephants. They were moved to a zoo in Prague, Czech Republic.
May 15: Young Afghans bowl in Kabul at the Strikers, Afghanistan's only bowling alley. It has gained popularity since opening in the fall of 2011.
May 21: The sun is obscured by the moon during an annular solar eclipse in Tokyo.
June 5: Britain's Queen Elizabeth II waves from her seat in the 1902 State Landau coach during the carriage procession from Westminster Hall to Buckingham Palace to celebrate the Queen's Diamond Jubilee.
June 13: Taquoka plays with a log in a pond in his enclosure at the Alaska Wildlife Conservation Center in Portage, Alaska. The 2-year-old male brown bear began a trip to his new home in Sweden.
June 15: Lebanese children and Syrian refugees play in a natural spring close to the Syrian border. Behind them, a line of trucks and tractors collect fresh water to supply villages in the area. Tens of thousands of people have fled from Syria to Lebanon since the conflict started.
June 15: Aerialist Nik Wallenda walks the tighrope over Niagara Falls in Canada. Wallenda walked across the 1,800-feet-long, 2-inch-wide wire as the first person to cross directly over the falls from the United States into Canada.
June 21: LeBron James of the Miami Heat celebrates with teammate Chris Bosh during the NBA Finals game between the Miami Heat and the Oklahoma City Thunder in Miami. The Heat won the series 4-1.
June 24: Egyptians celebrate the election of President Mohamed Morsy in Tahrir Square in Cairo. He was sworn in on June 30 as the country's first democratically elected president.
June 27: Protesters run for cover as police arrive to disperse a rally demanding human rights reforms in the village of Buri, south of Bahrain's capital, Manama. A court in Bahrain sentenced prominent activist Nabeel Rajab to three years in prison in August "for participating in illegal rallies and gatherings."
Sometime in July: Magnum photographer David Alan Harvey's assistant sits on a rocking horse at his apartment on the water in Brooklyn, New York, for this fine-art photograph, "White Horse No. 2."
July 8: A wild bull hurdles over people blocking the animal's way into the bullring at the close of the second bull run during the Fiesta de San Fermin in Pamplona, Spain. The festival attracts thousands of people who attempt to outrun the bulls through the narrow streets of the old city.
July 19: Prince Charles, Prince of Wales, and Camilla, Duchess of Cornwall, take part in a parachute game during a visit to Saumarez Park in St Peter Port, United Kingdom. They were taking part in a Diamond Jubilee visit to the Channel Islands.
July 22: A Palestinian refugee plays in between makeshift tents in the Al-Zaiton neighborhood before breaking fast on the third day of the holy month of Ramadan in Gaza. During Ramadan, Muslims fast from dawn to dusk.
July 23: Icebergs from nearby glaciers float in the bay in Narsaq, Greenland.
July 28: Visitors gather and pray around a cross erected at a memorial set up across the street from the Century 16 movie theater in Aurora, Colorado. James Holmes is suspected of killing 12 people and injuring 58 others during a shooting rampage on July 20 at a screening of "The Dark Knight Rises."
August 12: Fireworks explode over the stadium during the closing ceremony of the London Olympics. The Summer Games started on July 27.
August 13: A man dives into the water near Kaaterskill Falls in the Catskill Mountains in the Hudson Valley.
August 19: WikiLeaks founder Julian Assange is seen on the balcony of Ecuador's embassy in London. Facing extradition to Sweden because of allegations of sexual assault, Assange was granted political asylum by Ecuador.
August 21: A woman rides through the Gobi Desert in Mongolia.
August 23: NASA's Curiosity rover transmits an image that shows the base of Mount Sharp, its eventual destination. Curiosity successfully landed on Mars on August 6.
August 30: Actor Clint Eastwood speaks on the final day of the Republican National Convention in Tampa, Florida. During his speech, he addressed an "invisible" President Barack Obama sitting in an empty chair.
September 9: A rescue worker carries a child in Yiliang County, China. At least 80 people were killed and more than 800 others were injured after two earthquakes jolted southwest China.
September 11: The U.S. Consulate in Benghazi, Libya, is consumed in flames. Chris Stevens, U.S. ambassador to Libya, was killed in an attack on the compound, as were three other Americans. The Obama administration has been criticized for its response to the attack.
September 17: Palestinian youths practice their parkour skills in Khan Younis in southern Gaza. Parkour athletes run along a route, using obstacles to propel themselves. The practice originiated in France.
September 17: Catherine, Duchess of Cambridge, and Prince William, Duke of Cambridge, travel in a traditional canoe during a visit to Tavanipupu Island on their Diamond Jubilee tour of the Far East.
September 21: People stand outside a store in Tokyo before the launch of the iPhone 5. Based on first-day orders, the iPhone 5 became the fastest-selling device Apple has released.
September 26: A gust of wind blows Pope Benedict XVI's cloak into his face in St. Peter's Square in Vatican City. Days later, the pope's former butler, Paolo Gabriele, was convicted of aggravated theft for leaking confidential papal documents. He was sentenced to 18 months in prison.
October 9: Former Penn State assistant football coach Jerry Sandusky leaves the courthouse in Bellefonte, Pennsylvania, after being sentenced to at least 30 years in prison. Sandusky, 68, was convicted in June on 45 counts of child sexual abuse.
October 12: Space Shuttle Endeavour is transported to The Forum arena for a stopover and celebration in Inglewood, California. The space shuttle was on 12-mile journey from the Los Angeles International Airport to the California Science Center to go on permanent public display.
October 12: The European Union wins the Nobel Peace Prize while grappling with the worst crisis since its founding -- devastating debt and the threat of disintegration. The flag of the 27-nation union, left, flies alongside the flag of debt-ridden Greece in front of the Acropolis in central Athens.
October 19: Free Syrian Army fighters watch a regime army position through a hole in a wall in Aleppo, Syria's most populous city..
October 19: George Zimmerman watches during his hearing at the Seminole County Courthouse in Sanford, Florida. He will go on trial June 10, 2013, for the killing of 17-year-old Trayvon Martin. The neighborhood watch volunteer is charged with second-degree murder in the February 26 shooting.
October 28: The San Francisco Giants celebrate defeating the Detroit Tigers in the 10th inning to win Game Four -- the deciding game -- of the World Series at Comerica Park in Detroit.
October 30: Taxis sit in a flooded lot in Hoboken, New Jersey, after Superstorm Sandy devastated the region. The storm slammed ashore near Atlantic City, New Jersey, after forming in the Caribbean and sweeping northward, killing 182 people from Haiti to Canada.
October 31: Waves break in front of a destroyed amusement park wrecked by Superstorm Sandy in Seaside Heights, New Jersey.
November 1: An aerial view of New York reveals a widespread power outage after Superstorm Sandy. Photographer Iwan Baan credits his camera for allowing him to capture the memorable image from a helicopter at night. He told the Poynter Insitute that with older equipment, the shot would have been impossible.
November 4: Syrians take cover as a second bomb explodes during a rescue attempt in a nearby building that was hit during an air raid by government forces in the northern city of Al-Bab.
November 6: Mike Wigart picks up his ballot at a polling station in the garage of the Los Angeles County lifeguard headquarters. Americans headed to the polls to vote in the race between President Barack Obama and Republican candidate Mitt Romney.
November 6: President Barack Obama stands on stage with first lady Michelle Obama, U.S. Vice President Joe Biden and Dr. Jill Biden after his victory speech on Election Night in Chicago. Obama was re-elected with 332 electoral votes and 51% of the popular vote.
November 8: Hundreds of New Yorkers from Rockaway wait in line for gasoline in the aftermath of Sandy.
November 10: Terraced rice paddies of Shiroyone Senmaida glow with 20,000 solar-powered pink LED lights in Wajima, Japan, to be recorded in Guinness World Records. The rice paddies were registered as Globally Important Agricultural Heritage Systems last year.
November 20: Men on motorcycles drag the body of a man through the streets of Gaza City. The men dragging the body claimed it was the body of a collaborator and an Israeli spy. Hamas and Israel agreed to a cease-fire on November 21 after eight days of round-the-clock warfare.
December 14: State police personnel lead children away from Sandy Hook Elementary School in Newtown, Connecticut. A gunman killed 18 children and six adults at the school before he died; two more children died later at a hospital.
December 16: U.S. President Barack Obama speaks at an interfaith vigil for the shooting victims from Sandy Hook Elementary School at Newtown High School in Newtown, Connecticut.
2012: The year in pictures
2012: The year in pictures
2012: The year in pictures
2012: The year in pictures
2012: The year in pictures
2012: The year in pictures
2012: The year in pictures
2012: The year in pictures
2012: The year in pictures
2012: The year in pictures
2012: The year in pictures
2012: The year in pictures
2012: The year in pictures
2012: The year in pictures
2012: The year in pictures
2012: The year in pictures
2012: The year in pictures
2012: The year in pictures
2012: The year in pictures
2012: The year in pictures
2012: The year in pictures
2012: The year in pictures
2012: The year in pictures
2012: The year in pictures
2012: The year in pictures
2012: The year in pictures
2012: The year in pictures
2012: The year in pictures
2012: The year in pictures
2012: The year in pictures
2012: The year in pictures
2012: The year in pictures
2012: The year in pictures
2012: The year in pictures
2012: The year in pictures
2012: The year in pictures
2012: The year in pictures
2012: The year in pictures
2012: The year in pictures
2012: The year in pictures
2012: The year in pictures
2012: The year in pictures
2012: The year in pictures
2012: The year in pictures
2012: The year in pictures
2012: The year in pictures
2012: The year in pictures
2012: The year in pictures
2012: The year in pictures
2012: The year in pictures
2012: The year in pictures
2012: The year in pictures
2012: The year in pictures
2012: The year in pictures
2012: The year in pictures
2012: The year in pictures
2012: The year in pictures
2012: The year in pictures
2012: The year in pictures
2012: The year in pictures
2012: The year in pictures
2012: The year in pictures
2012: The year in pictures
2012: The year in pictures
2012: The year in pictures
2012: The year in pictures
2012: The year in pictures
2012: The year in pictures
2012: The year in pictures
2012: The year in pictures
2012: The year in pictures
2012: The year in pictures
2012: The year in pictures