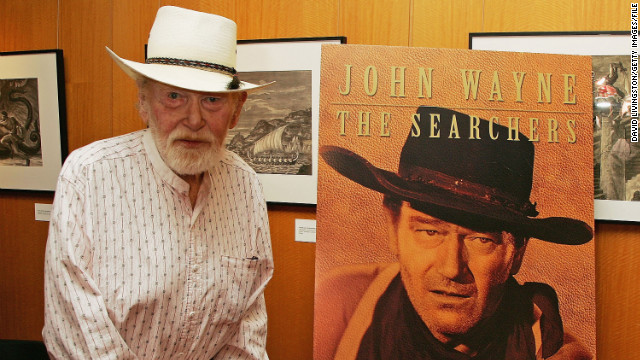 Harry Carey Jr., an actor best known for his characters in Western movies, died December 27 at age 91. He had appeared in nearly 100 films during his career.
Retired Gen. Norman Schwarzkopf, who commanded coalition forces during the Gulf War, died Thursday, December 27, a U.S. official said. He was 78.
Character actor Charles Durning died December 24 at 89, according to his family. He won Tony and Golden Globe awards and received two Oscar nominations as best supporting actor, including for "The Best Little Whorehouse in Texas" (1982) and "To Be or Not to Be (1983).
Actor Jack Klugman, best known for playing messy sportswriter Oscar Madison in TV's "The Odd Couple," died December 24 at age 90. Klugman won two Emmys for his role in the sitcom, plus won an Emmy in 1964 for a role in "The Defenders." Klugman also starred in "Quincy, M.E." as medical examiner Dr. R. Quincy from 1976 to 1983.
Conservative jurist Robert H. Bork died on December 19 at age 85 at his home in Virginia, sources close to his family told CNN. Bork was best known for being nominated to the Supreme Court in 1987, only to be rejected after a contentious confirmation battle.
U.S. Sen. Daniel Inouye of Hawaii, the U.S. Senate's second-longest serving member, has died at 88, his office announced December 17.
Indian sitar maestro Ravi Shankar died December 11 at age 92. The legendary sitar player brought Indian music to the West and taught Beatle George Harrison how to play the stringed instrument. Among his survivors is daughter Norah Jones, the pop and jazz singer.
Singer Jenni Rivera, 43, died when the small plane she was traveling in crashed in the mountains of northern Mexico, her brother told CNN. The plane wreckage was found Sunday, December 9.
Jazz pianist Dave Brubeck, 91, died December 5 from heart failure, said his manager, Russell Gloyd.
Puerto Rican boxer Hector "Macho" Camacho died on November 24. A gunman shot him in the face in front of a bar in his hometown of Bayamon.
Actor Larry Hagman, who played scheming oil tycoon J.R. Ewing on "Dallas," died November 23 of complications from cancer. He was 81.
Native American activist Russell Means died October 22 from throat cancer, an Oglala Lakota Sioux nation representative said.
Former Sen. George McGovern, 90, died on October 21. McGovern was the Democratic nominee for president in 1972. He ran against incumbent Richard Nixon and won only 17 electoral votes to Nixon's 520. He served in the U.S. Senate and House representing South Dakota before his loss for the top office.
Former U.S. Sen. Arlen Specter of Pennsylvania died at age 82 of complications from non-Hodgkin's lymphoma on October 14 at his home in Philadelphia, his family said. Specter served five terms as a Republican senator and switched political affiliation in 2009.
TV and radio personality Gary Collins -- seen here in "Hour Magazine" and also known for his roles in television series including "The Sixth Sense" and "The Wackiest Ship in the Army" -- died on October 13, according to officials in Harrison County, Mississippi. He was 74.
Former NFL player and actor Alex Karras died on October 10 in Los Angeles, a family spokesman said. He was 77.
Legendary singer Andy Williams, known for his smooth voice and classics such as "Moon River," died after a yearlong battle with bladder cancer at his Branson, Missouri, home on September 25. He was 84.
Actor John Ingle, who played patriarch Edward Quartermaine on ABC's "General Hospital," died September 15 at age 84.
Michael Clarke Duncan, nominated for an Academy Award for his role in the 1999 film "The Green Mile," "suffered a myocardial infarction on July 13 and never fully recovered," a written statement from Joy Fehily said. He died September 3 at age 54.
Hal David, the lyricist behind such standards as "Raindrops Keep Falling on My Head" and "What the World Needs Now is Love," died September 1 at age 91.
Neil Armstrong, the American astronaut who made "one giant leap for mankind" when he became the first man to walk on the moon, died August 25. He was 82.
Helen Gurley Brown, former editor-in-chief of Cosmopolitan magazine and author of "Sex and the Single Girl," died on August 13 at age 90.
Puppeteer Jerry Nelson, famous for lending his voice to Muppets on "Sesame Street," "The Muppet Show" and "Fraggle Rock," died August 23. He was 78.
Ethiopian Prime Minister Meles Zenawi, a strongman in the troubled Horn of Africa and a key United States ally, died on August 20 at the age of 57.
Comedian Phyllis Diller, known for her self-deprecating humor, died "peacefully in her sleep" on August 20. She was 95.
Film director Tony Scott left notes in his car and office before plunging to his death from the Vincent Thomas Bridge in San Pedro, California, a Los Angeles County coroner official said. Scott died August 19 at age 68.
Actor Ron Palillo, who played class clown Arnold Horshack on the 1970s television comedy "Welcome Back, Kotter," died from a heart attack at age 63 on August 14.
Marvin Hamlisch, a prolific American composer, died August 6 after a more than four-decade career that spanned film, music, television and theater. He was 68.
Writer Gore Vidal died July 31 of complications from pneumonia, a nephew said. He was 86.
At 69, actress Lupe Ontiveros, who co-starred in the hit films "Selena" and "As Good As It Gets," died of liver cancer on July 26.
Sherman Hemsley, who played the brash George Jefferson on "All in the Family" and "The Jeffersons," died July 24 at age 74.
Sally Ride, the first American woman to fly in space, died after a 17-month battle with pancreatic cancer on July 23. She was 61.
Country legend Kitty Wells died on July 16, due to complications from a stroke. She was 92.
Keyboard player Jon Lord, who fused classical and heavy metal to make Deep Purple one of the biggest rock bands in the world, died July 16 after a long battle with pancreatic cancer. He was 71.
Oscar-winning actress Celeste Holm died at her home in New York on July 15 at the age of 95. Here Holm, center, appears in 1950's "All About Eve" with Garry Merrill, from left, Bette Davis and Hugh Marlow.
On July 8, film and television actor Ernest Borgnine, who won an Academy Award for his portrayal of a lovelorn butcher in 1955's "Marty," died at age 95.
Actor Andy Griffith, who played folksy Sheriff Andy Taylor in the fictional town of Mayberry, died July 3 at the age of 86.
Nora Ephron, the screenwriter and director whose sharp, edgy romantic comedies featuring strong women took her to the top ranks of a film industry mostly dominated by men, died June 26 at age 71.
Science fiction author Ray Bradbury, whose imagination yielded classic books such as "Fahrenheit 451," "The Martian Chronicles" and "Something Wicked This Way Comes," died at 91 on June 5.
Former "Family Feud" host Richard Dawson died on June 2 at the age of 79.
Bluegrass guitarist and singer Doc Watson died at 89 on May 29 after struggling to recover from colon surgery.
Robin Gibb, one of three brothers who made up the Bee Gees, the group behind "Saturday Night Fever" and other iconic sounds from the 1970s, died on May 20. He was 62. Gibb died "following his long battle with cancer and intestinal surgery," a statement said.
Donna Summer, the "Queen of Disco" whose hits included "Hot Stuff," "Bad Girls," "Love to Love You Baby" and "She Works Hard for the Money," died May 17. She was 63.
Mexican author Carlos Fuentes died on May 15 at the age of 83.
Donald "Duck" Dunn, left, the bass player who laid the musical floor beneath soul legends like Booker T. and the MGs, Sam and Dave and Otis Redding, died May 13. He was 70.
Carroll Shelby, famous for creating high-performance road and racing cars bearing his name, died on May 10 in Dallas. He was 89. His name is probably most associated with the Cobra and the Shelby line of Ford Mustang-based performance cars.
British-Israeli hairdresser Vidal Sassoon died on May 9 at the age of 84.
Maurice Sendak, author of "Where the Wild Things Are" and illustrator of nearly 100 books, died at age 83 on May 8.
George Lindsey, the actor who portrayed the country-bumpkin mechanic Goober Pyle on "The Andy Griffith Show," died May 6 after a brief illness, his family said. He was 83.
Adam "MCA" Yauch, a founding member of the pioneering rap band Beastie Boys, died on May 4 after a nearly three-year battle with cancer. He was 47.
Levon Helm, the drummer, multi-instrumentalist and singer for The Band who kept the band's heart for more than three decades, died "peacefully" April 19, according to his record label, Vanguard Records. He was 71.
Junior Seau, linebacker for the San Diego Chargers, died from a self-inflicted gunshot wound on May 2.
Television host Dick Clark poses for a portrait circa 1968. The longtime host of the influential "American Bandstand" died April 18 after suffering a heart attack. He was 82.
Former Algerian President Ahmed Ben Bella died on April 11 at the age of 96.
Mike Wallace, who spent four decades as a hard-hitting, provocative news correspondent on CBS' "60 Minutes," died at 93 on April 7.
Artist Thomas Kinkade, the self-described "painter of light," died from accidental overdose of alcohol and Valium at age 54 on April 6.
Porsche 911 designer Ferdinand Alexander Porsche died on April 5 at the age of 76.
Earl Scruggs, whose distinctive picking style and association with Lester Flatt cemented bluegrass music's place in popular culture, died March 28 of natural causes at a Nashville hospital. He was 88.
Doobie Brothers drummer Michael Hossack died at his home in Dubois, Wyoming, on March 11 at the age of 65 after battling cancer for some time.
Jimmy Ellis, who belted out the dance anthem "Disco Inferno" in the 1970s for the Trammps, died on March 8 at 74 years old. Here, the Trammps in 1973: From left, Earl Young, seated, Harold Wade, Jimmy Ellis, Stanley Wade and Robert Upchurch.
Andrew Breitbart, editor and founder of the conservative blog BigGovernment.com, died at age 43 of natural causes on March 1. His posting of an explicit photo U.S. Rep. Anthony Weiner sent to Twitter followers led to Weiner's downfall.
Davy Jones, whose charming grin and British accent won the hearts of millions of fans on the 1960s television series "The Monkees," died on February 29 at age 66.
Hall of Fame catcher for the New York Mets Gary Carter lost a battle to brain cancer at age 57 on February 16.
New York Times reporter Anthony Shadid died of an asthma attack in Syria on February 16.
The news broke on the eve of the Grammy Awards, the music industry's biggest night: The woman with the pitch-perfect voice who once reigned as the queen of pop at the awards show had died. Whitney Houston was found dead by her bodyguard on February 11. She was 48.
The last known surviving veteran of World War I died on February 4. Florence Green, 110, was a waitress in Britain's Royal Air Force.
Don Cornelius, the founder of the "Soul Train" television show, was found dead of an apparent self-inflicted gunshot wound to his head on February 1. It was later ruled a suicide. He was 75.
Robert Hegyes, known for his role as Juan Epstein on the '70s sitcom "Welcome Back, Kotter," died on January 26. He was 60.
Actor James Farentino, whose television acting career began in the early 1960s, died on January 24. He was 73.
Longtime Penn State Coach Joe Paterno -- whose tenure as the most successful coach in major college football history ended abruptly in November 2011 amid allegations that he failed to respond forcefully enough to a sex abuse scandal involving a former assistant -- died January 22, his family said. He was 85.
Etta James, whose assertive, earthy voice lit up such hits as "The Wallflower," "Something's Got a Hold on Me" and the wedding favorite "At Last," died on January 20. She was 73.