STORY HIGHLIGHTS
Pakistan defeated India by five wickets in Bangalore
It is the first time in five years that the two teams have met in a bilateral series
India scored 133-9 in its 20 overs
Captain Mohammad Hafeez top scored for Pakistan with 61 as it won with two balls to spare
(CNN) -- On a day of national celebration in Pakistan, the country's cricket team provided the perfect present for Quaid Day by defeating archrival India in its Twenty20 encounter in Bangalore, India.
On the 136th anniversary since the birth of Father of the Nation, Quaid-e-Azam Muhammad Ali Jinnah, Pakistan's players marked the day in style with a hugely impressive performance.
The Quaid-e-Azam was the man who helped secure the formation of the state of Pakistan on August 14, 1947, and went on to become the nation's first ever governor general.
He is highly revered and his memory was not forgotten by Pakistan captain Mohammad Hafeez, who dedicated the victory to the national hero.
"It is a gift for the whole nation, it is Quaid day back home," said Hafeez following his team's five-wicket victory.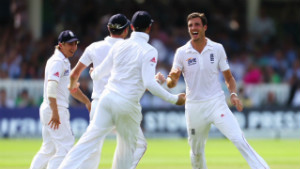 Anderson: Kevin Pietersen welcome back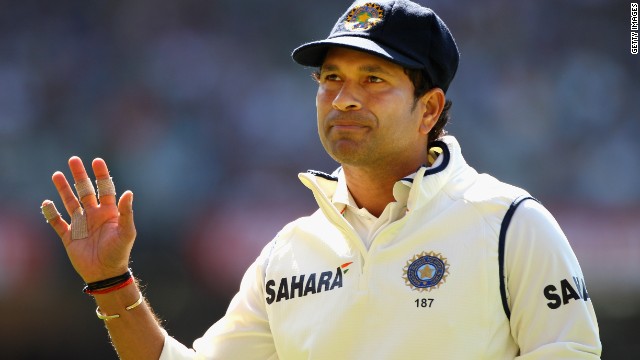 Sachin Tendulkar will end his record-breaking cricket career following his 200th Test match, against the West Indies in his home city of Mumbai.
A face-painter with a queue of spectators outside Mumbai's Wankhede Stadium. The match is not being covered by the world's leading photo agencies due to a dispute with Indian cricket's ruling body, which dates back to 2012.
Security was tight around the ground, which could have been sold out 10 times according to local reports.
Tendulkar helped his Indian Premier League side Mumbai Indians to win the Twenty20 limited-overs tournament earlier this year.
Indian painter Jagjot Singh Rubal touches up his painting commemorating Tendulkar's famous cricketing milestone.
Tendulkar became the first man in cricket history to score 100 international hundreds when he made 114 in a limited-overs match against Bangladesh on March 16, 2012.
Tendulkar visited the residence of Bangladesh's Prime Minister Sheikh Hasina Wazed, right, to mark his achievement.
He had been stuck on 99 since the 2011 World Cup, when he closed to within one of the milestone with a ton against South Africa. Tendulkar helped India win the final against co-hosts Sri Lanka in his home city of Mumbai on April 2. He scored only 18 in that match, but was India's top runscorer as his country won the 50-over tournament for the first time.
Cricket fans had been waiting for the milestone, which came 33 innings after the South Africa game. Tendulkar went close during India's disappointing tour of Australia -- against whom he has scored 20 tons, more than any other nation.
Tendulkar is the first and only player in cricket history to score 15,000 Test match runs, achieving the feat in November 2011.
Having scored a triple century as a schoolboy, and then passing 100 on his first-class debut in 1988, Tendulkar made his international debut the following year at the age of 16 against Pakistan.
Tendulkar scored his first international century in the five-day format the following year on India's tour of England, hitting 119 not out in the second Test at Old Trafford.
Debate still rages as to whether Tendulkar can be considered greater than Australian legend Donald Bradman, whose Test career ended in 1948 with an incredible average of 99.94, scoring 6,996 runs in 52 matches.
England's players applaud after Tendulkar scores 193 in Leeds in 2002, passing Bradman's record of 29 Test centuries. He has now played 188 Tests, notching 51 hundreds.
Tendulkar, left, became Test cricket's highst runscorer in October 2008 when he passed Brian Lara's previous record of 11,953 during a home series against Australia.
Tendulkar became the first batsman to score 17,000 runs in one-day internationals with a knock of 175 against Australia in Hyderabad on November 5, 2009.
Tendulkar's next foray into three figures saw him become the first batsman to score 200 in a 50-over international -- against South Africa on February 25, 2010. Indian schoolchildren in Amritsar celebrated their national hero's landmark feat.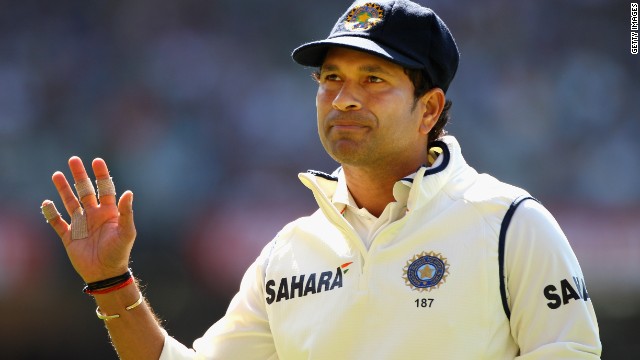 Sachin Tendulkar retires from cricket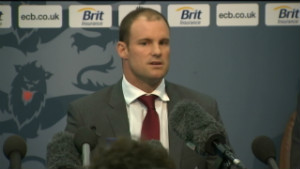 Andrew Strauss retires from cricket
India-Pakistan cricket series hit by media blackout
Pakistan's joy came following an enthralling contest during the first bilateral series between the two teams in five years.
Needing to surpass India's 133-9, Pakistan fought back from a nightmare start to snatch victory with just two deliveries remaining.
Pakistan's hope of trumping its fierce rival appeared to have faded when India reduced the visitor to 12-3.
But Shoaib Malik, who is married to Indian tennis star Sania Mirza, hit 57 from 50 balls, which included a giant six to win the game.
It was a game which India had looked set to run away with as openers Gautam Gambhir (43) and Ajinkya Rahane (42) put on 77 for the opening wicket.
Tendulkar quits one-day internationals
But a huge collapse, which accounted for nine wickets and just 47 runs, allowed Pakistan back into the contest.
Umar Gul took 3-21 and Saaed Ajmal 2-25 as India finished on 133-9 from its 20 overs.
India's low total looked less than formidable but an early crisis almost left Pakistan facing an embarrassing defeat.
Bhuvneshwar Kumar produced a blistering spell on debut, taking 3-9 as the top order was ripped apart.
It was only when Malik and Hafeez finally got themselves into the contest with a 106-run partnership that Pakistan finally looked to threaten.
When Hafeez fell for 61, the tourist needed 16 from the remaining 17 deliveries to win.
And despite a few nervous moments, it was left to Malik to seal victory, smashing the ball for six with three balls to go before sparking scenes of celebrations amongst his teammates.
Malik said: "We were struggling when the debutant bowler, I don't remember his name, took those early wickets, Hafeez played a brilliant innings.
"You are playing against India, pressure is always there, but you have to play according to the situation."