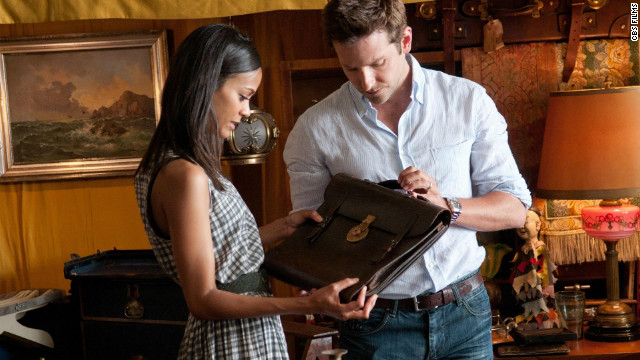 It's been a good year for Bradley Cooper but he'll want to forget this pretentious and fatally hackneyed stab at a literary tearjerker -- a convoluted but predictable yarn involving three novelists, a lost manuscript and Jeremy Irons pruning his petunias.
"The Paperboy" is an atrocious movie -- in part because 24-year-old Zac Efron is too old to play a virgin teen. But Efron is even less convincing as a Marine just back from three tours of Iraq in this sappy, soft-in-the-head Nicholas Sparks romance, a non-story that shies away from any potential excitement.
A laughable and reactionary military recruitment commercial posing as an authentic slice-of-life, so real the filmmakers cast bone fide Navy SEALS to perform scenes no actor could duplicate. (Trouble being: SEALS can't act.)
It's not that this is a terribly-made movie -- in fact Bill Murray is excellent as FDR -- but it's such a calculatedly tasteful piece of post "King's Speech" Oscar bait that it makes light of the president's sexual peccadilloes and a terrible hash of the King eating a hotdog.
Alex Kurtzman is famous for his scripts for "Star Trek," "Transformers" and "Cowboys & Aliens." His first feature as writer-director is a "personal film" about a cynical salesman (Chris Pine) sorting out his daddy issues and discovering a half-sister he never knew about. Nice message, shame about the tone-deaf movie.
Sorry Chris Pine! Here he's one of the two CIA agents -- the other a miscast and palpably uncomfortable Tom Hardy -- romancing the double-timing Reese Witherspoon in a mercenary anti-romantic action-comedy directed with maximum energy and zero feeling by McG.
Andrea Riseborough gives a fine performance as American divorcee Wallis Simpson in Madonna's misconceived, but probably sincere vanity project. It's the modern day story, with Abbie Cornish as a neglected doctor's wife who haunts Sotheby's exhibition rooms where this flimsy, trite effort falls apart.
Technically a late 2011 release, David Gordon Green continues his downward spiral in this R-rated stab at a John Hughes comedy, a kind of mis-Adventures in Babysitting starring Jonah Hill and a bunch of whiny obnoxious kids -- including an adoptee who wishes he was back home in El Salvador. Twenty minutes into this mirthless crock you will know just how he feels.
Paul Verhoeven and Arnold Schwarzenegger already did this movie right -- so it's especially aggravating to see how Len Wiseman has taken a smart post-modern sci-fi thriller and turned into an inane and muddle-headed action flick. Rubbing salt in the wound, the movie blatantly rips off the design elements of sister-Philip K. Dick movies "Blade Runner" and "Minority Report."
10. 'The Words'
9. 'The Lucky One'
8. 'Act of Valor'
7. 'Hyde Park on the Hudson'
6. 'People Like Us'
5. 'This Means War'
4. 'W.E.'
3. 'The Sitter'
2. 'Total Recall'
1. 'The Hobbit'