STORY HIGHLIGHTS
Alex Ferguson defends himself after fierce criticism from Newcastle manager Alan Pardew
Manchester United manager says only person not to have a view on saga is U.S. President
The Scot hits out at Pardew and calls Newcastle a "wee club in the North East"
Ferguson will not face any punishment for his behavior during 4-3 win over Newcastle
(CNN) -- Alex Ferguson is in siege mode. The manager of soccer club Manchester United has been so stung by widespread criticism of his actions this week that he claims the sole person not to have commented is Barack Obama -- and that's only because he's busy trying to stop the U.S. economy falling over a fiscal cliff.
Ferguson, who recently gave a talk on his management techniques at Harvard, has been under fire following a verbal exchange with referee Mike Dean and his assistants during Wednesday's controversial 4-3 win over Newcastle.
It led to Newcastle manager Alan Pardew claiming that Ferguson should have been punished for his protests over Dean's failure to disallow Jonny Evans' own-goal for what he believed to be offside.
The Scot was furious that Dean overruled his assistant, Jake Collin, who had flagged to give Papiss Cisse offside before Evans diverted the ball into his own net.
RVP controversy: Has Ferguson gone too far?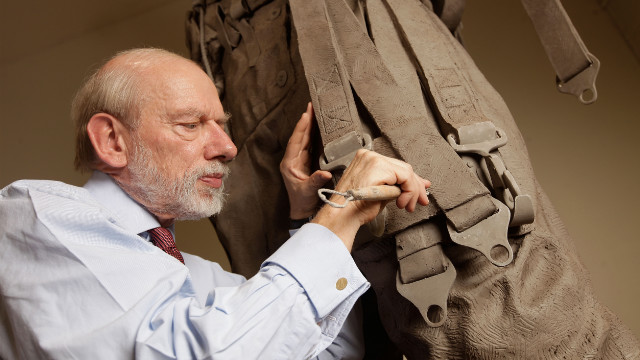 Like Alex Ferguson, sculptor Philip Jackson was born in Scotland. Here he is pictured working on The Bomber Command Memorial Sculpture, which is situated in London's Green Park, and was unveiled by the Queen in June.
Jackson was also the artist who created the statue of former England captain Bobby Moore, which is located at Wembley Stadium. The statue, standing six meters in height and weighing approximately two tons, commemorates when Moore captained England to World Cup glory in 1966.
The Alex Ferguson sculpture is the third Manchester United piece Jackson has produced. His statue of George Best, Denis Law and Bobby Charlton, which stands outside Old Trafford, depicts three of the club's greatest players.
Jackson's first Manchester United related sculpture depicted former manager Matt Busby, who was a key figure in creating the club's attacking philosophy of football which Ferguson has helped maintain.
Jackson's bronze scultpture of Ferguson is nine foot in height. It will be unveiled ahead of United's home game against Queens Park Rangers on November 23.
A number of other English clubs have commissioned artworks to remember former managers, notably Bobby Robson, who managed a number of clubs including Ipswich Town, Barcelona and Newcastle United as well as England. This statue of Robson is outside Newcastle United's St James' Park.
Manchester United's great rivals Liverpool have a statue of former Scottish manager Bill Shankly outside their Anfield ground.
It is not just managers and players who have been immortalized in sculpture form. In Baku, Azerbaijan, there is a statue of the 1966 World Cup final linesman Tofig Bahramov outside the Tofig Bahramov stadium. Here former West Germany goalkeeper Hans Tilkowski and former England striker Sir Geoff Hurst are pictured standing next to the the Bahramov statue in June 2011.
The moment French football superstar Zinedine Zidane headbutted Italy's Marco Materazzi in the 2006 World Cup final has been immortalized in a five meter bronze statue. The statue, positioned outside of Paris' Pompidou Museum, is the work of Algerian-born artist Adel Abdessemed.
More unusually in April 2011, Fulham chairman Mohamed Al Fayed unveiled a statue in tribute to singer Michael Jackson, who died in 2009, outside the English Premier League club's Craven Cottage ground.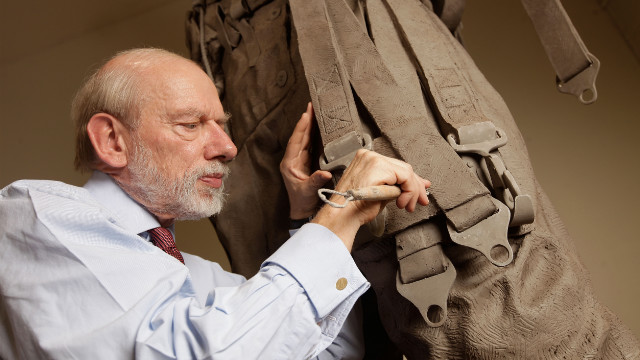 Sculpting football icons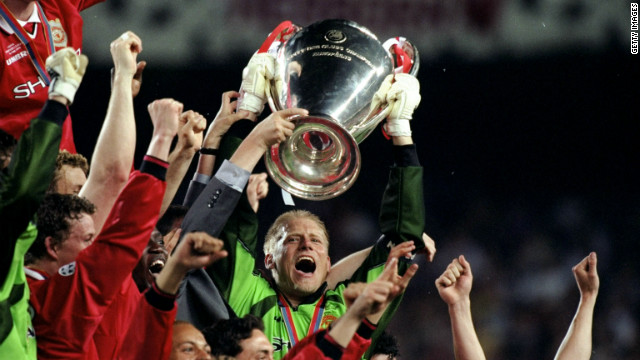 In the absence of suspended skipper Roy Keane, Peter Schmeichel captained Manchester United to European Champions League glory in 1999. United trailed Bayern Munich 1-0 heading into the 90th minute, but stunned the Germans by scoring twice in a matter of minutes to seal a famous 2-1 success. The win completed an historic Champions League, Premier League and FA Cup treble.
Schmeichel is backing Jurgen Klopp's Borussia Dortmund to pull off a shock and lift the Champions League for the second time in their history. The German title winners have been lauded for topping a group which contained Real Madrid, Manchester City and Ajax.
Lionel Messi has been unstoppable in 2012, scoring a record 90 goals so far this calendar year. Barcelona will be looking to win the Champions League for the fourth time in seven years.
Jose Mourinho has already won the Champions League with two different clubs -- Inter Milan and Porto. Despite an indifferent start to the Spanish league season, Schmeichel is confident Mourinho has the ability to lead Real Madrid to a landmark 10th European triumph.
Manchester United sit top of the English Premier League as the season approaches its halfway point, but Alex Ferguson's team has leaked goals all season. Schmeichel thinks his old club will need defender Nemanja Vidic to return to his top form if United are to stand any chance of reaching May's Wembley final.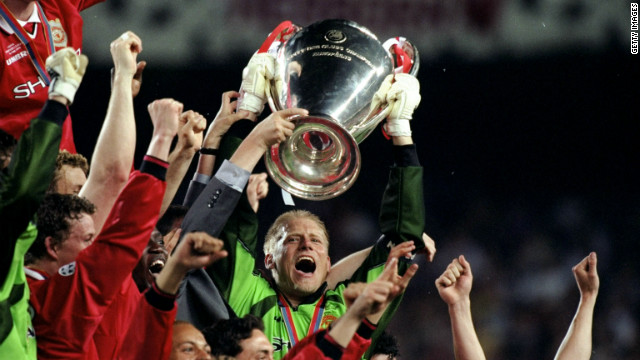 Schmeichel's Champions League tips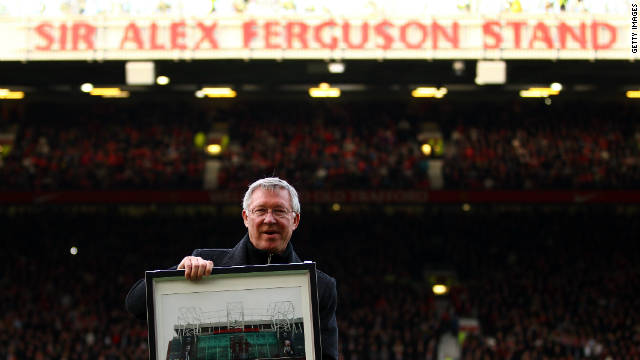 Manchester United renamed Old Trafford's North Stand in honor of legendary manager Alex Ferguson ahead of Saturday's match with Sunderland and his 25th anniversary at the club.
The Scot, who turns 70 in December, walked out as both teams formed a guard of honor before the match.
United fans commemorated Ferguson's achievements, which include 12 English titles and two European Champions League crowns since his arrival on November 6, 1986.
Ferguson with Sunderland manager Steve Bruce, who was his United captain and a key player for nine years at Old Trafford.
United won the Premier League match 1-0 thanks to an own-goal from Wes Brown, who was making his first return to his former club following his July move to Sunderland.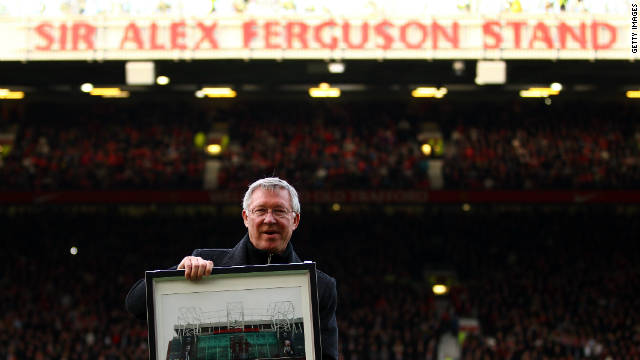 Fergie's 25th anniversary
Ferguson, who turns 71 on December 31, will escape punishment from the English Football Association because the incident was not mentioned in the referee's report, much to Pardew's astonishment.
It was the second match in four days where Ferguson has courted controversy, having claimed that his striker Robin van Persie "could have been killed" after Swansea's Ashley Williams kicked a ball at his head in Sunday's 1-1 draw.
And the United manager has defended his conduct, stating that everybody is suddenly keen to have an opinion -- apart from the man inside the White House.
"The problem for me and Manchester United is that the profile of the club is huge," Ferguson told reporters.
"Alan Pardew has come out and criticized me. Alan Pardew is the worst at haranguing referees -- his whole staff (do it) every game. He was at it for the whole game on Wednesday.
"He shoves the linesman and laughs about it and he has to cheek to criticize me. It is unbelievable. He forgets the help I gave him, by the way.
"The press have a good field day. They have addressed every possible angle, the only one they have not asked is Barack Obama -- he is too busy.
"It's unfortunate that I carry that, because I'm the manager of the biggest club in the world. I'm not like Newcastle -- a wee club in the North East.
"That is the facts of life. I was demonstrative but I was not out of order. That has been overplayed by the press. You've all had a field day."
Hernandez winner lifts Manchester United
Ferguson was reacting after Pardew had given his views on the incident at Old Trafford.
Pardew told reporters: "I think Mike Dean might feel slightly disappointed he didn't do something about it.
"I think the pressure that was on him was tough for a referee to take. Sometimes when you reflect on a game you think you might have acted differently. You do that as a manager and I think he might have done that as a referee.
"But it's an emotional game and apparently they had a cordial discussion. I've had a few of those myself and sometimes I've ended up in the stands as a result of that cordial discussion."
Ferguson seemed particularly irked by the comments, and referred to Pardew's own altercation with a referee during a Premier League match in August.
Van Persie 'could have been killed'
Pardew was fined $32,000 and given a two-match touchline ban after pushing an assistant referee during his side's 2-1 home win over Tottenham.
"Some managers shove linesman on the pitch and make a joke of it. I'm not making a joke of this. I think it should have been disallowed, I really do," Ferguson said.
"There was no ranting and raving from me. I was demonstrative but then I am always demonstrative -- everyone knows that. I'm an emotional guy.
"What happened was that Dean was walking towards the center circle and I came up to the touchline and he came towards me and I went towards him. I was not on the pitch for more than three or four yards. Then we came off together."