STORY HIGHLIGHTS
8 sailors from an aircraft carrier allege they were sickened by radiation exposure
The disaster occurred in 2011 when a massive earthquake was followed by a tsunami
Officials were "lying through their teeth," plaintiffs' lawyer says
(CNN) -- Eight U.S. Navy sailors who were aboard a U.S. aircraft carrier off Japan after last year's Fukushima nuclear accident have sued the Tokyo Electric Power Company alleging a series of failures, including lying.
The suit, filed December 21 in U.S. District Court Southern District of California, alleges that the sailors -- among some 5,500 who were aboard the USS Ronald Reagan as it was providing aid to the stricken zone -- were themselves sickened as a result of exposure to radiation that escaped from the Fukushima Nuclear Power Plant (FNPP).
"They have physical problems," said Paul C. Garner, the plaintiffs' attorney, in an interview with CNN affiliate KGTV in San Diego, the home port of the ship. "One of them is bleeding from his rectum; already, the others have problems with thyroid glands."
Garner described the illnesses as "major health issues" during a telephone interview with CNN.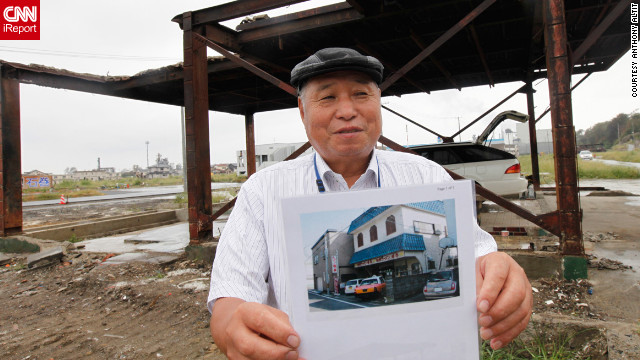 Seiki Sano, 81, stands where his home once stood in Sendai, Japan. It was destroyed in March 2011 in a devastating earthquake and tsunami. The fisherman also lost both of his boats in the tsunami. "It's hard to rebuild," he told iReporter Anthony Altit. "I won't live to see it happen."
Japanese children in their dormitory in Minamisanriku, which used to be an exotic hotel. "Everyone around here, it seems, is billeted" in nearby dorms, Altit added.
The Fukushima exclusion zone remains a ghost town nearly a year after the earthquake, the fourth-largest ever recorded, triggered a nuclear meltdown.
Tokyo-based photographer Osakabe Yasuo recently visited the Fukushima exclusion zone and saw animals, such as this ostrich, wandering the streets. "It still seems like March 11 down there," he said.
In Shichigahama, cleanup is still a work in progress. Christina Sawka said this trash pile has grown over the past year, but she is optimistic. "I believe 2012 is a year where people's lives and relationships will be restored," she said.
This statue in Miyagi is of Jizo Bosatsu, one of Buddha's disciples who guides dead children to heaven, said iReporter Jun-ichi Kobayashi. People leave offerings at the statue nearly every day.
Jeremy Doe, a high-school English teacher living in Kitakami City, took this photo of cherry blossoms to symbolize rebirth. "One year later, we are still dealing with this ... but we are still living," he said.
The Fukushima meltdown has caused many Japanese to lash out against nuclear power in the country. "As the date of the one-year mark comes closer, these protests only grow stronger," said iReporter David Woo.
Allan Cook, a British expat living in Japan, said posters like this one have started to crop up around the city of Akihabara. "The simple 'thank you' really makes a strong and meaningful impact," he said.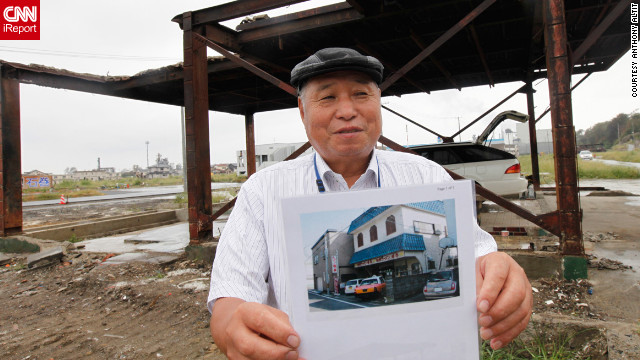 Japan: One year later
"Our best and brightest -- who were hired to perform top service to our Navy -- went there to provide humanitarian tasks and did not want to bargain their health and well being," said Garner. "But the people running the power plant lied to them."
The disaster occurred on March 13, 2011, when a massive earthquake and tsunami struck the area.
The Fukushima Daiichi power plant spewed radiation and displaced tens of thousands of residents from the surrounding area in the worst nuclear accident since the 1986 Chernobyl disaster in Ukraine.
In a 34-page complaint, Garner said he is seeking $10 million in compensatory damages and $30 million in punitive damages for each of the plaintiffs from TEPCO, which is owned by the Japanese government. In addition, he is seeking damages for the child of one of the sailors who was pregnant at the time of the incident.
"At all times relevant herein, the Japanese government kept representing that there was no danger of radiation contamination to the USS Reagan (CVN-76) and/or its crew, that 'everything is under control,' 'all is OK, you can trust us,' and there is 'no immediate danger' or threat to human life, all the while lying through their teeth about the reactor meltdowns at FNPP."
The Navy "was lulled into a false sense of security" because it relied on TEPCO's "misrepresentations regarding health and safety," Garner continued.
The suit also accuses TEPCO of failing to conduct adequate testing, designing a defective product, conducting deceptive business acts and practices, acting as a public nuisance and as a private nuisance and fraud.
"The Plaintiffs must now endure a lifetime of radiation poisoning and suffering which could have and should have been avoided."
A spokesman for TEPCO, Mayumi Yoshida, said the company had not received the complaint and had no immediate comment.
Last October, TEPCO acknowledged that it had played down safety risks at the facility out of fear that they would lead to a plant shutdown.
The company said in a report that "severe accident measures" were taken in 2002, which included "containment venting and power supply cross-ties between units," but additional measures were never put in place.
Part of the reason, the report said, was a concern that implementing the new safety measures "could spread concern in the sitting community that there is a problem with the safety of current plants."
TEPCO added that taking such measures could also have added to "public anxiety and add momentum to anti-nuclear movements."
The Japanese government said in an earlier report that the operator's and the nuclear regulator's actions to prepare for disasters were "insufficient," and called the response to the crisis "inadequate."