U.S. officials: Syria using more accurate, Iranian-made missiles
December 28, 2012 -- Updated 1315 GMT (2115 HKT)
STORY HIGHLIGHTS
Two U.S. military officials say the Syrian regime fired at least two Fateh A-110 missiles
The move is an apparent attempt to more precisely target rebel forces, the officials say
They decline to be identified because of the sensitive nature of the information
The missiles are more accurate than older Scuds, which have a longer range
Washington (CNN) -- The Syrian regime this week fired at least two Iranian-made, short-range ballistic missiles in what appears to be an effort to more precisely target Syrian rebels, two U.S. military officials tell CNN.
The Fateh A-110 missiles are more accurate than the older Scud variants that Syrian government forces have used in recent weeks.
Read more: NATO: Syrian forces firing more Scud missiles
The U.S. military officials declined to be identified because of the sensitive nature of the information. The Iranian government has not commented on the issue.
The Fateh trades range for accuracy. It can travel about 125 miles, while the Scud can go about 185 miles. But the Fateh has a "circular error probable" or -- CEP -- of 330 feet, while the Scud's CEP is 1,480 feet. CEP is defined as the radius of a circle in which half of a missile's lethal payload falls and is the standard measure of a missile's accuracy.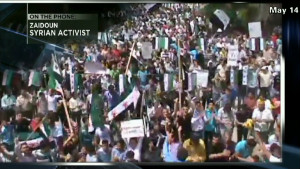 Voice inside Syria detained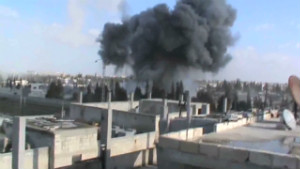 Where things stand in Syria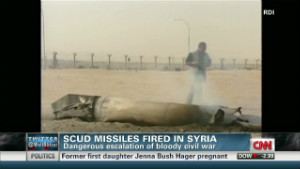 Is Syria using Scud missiles?
The firings did not reach near Syria's Turkish border. But the regime's use of ballistic missiles is the reason NATO is planning to send U.S., German and Dutch Patriot missile batteries to Turkish military installations: to protect the southern regions of that NATO ally. All six Patriot batteries are expected to be in place by the end of January.
Read more: As Syria suffering spirals, envoy hopes for political transition
A NATO official could not confirm the use of short-range ballistic missiles this week, but NATO did detect the launch of such missiles inside Syria on a few December days, more recently on the 22nd.
"The fact that Scud-type missiles were used in Syria emphasizes the need for effective defense protection of our ally Turkey," the NATO official said. "This is why, earlier this month, NATO allies decided to deploy Patriot missiles in Turkey to augment Turkey's air defenses. The deployment, which will start within weeks, is defensive only. Its aim is to deter any threats to and defend and protect the population and territory of Turkey."
U.S. officials say they believe the Syrians are firing ballistic missiles to preserve their aircraft, some of which have been shot down by rebels.
Read more: Syrian military police chief defects to join 'the people's revolution.'

Part of complete coverage on
Syrian crisis
March 4, 2014 -- Updated 1328 GMT (2128 HKT)

Syria has submitted a revised proposal "that aims to complete the removal of all chemicals" from the country before the end of April.
February 18, 2014 -- Updated 1032 GMT (1832 HKT)

CNN's Arwa Damon reports on ISIS defector who says destroying ISIS as critical as defeating regime.
February 18, 2014 -- Updated 0353 GMT (1153 HKT)

The U.S. wants a United Nations resolution that will, among other things, bring humanitarian aid for refugees in Syria.
February 17, 2014 -- Updated 1259 GMT (2059 HKT)

When the radical Islamist militia ISIS arrived in the Syrian town of Addana a year ago, many welcomed them. What followed changed their minds.
February 17, 2014 -- Updated 1449 GMT (2249 HKT)

CNN obtained video clips from Syrian activists documenting the atrocities committed by members of the Islamic State in Iraq and Syria, known as ISIS.
February 18, 2014 -- Updated 2017 GMT (0417 HKT)

On Crossfire, Danielle Pletka discusses what the U.S. needs to do to resolve the Syria crisis.
February 6, 2014 -- Updated 0101 GMT (0901 HKT)

Her almond-shaped brown eyes shine through her sunken face as a doctor lifts her sweater to reveal a tiny rib cage pushing against her skin.
February 4, 2014 -- Updated 1746 GMT (0146 HKT)

The Zaatari refugee camp in Jordan is home to around 100,000 Syrian refugees. CNN spent several days meeting the residents of the camp.
January 22, 2014 -- Updated 1959 GMT (0359 HKT)

Renowned war crimes prosecutors and forensic experts have found "direct evidence" of "torture and killing" by the Assad regime.

Traumatized children who have witnessed the horrors of war are being helped to read -- and rebuild a normal life. CNN's Becky Anderson reports.
January 23, 2014 -- Updated 1207 GMT (2007 HKT)

A battle zone tour organized by the Syrian government for CNN and several other media outlets Wednesday was more than bizarre.
January 22, 2014 -- Updated 1735 GMT (0135 HKT)

CNN's Atika Shubert meets with the family of a little girl who was wounded in Syria, now living in a refugee camp.
January 27, 2014 -- Updated 1456 GMT (2256 HKT)

110 year old, Jabari Alawali walked for over 10 hours to reach Jordan from Syria.
Today's five most popular stories