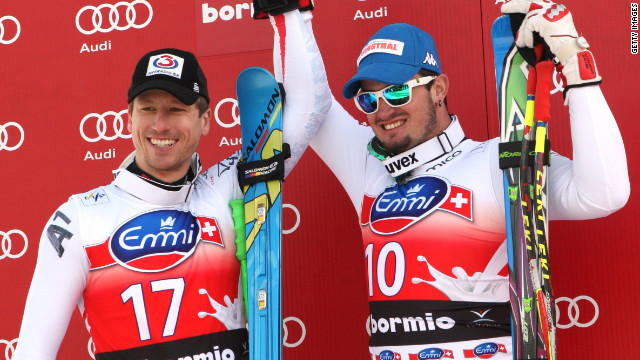 Dominik Paris, right, and Hannes Reichelt shared victory after finishing in a dead heat in the World Cup downhill at Bormio, Italy.
Paris, 23, delighted the home fans as he claimed the first World Cup win of his career.
Austria's Reichelt also clocked 1:58.62 as the 32-year-old claimed his fifth career victory -- his first this season.
Aksel Lund Svindal extended his lead in both the downhill and overall standings as he finished third -- just 0.01 seconds behind leading duo.
The Norwegian was just 0.01 seconds ahead of fourth-placed Austrian Klaus Kroll, who won the downhill title last season.
Slovakia's Veronika Velez Zuzulova claimed her first World Cup win with victory in the women's slalom at Semmering in Austria, where Slovenia's Tina Maze extended her overall lead with third place.
Dead heat
Home hero
Reichelt rallies
Svindal so close
Photo finish
Maiden win
STORY HIGHLIGHTS
Hannes Reichelt and Dominik Paris share first place in men's World Cup downhill race
Aksel Lund Svindal extends his overall lead after finishing only 0.01 seconds back in third
Svindal was just 0.01 seconds ahead of fourth-placed Klaus Kroll, last season's downhill champion
Italian skier Paris wins the first World Cup event of his career to delight the home crowd
(CNN) -- Saturday's World Cup downhill race in Bormio ended in a thrilling dead heat as Aksel Lund Svindal extended his overall lead despite narrowly missing out on a three-way share of victory.
The Norwegian had to settle for third place after finishing just 0.01 seconds behind Austria's Hannes Reichelt and Italy's Dominik Paris -- who delighted the home crowd by claiming his first World Cup win.
"It's amazing, it was my dream to win a downhill in the World Cup -- and now I finally won it," said the 23-year-old, who finished third at his national championships in March.
"Tying with Reichelt doesn't make any difference -- I am only happy to be on top. I was very nervous in the leader box because I knew the others behind will ski well, but it turned out good.
"It is totally amazing to win here in Bormio, I can't say anything just that it was a dream come true."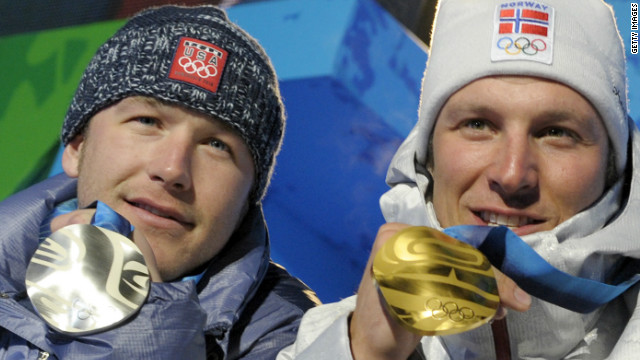 Aksel Lund Svindal, right, secured his first Olympic gold medal in the men's super-G at the 2010 Vancouver Games, while American star Bode Miller claimed silver.
Svindal celebrates his silver medal in the men's downhill in Vancouver. He also won bronze in the giant slalom to complete a full set of medals in one Games.
Svindal powers his way to victory in the men's World Cup super-G race at Val Gardena as he continued his dominant start to the 2012-13 season with his third win.
Svindal and fellow skiers Ted Ligety and James Heim go back to the 1980s for a photoshoot with sponsor Head.
Svindal finds time to relax away from the rigors of training and competition.
Norwegian ski coach Haavard Lie battles the elements during national team training in Solden.
Svindal shows his attitude as he embraces the "Movember" charity movement.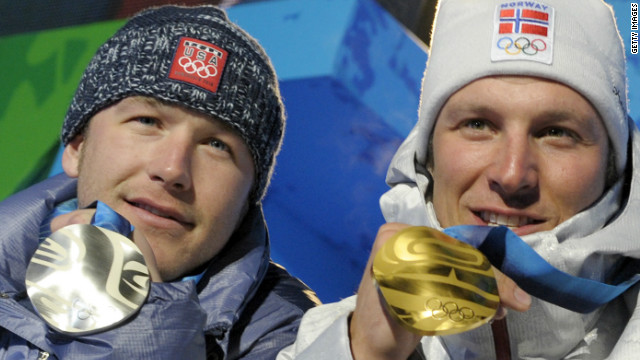 Svindal sets the Alpine speed standard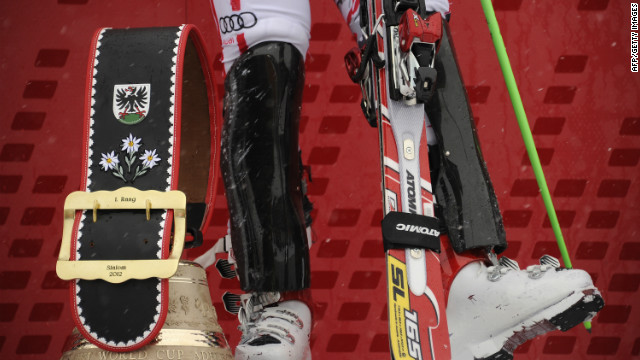 Watch any ski race on TV and you will hear the same dull, persistent background clanging of cowbells ringing. Marcel Hirscher's feet are pictured here next to a cowbell during the podium ceremony of the men's slalom race at the FIS Alpine Skiing World Cup in January 2012.
Over the last two decades cowbells, already steeped in Alpine history, have become a global success and Winter Olympic icon.
Bells have been used, especially in downhill skiing, for a long time. It started in Switzerland, where in summer the cows all walk around the mountains with bells on.
"If the Swiss are coming to an event they'll bring really big bells, a foot high or more," said California-based cowbell importer Elisabeth Halvorson.
Cycling and triathlon are increasingly the domain of the cowbell. Tennis racket manufacturers gave away branded versions at the U.S. Open. Here a fan of the Tampa Bay Rays is pictured holds up a cow bell during game one of the 2008 MLB World Series against the Philadelphia Phillies.
Go to most major sporting events in 2013 and the ambience will be provided by vast, booming speaker systems. The sound of the vuvezela at the World Cup in 2010 offered a very different soundscape.
Back in 1949, football fans in England came to matches armed with very different instruments of noise -- wooden rattles.
When a Winter Olympics is within sight, cowbells become Norwegian cowbell manufacturer Moen's hottest commodity. The company produces approximately 30,000 bells each year, but in an Olympic Year over twice as many cowbells would be churned out.
The ting-a-ling sensation of a cowbell feels warm and traditional -- part of the very fabric of sport.
"For us, it started before the Winter Olympics in Lillehammer in 1994," said Moen Grude, chief executive of the Norwegian company. "The fans saw it as the only souvenir that let them take the spirit of the Olympics back home."
Cowbells have many different uses and are not just for skiing fans. Here American sprinter Carl Lewis of the USA is presented in 1997 with a huge cow-bell by promoter Andreas Brugger at the IAAF Weltklasse Grand Prix at the Letzigrund Stadium in Zurich, Switzerland.
An Alpiner with three large cow bells, which produce that sombre rhythmic sound, at a traditional bell-swinging festival in 1955.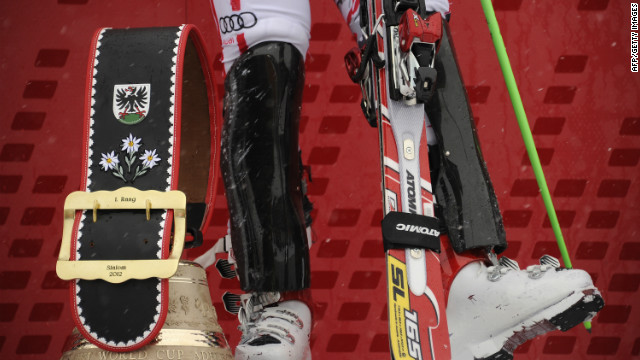 Noise and sport: how the cowbell came of age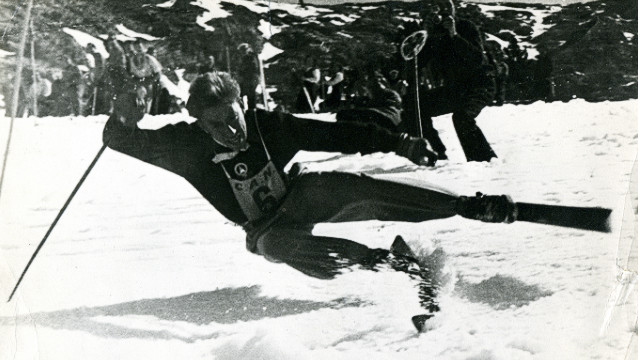 Henri Oreiller was the first Olympic champion to come from Val d'Isere in the French Alps. A maverick risk taker, he won three golds at the 1948 Winter Games. He used to fly over bumps in the slopes, balancing himself mid air.
Jean Claude Killy emerged as a world famous skier in the late 1960s. He honed his skills in Val d'Isere and went on to claim three gold medals at the 1968 Winter Olympics. Legend has it he once won a trial race on one leg, having broken the other half way down the slopes.
Killy (left) won all three disciplines at the 1968 Winter Olympics (downhill, giant slalom, and slalom) but retired at the age of 24. Like Oreiller, Killy tried his hand at motor racing, competing in the Paris-Dakar rally.
Val d'Isere is a small village that became an internationally renowned ski resort. This picture, from 1896, shows its humble origins, as a handful of homes cluster round its 11th century church.
Skiing is synonymous with Val d'Isere -- it was principally enlisted to help the villagers get around. But as this snap from 1849 shows, it wasn't long before its snowy slopes were utilized for a ski school.
Val d'Isere was a treacherous place to get to in the winter months. The Iseran mountain pass, opened in 1937, encouraged more people to visit the village -- which was often was buried in snow eight months of the year -- as skiing became a popular leisure pursuit.
Val d'Isere hosted the alpine skiing at the 1992 Winter Olympics, and huge crowds flocked to the Alps.
The 2011 "Criterium de la Premiere Neige" race had to be canceled due to a lack of snow on Val d'Isere's slopes. Hours after the decision was taken to call it off, the village was covered by a downfall but it was too late.
Val d'Isere's altitude of 1,850 meters means it often enjoys snow most of the year round. It has hosted over 130 competitions, making it one of Europe's most popular resorts.
Val d'Isere remains one of the most prestigious meets on the skiing calendar, and is one every racer wants on their roll call of wins. All-conquering U.S. competitor, Lindsey Vonn, has enjoyed plenty of success there.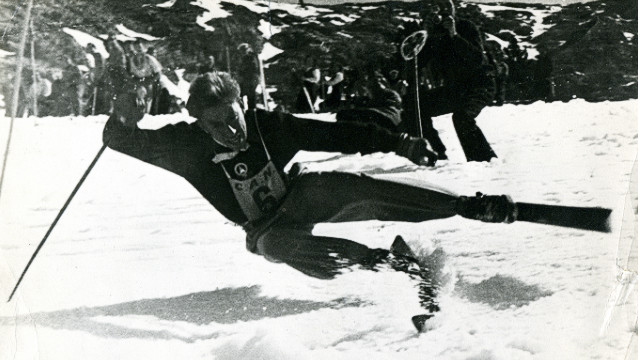 Val d'Isere's roll call of skiing champions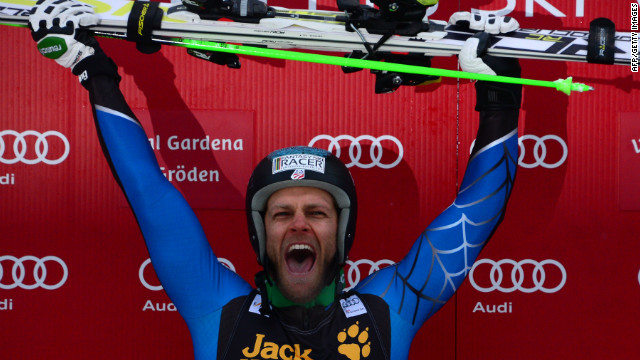 Steve Nyman celebrates his victory in the men's World Cup downhill race at Val Gardena, Italy. His only other win came at the same race in 2006.
The American missed all of last season due to Achilles problems, having been plagued by injuries in recent years.
Aksel Lund Svindal was fifth, extending his overall World Cup lead to 177 points following his victory in the previous day's Super G race.
The men's downhill went ahead despite heavy snowfall, but the women's World Cup Super-G event on the same day at Val d'Isere in the French Alps was called off.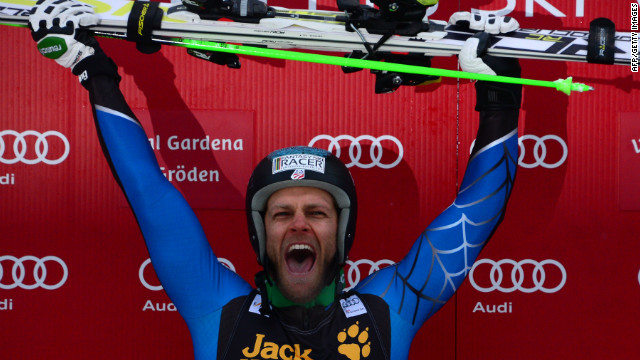 Nyman marks World Cup comeback
Reichelt also set a time of one minute 58.62 seconds as he claimed the fifth World Cup win of his career and his second podium this season after placing third in the Super G at Beaver Creek in the U.S. at the start of December.
"I feel like I am back in downhill because my last races were really bad, but I felt confident today," the 32-year-old said.
"I think equipment today was very important because if the skies are stable on this bumpy slope it helps you to ski fast. During the Christmas break we did a good job, I did a lot of testing and now I can say I am on the right wave back. The year is ending really, really nice."
Svindal earned his first podium finish at Bormio, which is considered one of the most testing courses on the World Cup circuit.
He finished 0.01 seconds ahead of fourth-placed Austrian Klaus Kroll, who was the World Cup downhill champion last season.
"It's crazy, four guys within two-hundredths on one of the toughest downhills in the world," said Svindal, who leads the downhill standings by 92 points from Paris and has a 114-point advantage in the overall competition.
He now has a record-equaling six podium positions before New Year, matching the mark set by Austria's Michael Walchhofer in 2004-05.
"I can't remember a race exactly this close. But as a ski racer you almost get used to it, it's actually kind of crazy like that," Svindal said.
"For sure there is that one mistake at the bottom that I wish I had back, but that's ski racing. As long as you are fighting for the win like I am today, sometimes you get it and sometimes you don't. But racing is a lot of fun when you are in that position."
Meanwhile, Veronika Zuzulova had a comparatively more comfortable victory in the women's slalom in Semmering, Austria, as she won her first World Cup race.
The Slovakian was 0.10 seconds ahead of home hope Kathrin Zettel over the two runs, while Tina Maze extended her overall World Cup lead with her 11th podium in 16 starts.
The Slovenian, who was fastest in the first run, now has a 427-point advantage over Germany's Maria Hofl-Riesch, who placed fourth.