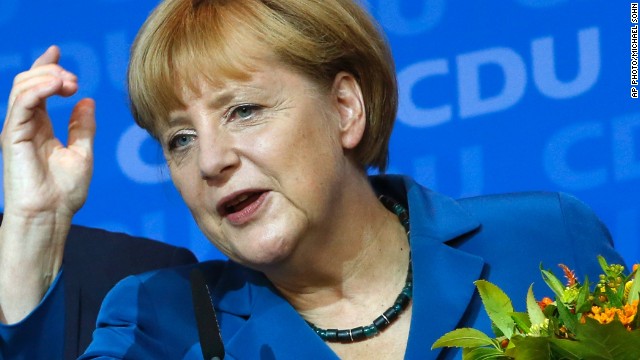 German Chancellor Angela Merkel addresses supporters at the party headquarters in Berlin on Sunday, September 22, 2013, after securing a third consecutive term as chancellor.
The election results showed again that she is one of the most popular politicians in Germany. Flip through these images to see her career in the making.
Merkel originally trained as a physicist. This picture, taken in 1989, shows her with her now husband, Joachim Sauer, and quantum chemistry professor Malgorzata Jeziorska during a summer school in the Polish city of Bachotek.
Merkel meets Alan Greenspan, the chairman of the U.S. Federal Reserve as the leader of Germany's opposition in April 2001.
November 22, 2005: Merkel is sworn in as Germany's chancellor. She became the first woman, the first East German and the youngest person to lead modern Germany.
December 2005: Merkel takes part in her first big European summit. According to her biographer, she stayed at work until 3 a.m., making sure an agreement was reached.
Russian President Vladimir Putin
, apparently aware of her dislike of the animals, made headlines by bringing his pet Labrador Koni into a meeting with Merkel in 2007.
Merkel has reportedly been afraid of dogs since she was bitten by one in 1995.
The famous trouser suit: Merkel presents U.S. Secretary of State Hillary Clinton with a German newspaper's front page photo of their trouser-suited hips in 2011.
Merkel shares a passion for opera with her camera-shy husband, Joachim Sauer. Here they are pictured arriving for the opening of the Bayreuth Wagner Opera Festival in July 2012.
Germany scoring a goal against Greece
during the Euro 2012 football championships quarter-final match in Gdansk .
A big football fan, Merkel celebrates
The 'Angela Merkel Barbie' was presented in March 2009 to mark Barbie's 50th birthday.
In photos: Rising to the top
In photos: Rising to the top
Science years
Leader of the opposition
Sworn in
First European summit
Putin's unpleasant surprise
The power suit
With husband Joachim Sauer
Football fan
Merkel Barbie
(CNN) -- Here's a look at the life of the first female chancellor of Germany, Angela Merkel.
Personal: Birth Date: July 17, 1954
Birth Place: Hamburg, Germany
Birth Name: Angela Dorothea Kasner
Father: Horst Kasner, a Lutheran minister
Mother: Herlind Kasner, an English teacher
Marriages: Joachim Sauer (1998-present); Ulrich Merkel (1977-1982, divorced)
Education: University of Leipzig, B.S., 1978; German Academy of Sciences, Ph. D, 1986
Religion: Lutheran
Other Facts: Former Chancellor Helmut Kohl sometimes referred to her as "the girl."
She is a former physicist.
Timeline: 1978-1990 - Research associate at Zentralinstitut fur physikalische Chemie in Berlin.
1990 - Becomes Press Officer for Demokratischer Aufbruch (DA or Democratic Awakening).
December 1990 - Is elected to the German Bundestag.
1991 - Is named Minister of Women and Young People by Chancellor Helmut Kohl and becomes Deputy Chairperson of the Christian Democratic Union (CDU).
1994 - Minister of the Environment, Nature Conservation and Nuclear Safety.
1998 - General Secretary of the CDU.
April 10, 2000 - Becomes the first female chairperson of the CDU.
October 10, 2005 - Strikes a deal with Gerhard Schroeder's Social Democrats that will make her the first female Chancellor of Germany.
November 22, 2005 - Is sworn in as the first female chancellor of Germany.
January 13 and 16, 2006 - Meets President George W. Bush at the White House and President Vladimir Putin at the Kremlin.
April 30, 2008 - Receives the Charlemagne Prize, the "Citizens' Prize for Services to European Unity."
June 26, 2009 - Makes first visit to the United States under President Barack Obama's administration.
September 27, 2009 - Is re-elected chancellor of Germany.
February 15, 2011 - Receives the Presidential Medal of Freedom from President Obama.
June 17, 2011 - Meets with French President Nicholas Sarkozy to discuss a potential Greek bailout plan.
December 5, 2011 - Meets with Sarkozy to announce their proposed plan to impose fiscal discipline on members of the European Union.
September 22, 2013 - Merkel is re-elected chancellor of Germany.
October 25, 2013 - In the wake of reports that the U.S. National Security Agency eavesdropped on her cell phone, an angry Merkel says, "true change is necessary," and "spying among friends is never acceptable."
December 17, 2013 - Is sworn in for a third term as chancellor of Germany.