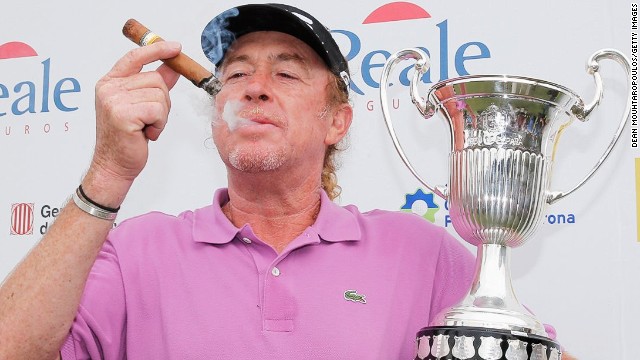 With his trademark victory cigar in one hand, Miguel Angel Jimenez poses with the trophy in the other after winning his home Spanish Open for the first time on May 18, 2014. Having passed 50, he is the European Tour's oldest victor.
Jimenez spent the first four months of 2013 in the gym undergoing a rehabilitation program after suffering a broken leg in a skiing accident. The Spaniard underwent surgery after breaking the tibia at the top of his right leg.
Food and drink are just two of Jimenez's passions in life -- along with his trusty cigar.
Another love of Jimenez's is his Ferrari -- he might be laid back but the need for speed still gives him a thrill.
Jimenez celebrates with a glass of red wine and a cigar after claiming victory at the 2012 Hong Kong Open. He would return a year later to successfully defend his title -- his fourth success at the tournament.
Jimenez and Ryder Cup teammate Lee Westwood toast Europe's victory in the 2010 event at Celtic Manor in Newport, Wales.
Jimenez sprays Jose Manuel Lara of Spain with champagne after his compatriot wins the 2010 Austrian Open.
Jimenez, puffing that trademark cigar, celebrates after winning the French Open in July 2010.
2010 was a big year for Jimenez, who won the first of three titles that season at the Dubai Desert Classic in February.
Jimenez with ex-wife Monserrat after winning the European Tour's flagship PGA Championship event in 2008.
Jimenez won five tournaments in 2004, the last of which was the BMW International Open in Munich, Germany.
In 1997 Jimenez was assistant to team captain Seve Ballesteros as Europe retained the Ryder Cup at Spain's Valderrama Golf Club -- the first time it had been played outside of the U.S. and the UK.
His 1994 triumph at the Dutch Open was his second of 21 titles so far on the European Tour, having won his first in Belgium two years earlier.
Jimenez: Golf's great celebrater
On the mend