Golf star breaks leg in skiing accident
December 31, 2012 -- Updated 1327 GMT (2127 HKT)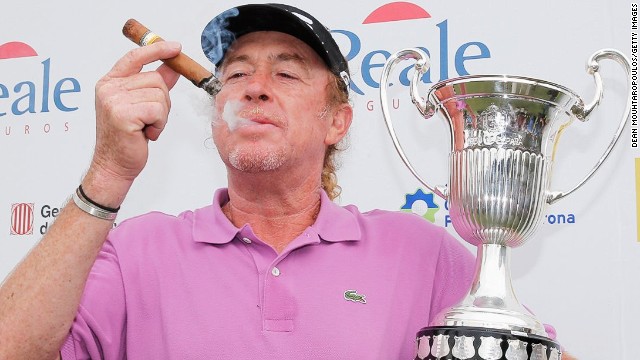 With his trademark victory cigar in one hand, Miguel Angel Jimenez poses with the trophy in the other after winning his home Spanish Open for the first time on May 18, 2014. Having passed 50, he is the European Tour's oldest victor.
Jimenez spent the first four months of 2013 in the gym undergoing a rehabilitation program after suffering a broken leg in a skiing accident. The Spaniard underwent surgery after breaking the tibia at the top of his right leg.
Food and drink are just two of Jimenez's passions in life -- along with his trusty cigar.
Another love of Jimenez's is his Ferrari -- he might be laid back but the need for speed still gives him a thrill.
Jimenez celebrates with a glass of red wine and a cigar after claiming victory at the 2012 Hong Kong Open. He would return a year later to successfully defend his title -- his fourth success at the tournament.
Jimenez and Ryder Cup teammate Lee Westwood toast Europe's victory in the 2010 event at Celtic Manor in Newport, Wales.
Jimenez sprays Jose Manuel Lara of Spain with champagne after his compatriot wins the 2010 Austrian Open.
Jimenez, puffing that trademark cigar, celebrates after winning the French Open in July 2010.
2010 was a big year for Jimenez, who won the first of three titles that season at the Dubai Desert Classic in February.
Jimenez with ex-wife Monserrat after winning the European Tour's flagship PGA Championship event in 2008.
Jimenez won five tournaments in 2004, the last of which was the BMW International Open in Munich, Germany.
In 1997 Jimenez was assistant to team captain Seve Ballesteros as Europe retained the Ryder Cup at Spain's Valderrama Golf Club -- the first time it had been played outside of the U.S. and the UK.
His 1994 triumph at the Dutch Open was his second of 21 titles so far on the European Tour, having won his first in Belgium two years earlier.
Jimenez: Golf's great celebrater
On the mend
Chilling out
On track
Hong Kong celebrations
Ryder revelries
Champagne success
Cigar chomper
Dubai joy
Big win
Glory days
Spanish soil
Dutch destiny
STORY HIGHLIGHTS
Veteran Spanish golfer Miguel Angel Jimenez faces long recovery after skiing accident
The 48-year-old breaks his leg while on the slopes in Sierra Nevada mountains
He is expected to be sidelined for at least three months after breaking tibia in right leg
Jimenez became European Tour's oldest winner with victory in Hong Kong in December
(CNN) -- Miguel Angel Jimenez may be the oldest golfer to win on the European Tour, but his lust for life has put a big dent in his hopes of extending that record in 2013.
The 48-year-old, known for his love of cigars and fine wine, has been ruled out for at least three months after breaking his leg while skiing in his native Spain at the weekend.
"When I took up skiing I knew the risks that I was taking, but I love it so much I could not stop," he told the European Tour website.
"I was going down a hill and lost control briefly and when I fell it was very sore. I knew immediately I had broken something.
"The medical staff at Sierra Nevada took me for an x-ray straight away and I am very thankful to them, as well as all of the staff at the hospital, for their quick and professional response. "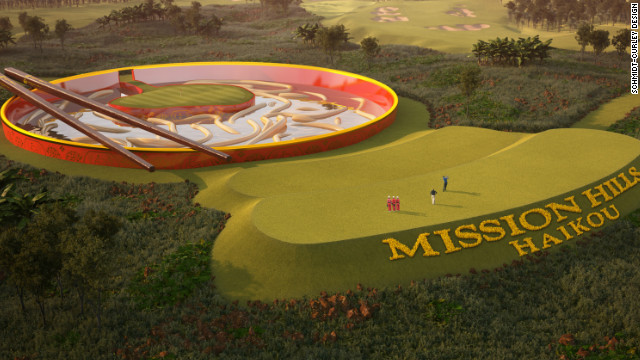 One of the signatures holes on a new fantasy course at Mission Hills in China will see players attempt to hit a green surrounded by a noodle-style hazard complete with chopsticks.
A view from the tee of the shot facing the golfer on the chopsticks and noodles hole.
The Great Wall of China hole will provide a challenge with a difference for the golfers who play the new course.
A sketch of the design work behind a hole on the course, in which a mock-up of the Great Wall of China is threaded throughout its entire length.
A par 5 on the new course is dedicated to the ancient Mayan civilization, but golfers will have their work cut out if they stray off the fairway.
One of the holes is dedicated to the most popular animal in China, the giant panda, and this sketch illustrates the design features.
Work is well under way on the hole named "Panda-monium" ahead of the course opening in 2014.
The Birds Nest Stadium which hosted the 2008 Summer Olympics is the inspiration for one of the greens on the new course.
This year the Mission Hills group hosted a World Golf Championship tournament, the HSBC Champions, on a bunker-laden course at its Shenzhen complex designed by former Ryder Cup captain Jose Maria Olazabal. Ian Poulter is seen here on his way to winning the title.
Conventional golf tests such as the daunting 17th island hole at TPC Sawgrass in Florida often rely on water to provide the challenge with a small green to aim at.
President Barack Obama, his wife Michelle and daughter Sasha tried their hand at mini golf on a holiday in Florida in 2010.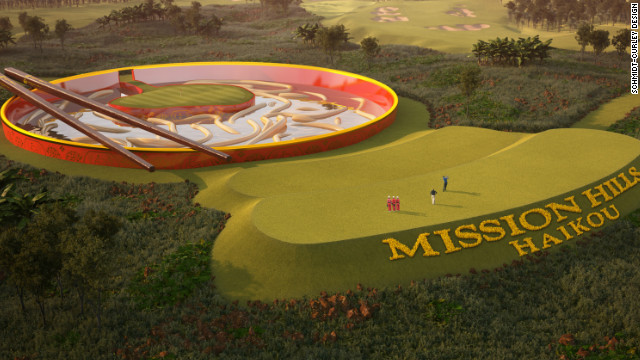 China's crazy fantasy golf course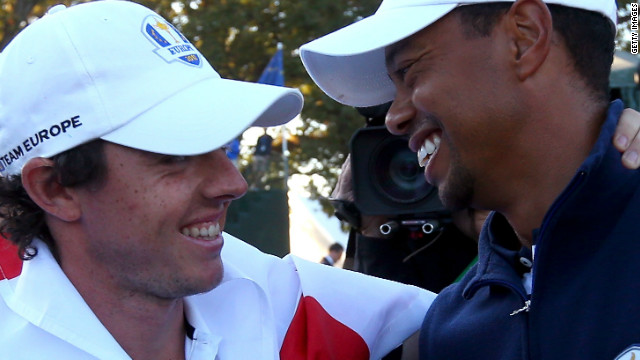 Tiger Woods, right, congratulates Rory McIlroy after Europe's remarkable victory over the U.S. on the final day of the 2012 Ryder Cup in September. The two are big rivals on the golf course, but a friendship has also blossomed this year.
Golf great Nick Faldo has questioned whether they should be so close. Sports psychologist Dan Abrahams says they would benefit from keeping a bit of distance. "In the heat of battle it becomes more difficult to emotionally detach yourself from that person's performance if you're good friends with that person," he told CNN.
McIlroy has admitted idolizing Woods as a boy, but has now usurped him as golf's No. 1. "Once they step on the first tee, those competitive juices are flowing and they're focused either on their own game or beating each other," Abrahams said.
They are following in golf's great tradition of rivalries -- most notably Jack Nicklaus, left, and Arnold Palmer. "The power of the mind and the capability of that mental discipline is what separates the good from the great," sports leadership expert Khoi Tu told CNN. "That might allow them to become friends with people off the course, but not on the course."
Formula One's greatest rivalry was between Alain Prost and Ayrton Senna. "They absolutely detested each other," Tu says. "They were two very different personalities, and often that's one of the features of great sporting rivalries: Fire and ice."
Fernando Alonso, left, has now twice been beaten to the F1 championship by Sebastian Vettel -- who is widely rumored to be his teammate at Ferrari come 2014. "When you get two No. 1 drivers together with no team rules, then the sparks can really fly," Tu says. "It's rare for them to be good mates. They may get along, they may trust and respect each other in a professional capacity, but hanging out is a different issue."
Former world champion Jackie Stewart, seen here playing with the children of F1 rival Graham Hill, was remarkably friendly with his peers, Tu says. "He was incredibly fond of a number of people who drove with him. That partly is because there was a clearer distinction of him being a number one and them being number two drivers."
A new rivalry has grown in tennis this year between U.S. Open and Olympic champion Andy Murray, left, and childhood friend Novak Djokovic, the world No. 1. "People say that Murray and Djokovic are close but I think it's rare," Tu says. "The best sporting rivalries are the ones where there are these very distinct, almost opposite personalities, but they're very close in terms of their competence."
Rafael Nadal, left, ended the tennis dominance of Roger Federer but they have publicly expressed their friendship despite reports of arguments about on-tour issues. "As people get older they've done so much, broken lots of records, I think that competitive edge is slightly dulled," Tu says. "That makes it easier to be friendlier. You can keep your dignity if you're not crying every time you lose to a younger, faster athlete."
Martina Navratilova, left, and Chris Evert had one of the biggest rivalries in women's tennis. "They ended up as good buddies, but that was when the battling had been done," Tu says. "All of the respect and friendship you get in sport comes through competence first -- ' I know how hard it is to be this good, so I respect them for that.' "
Fiery American John McEnroe, left, and ice-cool Swede Bjorn Borg created an iconic tennis rivalry. "When those two collided, at the height of tennis perfection, that's when the audience is really enthused and enthralled," Tu says. "To get that rivalry, they have to leave any friendship on the sidelines."
Sometimes you get two great athletes, but they are too close to be proper rivals -- such as tennis star Serena Williams, left, and her sister Venus. "The great things about sport is the sense of competition, the uncertainty of the outcome, the fairness of the playing field," Tu says. "You might be able to suspend enough of your fraternal or sisterly love to play a decent game of tennis but it won't reach the heights of the rivalries that make the sport."
Muhammad Ali, left, "demonized" Joe Frazier to hype up their fights despite being showed respect outside the ring by his rival. "He came up with the gorilla term to create a spectacle, which he knew was important, but it revved himself up too," Tu says. "He needed to have a real enemy. By the end of the (Manila) fight, he said that Frazier brought out the best of him."
Then there's modern football's greatest rivalry -- Lionel Messi and Cristiano Ronaldo. "I'm not sure Messi is a rival with anyone, he still has that unique joy of just playing," Tu says. "But I think with Ronaldo, the truth is Messi is his nemesis -- and the fact that Messi doesn't care makes it even worse."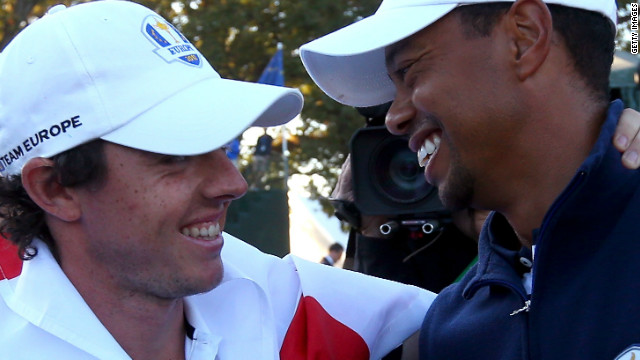 Great sporting rivalries
The verdict was a broken tibia, just below his right knee, and he had surgery after being taken to hospital in Malaga.
Jimenez became the European Tour's oldest winner when he triumphed in Hong Kong in November, his 19th victory on the circuit.
"I was playing very well at the end of the season so it is obviously not a good time for me to get injured," said Jimenez, a three-time member of winning European Ryder Cup teams and a vice-captain for Jose Maria Olazabal at Medinah this year.
"It has not all been bad news for me to finish the year, however, and in just a few days I will be opening my new golf school near Torremolinos."