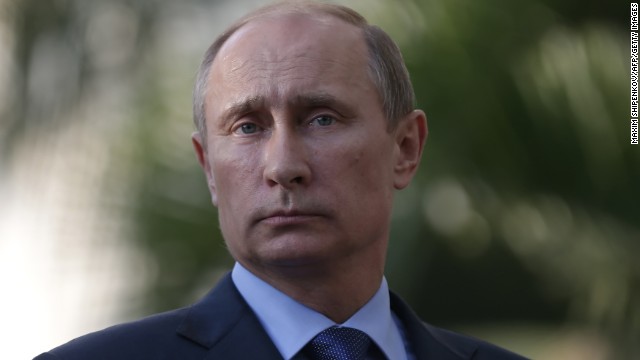 Russia's President Vladimir Putin is a popular but polarizing figure who has dominated Russian politics for more than a decade. Click through to see some highlights of his career.
Putin serves as the chairman of the Foreign Relations Committee of the City Council in St. Petersburg from 1991 to 1994. Before becoming involved in politics, he served in the KGB, a Soviet-era spy agency, as an intelligence officer.
Russian President Boris Yeltsin, right, shakes hands with Putin during a farewell ceremony at the Kremlin in Moscow on December 31, 1999. Putin rose quickly through the political ranks, becoming the second democratically elected president of the Russian Federation in 2000.
President-elect Putin watches the tactical exercises of Russia's Northern Fleet in the Barentsevo Sea on April 6, 2000. He has been at the helm during a decade of Russian economic growth fueled by natural resources of gas and oil.
A Russian cadet snaps a picture with Putin in Moscow's Red Square on May 9, 2007, during an annual celebration of the end of World War II. Putin has pushed to modernize Russia's military.
Putin attends an inauguration ceremony for president-elect Dmitry Medvedev at Moscow's Kremlin on May 7, 2008. Putin was constitutionally obliged to stand down as president but stayed close to power, becoming prime minister.
a reputation as a "strongman,"
declaring a crackdown on Chechen militants a priority in his first presidential term.
Putin vacations outside the town of Kyzyl in Southern Siberia in 2009. Over the years he has earned
President Barack Obama meets Prime Minister Putin at his home in Novo Ogaryovo, near Moscow, on July 7, 2009. Putin said Russia was pinning its hopes on Obama to revive ties with the United States.
A worker takes down a giant elections poster bearing a portrait of Putin on October 13, 2009, in Moscow. Putin's party tightened its grip on Russian politics with a sweeping victory in local elections, officials said, as the opposition alleged widespread fraud.
Russian President Medvedev and Prime Minister Putin ski together in Krasnaya Polyana, near the Black Sea resort of Sochi in southern Russia, on January 3, 2010.
Putin takes part in a judo training session at a sports complex in St. Petersburg, on December 22, 2010. The Russian leader holds a black belt in judo.
Putin receives a medical consultation during his visit to the Smolensk Regional Hospital on August 25, 2011. Putin said he hurt his shoulder during morning judo practice.
Putin speaks to supporters at a Moscow rally on February 23, 2012. He won the presidential election in March, with just under 65% of the vote. Former President Medvedev became his prime minister.
A topless protester shouts at Putin and German Chancellor Angela Merkel, center, during their visit to the Hanover Industrial Fair in central Germany on April 8. Human rights groups say civil liberties and democratic freedoms have suffered during Putin's rule.
Putin addresses the media during his visit to Hanover on April 8.
Putin and his wife, Lyudmila, ended their nearly 30-year marriage, the state-run news agency reported on June 6.
Putin, center, poses for a photo with Russian Olympic athletes in Sochi, Russia, on February 24. Russia hosted the Olympic Games and won the most medals.
Putin, center, and Defense Minister Sergei Shoigu, left, arrive to watch a military exercise at the Kirillovsky firing ground in Russia's Leningrad region on March 3.
Putin in power
Putin in power
Putin in power
Putin in power
Putin in power
Putin in power
Putin in power
Putin in power
Putin in power
Putin in power
Putin in power
Putin in power
Putin in power
Putin in power
Putin in power
Putin in power
Putin in power
Putin in power
(CNN) -- Here's a look at Russian President Vladimir Putin's life.
Personal: Birth date: October 7, 1952
Birth place: Leningrad (now St. Petersburg), Russia
Birth name: Vladimir Vladimirovich Putin
Father: Vladimir Putin, a factory foreman
Mother: Maria Putin
Marriage: Lyudmila (Shkrebneva) Putin (July 28, 1983-2014, divorced)
Children: Yekaterina, 1986; Maria, 1985
Education: Leningrad State University, law, 1975; Red Banner Institute of Intelligence, 1984; Mining Institute of St. Petersburg, 1997
Religion: Orthodox Christian
Other Facts: Enjoys working out and has a black belt in judo.
Grew up in a communal apartment shared by three families.
Served in the KGB as an intelligence officer before becoming involved in politics.
Timeline: 1975 - Joins the Committee for State Security (KGB). Is on the staff of the First Chief Directorate for Foreign Intelligence for the KGB, and is assigned to shadow foreign visitors to Leningrad.
1984 - Is selected to attend the Red Banner Institute of Intelligence, where he learns German and English.
1985 - Is assigned to counterintelligence duties in Dresden, [East] Germany. Reportedly monitors loyalty of Soviet diplomats.
1990 - Becomes assistant rector (Dean) for international affairs at Leningrad State University. Reportedly monitors loyalty of students and shadows foreigners.
June 1991 - Becomes adviser to Anatoily Sobchak when Sobchak becomes chairman of the Leningrad City Council.
1991-1994 - Chairman of the Foreign Relations Committee of the City Council.
1992 - Leaves the KGB.
1992-1994 - Deputy Mayor of St. Petersburg.
1994-1996 - First Deputy Chairman of the City Council of St. Petersburg.
1997-1998 - Head of the Presidential Administration and Control Department of the Presidency under President Boris Yeltsin.
July 1998-August 1999 - Chief of the Federal Security Service.
March 1999-August 1999 - Secretary of the Russian Security Council, headed by Boris Yeltsin.
August 9-December 31, 1999 - Acting Prime Minister of Russia.
December 31, 1999 - Is appointed acting president after Boris Yeltsin's resignation.
March 26, 2000 - Is elected president of the Russian Federation.
May 7, 2000 - Officially becomes Russia's second president after being sworn in at St. Andrew's Hall in the Kremlin.
May 24, 2002 - Signs the Moscow Treaty on Strategic Offensive Reductions with President George W. Bush, which requires each country to reduce and limit its strategic nuclear warheads to 1700-2200 by December 31, 2012.
March 15, 2004 - Is re-elected in a landslide victory, running as an independent.
May 7, 2004 - Putin is sworn in for his second term.
April 27, 2005 - Becomes the first Russian leader to ever visit Israel.
October 5, 2005 - Meets with British Prime Minister Tony Blair and announces increased cooperation between Russia and Britain to fight terrorism.
September 5, 2006 - Becomes the first Russian leader to visit sub-Saharan Africa, when he meets with South African President Thabo Mbeki.
December 19, 2007 - Named Time Person of the Year.
March 2, 2008 - Dmitry Medvedev is elected president of Russia. He takes office in May.
May 7, 2008 - Just two hours after being sworn in, new Russian president Medvedev names Putin as his prime minister.
September 24, 2011 - President Dmitry Medvedev calls on the ruling United Russia party to endorse Prime Minister Vladimir Putin for president in 2012. Putin in turn suggests that Medvedev should take over the role of prime minister if the party wins parliamentary elections in December.
March 4, 2012 - Russia's presidential elections are held amid complaints of fraud. Putin wins the presidential election, with just under 65% of the vote. This will be his third term as president (not consecutive).
May 7, 2012 - Putin is sworn in under tight security amid protests of fraud. His new prime minister is the former president Dmitry Medvedev.
December 28, 2012 - Putin signs into law a bill that effectively bans U.S. citizens from adopting Russian children. The law also bans U.S.-funded civic groups from operating in Russia.
June 6, 2013 - During an interview aired on state-run television, Vladimir and Lyudmila Putin announce that their marriage is over.
September 11, 2013 - Putin publishes an op-ed in the New York Times, criticizing President Barack Obama and the concept of American exceptionalism. He says, "It is extremely dangerous to encourage people to see themselves as exceptional, whatever the motivation. There are big countries and small countries, rich and poor, those with long democratic traditions and those still finding their way to democracy. Their policies differ, too. We are all different, but when we ask for the Lord's blessings, we must not forget that God created us equal."
August 6, 2014 - Putin signs a decree that bans food and agricultural imports from countries that have imposed sanctions against his country.