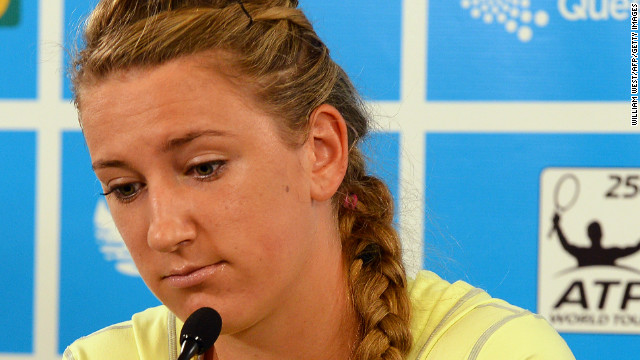 Victoria Azarenka explains her decision to pull out of the semifinals of the Brisbane International tournament, where she was due to face Serena Williams, due to a toe infection.
Williams, who beat the world No. 1 in the final of September's U.S. Open, hits balls into the crowd at Pat Rafter Arena after Azarenka announced her withdrawal.
The American will play Russia's world No. 36 Anastasia Pavlyuchenkova, who defeated 116th-ranked Ukrainian Lesia Tsurenko to reach her fifth WTA Tour final.
Men's No. 1 Novak Djokovic, left, and Serbian playing partner Ana Ivanovic won through to the final of the Hopman Cup teams event in Perth, where they will play Spain's Fernando Verdasco and Anabel Medina Garrigues.
Toe blow
Serena into final
U.S. vs. Russia
Serbian success
STORY HIGHLIGHTS
Victoria Azarenka battling to be fit for Australian Open after having minor surgery on toe
World No. 1 pulls out of Friday's semifinal against Serena Williams at Brisbane warmup event
U.S. Open champion Williams will play Russia's Anastasia Pavlyuchenkova in final
Andy Murary into semis of men's event, while Novak Djokovic will play in final of Hopman Cup
(CNN) -- World No. 1 Victoria Azarenka suffered a blow in the preparations to her Australian Open title defense on Friday, pulling out of a much-anticipated rematch with Serena Williams due to a toe problem.
The Belorussian was due to play her U.S. Open final conqueror in the semis of the Brisbane International, her first top-level warmup event for the season's opening grand slam -- which starts on January 14.
World No. 2 Maria Sharapova is also battling to be fit for Melbourne, having withdrawn before the beginning of the Brisbane tournament due to a collarbone problem.
"It's a right toe infection -- it's been there for about 10 days and it's been getting worse," Azarenka told reporters.
"I had to take action on it, which I did yesterday -- it was a minor surgery, I had to take something out of my toe. And unfortunately I didn't have enough time to recover to be able to play the semifinals today."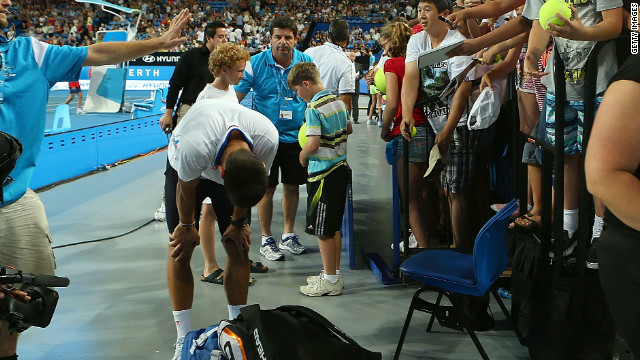 Novak Djokovic composes himself in the aftermath of an incident when a spectator barrier collapsed at the Hopman Cup.
Novak Djokovic goes down on his haunches after an spectator barrier collapsed as he was signing autographs.
Djokovic returned to play with Ana Ivanovic in a mixed doubles match for Serbia against Italy.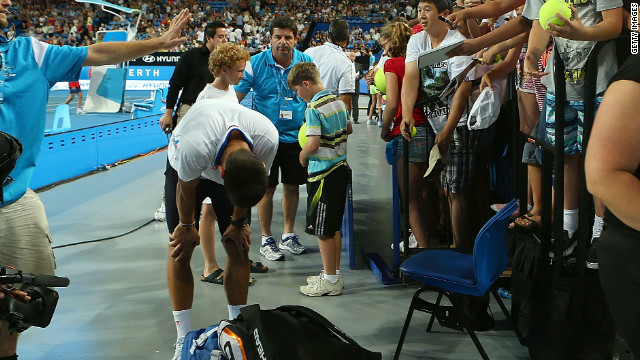 Djokovic hurt after crowd barrier collapses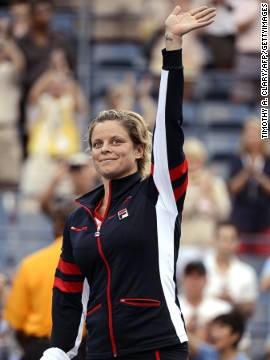 Kim Clijsters retired from professional tennis for a second time at the U.S. Open in September 2012. The Belgian won four grand slam titles in a 15-year career which included a two-year break between 2007 and 2009.
Kim Clijsters with daughter Jada and the 2010 U.S. Open trophy after beating Vera Zvonareva in the final.
Clijsters came out of retirement the previous year, having taken time out to have her first child. She defeated Caroline Wozniacki in the 2009 final after receiving a wild-card entry to the season's closing grand slam.
Clijsters had a love affair with New York. Here she climbs into the family area after the 2005 U.S. Open final after beating France's Mary Pierce 6-3 6-1 to clinch her first grand slam title.
The Belgian suffered a shock 6-7 (3-7) 3-6 loss to Julia Vakulenko in 2007 in what proved to be her final match before retiring for the first time. Clijsters took time away from the sport to raise her family and gave birth to Jada in 2008.
Clijsters defended her Flushing Meadows crown in 2010, avenging her defeat by Russia's Zvonareva in the quarterfinals at Wimbledon -- a loss she told CNN "hurt her the most."
Clijsters enjoys popularity in Australia thanks to ex-boyfriend and male tennis star Lleyton Hewitt. She was overcome with emotion after defeating Li Na of China to clinch the 2011 Australian Open -- the fourth grand slam title of her career.
The daughter of a footballer and a gymnast, Clijsters is renowned for her on-court splits -- an ability which originated from her early years on clay courts but was later transferred to other surfaces.
Clijsters' final singles match was a loss against unseeded British teenager Laura Robson in the second round of the 2012 U.S. Open. She also competed in the mixed doubles competition with Bob Bryan, but they too lost in the second round.
Clijsters put on a series of farewell matches in her homeland to say thank you and goodbye to her hoards of Belgian fans.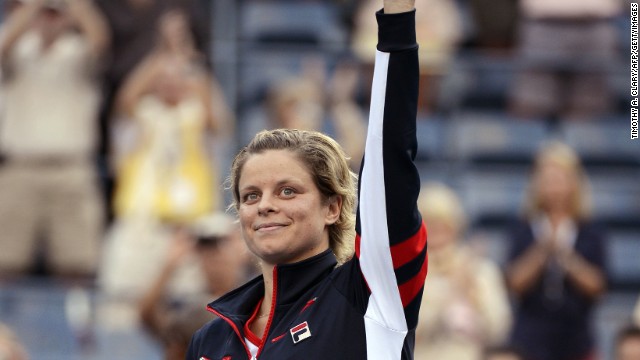 Kim Clijsters' glittering career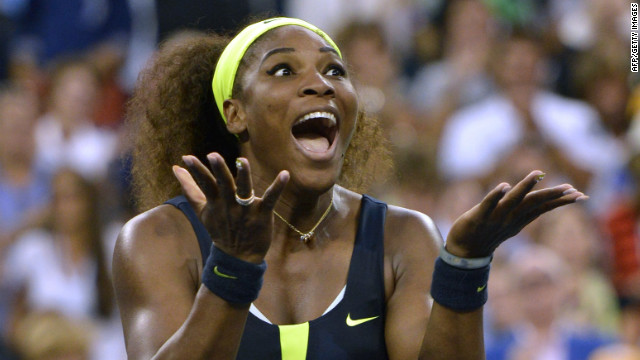 Serena Williams of the United States celebrates defeating Victoria Azarenka of Belarus 6-2, 2-6, 7-5 in the 2012 U.S. Open women's singles final on Sunday, September 9, in New York. See more U.S. Open action here.
Williams celebrates her win against Azarenka.
Williams poses with the championship trophy in front of photographers.
Williams looks on during the women's singles final match.
Williams celebrates match point after defeating Azarenka.
Williams waves to the crowd before receiving the championship trophy.
Spectators in a packed Arthur Ashe Stadium watch the women's singles final match.
Williams reacts strongly in her match against Azarenka.
Williams returns a shot against Azarenka on Sunday.
Azarenka returns a shot against Williams.
Williams runs to make a shot against Azarenka.
Williams slides while returning a shot.
Azarenka emerges from the shadows.
Williams serves during the women's singles final match.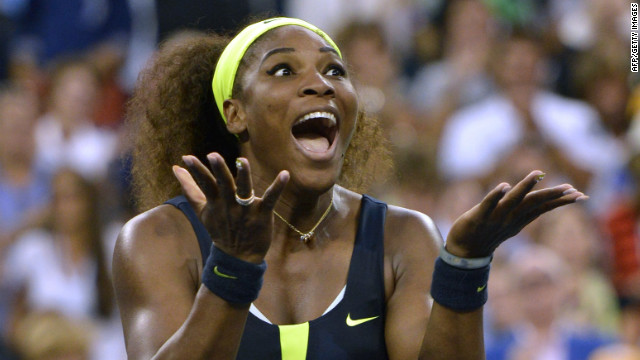 2012 U.S. Open Women's Final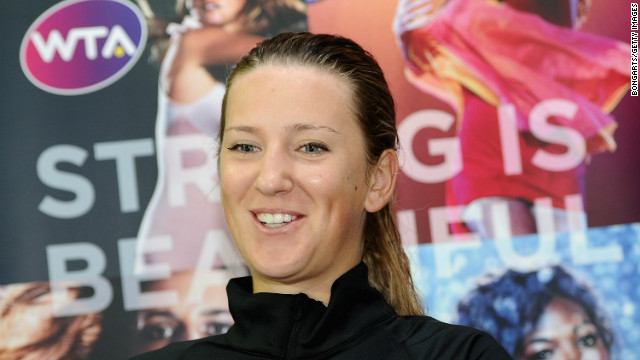 World No. 1 Victoria Azarenka has come a long way since first picking up a tennis racket in her native Belarus.
However, she still considers the Eastern European nation to be her home. Azarenka is pictured with former No. 1 Caroline Wozniacki (right) at a children's cancer center in Minsk in 2010.
Azarenka (far left) first became involved in the sport when her mother started working in a tennis center in her native Belarus. Her first coach was Valentina Rzhanih (also pictured).
Azarenka eventually had to leave Minsk to fulfil her ambitions, moving first to Marbella in Spain for a brief spell before settling in Arizona.
Azarenka was a Wimbledon champion at the age of 14, winning the girls' doubles title in 2004 with compatriot Volha Havartsova.
Azarenka won the junior titles at the Australian Open and U.S. Open in 2005, finishing the season as junior world number one. She burst onto the senior scene the year after.
Less than a year after she briefly considered quitting, Azarenka became the first player from Belarus to win a grand slam singles title when she beat Maria Sharapova in the 2012 Australian Open final.
Azarenka cemented her number one status by winning 14 straight matches after the Australian Open, collecting two more trophies.
Azarenka is still seeking to improve, and has added two-time grand slam champion and former world No. 1 Amelie Mauresmo to her coaching team.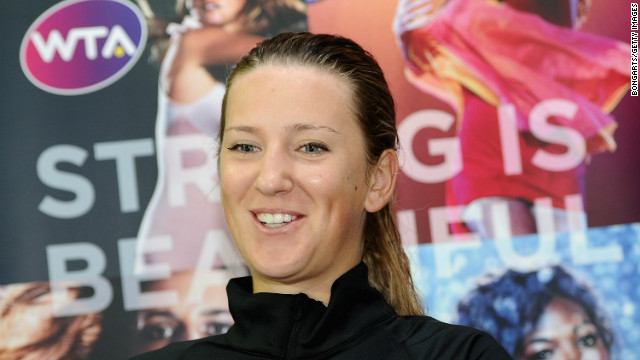 The tennis journey of Victoria Azarenka
The 23-year-old won her first grand slam title in Melbourne last January before going on to top the rankings and become the WTA Tour's leading prize money winner for 2012.
"I had to make sure I could be fully recovered and ready for the Australian Open. It's a compromise I kind of had to take," she said.
"The doctor had told me I wouldn't be able to play for three, four days, but today I saw him in the morning and he said it was actually much better than he thought -- he expected a much worse outcome. So maybe two days and I can start slowly."
Williams, who last month also had toe surgery, will play Russia's Anastasia Pavlyuchenkova in Saturday's final.
"I had that toe problem just a couple of weeks ago and it's painful -- God, it's so painful. Doesn't sound painful, but it is. You can't walk with that. I hope she gets better fast," the American said.
"I'm definitely doing enough to prepare and be ready. I feel like even though I didn't play a match tonight I played some really good matches here."
Pavlyuchenkova ended the dream run of Lesia Tsurenko, a 116th-ranked Ukrainian who only made it into the main draw as a lucky loser from the qualifiers.
"What can I say about Serena? There's so much to say -- she's just a great champion," the world No. 36 said of the Olympic and Wimbledon titleholder.
Williams is seeking her 47th career title, already holding the record among active players -- her older sister Venus is second with 44.
"There's some chance, but with her power and the way she can serve, it will be difficult," Pavlyuchenkova said.
Read: Murray overcomes heat factor
Meanwhile, defending champion Andy Murray moved into the semifinals of the Brisbane men's event with a 6-4 7-6 (7-3) win over Uzbekistan's Denis Istomin on Friday.
The world No. 3 will next play Japan's Kei Nishikori, who he beat in last year's Australian Open quarterfinals.
Fifth seed Nishikori earned a semi spot by beating Alexandr Dolgopolov, the 2012 Brisbane runnerup.
The other semifinal will be between 2006 Australian Open finalist Marcos Baghdatis of Cyprus and 21-year-old Bulgarian Grigor Dimitrov, who upset Austrian seventh seed Jurgen Melzer.
Read: Djokovic stunned by Tomic
World No. 1 Novak Djokovic will play in Saturday's final of the Hopman Cup teams event after he and Serbian playing partner Ana Ivanovic whitewashed Germany 3-0 in Perth on Friday.
Djokovic thrashed veteran Tommy Haas 6-2 6-0 then former women's No. 1 Ivanovic -- whose injury in 2011 meant the pairing could not play in that year's final -- defeated Tatjana Malek 6-0 6-1 in just over half an hour.
They also won the mixed doubles to complete a third successive victory in Group A and set up a clash with Spain's Fernando Verdasco and Anabel Medina Garrigues, who won all three of their Group B matches.