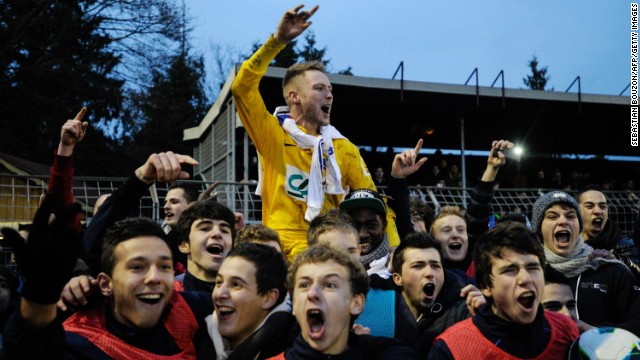 Epinal supporters celebrated with their players following the shock penalty shootout victory over cup holder Lyon following a pulsating 3-3 draw. Lyon is second in Ligue 1, level on points with Paris Saint-Germain at the top.
Epinal started the day second last in the National division, some 58 places below Lyon, but somehow managed to pull off the biggest shock of the round.
The Epinal players continued their celebrations in the changing rooms after defeating the seven-time Ligue 1 champion. The minnow had led 2-0 at one stage before finishing the 90 minutes at 3-3.
Lyon's French midfielder Steed Malbranque vies with Epinal's French defender Wilfried Rother as the home team get stuck into the top division side.
Epinal's French midfielder Tristan Boubaya races away to celebrate after netting against the giant of Lyon. Boubaya scored twice to give his side a 2-0 lead before Bafetembi Gomis and Gueida Fofana brought the visitor level.
Lisandro Lopez fired his side ahead for the first time in the contest from the penalty spot after 62 minutes as Lyon looked to have broken Epinal's heart.
Valentin Focki grabbed a 77th minute equalizer for the home side to ensure the game went into extra-time following a pulsating contest.
Epinal goalkeeper Olivier Robin was the hero of the day, helping his team win 4-2 on penalties to secure one of the greatest results in the club's history.
The Epinal celebrations look set to go long into the night. "It's magical and now we hope to reach the last 16 and make history," Epinal goalkeeper Robin told French radio.
Joie de vivre
Mighty minnows
Champagne time
Taking down the giant
Boubaya brilliance
Lethal Lisandro
Focki fights back
Robin to the rescue
Party time
STORY HIGHLIGHTS
Epinal of the third tier of French football defeated cup holder Lyon
Home side won 4-2 on penalties after tie had finished 3-3 after extra-time
Lyon, seven-time league champion and second in Ligue 1, shocked by result
Epinal made up of amateur football players and are 19th out of 20 in its division
(CNN) -- There are few places in the world which can claim to be more romantic than Paris.
A glance across the River Seine, a walk though the Jardin des Tuileries hand in hand with a loved one, 37 bridges to pause and take a breath at the beauty of an enchanting city.
Artists sitting at every corner beckoning you for a portrait, the music which fills the air, the sheer smell of history which touches every sinew.
There are the book markets which entice you with that precious thought of sipping a coffee at a trendy cafe, while you sit engrossed in a work of literary art.
Tourists flock from around the world to see the Eiffel Tower, to take in the Haussman renovation and to bend down on one knee and ask that question.
There's the Pont Alexandre III bridge, linking Les Invalides where Napoleon is buried, right through to Le Grand Palais and the shopping heaven of the Champs-Elysees.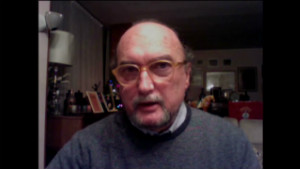 Speaking out against racism in football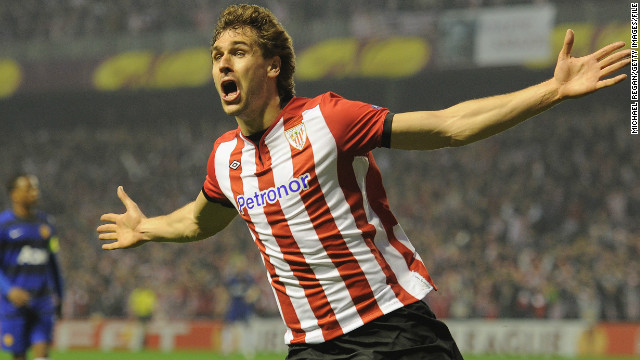 Athletic Bilbao striker Fernando Llorente has opened talks with Juventus over a move to the Italian champions. The Spanish international will be free to move clubs when his contract expires in June.
Click here for more on Daniel Sturridge's switch from Chelsea to Liverpool.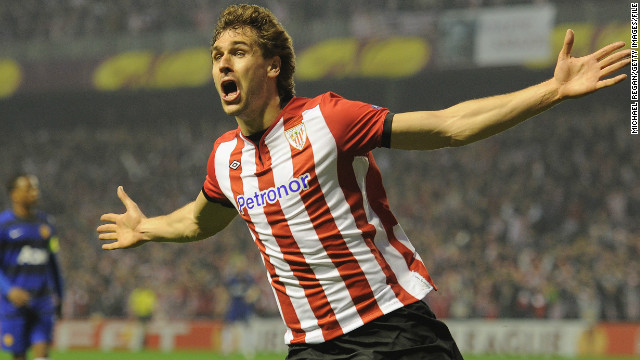 January transfer window 2013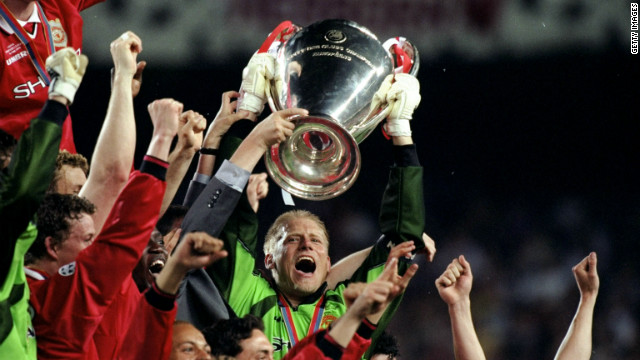 In the absence of suspended skipper Roy Keane, Peter Schmeichel captained Manchester United to European Champions League glory in 1999. United trailed Bayern Munich 1-0 heading into the 90th minute, but stunned the Germans by scoring twice in a matter of minutes to seal a famous 2-1 success. The win completed an historic Champions League, Premier League and FA Cup treble.
Schmeichel is backing Jurgen Klopp's Borussia Dortmund to pull off a shock and lift the Champions League for the second time in their history. The German title winners have been lauded for topping a group which contained Real Madrid, Manchester City and Ajax.
Lionel Messi has been unstoppable in 2012, scoring a record 90 goals so far this calendar year. Barcelona will be looking to win the Champions League for the fourth time in seven years.
Jose Mourinho has already won the Champions League with two different clubs -- Inter Milan and Porto. Despite an indifferent start to the Spanish league season, Schmeichel is confident Mourinho has the ability to lead Real Madrid to a landmark 10th European triumph.
Manchester United sit top of the English Premier League as the season approaches its halfway point, but Alex Ferguson's team has leaked goals all season. Schmeichel thinks his old club will need defender Nemanja Vidic to return to his top form if United are to stand any chance of reaching May's Wembley final.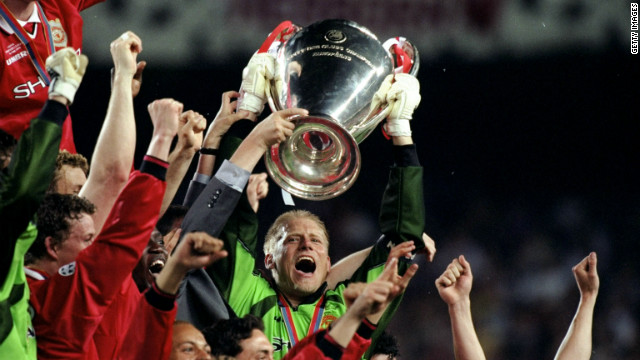 Schmeichel's Champions League tips
Don't forget the Pont Des Arts, allowing you to walk between Louvre and the 6th Arrondissement without the constant noise of traffic. Why not stay a while? Enjoy a fine bottle of wine, a picnic perhaps?
Or maybe you'd rather save yourself for a jaunt across the Pont Neuf and steal a kiss?
This is Paris, the romantic capital of France and perhaps the world.
But on Sunday January 6 2013, Paris surrendered its crown, or at least for a few hours temporarily.
Away from the boutiques, the patisseries, the artists of Montmartre, Paris had been eclipsed by a group of men, who have taken the whole notion of romance to a new level.
Step forward the brave and hardy souls of Epinal.
In a small and sleepy town in the north-east of the country, around 311 kilometers from the capital, something has stirred.
There are no candle lit dinners or boutique bistros, instead it is a place known for three things -- the cold, the Epinal print and now, at last, its football team.
It was here that the romance of the French domestic Cup was realized, not through poetry, painting or drama. This grew out of passion.
Epinal, a third-tier side, which sits 19th out of 20 teams in its division, had dreamed of this day for many a year although that dream was tempered with more than a hint of apprehension.
The arrival of cup holder Lyon and its millionaire football players would have left even the most rose tinted of Epinal supporters reaching for a nice bottle of rouge.
Lyon, the seven-time league champion, a team playing at the pinnacle of European football in the Champions League, arrived at Stade de la Colombière second in the top division.
After holding a training camp in the luxurious surrounding of Monaco and all the glitz and glamor that goes with it, this game was supposed to ease the team back into the routine following the winter break.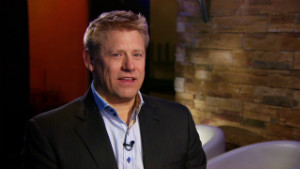 Schmeichel: Spain has best national team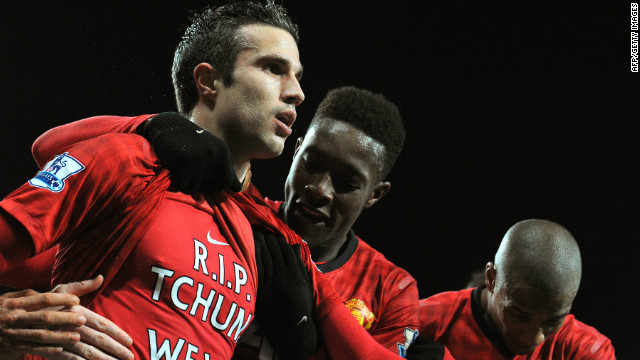 Substitute Robin van Persie (L) celebrates after sealing Manchester United's 2-0 win over with West Brom, scoring his 14th league goal this season.
Alex Ferguson shouts at assistant referee Andy Garrett in scenes reminiscent of the midweek 4-3 win over Newcastle, after which the United manager was widely criticized for harrassing match officials.
The match was cleared to go ahead after a late pitch inspection following days of rain in the UK. Groundstaff remove waterproof covers which protected the playing surface.
It was pouring down in Norwich, where second-placed Manchester City won 4-3 despite having Samir Nasri (R) sent off following this clash with Sebastien Bassong, who was booked.
Edin Dzeko had put the visitors 2-0 ahead inside five minutes, and the recalled Bosnian striker was involved in the decisive fourth goal -- his shot hit the post and rebounded into the net off Norwich goalkeeper Mark Bunn, who was credited with an own-goal.
Tottenham went third with a 2-1 win at Sunderland but the victory was marred by Gareth Bale's third booking this season for alleged diving -- the Wales winger will now be suspended for the next match against Reading.
Theo Walcott (C) scored a hat-trick to inspire fifth-placed Arsenal to a 7-3 home win against Newcastle, while substitute Olivier Giroud (R) also netted twice.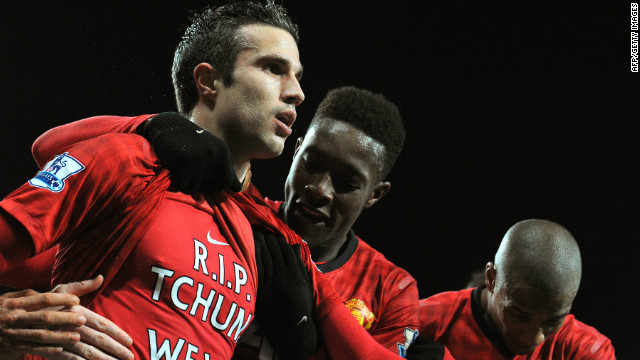 Man Utd seven clear going into 2013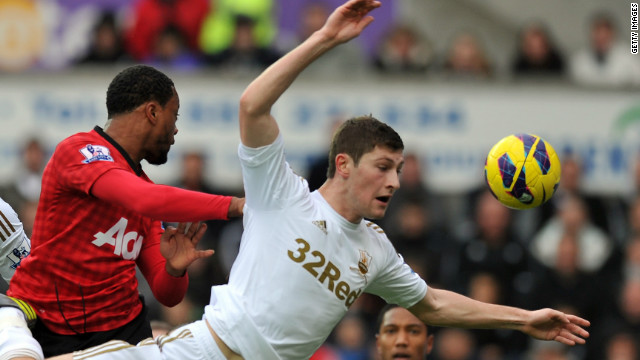 Patrice Evra gave Manchester United a 16th minute lead at Swansea after heading home Robin van Persie's corner.
Evra races away to celebrate with teammate Michael Carrick in hot pursuit as the league leaders make the perfect start in Wales.
Michu's 13th league goal of the season ensured Swansea grabbed a point from a pulsating contest. The Spaniard, who cost $3.2 million from Rayo Vallecano, has impressed since his arrival in the Premier League in July.
Ashley Williams and United's van Persie clash after the Swansea defender had kicked the ball against the Dutchman while he was on the floor. United manager Alex Ferguson was left fuming at Williams and said: "The Van Persie situation you can clearly see that he could have been killed."
Ferguson was left raging after seeing van Persie struck by the ball and vented his fury after the contest. He said: "It was absolutely deliberate. The whistle has gone, the game has stopped and he has done that right in front of the referee, he could have killed the lad. It was a disgraceful act by the player, he should banned for a long time."
Fernando Torres headed Chelsea in front against Aston Villa with his 14th goal of the season. The Spaniard's goalscoring form has been transformed since the arrival of new interim manager Rafa Benitez. Chelsea crushed Villa 8-0 to inflict the worst ever top-flight defeat on the visiting club.
David Luiz doubled Chelsea's lead on 29 minutes with a spectacular free-kick as Chelsea cruised past a young Villa side at Stamford Bridge.
Branislav Ivanovic grabbed his fourth league goal of the season to give Chelsea a three-goal lead at the break. The Serbia defender, who also scored at Leeds in midweek, headed home from close-range to wrap up the game after just 34 minutes.
Frank Lampard became Chelsea's all-time leading scorer in top-flight football after hitting his 130th goal on his 500th league start. Lampard's drive gave the home side a 4-0 lead as Villa began to wilt.
Ramires came off the bench to score twice as Chelsea eventually declared on eight. It could have been worse for Villa as Lucas Piazon missed a penalty. Eden Hazard and Oscar were also on target.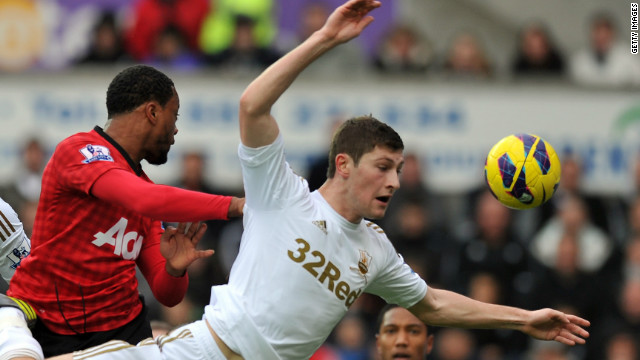 Stylish Swans hold United
While Lyon's players have been busy wiping the sweat from their brow and basking in the exotic temperatures of the Principality, Epinal's players were trying to fit the rigors of training into everyday life.
Epinal is an amateur team, its players work in all sections of society and train when their jobs allow. It is not the life their opponent endures.
For once, work took a back seat as the romance of the cup swept across the town and those who live there.
As the two teams took to the field, the millionaire international footballers of Lyon and the dreamers of Epinal, what chance would the home side have afforded themselves?
French football has seen fairy tales in the past. Only last season, Quevilly of the third tier reached the final where it was beaten narrowly by Lyon.
In 2009, Guingamp of the second division, defeated Stade Rennais, while other teams outside the top flight such as Chateauroux, Amiens, Calais and Sedan have all reached the final in recent time.
"There is always a story every year," French football expert Philipe Auclair told CNN.
"We had Quevilly last year which was a wonderful story and then in previous years we've had Calais and others.
"There are a lot more upsets in the French Cup, but this one is absolutely huge."
Huge indeed. It took the amateurs of Epinal just 13 minutes to move into a two-goal lead thanks to Tristan Boubaya.
His double strike allowed not just a town, but an entire country to dream.
This was the day when Epinal allowed France to fall in love with another minnow.
Like any romance, there are rocky moments. Two of those came within the next seven minutes as Lyon drew level.
The dream looked like it had died when Lisandro Lopez converted a penalty to leave Epinal's hopes in tatters with just 28 minutes remaining.
Not since the 18th century had so many printing presses been ready to illustrate the efforts of Epinal.
Famed for its printing cards of saints, wars and fairy tales, the town was about to receive a new legend to add to the list.
Step forward Valentin Focki. It was he who scored a precious equalizer with 13 minutes remaining to take the tie into extra-time and eventually came penalties.
And so it came down to the dreaded spot kicks. Many a man has crumbled under the pressure of trying to beat a goalkeeper from 12-yards.
Far greater players than those of Epinel have lost their nerve and fallen into the abyss.
But in Olivier Robin, Epinal had its hero. The goalkeeper ensured his face will be forever remembered on a picture card, saving a penalty to help bring down the might of Lyon.
Who said romance was dead?
"It's a really big shock," Damien Comolli, former Director of Football at AS Monaco, Arsenal, Liverpool and Tottenham told CNN.
"Lyon has been playing very well this season and it's the first really big negative result they've had all season.
"The league title is almost guaranteed to Paris Saint-Germain and there are only a couple of other trophies for other teams to win.
"Lyon wanted to win this cup and for them to lose is a huge blow, it's a massive shock.
"Epinal are part-time and have jobs which allow them to train, they're a small team. Now, the focus on the club will be huge."
While Epinal's players bask in the limelight of its victory, it's unlikely that the town will rival Paris for romance in the long term.
The romance of the Coupe de France has been rekindled in a quiet town in the east of the country. For now, let Epinal have its day.