Morsy backs Syrian calls for al-Assad to face war crimes trial
January 7, 2013 -- Updated 2316 GMT (0716 HKT)
STORY HIGHLIGHTS
Syrian people "have the will to win," Morsy tells CNN in an exclusive interview
"They will decide what they want to do to those who committed crimes against them," he says
The Egyptian president tells Wolf Blitzer he's pushing for Palestinian unity
Cairo (CNN) -- Egyptian President Mohamed Morsy supports calls by people in Syria for President Bashar al-Assad to be tried for war crimes, he told CNN on Sunday in an exclusive interview.
"The Syrian people through their revolution and through the movement will -- when the bloodshed stops -- move to a new stage where they will have an independent parliament and a government of their choosing," Morsy, Egypt's first freely elected leader, told CNN's Wolf Blitzer in Cairo. "And then they will decide what they want to do to those who committed crimes against them. It is the Syrian people who decide."
Al-Assad's effort to crush anti-government protests in 2011 has turned into a bloody civil war in which the United Nations estimates that more than 60,000 people have been killed. In his first televised address since June, al-Assad said Sunday that Syria was under "an external attack" by "extremists, who only know the language of killing and criminality."
Asked about Syria, Morsy repeated his previous calls for al-Assad to leave power.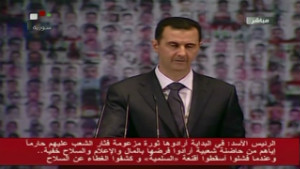 Syrian President Assad makes rare speech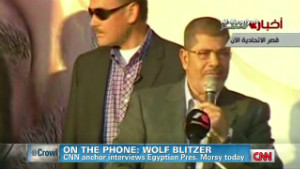 Blitzer interviews Egyptian Pres. Morsy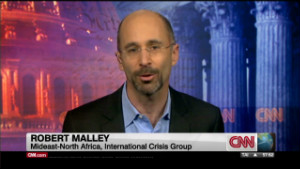 Egypt: Testing the limits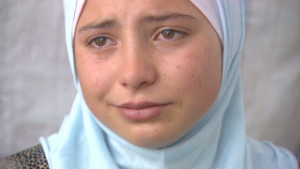 Syria's child victims
Egyptian revolutionaries toppled longtime strongman Hosni Mubarak in early 2011, and Morsy has said Egypt will work for Arab and international support to replace al-Assad. Asked whether he thought the Syrian leader should be tried before the International Criminal Court for war crimes, Morsy said, "It is not I who want this, but the Syrian people who want this."
"This phase is the phase of the people," Morsy said. "Similar to what the Egyptian people wanted, the Syrian people want it. And we support the Syrian people, and they're going to win, and they have the will to win."
Exclusive photos: Blitzer in Cairo for Morsy interview
Morsy brokered the November cease-fire that ended an eight-day conflict between Israel and the Palestinian Islamist faction Hamas, which controls Gaza. Now, he has invited the heads of the two major Palestinian factions to meet in Cairo in hopes of building unity, a task he acknowledged won't be easy.
Morsy said he invited Palestinian Authority President Mahmoud Abbas to meet with Khaled Meshaal, the political leader of Hamas, who lives in Cairo. Hamas controls Gaza, while Abbas's party, Fatah, controls the West Bank. The two factions have clashed violently over the years.
The United States, Israel and the European Union list Hamas as a terrorist organization. The group has carried out numerous attacks, killing scores of civilians.
In the interview Sunday with CNN, Morsy sought to assure viewers around the world, as well as people in his own country, that he is committed to promoting democracy and protecting minorities, including the country's Coptic Christians, from discrimination.
Having spent time in the United States -- he received a doctorate at the University of Southern California -- Morsy knows U.S. democracy and said he is committed to allowing free speech.

Part of complete coverage on
Syrian crisis
March 4, 2014 -- Updated 1328 GMT (2128 HKT)

Syria has submitted a revised proposal "that aims to complete the removal of all chemicals" from the country before the end of April.
February 18, 2014 -- Updated 1032 GMT (1832 HKT)

CNN's Arwa Damon reports on ISIS defector who says destroying ISIS as critical as defeating regime.
February 18, 2014 -- Updated 0353 GMT (1153 HKT)

The U.S. wants a United Nations resolution that will, among other things, bring humanitarian aid for refugees in Syria.
February 17, 2014 -- Updated 1259 GMT (2059 HKT)

When the radical Islamist militia ISIS arrived in the Syrian town of Addana a year ago, many welcomed them. What followed changed their minds.
February 17, 2014 -- Updated 1449 GMT (2249 HKT)

CNN obtained video clips from Syrian activists documenting the atrocities committed by members of the Islamic State in Iraq and Syria, known as ISIS.
February 18, 2014 -- Updated 2017 GMT (0417 HKT)

On Crossfire, Danielle Pletka discusses what the U.S. needs to do to resolve the Syria crisis.
February 6, 2014 -- Updated 0101 GMT (0901 HKT)

Her almond-shaped brown eyes shine through her sunken face as a doctor lifts her sweater to reveal a tiny rib cage pushing against her skin.
February 4, 2014 -- Updated 1746 GMT (0146 HKT)

The Zaatari refugee camp in Jordan is home to around 100,000 Syrian refugees. CNN spent several days meeting the residents of the camp.
January 22, 2014 -- Updated 1959 GMT (0359 HKT)

Renowned war crimes prosecutors and forensic experts have found "direct evidence" of "torture and killing" by the Assad regime.

Traumatized children who have witnessed the horrors of war are being helped to read -- and rebuild a normal life. CNN's Becky Anderson reports.
January 23, 2014 -- Updated 1207 GMT (2007 HKT)

A battle zone tour organized by the Syrian government for CNN and several other media outlets Wednesday was more than bizarre.
January 22, 2014 -- Updated 1735 GMT (0135 HKT)

CNN's Atika Shubert meets with the family of a little girl who was wounded in Syria, now living in a refugee camp.
January 27, 2014 -- Updated 1456 GMT (2256 HKT)

110 year old, Jabari Alawali walked for over 10 hours to reach Jordan from Syria.
Today's five most popular stories